Wolverine vs Blade – The Match-Up We've All Been Waiting For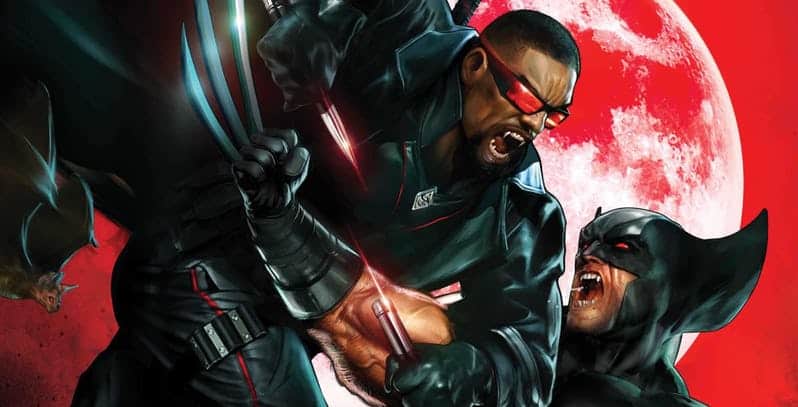 "Two of the deadliest hunters ever to have stalked the night face off! Wolverine vs Blade – 'Nuff said!" When the synopsis of an issue reads like that, you know you are in for the ride of your lifetime. Two of the crowd favorites going face to face is the stuff that makes comic book lovers licking their lips. You know it's going to be a good day when Marvel announces Wolverine vs. Blade is a thing.
Wolverine vs Blade – Origins
This piece is written by Marc Guggenheim. He of the X-Men Gold fame with art provided by Dave Wilkins (with a variant cover by Matteo Scalera). It has been the talk of the comic world ever since Marvel announced it.
Guggenheim has vast experience in writing comics, novels, film and TV shows. Also he is the co-developer of Arrow and Legends of Tomorrow. His experitse should make this an exciting read.  Expected to be out by July, this issue has been in the making for ten years according to Guggenheim. In an interview, to Monkey Fighting Robots he said:
"I think it's worth the wait."
It's not just you sir. A lot of comic book enthusiasts will be lining up to get their hands on this one.
Wolverine's Costume
The issue has been in the works for a decade. This explains the Wolverine still wearing his old X-Force costume on the cover. A lot has changed for the two superheroes recently. Blade is an official member of the Avengers. And the Clawed Superhero returning from the dead after the resurrection by the mutant names Persephone. But by the looks of it, this issue will be in the past.
Wolverine and Blade both have the ability to stealthily stalk their prey. This should keep fighting even after being beaten to a pulp. This match-up is a mouth-watering proposition and may finally settle the debate on who is the deadliest character.
Guggenheim has written both these flawed heroes on a solo basis which only adds to the flavor. It would be interesting to see how he pit two seemingly indestructible superheroes against each other.
Wolverine vs Blade – The Cover
On the cover, Wolverine and Blade can be seen going all guns blazing at each other. There's a giant red moon being in the background. The red hue to the moon suggests that the readers can expect a lot of bloodshed in this issue. Also up for grabs would be the bragging rights in the Marvel universe.
Blade seems to be very close to stabbing Wolverine with a stake. While the Wolverine with his bloodshot red eyes doesn't seem very pleased at the confrontation and has his claws out. We would need to wait until the heights of summer to find out the fate of this battle. Also, unclear is the reason why these behemoths are on the warpath. The red eyes of the Wolverine could be a sign that maybe he has turned into a vampire. Perhaps this is why he has thus crossed paths with the Daywalker. This issue would also be an intense battle of the blades and healing abilities of these two antiheroes.
Disney/Fox Deal – The Catalyst Behind Wolverine vs Blade?
This is also great news for those who have been waiting for books featuring Marvel's mutants. The Disney/Fox Deal seems to have opened up new horizons for these characters who are no longer confined.
Marvel is once again in the driving seat with the rights to X-Men and Fantastic Four. This release paves the path for more such encounters. There is really only one potential stumbling block for this one-shot issue. It could be the readers who are not interested in page by page description of Daywalker vs. Logan bloodbath. That remains to be seen.
A Battle for the Ages
This issue is going back to Wolverine's costume from his X-Force days. This guarantees that this epic battle has already taken place, but we never got to see it.
Anyway, a vampire and a mutant haven't battled each other for a long time. And to watch these two would be incredible. Blade is a half vampire with apparently no weaknesses. Now he's crossing paths with the unbreakable, bad-tempered Wolverine. The scenario definitely has its appeal. But the question remains who would you like to see win this battle.
The comic book world has seen many crossovers in its history. But what sets this one apart is the fact that their crossing paths has not been thought of yet. Despite the fact that they're in the same universe. Some of the most surprising crossovers are always in-house. What sets these guys apart is how different they are from each other. Marvel has been tight-lipped about the contents of this issue. But it will be so hard not to hear the synopsis in Stan Lee's voice.
Which of these two bloodthirsty antiheroes comes out of this as the last man standing? For that, we will need to wait until July.
Leave a comment