Who Is Steve Ditko – The Architect Of Modern Myths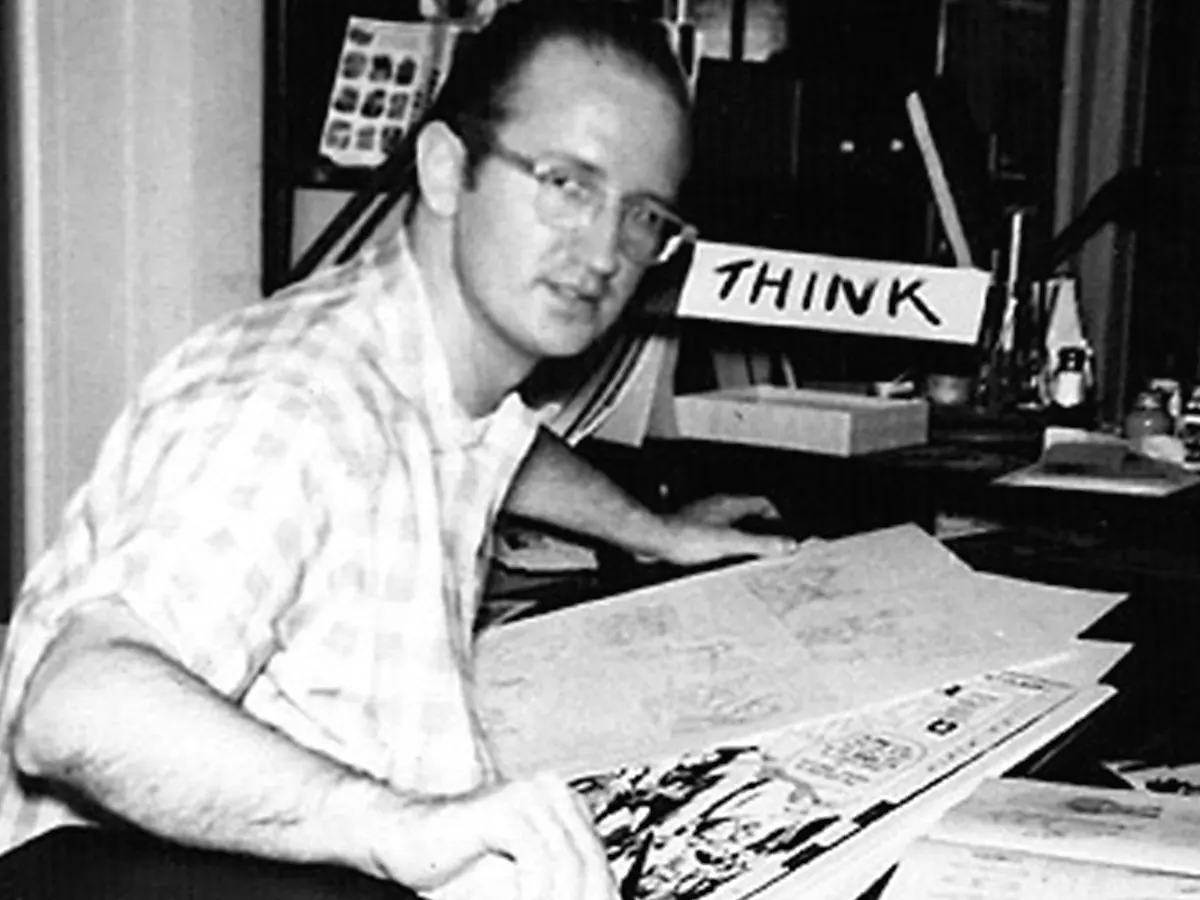 One of my favorite superheroes is a shy, bespectacled young man, brilliant in his studies but very jealous of his identity, who designed a red and blue suit as a symbol to fight crime and injustice and highlight the responsibility that comes with having great power. No, I am not talking about Spider-Man, but about one of his co-creators, the great Steve Ditko.
Within the framework of Marvel, together with the celebrated Stan Lee, he created today's most important characters of the UCM, Doctor Strange and Spider-Man. Doctor Strange in the Multiverse of Madness is one of the most anticipated films of this year, and Spider-Man: No Way Home broke the box office last year. These films would not be possible without Steve Ditko's involvement.
Who Is Steve Ditko
On November 2, 1927, Steve Ditko was born in Johnstown, Pennsylvania, in the United States, and died on June 29, 2018.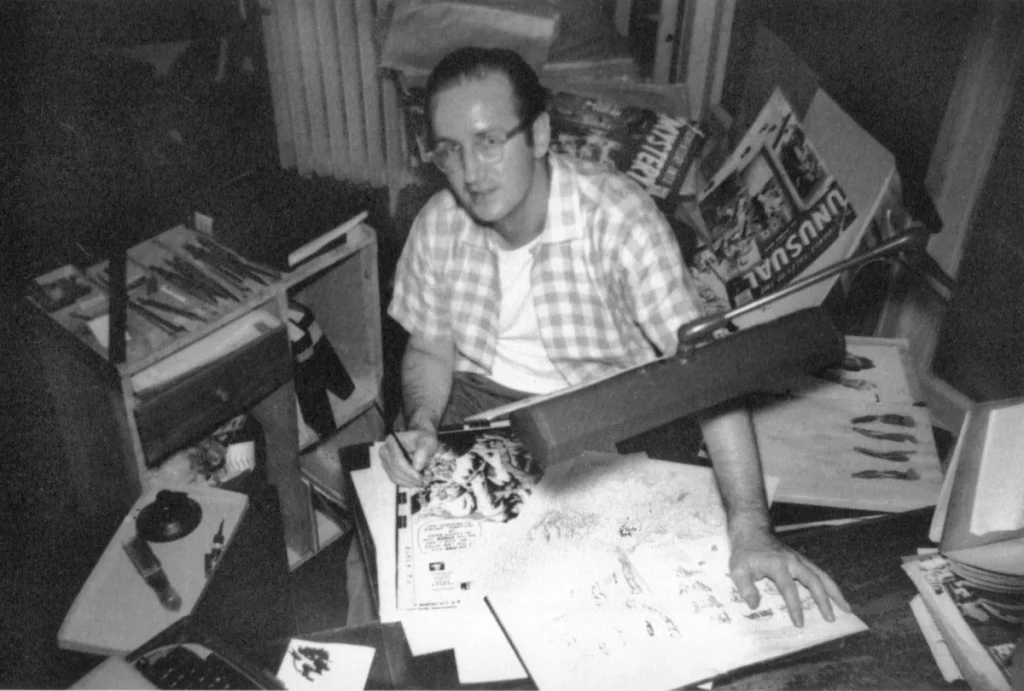 Image via Marvel Comics
Ditko studied art at Cartoonists and Illustrators School (later the School of Visual Arts) in New York, where curiously, he had Jerry Robinson, one of the creators of the Joker as a teacher. Ditko would make his professional debut in issue 27 of the present Black Magic. He devoted himself to drawing fantasy and horror short stories from then on, which was very fashionable in those years. He continued working for some time in some minor publishing houses.
In 1956 he joined Charlton Comics, where he collaborated in series such as Death in Space Adventures and the creation of Captain Hatton in 1960. At the same time, he would also begin his participation in Marvel Comics as an assistant to Jack Kirby, Bill Everett, and Don Heck. They were already known and respected within the publishing house.
Soon Stan Lee came up with an idea for the creation of a new superhero, a teenager with the powers of a spider. In the beginning, Jack Kirby was in charge of this task, and he even designed the costume. However, this first design did not wholly convince Stan Lee since the first draft seemed more adult and did not have the youthful essence that Stan Lee required for his new story. That's how Lee contacted Ditko, and he created the distinctive blue and red suit we all know. In addition, Steve Ditko was the one who came up with the idea of the web-slingers for his dolls.
Ditko's Walk Between Marvel and DC Comics
That is how in 1961, he would be in charge of the complete drawing of the story of Amazing Fantasy number 27, although Steve was already working on the magazine when it was still called Amazing Fantasy. Additionally, he worked on other titles such as Tonics Folk texts and in another of his masterpieces, the creation of Doctor Strange in 1963. Ditko felt more attracted and comfortable with this character and was a fan of all the magic and psychedelia that he would deliver in each issue.
After many creative differences and lawsuits with Stan Lee, Ditko decided to leave the company. He did not feel comfortable with the Marvel method to create stories and partly could not stand that Stan Lee would take all the credit.
That was how our author left the ranks of Marvel in 1966 to join later DC comics, where he created lesser-known characters such as The Creeper. From then on, he would work on titles such as The Creeper and Hawk and The Dove, to then return at the same time to Charlton Comics, where he would work on the stories of Blue Beetle and The Question. He would then join Witzend, illustrating Mr. A, published alongside Wally Wood's. He would also collaborate with Get Smart and Hogan's Heroes, and Pacific Publishing, where he worked with Missing Man. He was never a big fan of the exclusivity thing because he worked on these publishers and titles simultaneously.
Keeping a Low, Independent Profile
In the mid-'80s, Ditko would return to Marvel, not for pleasure but because, according to him, he needed to eat. So he worked on minor titles like the Indiana Jones adaptation, Micronauts, Marvel Spotlight, and Daredevil, in the version where he was not yet famous. In 1998 marvel would entrust him with the task of drawing Speedball, a teenage character that tried to recover the essence of Spider-Man but didn't have much success. Later Ditko would decide to leave the mainstream comic industry that same year, although he never stopped working. Among his independent work is Strange Tales, published by Fantagraphics.
Despite being an author not well known by the general public in the first decades of the XXI century, interest in his work increased, and someone rescued his lesser-known works after decades of oblivion. Steve Ditko was always very jealous of his private life and never made available very private personal data or gave away photographs of himself in public since the 60s. It was even challenging to get any statement from him and, worse, an interview. The last interview he gave was in 1968, where he declared, "I never talk about me, my work is me, I do the best I can, and if I like it, I hope someone else likes it."
His Final Years
It wasn't until 2007 that journalist Jonathan Ross managed to get a meeting with him for the BBC documentary called In Search of Steve Ditko, which we highly recommend watching to learn more about this author's life. However, Ditko does not appear in this documentary, as he refused to expose himself. But host Jonathan Ross, who did get to meet Steve while making the documentary, described him as the greatest comic book artist and creator who ever lived.
On June 29, 2018, Steve died in his Manhattan apartment, which sparked many great comic book authors to mourn his loss. After his death at the age of 90, it reopened the debate of whether he was the authentic creator of Spider-Man, as, for years, Jack Kirby claimed that he was the one truly responsible. Apparently, this will always be part of the character's legend, but be that as it may, we must honor the one who deserves it. Steve Ditko was involved in creating the superhero, and he deserves his merit. He never wanted to make a statement about it, and we know that he preferred to avoid controversy.
Steve Ditko's Best-known Characters
As we have seen, Steve Ditko was a very prolific author whose legacy will remain for posterity. He worked simultaneously for the most important publishers of the time, such as Marvel Comics, DC Comics, and Charlton Comics. His best-known characters were Spider-Man, Captain Atom, The Question, The Creeper, and Shade the Changing Man.
Marvel Comics Stage
During this first stage, which, as we commented, began in the 60s, the author participated in creating Spider-Man and Doctor Strange.
Spider-Man – Our Friendly Neighborhood
Spider-Man is one of the most emblematic superheroes, and Ditko had a critical role in his creation. Stan Lee initially turned to Jack Kirby to bring this new superhero to life. However, Kirby's work did not convince Lee at all; in his own words: "I hated the way he was doing it. It wasn't that he was doing it wrong, it just wasn't the character I wanted; he was too heroic."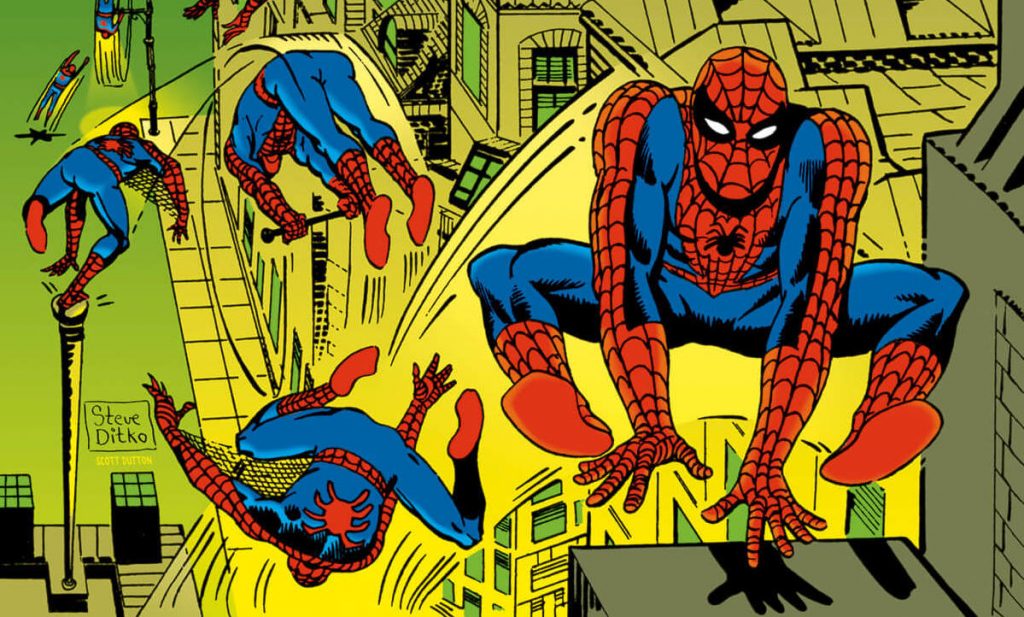 Image via Marvel Comics
Because of the rugged, winning look Kirby gave the character, Lee turned to Ditko to try to get him to embody his vision. In Ditko's own words, "One of the first things I did was to work out a costume. A vital, visual part of the character. I had to know what he looked like… before I did any breakdowns. For example: a power grip so he didn't have hard shoes or boots, a concealed pistol in the wrist versus a web gun and holster, etc. … I wasn't sure Stan liked the idea of covering the character's face, but I did it because it hid an obviously boyish face. It would also add mystery to the character….."
The first sketches and original idea for the costume were Ditko's. Its release to the general public was in the legendary Amazing Fantasy #15, where Jack Kirby was the cartoonist and Steve Ditko the inker. This first version already possessed all the qualities that he maintained for decades, up to the present day. Spider-Man had his ability to stick to walls, his web-slinger, and his characteristic costume. The mask was another aspect that worried Ditko, as he thought that this would not please Stan Lee at all; however, it was a resounding success. The fact that behind the mask of this powerful vigilante was a nerdy teenager was a winning formula.
Doctor Strange – The Sorcerer Supreme
Although the most acclaimed character is Spider-Man, Ditko's work in the creation of Doctor Strange is not far behind. The work in developing this surreal and mystical atmosphere had great depth at the time. Let's remember that this was set in the 70s, the era of hippie psychedelia; therefore, many college students sympathized with this type of atmosphere. In the words of Roy Thomas himself, screenwriter of Doctor Strange: "People who read 'Doctor Strange' thought that the people at Marvel must be crazy because they had had similar experiences drugged with mushrooms. But… I don't use hallucinogens, nor do I think any artist does."
Image via Marvel Comics
The adventures of Dr. Strange explored this atmosphere of psychedelia and oriental mysticism, and despite not being one of Marvel's most popular characters, he always found his niche in this type of audience. However, his influence has reached the present day, where Doctor Strange in the Multiverse of Madness is one of the most anticipated films of the MCU for this year.
Ditko also helped create Dormamu, Baron Mordo, The Ancient One, Kaecilius, Doctor Octopus, Kraven the Hunter, Ned Leeds/Hobgoblin, Chameleon, Green Goblin, Squirrel Girl, among others.
DC Comics Phase
The Creeper – Jack Ryder's Alter Ego
The Creeper is a highly underrated character, but that doesn't take away from the fact that he has his legion of fans. Many people like the character even when he doesn't have an evident origin. Jack Ryder was altered by a scientist named Dr. Yatz, who introduced into his body an invention that allowed him to materialize and dematerialize clothes. The Creeper also has a serum that healed wounds and increased his agility and strength. Thus was born the character, who frightened criminals with his striking attire, making him appear out of nowhere.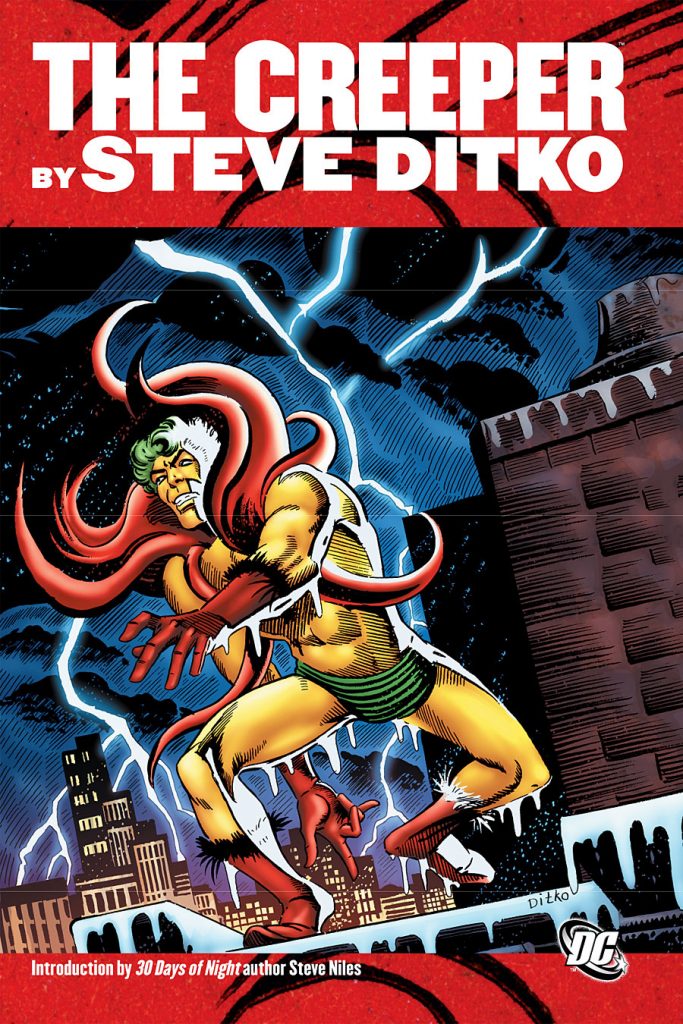 Image via DC Comics
Hawk and Dove – The Crimefighting Duo
On the other hand, we have Hawk and Dove, characters you probably recognize from the Titans series. Originally, Hank and Don Hall were brothers. However, in 1988, a new installment of these characters written by Karl and Barbara Kesel reintroduced these two characters, putting a woman, Dawn Granger as Dove, and turning the characters into a romantic couple.
Charlton Comics Period
At this stage, Ditko began to imbue his characters with his own philosophy, which had its roots in the objectivism of Ayn Rand. We have Captain Atom, Blue Beetle, and The Question. These characters were not as famous as the previous ones, but they had a tremendous impact, and nowadays, fans consider them cult characters.
Doctor Manhattan, Nite Owl, and Rorschach exist thanks to Steve Ditko. Thanks to him, we also have Watchmen, which initially featured Captain Atom, Blue Beetle, The Question, Nightshade, Peacemaker, and Thunderbolt. It's a long story, but it seems that DC didn't let Alan Moore and Dave Gibbons use these characters.
Rorschach, Mr. A, and The Question
It's essential to treat these three characters within the same section, as they are influenced by each other. Mr. A first saw the light of day in a 1967 issue of the underground comics anthology series witzend. It featured a vigilante wearing a steel mask and the costume of a private detective in the pure noir style, white suit, and tie. His business card was a literal card with a half-black, half-white face, symbolizing his belief that there was no gray area of morality, only good and evil. He distinguished himself by being the enlightened one who could distinguish between the two.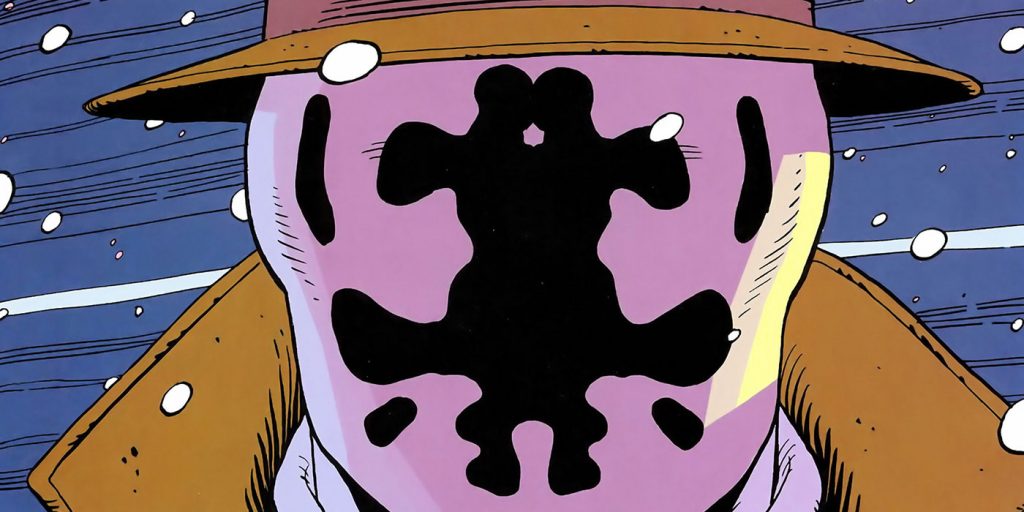 Image via DC Comics
A short time later came The Question, within the Blue Beetle collection. His look, also similar to that of a private detective of the 50s, wore a mask that made it seem like he had no face. Unlike other superheroes, The Question did not hesitate to drown a criminal if he felt it was necessary.
Both are the work of Steve Ditko. Both characters are so similar because The Question was simply Ditko's attempt to make Mr. A fit into the restrictions of the Comics Code, which would make him a much more lucrative project.
Ditko used these two characters to give free rein to his ideological expression through these fictional characters.
The Ideological Framework Behind Steve Ditko's Characters
Maybe Ditko did not want or could not reflect his ideology in his first works since it was in Mr. A and The Question, where the author reflected more intensely on his ideological orientations. What is true is that the very idea of the superhero is quite conservative, in the sense that it is the individual versus the collective, where the hero is one and the villains are always part of something bigger.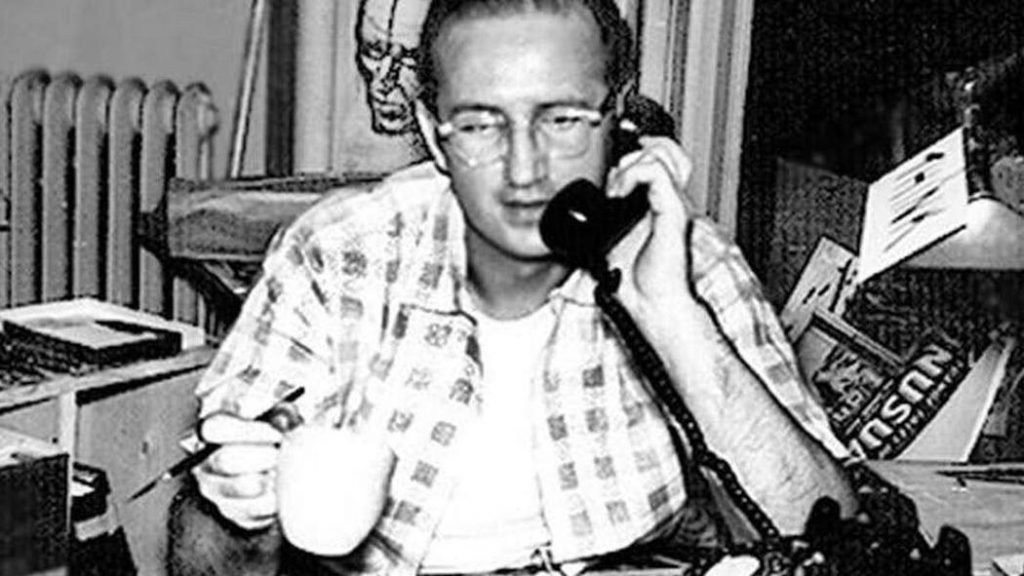 Image via Marvel Comics
Ditko's contribution was not limited to creating characters with superpowers but also to transmitting an ideological background, to turn them into symbolically charged incarnations of law and justice. His work was a profound reflection on how we conceive good and evil and the need for superheroes in a social environment.
If we analyze his work, we can see clear parallels between the peculiarities of his characters and certain currents of philosophical thought. As a matter of fact, the conflicts attributed to his relationship with his boss and editor, Stan Lee, are often attributed to creative differences. Still, many were motivated by ideological conflicts since Lee was conservative and Ditko was liberal.
Featured Image via Marvel Comics
Leave a comment