Who Is Moebius: The Most Influential Science Fiction Artist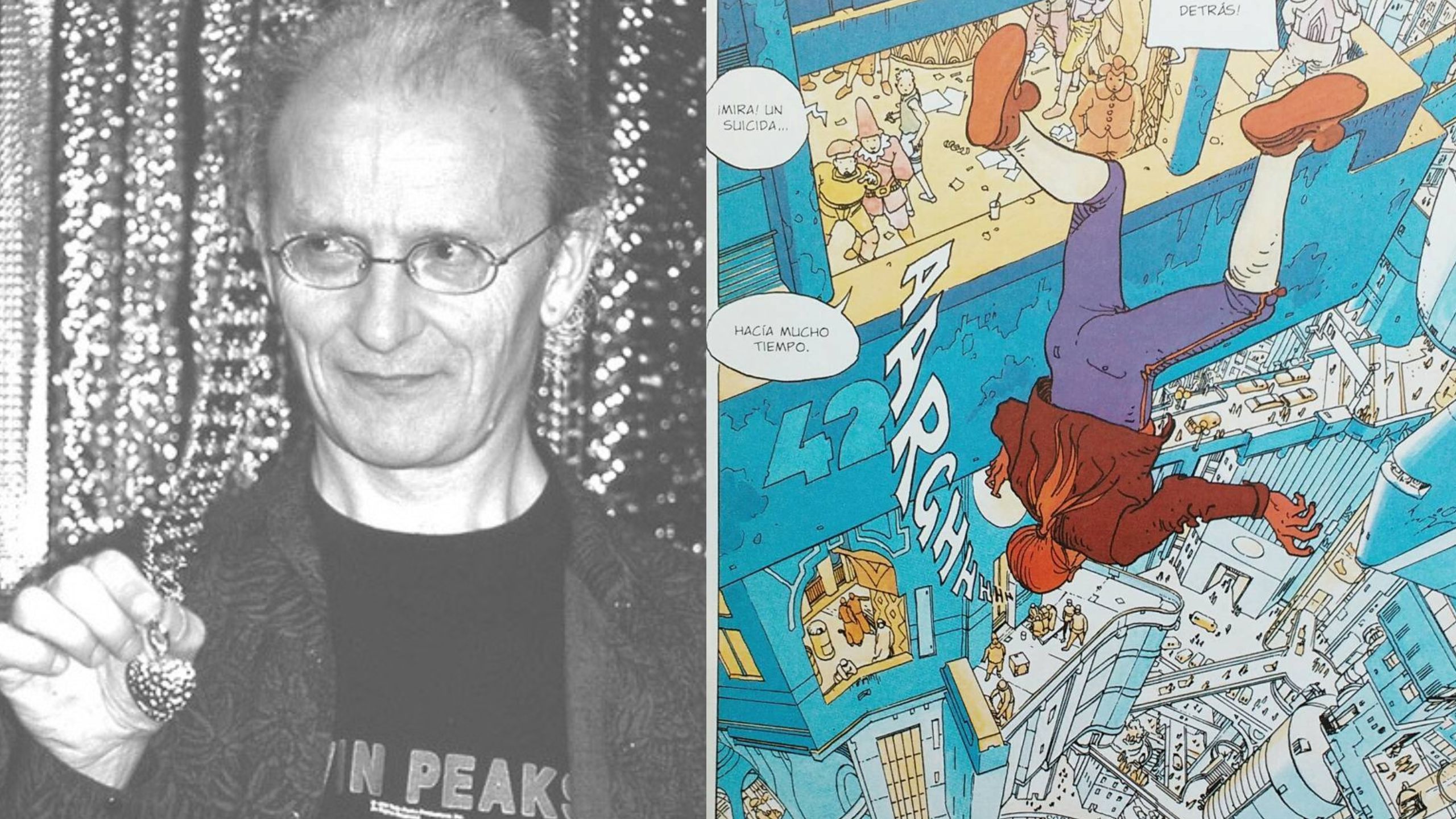 Moebius was one of the cartoonists with the greatest impact and inspiration for comics and science fiction films. His real name is Jean Giraud. This artist of French origin drew comics of diverse nature, from western style to science fiction. He also worked for Marvel Comics, where he developed the graphic art for some issues of Silver Surfer. For family reasons, he would create other comics with this company until his return to France.
He continued his artistic life in this European country, where he continued to produce several of his most famous titles. Jean had the help of his wife, who, according to the artist's statements, was one of the sources of inspiration. The artist also participated in several films of different genres, including action and science fiction. 
Who is Moebius?
Image: Guillaume Jacquet
If you wonder who Moebius was, he was a European artist who discovered his passion at a young age when he detailed a cartoon called Around the World at his grandparents' house. His real name is Jean Giraud, and he also used the pseudonym Gir due to his last name.
From a very young age, he had a passion for drawing, although it was somewhat overshadowed during his adolescence. This was because he emigrated to Mexico with his mother and stepfather, and there he had the contact and influence of a different world. He had strong inclinations toward sex, drugs such as marijuana, and Rock and Roll.
Despite his self-destructive modus vivendi, he continued to draw on his own and learn self-taught. This continued until he returned to France and joined the army, then studied at the École Nationale Supérieure des Arts Appliqués et des Métiers d'Art, located in Paris.
After this, his life revolved around the artistic life, dedicating himself mainly to the creation of comic strips. Among these, we can see the Western type, which boosted his career and science fiction. He also worked on several films, developing their images and effects.
Origin and Biography of Moebius
Jean Giraud was an artist born in France on May 8, 1938, in the suburbs of that country. His childhood was not full of luxuries. He spent most of his childhood at his grandparent's house, where his inspiration for graphic arts began. The young Jean would stay in this European region until he was 16 when his mother married a Mexican, and they would go to live in his country. 
He lived crazy adolescence in Mexico, with a love for graphic arts, jazz, Rock and Roll, and marijuana. He would draw his art, as a means of subsistence, with a somewhat crazy way of life. His drawing style at that time was not so marked since he did not worry much about polishing his technique.
He would find his graphic art style on his return to France, first enlisting in the French Armed Forces. He would later study art at the École Nationale Supérieure des Arts Appliqués et des Métiers d'Art University, where he had several experiences, including meeting Jean-Claude Mézières and the publication of the second comic strip he created called Coeurs Vaillants.
Moebius in the Western Genre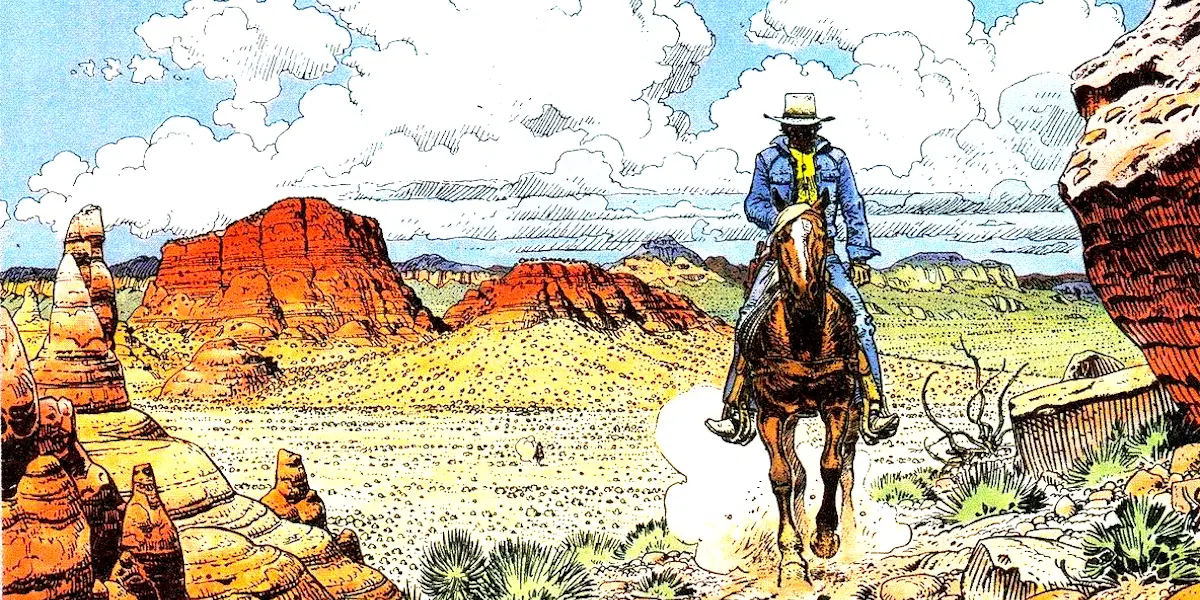 Image: Dargaud Fleurus Hachette Novedi Alpen Publishers
His artistic life began working with the magazine Far West. In this, he would create several comics of the Western genre. Among these, we have the saga of Frank et Jeremie. Later he would work as an apprentice of one of the greatest illustrators of those times, Jijé. With this French-Belgian artist, he developed several issues of the comic Jerry Spring. However, he did not get noticed until he created 1963 the comic strip The Lieutenant Blueberry, which was published in Pilote magazine.
After publishing that comic, Gir had many interactions with science fiction plots. The artist did this by working with the publishing house Hara-Kiri when he got the nickname Moebius. Jean adopted this pseudonym in honor of the mathematician and astronomer August Möbius. He commented on the reasons for signing with this new name in an interview with the magazine Totem "Not so much to hide as to invent something about myself that would go beyond me. Moebius is not behind, it follows an existence parallel to mine".
The Born of Jean Giraud and Moebius
From then on, he would sign both as Jean Giraud and Moebius. Moebius signed with his original name in Pilote magazine, especially in the issues of the Lieutenant Blueberry series. In the case of his nickname, he would use it in other magazines such as Charlie Mensuel, where he would work from 1969 to 1970. Other magazines he signed that way were Opta and the comic book White Nightmare published in the magazine L'echo des savanes.
In later years Moebius associated with other artists such as Jean-Pierre Dionnet, Bernard Farkas, and Philippe Druillet. They experimented with graphics, and together they formed the group Humanoides Associés. He would create, together with all these illustrators, the magazine Métal Hurlant. In 1975, this magazine published several science fiction comics, including five alternative versions of Arzach (Arzach, Harzak, Harzack, Harzack, and Arzak) and the comic The long tomorrow.
Later he would place several series that would not have any connection between them in his magazine. They were science fiction and showed distant and imaginary worlds, which had great success. He would also collaborate in a film production based on the work of Dune, which was never officially released.
His Contributions to Cinema and Superhero Comics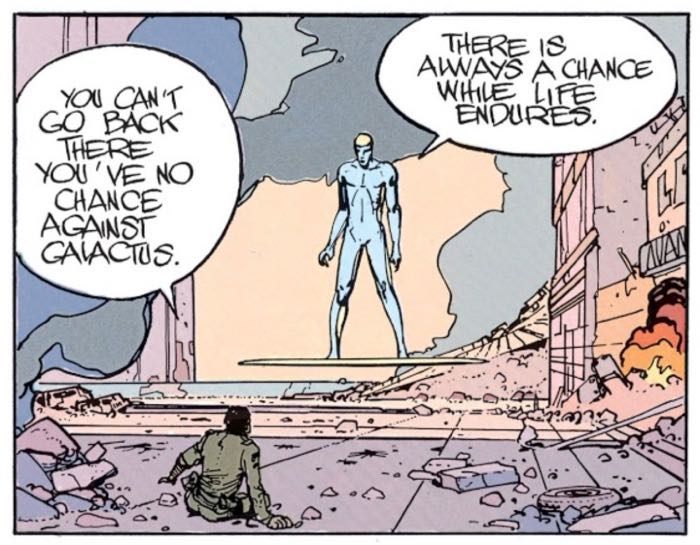 Image: Marvel Comics
In his work as an artist, he continued to produce several comics and graphic artists in films. An example of this was his contribution to the second film of the first trilogy of 'Star Wars. Moebius would create much of the graphic effects for The Empire Strikes Back. He also created all the graphics for the film Les maîtres du temps by René Laloux. He would work on several feature films, contributing his graphic skills to the film.
In the '80s, he was influenced by Japanese illustrators, especially in the manga area. This approach made him change his style a little, arriving at Marvel at the end of that decade, where the impact of this new artistic method was noticed. Moebius would draw all the graphic art for the comic book Silver Surfer: Parabola. He produced it with Stan Lee, who was in charge of creating the entire script for this comic.
He would return to France, continuing his creations in the science fiction world of Metal Hurlant magazine and other productions. This line of work would continue, thus participating in comic book developments and films until the end of the first decade of the year 2000.
Moebius Career
As you can see, this artist's career began at a very early age, developing works of art since he was in Mexico, although without a fixed destination. His career began working in the Western world. There he cultivated the comic that catapulted his career, Lieutenant Blueberry.
Later he would also do science fiction, although he would not wholly leave the Westerns, as he would continue developing issues of Lieutenant Blueberry. He would develop several science fiction comics, as well as movies of this genre, and even helped develop an issue of Silver Surfer, in Marvel.
Western Comics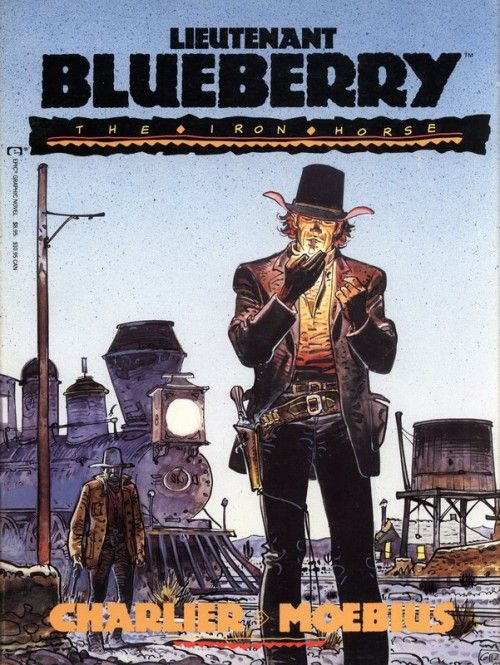 Image: Dargaud Fleurus Hachette Novedi Alpen Publishers
Western comics marked the beginning of Moebius' career, starting his work with Far West, developing issues for the comic book Frank et Jeremie. He would continue his work in this area, following Jijé's teachings, producing the Jerry Spring saga. 
His work in Western was marked by the development of Lieutenant BlueBerry, which was produced for Pilote magazine. This comic would be signed under his real name and not with his nickname Moebius. When Moebius developed the first issue in 1963, he had not yet adopted this nickname. 
The comic continued to be published for years, which Giraud would continue to sign under his full name. This double personality created a duality of signatures, in which his other works were signed as Moebius and the rest as Jean Giraud.
Science Fiction and Fantasy
His beginnings in science fiction were when he started working with the publishing house Hara-Kiri. He was still writing for Pilote with the Lieutenant Blueberry series at that time. However, at that point, he would adopt the identity of Moebius, by which he would be mostly known.
 In the 1970s, he would form Humanoids Associates, producing several comics, including Arzach and The long tomorrow. He would also produce a magazine called the Hermetic Garage. This venture was a radical change in his style, produced by the work of Carlos Castaneda.
In 1978 he produced a work of great recognition called Los Ojos del Gato (The eyes of the cat). After that, he would move to the United States, beginning a new career phase. He would declare the different treatment he received when he appeared with Jean Giraud and as Moebius. American artists recognized the latter, but he went unnoticed because of his real name.
Moebius and Alejandro Jodorowsky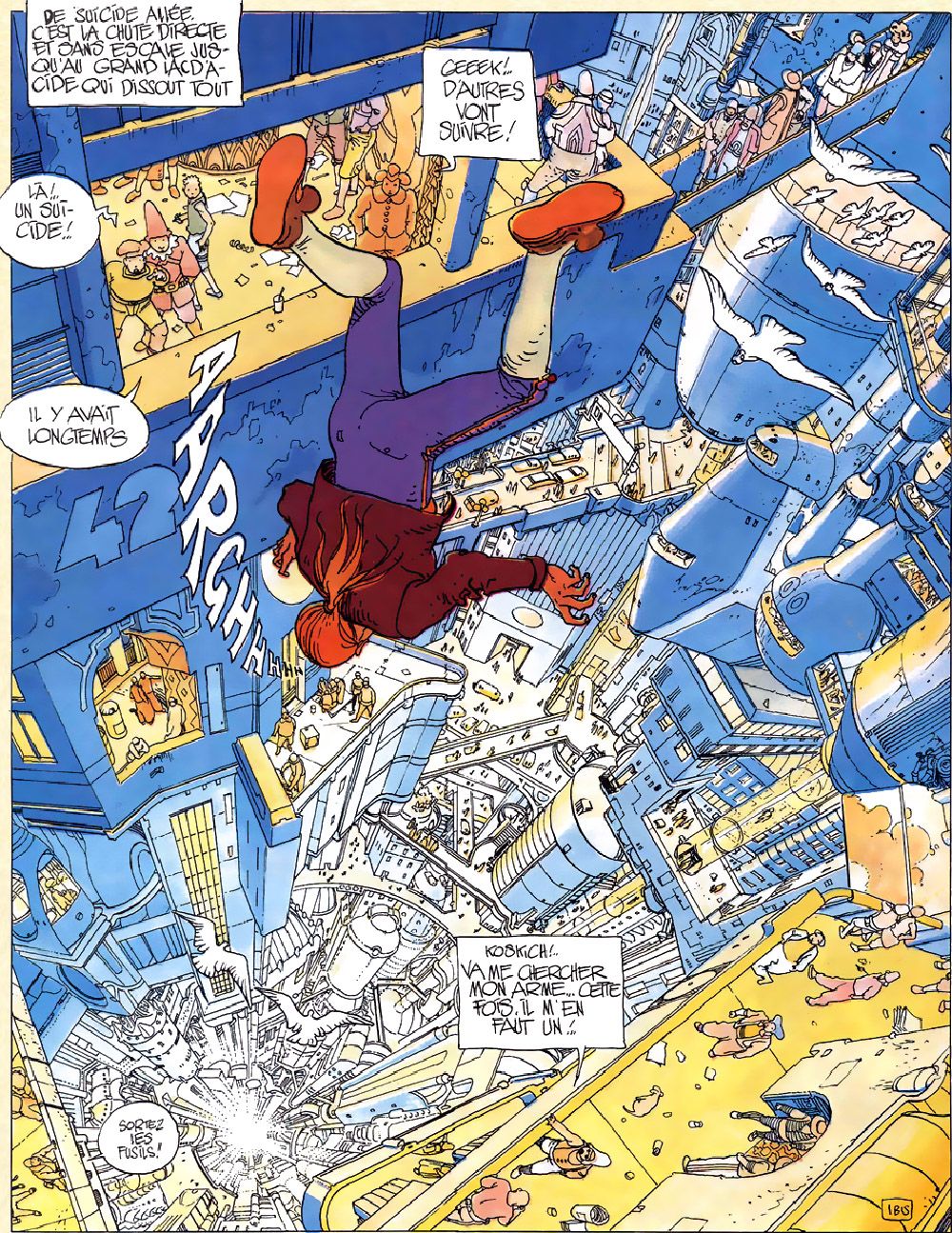 Image: Epic Comics, Humanoids
One of Moebius' most impressive collaborations was with Alejandro Jodorowsky. Together they created the series The Incal between 1980 and 1988. This issue was a space opera where the two artists collaborated to create a unique universe. Movie directors later captured many of the conceptual designs of this series in film. If we look at some of the scenes, they remind us a lot of the designs of Blade Runner (1982). 
The Incal contained a mix of elements that made it irresistible for science fiction lovers. Its pages contain political intrigue, intergalactic travel, conspiracies, science, technology, mysticism, messianism, poetry, love stories, sensuality, and satire.
This series continued until 2014, with the Final Incal series. Its success was such that Rolling Stone magazine included it in "The 50 Best Non-Superhero Graphic Novels" list and placed the original volume as #30, calling it "one of the great comics team-ups". It is an essential series that is little known to the general public.
Moebius in Marvel Comics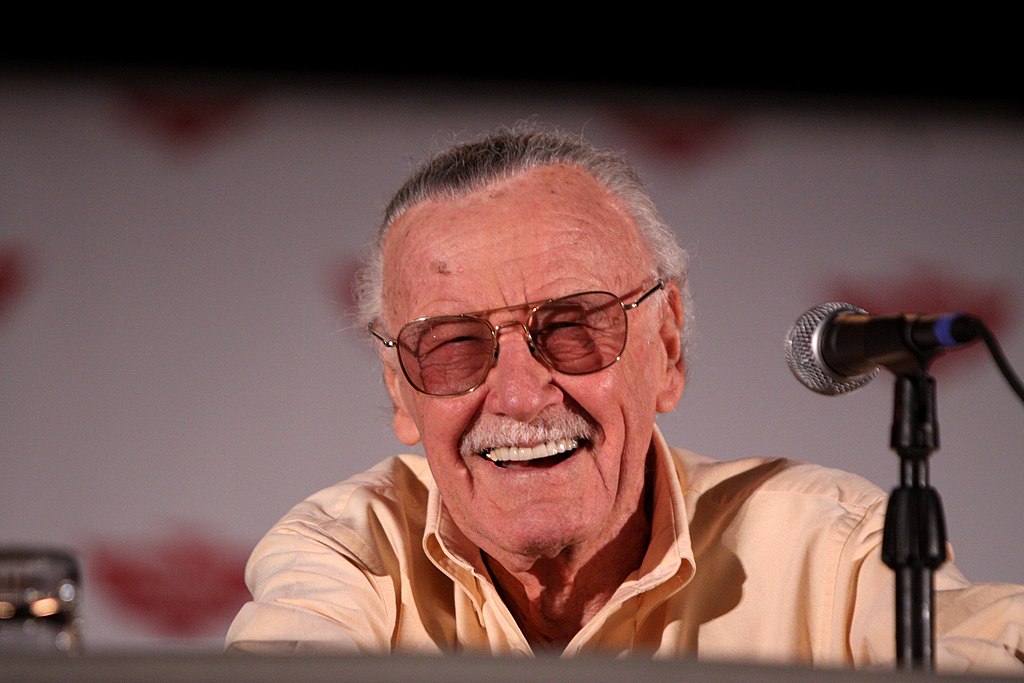 Image via Gage Skidmore
He created a publishing house in the United States, although it would not be very successful due to the differences in the culture of this country. However, he was able to make connections that led him to Marvel, where he developed a couple of mini-comics, which would later be combined into one. It was called Silver Surfer: Parable.
Moebius created this issue with Stan Lee, who wrote the script. This project was Moebius' first connection with Marvel's way of working, which surprised the artist a lot since Stan Lee gave him the text of the comic two days after they talked at lunch.
This comic of the intergalactic being had excellent reviews, as well as a good acceptance by the public. It won the Eisner Award for best finite/limited series in 1989. 
This collaboration would not be the only interaction with Marvel comics since he developed the cover of Marvel Tales in volumes 2 and #253. He also participated in DC comics, in which he created their fronts. These were Hardware Vol 1 Issue 49 and Static Vol 1 Issue 45.
Based on his experiences with these companies, Moebius would develop several creations related to superheroes. Among these were cards, calendars, and illustrations. He also created the Moebius collectible cards, which had all the characters he had developed.
Movies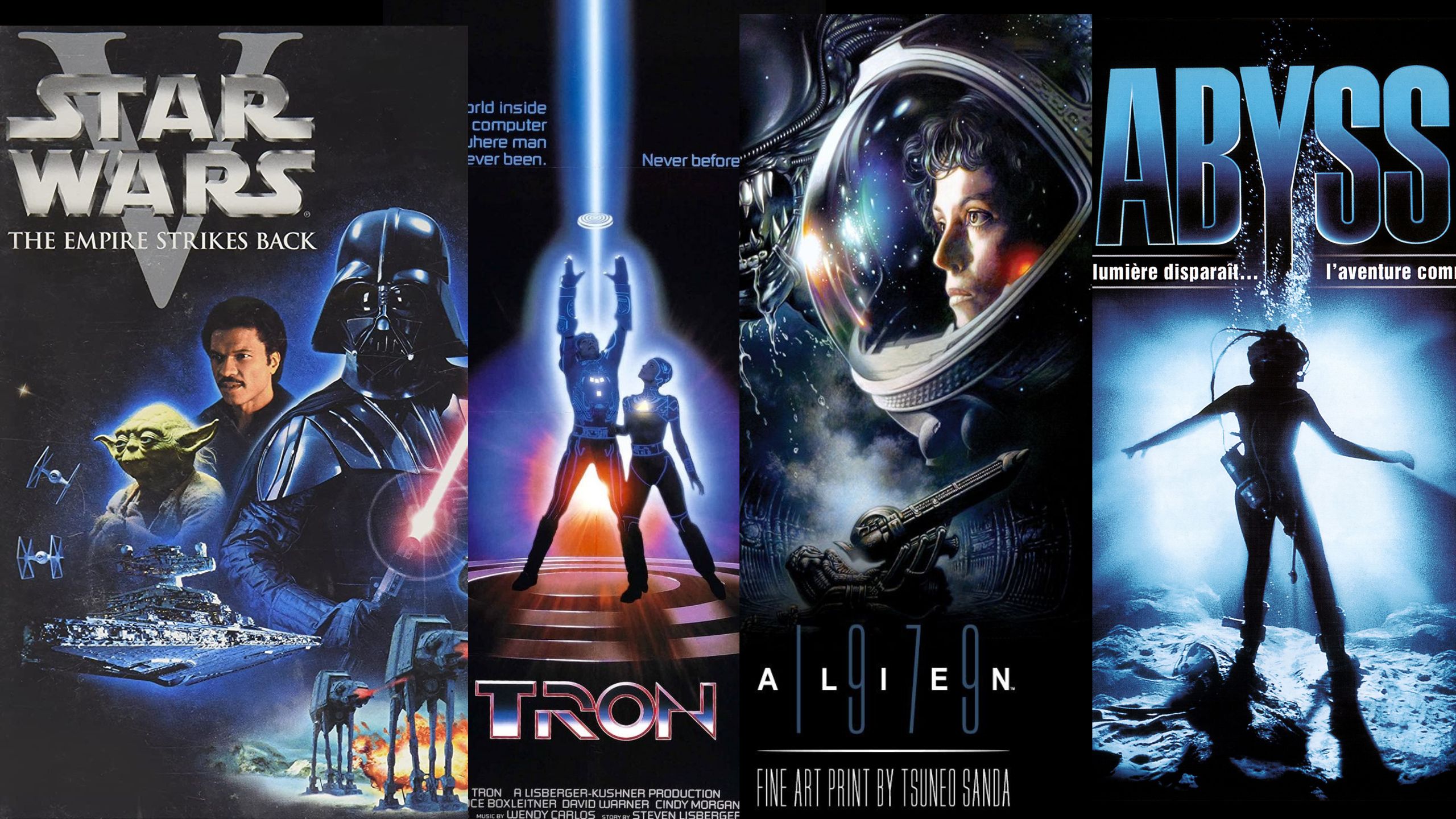 Image: Lucasfilm, 20th Century Fox, Walt Disney
Among the films Moebius helped develop with his artistic skills is Star Wars: The Empire Strikes Back (1980). He helped create all the graphic effects and commented that his experience working with George Lucas was one of the best he has ever had.
Other films he helped develop were Alien, in its '79 version. He was also in Tron '82. Moebius also participated in Masters of the Universe, created in 1986. He was also involved in Willow in 1987 and Abyss in 1989.
There are other films in which Moebius participated and was recognized for them. In the first one, he developed all the graphic art, and it was Les maîtres du temps by René Laloux in 1982. He also helped create the American-Japanese adaptation of Little Nemo by Masami Hata and Bill Hurtz in 1990.
Videogames
As for the video games he participated in, we have Pilgrim: Faith as a Weapon. In which he worked as the conceptual designer of each of the characters in the game. He also participated in Seven Samurai 20XX of 2004, in which he created the game's avatars. This game would be the last work that the artist would have in this type of production. 
His Legacy and Contributions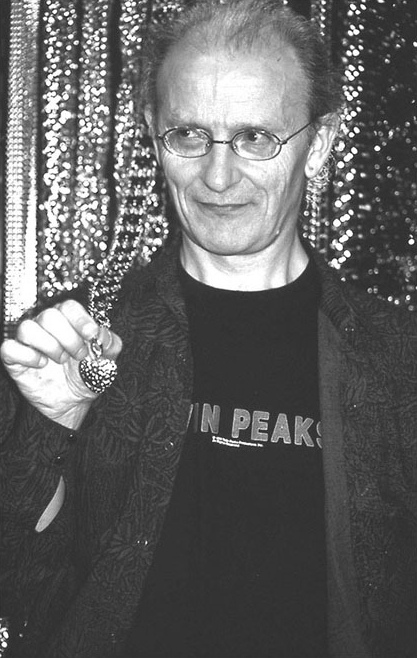 Image: Joezattere
His ideas inspired several artists of the time. Moebius marked a before and after, not only in the comics industry but also in cinema. The director George Lucas used his creations in later productions of Star Wars. In addition to the recognition and awards, he was nominated for all his work.
Among the awards he won, we have The 2017 Eisner Awards in the Best North American edition of international material category for his participation in developing the World of Edena. 
He was also at the 30th Barcelona International Comic Fair of 2012. In this edition, he won the award for Best foreign author's work published in Spain. This prize was for his graphic art in Arzak. El Vigilante.
His work is known on several continents, either Moebius or Jean Giraud. His style has been the basis of many illustrators in these times, especially in science fiction.
Although he passed away on March 10, 2012, in the city of Paris due to cancer, his works are remembered. Several artists have stated in many of his illustrations and comics the influence he had on them. 
This display of admiration was denoted in two issues of the French comic magazine Casemate. The latter paid tribute to Moebius, with comments from 89 artists who spoke highly of his work. They also dedicated several pages to talking about this artist's life as part of his tribute.
Featured Image Via Humanoides
I am a circus aerialist influenced by Dick Grayson and Spider-Man. Fortunate to write about the characters that inspired me. I also have a Bachelor's degree in Political Science and a Master's degree in International Trade.
Leave a comment