Who is Jim Lee? Biography Of A Comic Book Legend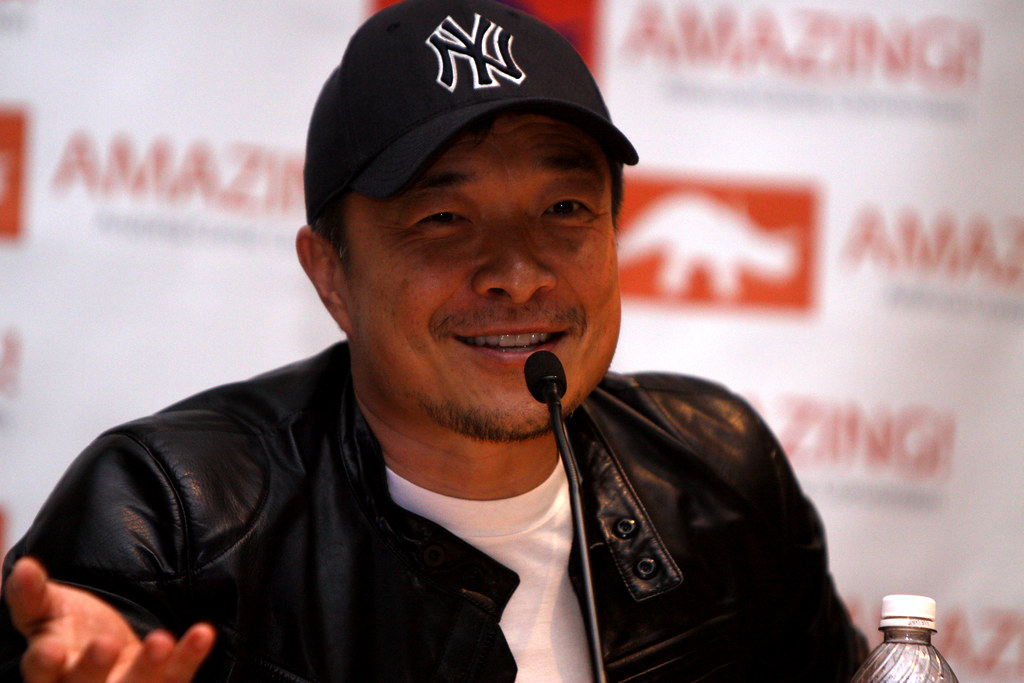 Behind this celebrity and authentic living star, Jim Lee is a psychologist, comic book artist, editor, and talented storyteller. He has worked with characters of great complexity, with dark facets that endow them with humanity. Born in Korea and immigrated to the United States at an early age, it is not surprising that in his childhood, he felt identified with the X-Men, a group of characters who, despite having superpowers, live on the fringes of society. Jim Lee participated in the X-Men, Superman, Batman, and, more recently, the Suicide Squad.
From South Korea to St. Louis 
Jim Lee was born in Seoul, the capital of South Korea, in 1964 in a typical middle-class family. His father was a very famous anesthesiologist in his city. Still, they decided to emigrate to the United States in the middle of the Vietnam War due to the demand for doctors. Those were difficult times for the child Jim Lee who did not know the English language. However, he discovered the library of his city, which served him as a refuge. Despite not knowing the language, they had a section of comics, and it was love at first sight.
During his childhood, Lee identified with the arts. His first activity was drawing posters for school plays at River Bend Elementary School, Chesterfield. He spent his afternoons reading and drawing, although, to his parents, this seemed like a waste of time. Jim didn't have their support at first because they thought he wouldn't have a future in that area. One day, when his mother discovered his comic book collection, she threw it in the trash.
Image Via Gage Skidmore
A Slight Detour
It was then, at the insistence of his parents, that Jim decided to enter the faculty of psychology at Princeton University and dedicated himself to his reading habits, leaving art as a hobby at the age of 19. In the last year of his career, he took a drawing elective, where he found art as a discipline.
And so, after graduating college, Lee decided against his parents to take a sabbatical year to dedicate himself fully to drawing comics. He drew 2 to 3 pages a day, from 8 to 12 hours.
At that time, the comics industry was still in its infancy and did not present great opportunities. As expected, Jim was not very successful at first. All publishers rejected him on more than one occasion, but some friends advised him to contact the publishers personally. At a convention in New York, he met veteran comic book artist Archie Goodwin, who at the time was an editor at Marvel Comics, and helped him get hired by Marvel.
His Career at Marvel Comics
Young Jim Lee received his first assignment on the Alpha Flight series, which dealt with a group of Canadian mutants, was initially called Crisis in Canada, and studied the beginnings of Wolverine on the X-men.
Later, he was transferred to Punisher: War Journal as an artist, where Frank Castle is the protagonist. It was created under the influence of a series like Mack Bolan's The Executioner, where he also plays a hired avenger who kills those who "deserve it" and fight as soldiers in a lonely war. Lee then became a regular artist and was so from number 4 to 19, showing an aesthetic influenced by Japanese manga.
The Uncanny X-Men
Typically, superhero comics maintain the main series and some secondary titles in other universes. Under this scheme, Stan Lee and Jack Kirby created the X-Men in 1963. X-Men is about the teenage angst of a group of mutants led by Professor X, who live on the margins of a society that rejects their superpowers. They were published from number 1 to 66 under the name X-Men. From 1970 to 1975, Marvel produced no new issues, only reprints.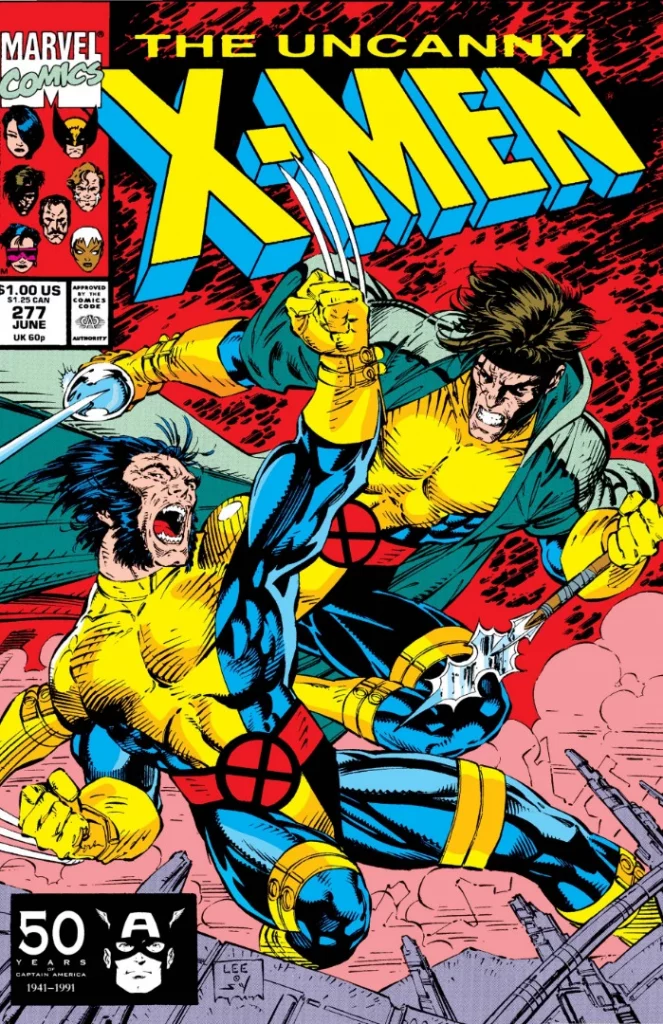 Image via Marvel Comics
In 1975, issue number 1 of the giant size X-men series was printed, which revolutionized the world of comics. Still, they decided to continue with the old numbering returning to the number 94. From number 114 of the collection, Marvel introduced the new title Uncanny X-Men.
Having already stood out for his interpretation of Wolverine in Alpha Flight and later in Punisher: War Journal, he is allowed to work in Uncanny X-men number 248 in 1989. Here is where Jim Lee gets involved with this series so loved by the public. Lee developed timelines left unfinished, giving them fresh air. Jim Lee held the position of the leading artist in this series from issues 267 to 277, from 1990 to 1991.
X-Men Volume 2's Guinness Record
In 1991 Marvel launched this series with the title X-Men Volume 2. Jim Lee worked as co-writer and leading artist from issues 1 to 11, making this first issue the best-selling volume with more than 8.1 million copies, setting a Guinness record for the best-selling issue.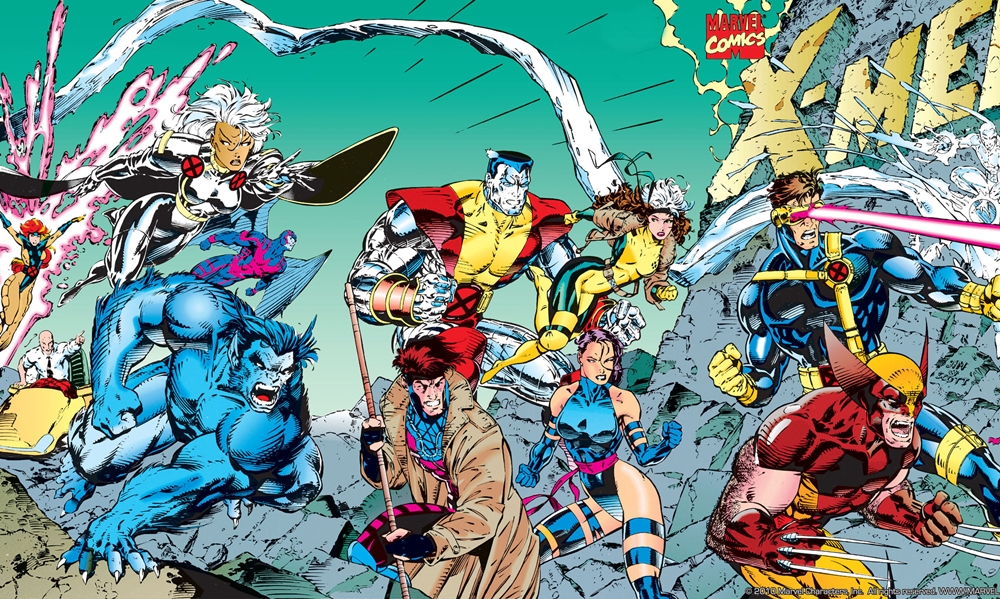 Image via Marvel Comics
In his run on X-men volume 2, he redesigned the uniforms for the entire team, including the most popular ones such as Cyclops, Jean Grey, and Storm. Marvel later used these designs in X-men: the animated series. He also created new characters which stand out. For issue number 1, Lee created Anne Marie Cortez, Fabian Cortez, Chrome/Allen Marc Yuricic, Harry Delgado, Marco Delgado, and Nance Winters. In issue number 4, Omega Red/Arkady Rossovich. In issue number 5, Maverick/Christoph Nord and Janice Hollenbeck. For issue number 6, Arthur Barrington and Birdy. In issue number 7, Meek, and for issue number 8, Belladonna/ Bella Donna Boudreaux and Julien Boudreaux.
Jim Lee in Heroes Reborn
In 1996, Lee returned to his origins by getting involved for two years with a Marvel project entitled "Heroes Reborn." This project takes up the previously defunct series and relaunches classic characters with new plot twists and other scenarios enriching their universes. Under this project, Lee took over the title Fantastic Four and wrote a new concept for Iron Man, while Liefeld was in charge of the Avengers and  Captain America. However, when Liefeld's publications did not have the expected reception, Jim took control of them.
Jim Lee created a new rebirth by breathing new life into The Avengers, starring Captain America, Iron Man, Black Widow, and Hulk. These characters continue to arouse interest in children and adults nowadays. After "Heroes Reborn," Lee negotiated another deal with Marvel, serving as Marvel's new publisher, handling the relaunch versions of Defenders, Doctor Strange, and Nick Fury. All three titles are interconnected with The Avengers storyline and were released in December 1997.
Image Comics and WildStorm 
Since the beginning of the '90s, it was already evident that Marvel Comics had already had some problems. Despite capitalizing on many of its most outstanding characters, it unfairly rewarded its artists due to its work and copyright policies, which led several of them to leave the company.
Thus was born this new publishing house, Image Comics, founded by the young cartoonists Jim Lee, Todd McFarlane, Rob Liefeld, Erik Larsen, Jim Valentino, Marc Silvestri, and Whilce Portacio. The operating company would allow the creators to keep all copyrights. Each partner created its own company within Image Comics that operated autonomously. Lee initially named his company Aegis Entertainment then renamed it WildStorm, where the comic book WildCats, written together with Brandon Choi, was born. A massive surge in the comic book world then ensued that even rocked Marvel and DC.
WildC.A.T.s
WildC.A.T.s was a commercially successful comic book title produced by WildStorm. The plot deals with a group of superheroes who become involved in an ongoing galactic war between two alien races living secretly on earth, the Kherubim and Daemonites.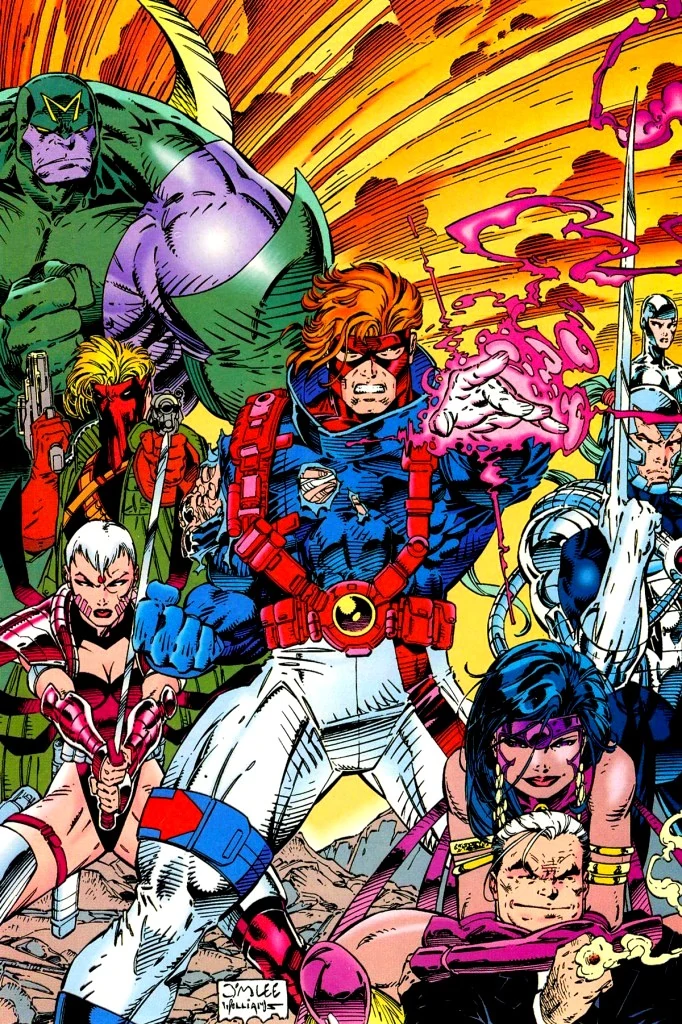 Image via DC Comics
The WildC.A.T.s were mainly Kherubim-human hybrids. The humanoid-looking, near-immortal Kherubim had become nearly sterile over time. Only one in 10,000 females was capable of giving birth. But, the Kherubim hybrids were more fertile than their ancestors. Daemonites were a parasitic species with a reptilian appearance. They survive by taking over the host bodies of various species. This comic was quite famous and still enjoys some popularity today.
Deathmate
In 1993, WildStorm (Image Comics) and Valiant Comics agreed on a six-issue crossover miniseries featuring characters from both companies, resulting in Deathmate. The story revolves around the chance interdimensional meeting of two characters, Solar from Valiant and Void from Image Comics/WildC.A.T.s. The two fall in love, but their relationship would mean the destruction of both comic book universes. These issues have become cult items among collectors.
Jim Lee's Journey Through DC Comics 
Lee sold WildStorm to DC Comics in 1998. But, he continued to run the company as an appendage of DC Comics. He then decided to return to work as an artist.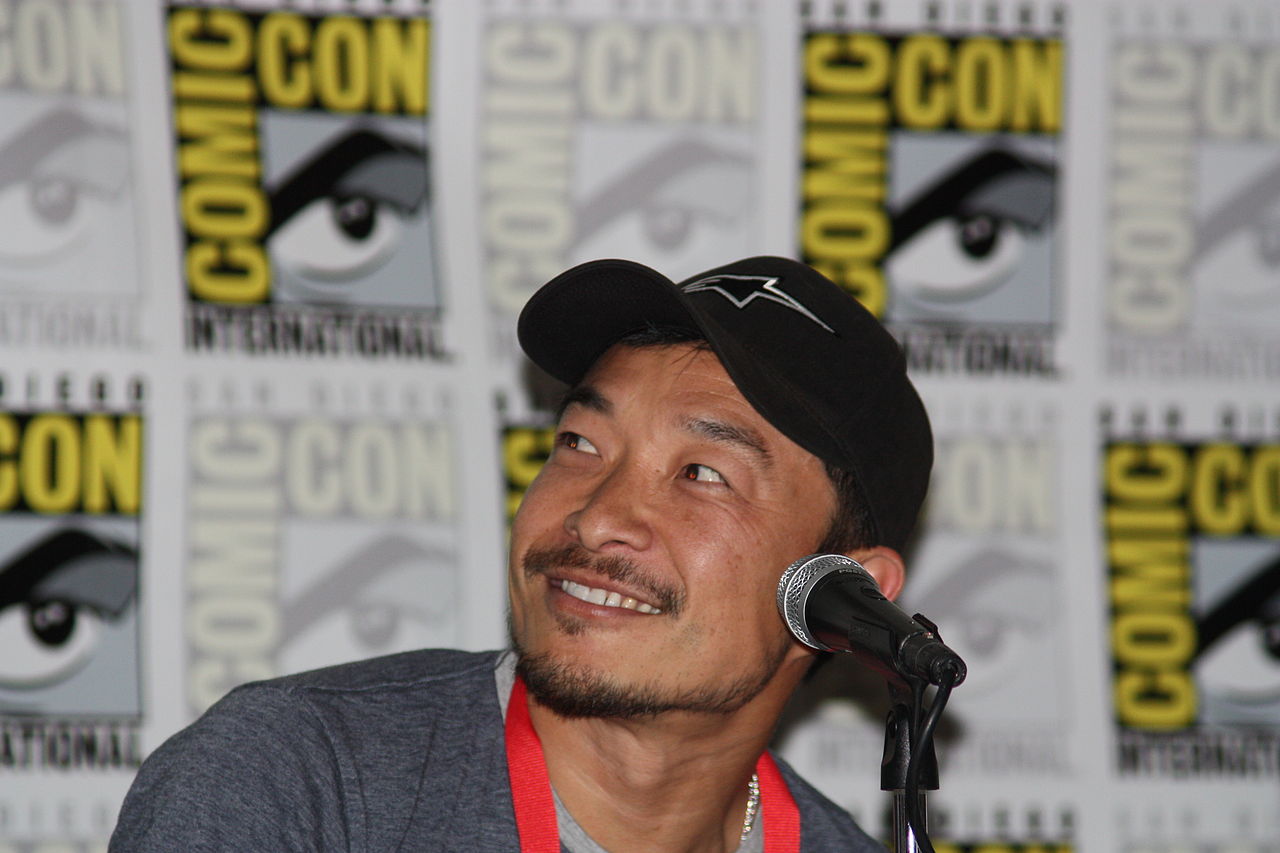 Image via Gage Skidmore
His work within DC includes participation with such emblematic characters as Batman and Superman. In 2003 with "Batman: Rise of Sin Tzu," with Superman in "For Tomorrow" in 2004, and later in 2005 with Batman in "All Star Batman & Robin, the Boy Wonder." 
In 2010 he discontinued printing at WildStorm, although DC reused several of his characters in their major relaunch, The New 52. That same year, DC Comics named him co-editor, sharing duties with Dan DiDio.
Lee redesigned the character of Boo Berry in 2014 as a personal project and new challenge for General Mills. This job was a commission to DC Comics to redesign their cereals with a monster motif for Halloween.
The New 52
In 2011, DC Comics decided to capture new followers. They renewed and relaunched its entire publishing line to achieve this, debuting with 52 new series and canceling all previous comics. DC Comics wanted to end the continuity of the DC universe and create a new universe that didn't require reading vast amounts of previous issues for people to understand it. That's how The New 52 was born, with Jim Lee as one of the prominent editors, sharing duties with writer Geoff Johns.
Batman, Superman, and the Justice League
Over time the stories of characters such as Batman, Superman, and the Justice League have evolved. The latest video game conceptualized in the DC universe, depicting Sin Tzu, a supervillain that Jim Lee created in 2003, represented a master strategist and Asian warlord and was later adapted to the main Batman comics. He debuted in the video game "Batman: Rise of Sin Tzu" and was later transferred to the animated television series "The New Batman Adventures," which aired between 1997 and 1999.
Between the period from 2002 to 2003, he did his most outstanding work, making the 12-issue story arc "Batman: Hush." It develops the expected romantic relationship between Catwoman/Selina Kyle and Batman/Bruce Wayne. In an elaborate story, he shows us the new supervillain Hush/Thomas involving other known villains.
Another work of great importance in his career was the 12-issue narrative "For Tomorrow" with the classic Superman character. It tells the story of Superman's bewilderment at the inexplicable disappearance of 1 million people. Among them was the love of his life, the journalist Louis Lane. for Tomorrow shows a dark and imperfect Superman struggling with mixed feelings of guilt and loss. This story also features a brief appearance by Wonder Woman, and although critics praised Lee's story arc, the art received little attention. 
In 2005, he worked again on the story of the iconic Batman in the series "All Star Batman & Robin, the Boy Wonder," which had a 10-issue run. It narrates Batman/Bruce Wayne's early career and gives rise to Robin/Dick Grayson. Its first issue was the best-selling comic book that year and was quite successful throughout the series.
Jim Lee's present
Lee was the lead artist in 2016 on the single issue of the viral and ongoing story "Harley Quinn and the Suicide Squad April Fool's Special." He also worked on the continuing series "Suicide Squad" vol. 5 from issue #1 to issue #8 (October 2016 to February 2017). This series highlighted and popularized the character of Harley Quinn.
By February 2020, Dan DiDio had resigned from his position. Since then, Lee has become the sole co-publisher and is currently the president of DC Comics.
Throughout his long and ever-rising 36-year career, Jim Lee has won many awards, among the most notable:
Harvey Award in 1990

Inkopt Award in 1992

and three-time winner of the Wizard Fan Award in 1996, 2002, and 2003
Now 58 years old, Jim Lee has nine children with his wife Carla Michelle. Lee continues to draw and intends to develop deep, ambivalent, dark characters with dynamic and exciting stories. The public wants to see more, and he will continue to create.
Feature Image via Gage Skidmore
Leave a comment