Free Comic Book Day 2019 – When and Where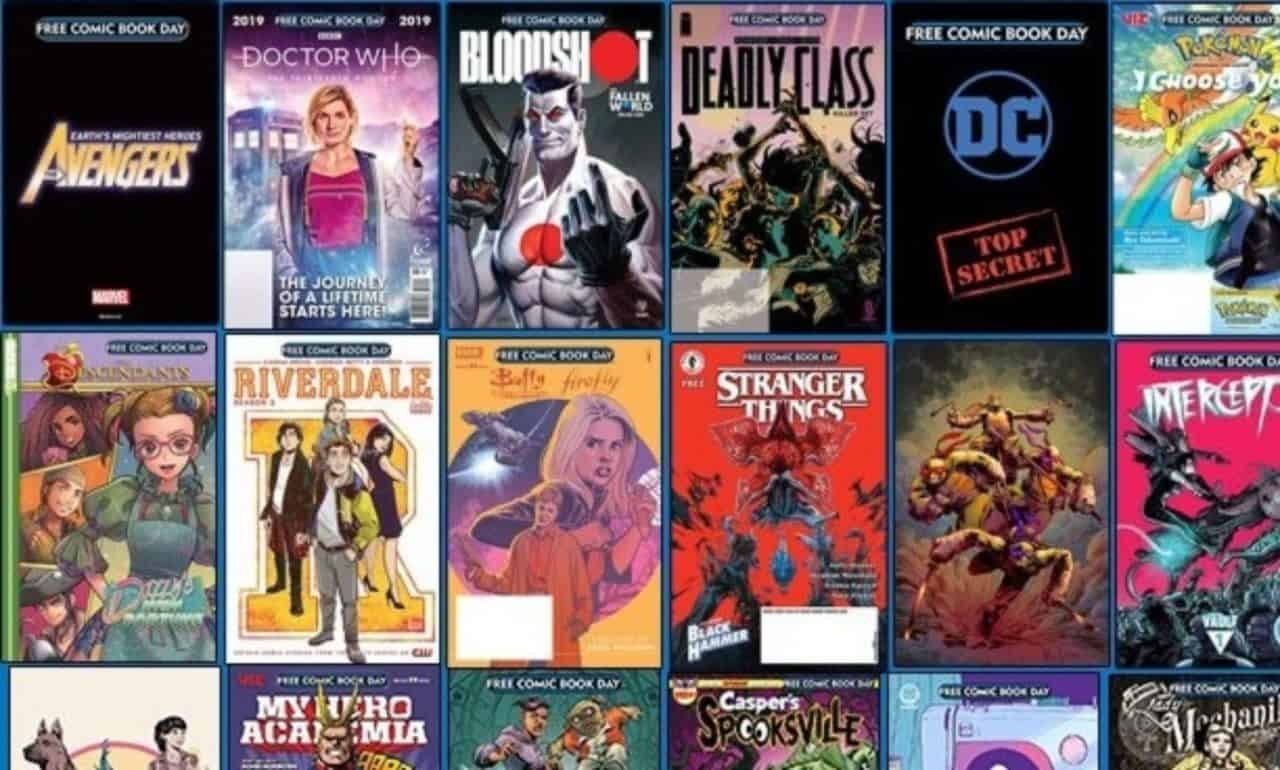 Comic books cost collectors a lot of money over the course of a year. To celebrate the hobby, Free Comic Book Day 2019 offers content for no cost to consumers. The day is a celebration of all comic books contribute to popular culture and the world. Whether Superman or Spider-Man are your favorite, the day is a fun way to get readers into comic book shops. This year, Free Comic Book Day 2019 takes place on May 4th. Fun fact: that also happens to be Star Wars Day, thanks to the pun, "May the Fourth be with you."
How did Free Comic Book Day Start?
The annual celebration of free comic book day started in 2002 to help draw awareness to local and independent comic book shops. While some convenience stores sell comic books, independent stores are the heart of the industry's commercial success. The internet, as well as a decline in comic book stores, play a role in the health of the comic book market. Without a doubt, popular movies featuring comic book characters help keep comic book stores running. Likewise, Free Comic Book Day invites newcomers and veteran collectors to go to their local shop.
Who Participates?
Ideally, every comic book store that is independently owned participates in this event. Some of the most high profile shops around the world market and support this day for months leading up to the first week of May. Some of the biggest shops around North America offer free comic books, including these big names:
Midtown Comics (New York City, New York)
Crescent City Comics (New Orleans, Louisiana)
Comics! Comics! (Las Vegas, Nevada)
Alleycat Comics (Chicago, Illinois)
Golden Apple (Los Angelas, California)
Arcane Comics and More (Shoreline, Washington)
Oxford Comics and Games (Atlanta, Georgia)
Comicopia (Boston, Massachusetts)
How Many Comics Are Given Out Per Person?
If you plan to go to a shop on May 4th, then you may wonder what you will be allowed to leave with. For starters, no general rule exists for the day. Instead, each independent comic book store determines a policy for distribution. Some stores allow visitors to the shop to take one of every free comic book. Others, due to a low inventory, allow customers to pick three or four. Ask a local comic book store employee about the policy, and whether or not there is a limit. One thing is for sure: a lot of customers visit for free books. This means there are likely limitations, but they vary depending on the store and owner.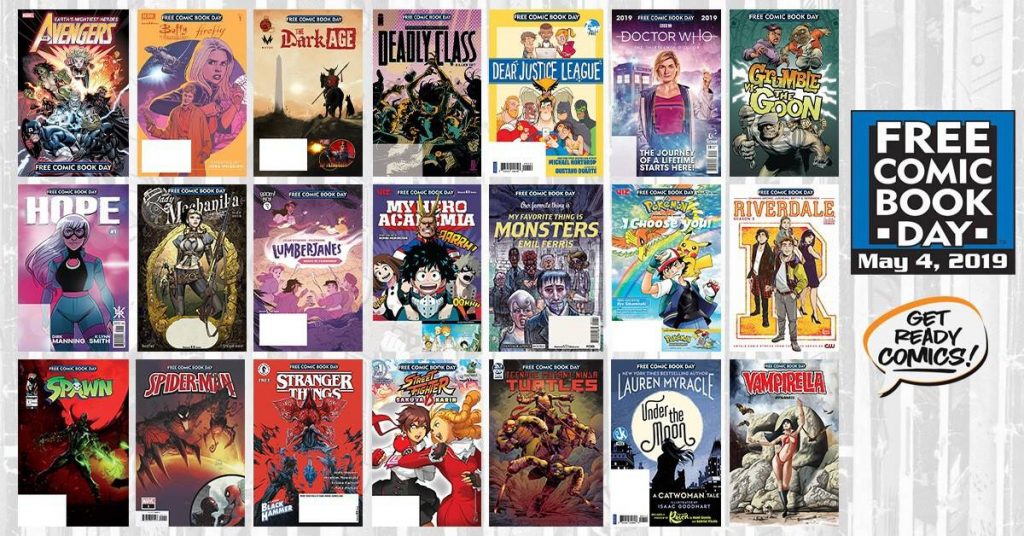 What Comic Books are Releasing this Year?
This year, a number of free comic books release for this annual celebration. The comic book categories that release are categorized as either gold or silver. The gold comics are the top contenders and most coveted. Silver comics are often more obscure and range in desirability. Here are a few of the favorites going into the big day.
FCBD Avengers #1
The Avengers are hot right now thanks to the Avengers: Endgame film releasing this year. Not to mention, Captain Marvel had a huge blockbuster film earlier this year. In this edition for Comic Book Day, the Avengers combine to form the deadliest version of themselves: the Savage Avengers. With characters like Captain Marvel, She-Hulk, Iron Man, and Black Panther, hero Captain America leads an all star cast in a thrilling adventure. This edition sets the stage for the mainline series to follow this year.
FCBD Stranger Things and Black Hammer
This edition gives readers two exciting stories that are both very different and similarly thrilling. Stranger Things, based on the popular Netflix sci-fi show, finds Eleven missing along with the Demegorgon. Her disapperance is enough to get the gang back together, led by Steve and Nancy. Additionally, Black Hammer, the Eisner Award winning series, dives into the past of two Black Hammer heroes. The Cabin of Horrors holds many secrets, some too terrifying to read for some.
FCBD Pokemon I Choose You and Pokemon Adventures
Two stories in one for this Pokemon adventure. In the first, I Choose You, Ash meets and clashes with Pikachu on the first day of their journey together. While quarrelling, they spot Ho-Oh, the legendary bird Pokemon, and set out to find it. in Pokemon Adventures, Red has won over Bulbasaur and Poliwhirl, but Pikachu is as stubborn as ever. Will he get the team on the same page? Both adventures are a great introduction to the Pokemon world for newcomers.
Check to see if your store is participating in free comic book day 2o19 as the day draws nearer! Maybe you'll be able to find some of our best Comic Books for April!
Taylor is the Gaming Editor of Comic Years and a lifelong fan of video games. He holds two degrees in Political Communication and wrote a Master's Thesis on resistance movements, race, and the exploitation of college athletes. His wife and two Toy Australian Sheppards keep him sane.
Leave a comment