What Monthly Indie Comics You Should Read This September
While DC and Marvel are the lifeblood of the comic industry, indie comics inject much-needed energy. Even if they don't sell as much as most superhero books, people still cherish them—often buying them in trades later on. However, supporting monthly indie comics is crucial to their survival, and there are a lot of great ones you should read this September. But first, the return of one the best new series at Image Comics.
Sea of Stars #6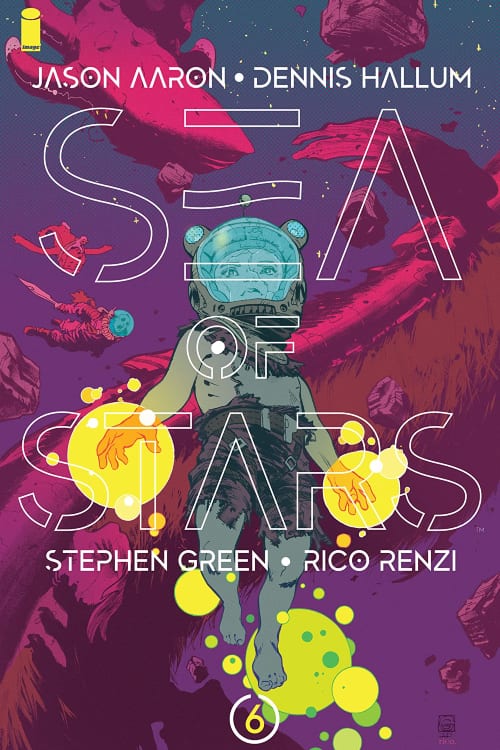 Bratty kid with superpowers in space. Not an ideal situation. (Image Comics)
Sea of Stars is a fascinating book. It's a giant space epic about a father and a son separated after a space monster attacks their spaceship. But, while it's a sci-fi story in space, it feels like a nature story. It's more like a "lost at sea" narrative, just out in the cosmos. Additionally, Stephen Green's art lends to this idea beautifully. Basically, it's a sci-fi book that feels like a fantasy book and reads like a survival book. How awesome is that?
Writers: JASON AARON and DENNIS HALLUM
Artists: STEPHEN GREEN with RICO RENZI
Publisher: IMAGE COMICS
Release Dates: September 2nd
Official Solicitation, Issue #6:
The hit science fiction series returns! Even as space trucker Gil and his lost son Kaydn are about to be reunited, the evil forces of the Zzaztek seek to intervene. And when Kadyn finally unleashes his new god-like powers, then god help anyone in the blast radius!
The Department of Truth #1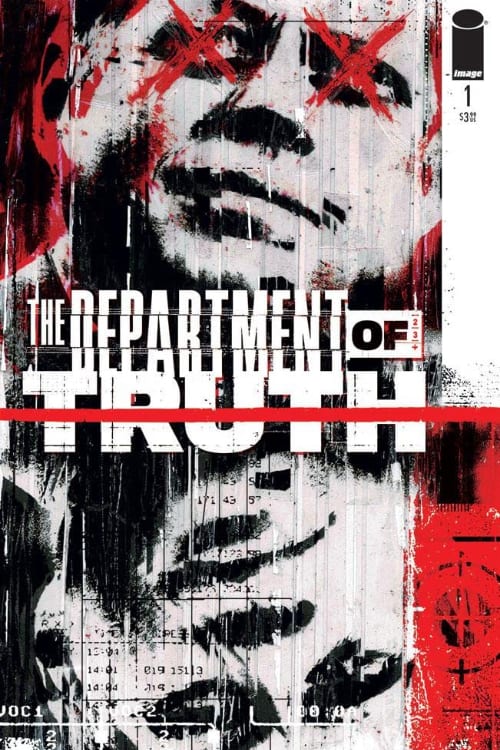 What about the conspiracy that Barack Obama can control the weather? (Image Comics)
The current occupant of the White House loves him some conspiracy theories. Most of us have a passing fascination with them, but we usually tune them out as nonsense. So, what happens if we're wrong? If the crazy conspiracies we've heard all our lives, from the flat earth to Tupac faking his death, were all true? Surely, it would be crazy, right? Well, this September, we should read The Department of Truth, a new monthly series from indie comics giant Image. Let's see how nuts this gets.
Writer: JAMES TYNION IV
Artist: MARTIN SIMMONDS
Publisher: IMAGE COMICS
Release Date: September 30th
Official Solicitation:
Cole Turner has studied conspiracy theories all his life, but he isn't prepared for what happens when he discovers that all of them are true, from the JFK assassination to flat Earth theory and reptilian shapeshifters. One organization has been covering them up for generations. What is the deep, dark secret behind the Department of Truth?

Bestselling writer JAMES TYNION IV (Batman, Something is Killing the Children) debuts his first Image ONGOING SERIES alongside breakout artist MARTIN SIMMONDS (Dying is Easy)!
We Only Find Them When They're Dead #1
Sounds like my love life. (Boom! Studios)
We're going back to space again! When it comes to monthly indie series, Boom Studios are almost as big Image Comics, and this September, both offer great books we should read. We Only Find them When They're Dead sounds just a tab bit crazier than Sea of Stars. It kind of feels like a mashup of Marvel's Celestials, those giant space gods, and Repo! The Genetic Rock Opera, in which people harvest drugs from dead bodies–all while singing, of course. Regardless, I trust Al Ewing to deliver something unique.
Writer: AL EWING
Artist: SIMONE DI MEO
Publisher: BOOM! STUDIOS
Release Date: September 2nd
Official Solicitation:
For fans of Decorum and Something is Killing the Children comes a new sci-fi epic from Al Ewing (Immortal Hulk) and Simone Di Meo (Mighty Morphin Power Rangers). Captain Malik and the crew of the Vihaan II harvest resources from the giant corpses of alien gods found on the edge of human space. While other autopsy ships race to salvage the meat, minerals, and metals that sustain the human race, Malik sees an opportunity to finally break free from this system by being the first to find a living god. But Malik's obsession with the gods will push his crew into danger at the darkest reaches of space and face — unless the rogue agent on their trail can stop them first…
As always, be sure to tell us what monthly indie comics you think everyone should read this September below! We can only spotlight so many.
(Featured Image: Sea of Stars #7, Image Comics)
Roman Colombo finished his MFA in 2010 and now teaches writing and graphic novel literature at various Philadelphia colleges. His first novel, Trading Saints for Sinners, was published in 2014. He's currently working on his next novel and hoping to find an agent soon.
Leave a comment