What Marvel Comics You Should Read This August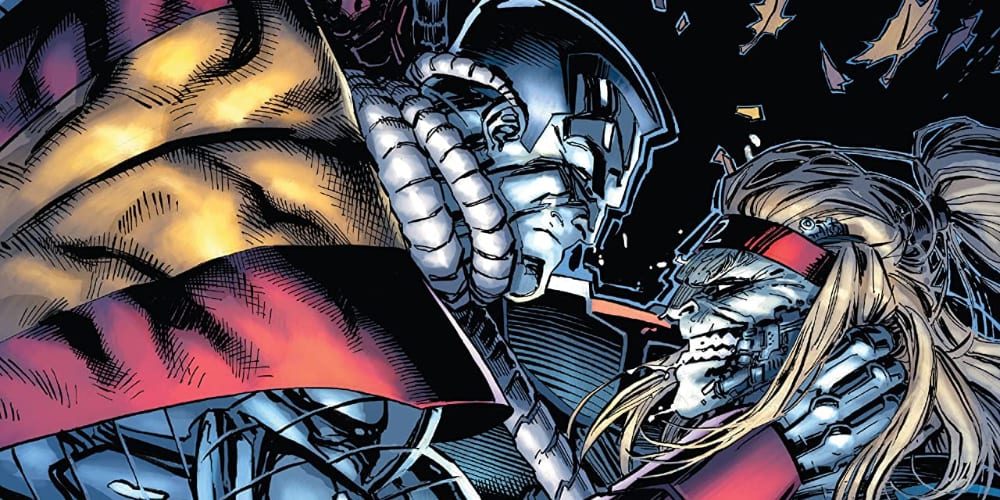 We're almost at the end of summer, but that just means it'll get much hotter before the fall. Fortunately, we have plenty of reasons to stay inside: comic books! Marvel has a lot going on, between Empyre and leading into X of Swords. This August is a busy month, with plenty of graphic novels and single issues from Marvel Comics to read, but here are some you should read right away.
Top Three Marvel Comics August Single Issues You Should Read.
Since we're putting Empyre into checklists, it's a bit harder to determine single issues without them all being X-Men (which I am always tempted to do). What August Marvel Comics you should read comes down to nostalgia, energy, and a momentous development.
Maestro #1
(Marvel Comics)
Writer: PETER DAVID
Artists: GERMÁN PERALTA & DALE KEOWN
Release Date: August 19th
One of the greatest—and most influential—Incredible Hulk stories is Future Imperfect. It's akin to the X-Men's Days of Future Past, but instead of someone in the future going into the past, Hulk goes to the future and meets himself—a ruthless dictator who goes by Maestro. And yet, for thirty years, we've learned very little about how Bruce Banner became Maestro. It's also Peter David returning to his epic story. If you haven't read Peter David's epic run on Incredible Hulk, you should try catching up on as much as possible before August 19th.
Official Solicitation:
THE STORY YOU'VE WAITED DECADES FOR: THE ORIGIN OF MAESTRO! Almost 30 years after the landmark story Future Imperfect, legendary INCREDIBLE HULK scribe Peter David returns to the far-future version of the Hulk known as Maestro — the master of what remains of the world. With astounding art from HULK veteran Dale Keown and up-and-comer Germán Peralta, Maestro will answer questions that have haunted Hulk fans for years — and inspire some new ones. How did the world fall and the Maestro rise? What happened to the world's heroes in between? And where is the Hulk we know and love? Find out here!
Wolverine #4
(Marvel Comics)
Writer: BENJAMIN PERCY
Artist: VIKTOR BOGDANOVIC
Release Date: August 19th
When Wolverine #1 debuted, his solo introduction into Dawn of X, Percy, Kubert, and Bogdanovic gave us two issues with one cover. Now that the first story, Kubert's story has wrapped, we're going back to Bogdanovic's Omega Red/Dracula story. Now, this is just a comment on Percy's writing, not either artist—they are both phenomenal. The Bogdanovic story felt like it had much more potential. It's weird, it's brutal (well, "brutal" and "Benjamin Percy" is synonymous at this point), and it's not a typical Wolverine story.
Official Solicitation:
THE RED TAVERN! After getting dressed down by the Quiet Council for rogue activity, Wolverine escapes through his own secret gate to the Red Tavern, a snowbound, backwoods watering hole where he only wants to guzzle whiskey in peace. But Logan soon discovers that peace isn't possible as a twist-and-turn murder mystery unfolds — and at the heart of it all is an enemy from the past.
Marauders #11
(Marvel Comics)
Writer: GERRY DUGGAN
Artist: STEFANO CASELLI
Release Date: August 12th
While mutants have overcome death, there is one they can't bring back: Kate Pryde. Previously in Marauders, Sebastian Shaw murdered Pryde, the one mutant Krakoa won't allow on the island through the gates. But now, the mutant nation has to face a more horrific reality: the Five can't resurrect Kitty either. After months of trying, Professor X decides that they need to move on. Now, we're going to have the first, and possibly the only, funeral on Krakoa. Need a good cry? Well, then you should read this when it comes out August 12th; Marvel Comics wants us to weep.
Official Solicitation:
THE QUEEN IS DEAD! The Marauders…the Hellfire Trading Company…all of Krakoa is reeling from the death of Kate Pryde.
Top Three Marvel Comics Graphic Novels You Should Read This August
A Reality-altering mutant. An Avenger turned heel. And another adventure with a murderous space demon. Marvel Comics has been pumping out a lot more graphic novels lately, and story arcs are reaching trade format even faster than ever before. So, if you feel that you should have read Captain Marvel before her Empyre tie-in comics, that's possible now since Marvel published Vol 3 on August 5th, just three weeks after the final issue of the last arc came out. Now is an excellent time if you trade-wait your comics.
X-Men Epic Collection: Proteus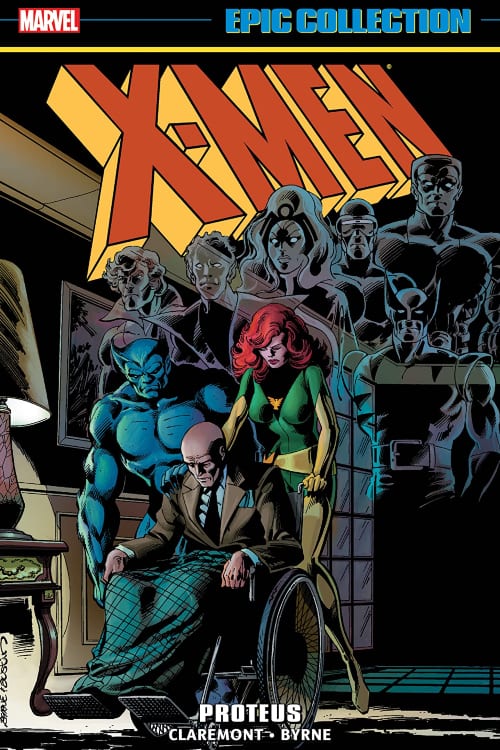 (Marvel Comics)
Writers: CHRIS CLAREMONT with JOHN BYRNE & ROGER STERN
Artists: JOHN BYRNE with GEORGE PÉREZ, MICHAEL NETZER & RICH BUCKLER
Release Date: August 26th
Everyone should read the Epic Collections that Marvel puts out, collecting some of the greatest comics ever produced. With X-Men: Proteus coming out at the end of August, you can read one of the X-Men's most harrowing stories in their entire library. Currently, Proteus is one of the "Five," the Resurrection team on Krakoa. He can alter reality, which, when he loses control of his power, turns him into a nightmare for everyone around him. But this is an Epic Collection, so while the stories all lead to Proteus, we get a lot more too—440 pages, to be exact.
Official Solicitation:
Claremont and Byrne's iconic run continues! Magneto has a score to settle with the X-Men — and when he strikes, they must struggle to hold on to their humanity even as their nemesis strips them to their cores. A narrow escape leads most of the X-Men out of the fire and into the frying pan (A.K.A. the Savage Land), where they encounter Sauron! Meanwhile, thinking her teammates killed in the battle, Jean Grey mourns their loss — and heads for Muir Island. As the X-Men take the long road home, they face Moses Magnum and the debut of Alpha Flight! But soon they must deal with the reality-warping mutant horror Proteus! Plus: Arkon and the Hulk — and the first pieces of Wolverine's past are revealed! Collecting X-MEN (1963) #111-128, X-MEN ANNUAL (1970) #3, MARVEL TEAM-UP (1972) #89 and INCREDIBLE HULK ANNUAL #7.
Captain Marvel Vol. 3: The Last Avenger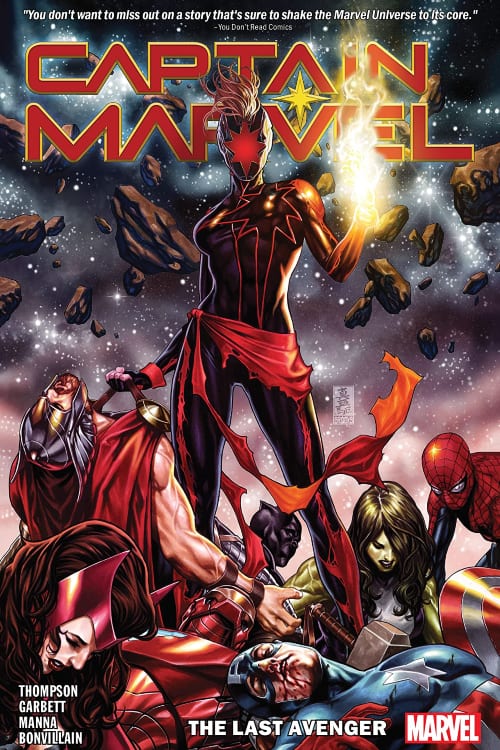 (Marvel Comics)
Writer: KELLY THOMPSON
Artists: LEE GARBETT and FRANCESCO MANNA
Release Date: Available Now!
Captain Marvel is possibly the most powerful Avenger—yes, even more than Thor. Her abilities are unparalleled, and like Superman, she often has to hold back; otherwise, she might go full Binary. So, when she goes rogue in Last Avenger, setting out to kill her teammates, it's bad news for everyone. Of course, if you've been reading Empyre, it's evident that Captain Evil Sash is good again, but this was a brilliant arch for Carol. In fact, every issue of this arch on Comixology has an average five-star rating.
Official Solicitation:
Collects Captain Marvel (2019) #12-17.

Captain Marvel takes on the Avengers — to the death! Carol Danvers has fought alien hordes. Rescued the X-Men. Punched Thanos in the face. Literally saved the world! But now she faces her greatest challenge: kill her fellow Avengers! And she has 24 hours to do it! But why?! As the nightmare becomes reality and Earth's Mightiest Heroes begin to fall one by one, what does this mean for Carol — and for the world? When the mastermind behind Carol's deadly transformation is revealed, she must finally reconcile her human and alien sides — or lose them both. But as a plan begins to form, will the power of the Avengers be enough to save the world? It's a shocking new direction for Captain Marvel — and life on Earth will never be the same!
Revenge of the Cosmic Ghost Rider
(Marvel Comics)
Writers: DONNY CATES and DENNIS HOPELESS
Artists: SCOTT HEPBURN and GEOFF SHAW
Release Date: August 19th
It's like the ultimate what-if, but actually part of the Marvel Universe. What if the Punisher became the Spirit of Vengeance, otherwise known as Ghost Rider? What if the Punisher became a Herald of Galactus? And what if the Punisher rose from the dead? And what if all three of these what-ifs happened to the same Frank Castle all at once? Cosmic Ghost Rider sounds like something you would roll your eyes at. However, it's something you absolutely should read, whether you start with this August release or go back to the previous comics, don't miss out on one of the best Marvel characters created in years.
Official Solicitation:
Collects Revenge of the Cosmic Ghost Rider (2019) #1-5.

He's back, baby! With a reputation like Cosmic Ghost Rider's, it's only a matter of time before the law catches up to this flame-headed future version of Frank Castle and tries to put him in chains. Too bad for the cosmic cops that chains are Castle's new weapons of choice! On the run with a rogue hitchhiker in tow — the young Earth woman named Cammi — Frank must take on one of the biggest crime syndicates in the cosmos! But with his soul hanging in the balance, will he damn the whole galaxy to hell to get what he wants? Plus: A new short story from Donny Cates and Geoff Shaw, the crazed minds who kicked off the madness and introduced Cosmic Ghost Rider in the first place!
Next month: the end of Empyre! The start of X of Swords. And who knows what else. Really, who knows? I haven't read the solicitations yet.
Featured Image: Marvel Comics
Roman Colombo finished his MFA in 2010 and now teaches writing and graphic novel literature at various Philadelphia colleges. His first novel, Trading Saints for Sinners, was published in 2014. He's currently working on his next novel and hoping to find an agent soon.
Leave a comment