What Is Destiny Of X, The Next Phase Of X-Men's Krakoan Age?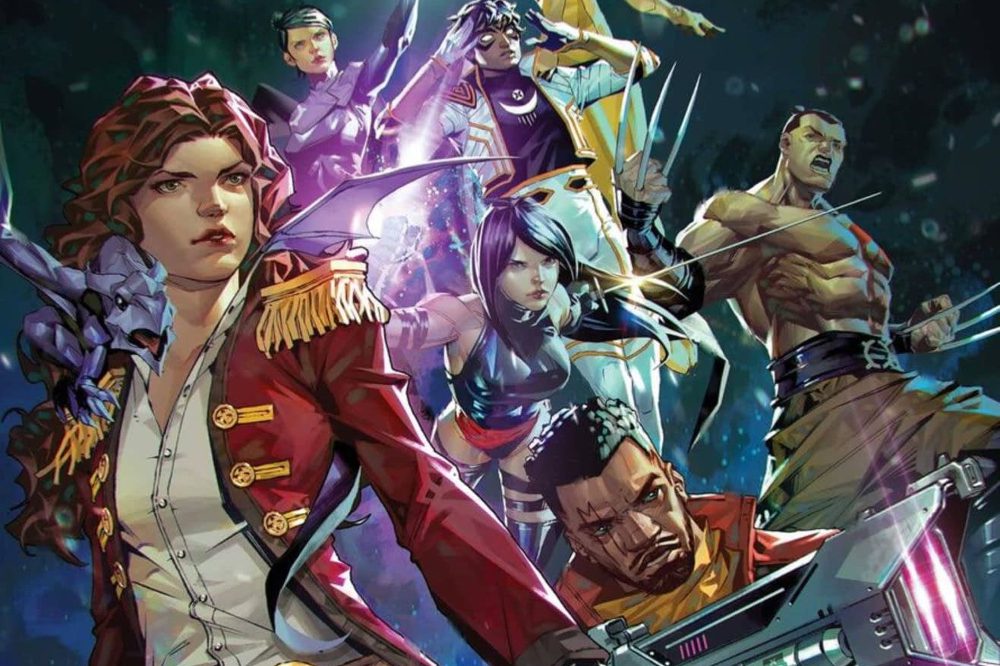 It's almost hard to believe that we're embarking on the third year of the Age of Krakoa. Mutants and Marvel fans alike love what Jonathan Hickman started in the dual series House of X/Powers of X. In fact, the fans and even his fellow X-creators love it so much, they outlasted his plans. Hickman announced that he's stepping back from X-Men so that writers could continue the rise of Mutantdom. So, when Inferno concludes, we won't have a Hickman title. At least, not for a while. He hinted he'd come back eventually. What we are heading into, however, is phase three of Krakoa. We started with Dawn of X. After X of Swords, we entered the Reign of X. This boomed with The Hellfire Gala Planet-Size X-Men, when Mutants terraformed Mars to be the first mutant planet. So, what does this all mean for phase three, Destiny of X?
The Returning Slate of X-Men Titles in Destiny of X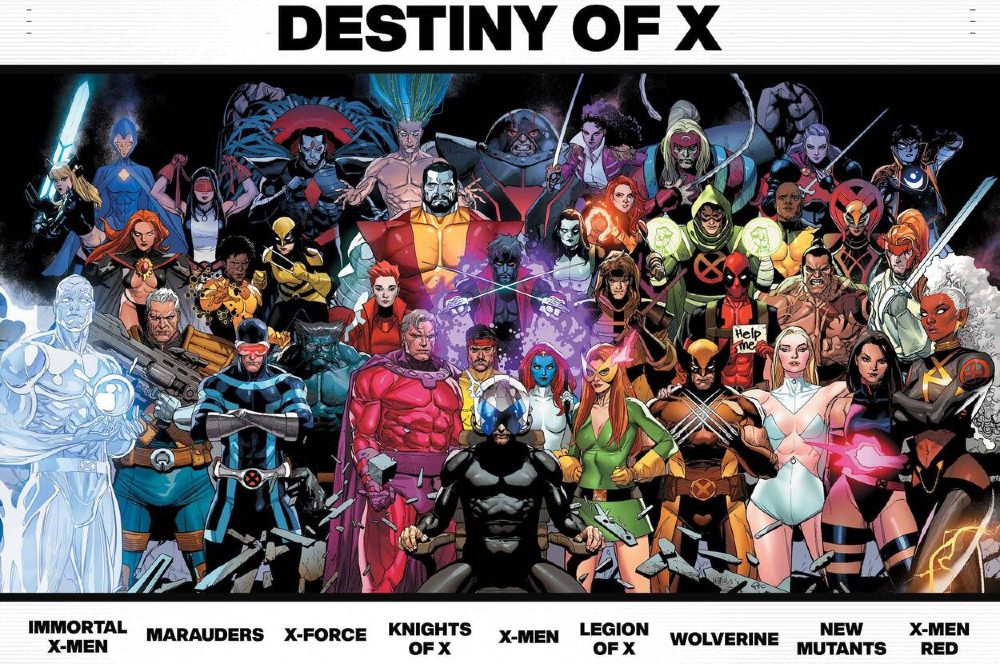 (Image: Marvel Comics)
Like the Krakoan teasers before it, there are a lot of characters in this "I need this as a poster on my wall" Lienil Francis Yu/Sunny Cho promo art. Also great? A list of the upcoming ongoing titles. How do we know they're all ongoing? Well, we know we're getting a Sabretooth mini-series. Since that's not included, we can safely assume these are the new slate of X titles.
The Returning Titles:
X-Men
X-Force
Marauders
Wolverine
New Mutants
Three of these titles – X-Force, Marauders, and New Mutants – started at the beginning of the Age of Krakoa, and from this Destiny of X promo, they're not going anywhere. X-Men, technically, has also been around since the start. However, when Hickman wrapped his run on the title, they debuted Gerry Duggan's as a new #1 issue. Wolverine was one of the first wave two titles…and the only one left. Hellions, X-Factor, Cable, and Way of X all ended. But with these five returning titles,
The New Titles Coming With Destiny of X
Here's the fun part—the newcomers. Combined with the returning titles, we have a healthy roster of ten series for Destiny of X – and the X-office was smart for not giving us more new titles than returning ones. And just the names sound intriguing.
The New Titles:
Immortal X-Men
Knights of X
Legion of X
X-Men Red
Marvel announced a little bit about Immortal X-Men. Kieron Gillen, one of the best X-Men writers in the last 20 years, is returning to the world of mutants and taking us deeper into the Quiet Council. However, the promotional image for Immortal X-Men raises some very fascinating questions.
What is Going On in this Immortal X-Men Image?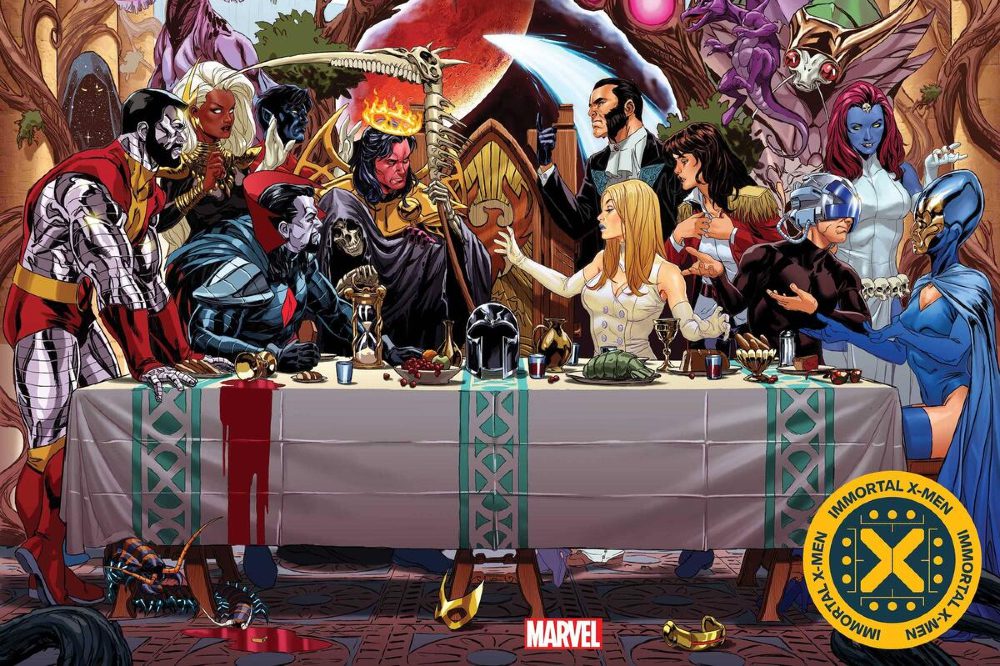 (Image: Marvel Comics)
Currently, in Inferno we essentially have the first Civil War on Krakoa – even if it is just four people involved. On one side, we have the founders of Krakoa, Magneto and Charles Xavier. On the other, Mystique and Destiny. As it stands right now, the only outcome between the two sides is, well, an inferno. So why does it look like Charles, Mystique, and Destiny are conversing in a friendly debate? Even more concerning is that the image is a rendition of the Last Supper. But where Jesus would be at the table, there's only Magneto's helmet. And no Magneto with it. This could indicate that something significant will happen to Eric in the final issue of The Trial of Magneto. In Marvel's announcement, Keiron Gillen gave us a taste of what to expect in Immortal X-Men during Destiny of X:
This is the book about Krakoa, and the Quiet council, with all its muffled screams. It's about a group of people, some of whom are convinced they're in the West Wing, some who have designs to be in House of Cards and at least one who knows they're in Veep. It's big ideas, politics, fights and fashion, lies, creation and destruction, all told across the widest possible canvas, in time and space.
What does Gillen mean by time and space? Well, we'll probably have to wait for X Deaths and X Lives of Wolverine to find out.
The New X-Men Title We Know a Bit About
We know a little about one of them: Legion of X. At the end of X-Men: Onslaught Revelation, the final chapter of Way of X, Legion and Nightcrawler form a new team to search for mutant's meaning of immortal life. The roster also includes Pixie, Dust, Blindfold, ForgetMeNot, Doctor Nemesis…and JUGGERNAUT!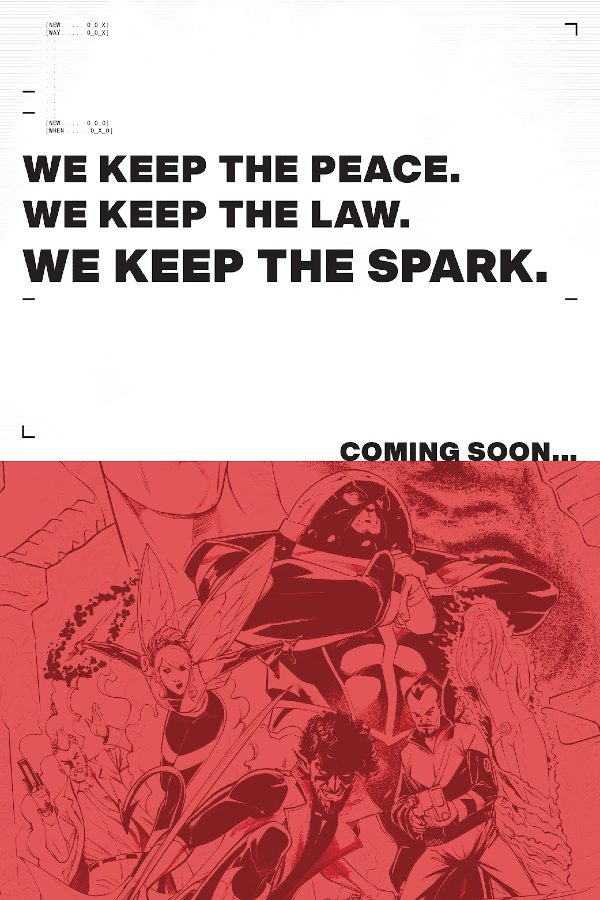 (Image: Marvel Comics)
Go back to the Destiny of X promotional image, and you'll see Juggernaut in the very back. Now, it's a bit curious that Cain Marko is with the mutants of Krakoa since he isn't a mutant.
But he's not the only non-mutant in that image. We also get Deadpool with a "Help Me" sign. However, during the Hellfire Gala, Deadpool pitched for his inclusion in X-Force. So maybe Beast and Wolverine see him as a benefit?
The Two Mysterious Destiny of X Titles
Knights of X is probably the follow-up to Excalibur. We don't have much to go on for that assumption, but it makes sense, thematically. After all, didn't a knight wield Excalibur? Plus, Gambit and Rictor are still in their Excalibur uniforms, and we see that Betsy Braddock is still Captain Britain.
Even less clear? X-Men Red. Just before House of X/Powers of X, a newly resurrected Jean Grey led the X-Men Red book. But now she's part of the X-Men. So, what team will this be in the Destiny of X? Look just above Cable in the promo. That's Madelyne Pryor, a clone of Jean Grey. She was an essential presence in Hellions. After the team killed her, Professor X forbids her resurrection on the grounds that she was a clone. That didn't sit well with Havok, nor did it please the Five. But the Five have basically gave the finger to the Quiet Councill recently. They resurrected Laura's little clone sister, Gabby, AKA Honeybadger. They also defied the Councill in an even bigger way. Check out Trial of Magneto #4 to see how.
Zeb Wells, the writer of Hellions, said that the book was a "Season One" of his story arc. Could X-Men Red be season two?
Nine titles, some new, some old, some with new creators, such as Marauders getting Steve Orlando on board (get it?) with a relaunch of the title. So, which Destiny of X title are you looking forward to the most?
(Featured Image: Marvel Comics)
Roman Colombo finished his MFA in 2010 and now teaches writing and graphic novel literature at various Philadelphia colleges. His first novel, Trading Saints for Sinners, was published in 2014. He's currently working on his next novel and hoping to find an agent soon.
Leave a comment