What Indie Comics You Should Read This August
Though Marvel and DC Comics have both rebounded from the lockdown (mostly), the Indie comics community is still reeling from the shutdown. Sadly, some indie comics, and even entire publishers, are not likely to survive this period. August, however, doesn't just give us a lot we should read, but a lot of ways to support the indie side of the comics industry. So, let's take a look at some of the best-looking releases this month!
What Indie Comics Single Issues You Should This August
We have three indie comics series starting this August, but that's just a fraction of what you should read. I'd include them all, but my editor said I couldn't write a 10,000-word article (Damn, you, Josh!). While Robert Kirkman has a new series starting to, Fire Power, these three are just too unique to pass up. When you see the solicitation for Big Girls #1, you'll understand why.
Big Girls #1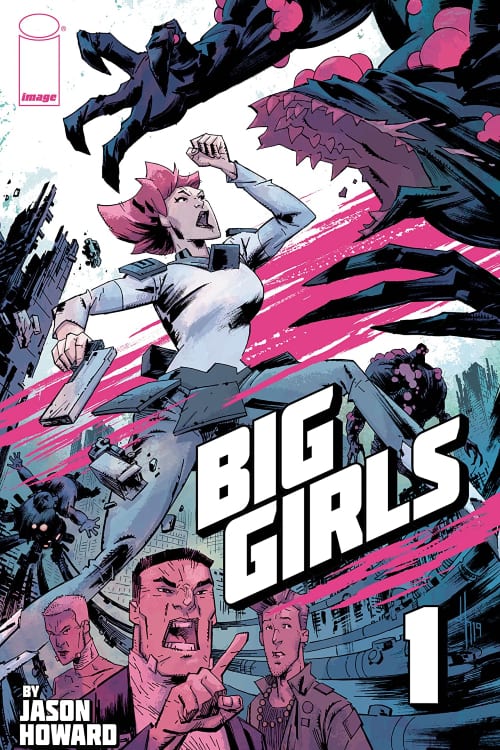 (Image Comics)
Writer and Artist: JASON HOWARD
Publisher: Image Comics
Release Date: Available Now!
There's just one question we need to ask about this comic: buhwahnow? Giant women fighting giant men to protect other not-so giant women. I'm not sure if this is offensive or awesome or otherwise, but I do know it's undoubtedly one of the indie comics we should all read this August. John Wick meets Godzilla meets Girls? Who thinks that up? Jason Howard, apparently.
Official Solicitation:
When men become giant monsters hellbent on destroying the world, only girls can stop them—BIG GIRLS. Meet Ember—she writes poetry, loves to read, and she's a 300-foot-tall full-time monster killer! She and the other big girls are all that stand in the way of our world's complete annihilation! Critically acclaimed artist JASON HOWARD (TREES) takes full creative control as the writer and artist of a tale that's a cross between JOHN WICK and GODZILLA by way of HBO's GIRLS.
Seven Secrets #1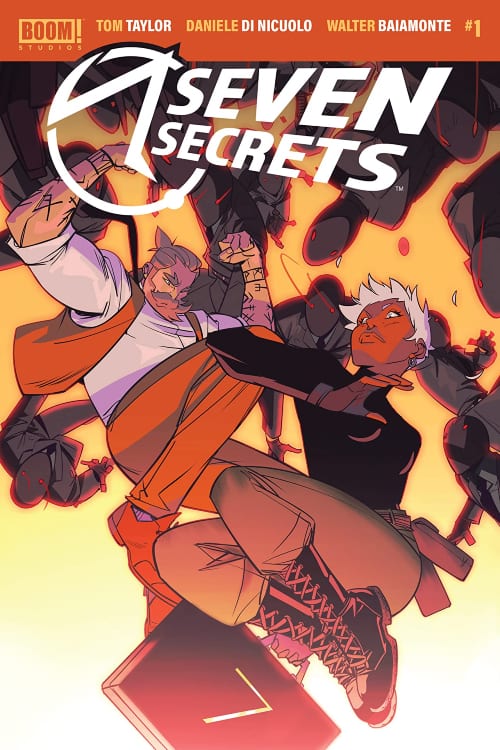 (Boom! Studios)
Writer: TOM TAYLOR
Artist: DANIELE DI NICUOLO
Publisher: Boom! Studios
Release Date: Available Now!
After the success of Once & Future, the Keiron Gillen series that mixes the King Arthur legends with current white supremacist threats, Boom Studios positioned themselves as producing modern fantasy epic comics. We're getting just that this August with the indie series Seven Secrets, which should give us the craziness we read each month in Once & Future. However, no character will ever be as cool as the nanna in Gillen's series, that's just a fact.
Official Solicitation:
For fans of Once & Future and Undiscovered Country comes an all-new original series from #1 New York Times best-selling author Tom Taylor (DCeased, Immortal Hulk) and artist Daniele di Nicuolo (Mighty Morphin Power Rangers) about seven powerful secrets — words, wonders, weapons, and worse — with the power to change the world.. For centuries, the Order has trusted in Keepers and Holders to guard the Secrets in seven briefcases against all harm, but when their stronghold is attacked and the secrets put in peril, the entire Order must face their greatest fear — an enemy who knows too much and is willing to kill to get what he wants. Now, the Order's newest member, Caspar, must discover the truth of the Secrets before the enemy does, or risk losing everything.
Bomb Queen: Trump Card #1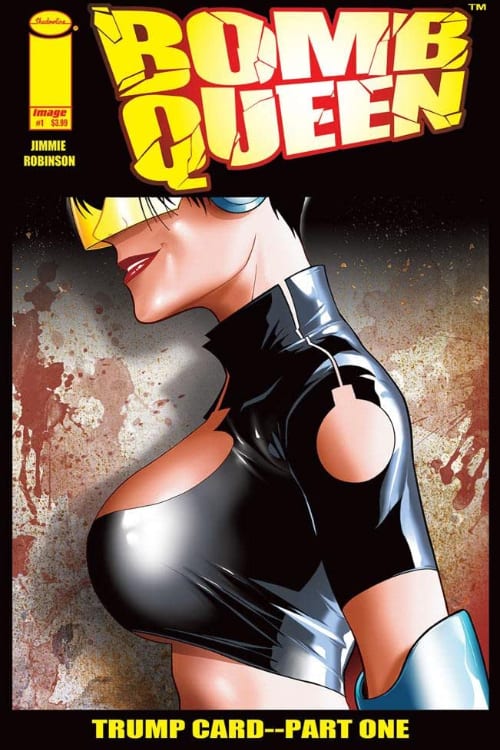 (Image Comics)
Writer and Artist: Jimmie Robinson
Publisher: Image Comics
Release Date: August 26th
While Jimmie Robinson's August release of Bomb Queen isn't technically a new series, but the return of an indie comics favorite, and if you haven't read the previous mini-series, you should check them out on Comixology Unlimited. Be warned—Bomb Queen is all about shock value. It's a satire on society and comic books. Even the "hero's" outfit makes fun of how female characters are typically dressed in superhero comics. And now she's going to face off against one of the most vulgar, xenophobic, offensive people in today's society—the President!
Official Solicitation:
It's 2024, and supervillain Bomb Queen wants to stop Donald Trump from becoming president for life. Her plan: campaign against Trump, steal his voter base, and lay bare America's dark underbelly in the process.

BOMB QUEEN returns after eight years in a brand-new series featuring all the explosive satire and twisted fun her fans have come to expect—in other words, it's pretty much guaranteed to offend everyone!
What Indie Comics Graphic Novels You Should Read This August
Graphic Novel sales have increased dramatically since the beginning of the lockdown, rising 43%—the most of any publishing industry. Being that we now live in a  "binge-watching" culture, this makes sense. Why read one chapter at a time when you could read ALL the chapters at a time? But even with the increase in sales, this August shows that Indie Comics are still catching up with GNs we should read. But these three graphic novels in particular? They might be something special.
Black Powder
(Asylum Press)
Writer and Artist: Dwyane Harris
Publisher: Asylum Press
Release Date: August 19th
Pirates! Earthquakes! Steamboats! Several historical figures! Racially insensitive description of indigenous Americans!
Nevertheless, Black Powder is that, and maybe a bit more. Who doesn't love a swashbuckling adventure? In any case, this already looks like one of the August indie comics you should read. And Harris's artwork is unique, giving Black Powder an old-world, creepy vibe. Of course, a $4.99 price point on Comixology also helps. When's that next stimulus check coming? Asking for my empty bank account, which must have been pirated somehow.
Official Solicitation:
Set during the catastrophic New Madrid earthquake of 1812, Black Powder is the story of Robert Young, a former captain in the Barbary Wars and his river journey on America's first steamboat to rescue the woman he loves from a gang of river pirates led by his cutthroat nemesis and former commander, Samuel Mason. En route, he encounters hostile Indians, swashbuckling battles, and several historical figures, all set against the backdrop of an earthquake that sinks islands, reverses the flow of the Mississippi River, and wrenchingly exposes the fractures of a new nation itself.
Jade Street Protection Services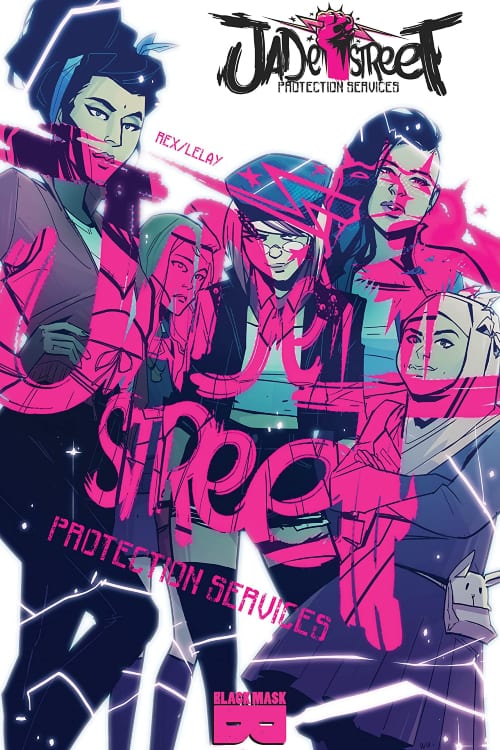 (Black Mask Studios)
Writer: KATY REX
Artists: MARA JAYNE CARPENTER and FABIAN LELAY
Publisher: Black Mask Studios
Release Date: August 19th
Undoubtedly, Black Mask Studios is one of the best indie publishers in the business, which is why they have two graphic novels on this list. Jade Street Protection Services feels like a cross between Deadly Class and Rat Queens. It's also great to see a rising star in comics. Katy Rex worked on Doctor Who and Charmed comics, so she has some franchise experience. Hopefully, Rex will be a big name in comics, so you should read her indie work when it comes out on August 19th.
Official Solicitation:
Teen delinquent magical girls fight patriarchy and systemic oppression in this all-ages romp from Black Mask Studios. Divya, Kai, Noemi, Saba, and Emma ditch detention and stumble upon an insidious social conspiracy that makes them question everything they thought they knew. Combining punk rock ethos with manga aesthetic, Lelay and Rex explore teen angst and class struggle with a healthy dose of love and laughs.
Survival Fetish
(Black Mask Studios)
Writer: PATRICK KINDLON
Artist: ANTONIO FUSO
Publisher: Black Mask Studios
Release Date: August 26th
Generally, Hawaii is usually portrayed as a typical paradise where nothing goes wrong, and everyone goes to hulas on the beach, where they roast a giant pig. Even Hawaii 5-0 kind of treats crime on the island as a joke, or an anomaly at best. Straightaway, Survival Fetish turns those tropes upside down. One of the best choices Kindlon and Fuso made in this series was to make it a stark black and white, taking away the one thing that generally sets Hawaii-based stories apart: vibrant colors. Instead, we get Hawaiian political noir. How awesome does that sound?
Official Solicitation:
Downtown Honolulu is a sniper alley… and Saheer runs it better than anyone. He's a local celebrity for transporting medicine and information across a no-man's land occupied by militias and street gangs. But what people say about you is never the full story, and when the cheers die out Saheer is left with just his anxieties… and his secrets. From Patrick Kindlon (We Can Never Go Home, Nobody Is In Control) and illustrator Antonio Fuso (James Bond, upcoming Mr. Robot), Survival Fetish is a pulse-pounding thrill-ride that mixes political intrigue with deep characters and high octane action. Collects issues 1-5.
Now, how can I afford all these awesome comics…any pirate ships looking for a big bald Italian literature and writing professor? Will tutor pirates for comics.
What are you looking forward to?
(Featured Image: Animosity #28, Aftershock Comics)
Roman Colombo finished his MFA in 2010 and now teaches writing and graphic novel literature at various Philadelphia colleges. His first novel, Trading Saints for Sinners, was published in 2014. He's currently working on his next novel and hoping to find an agent soon.
Leave a comment