What DC Monthly Comics You Should Read This September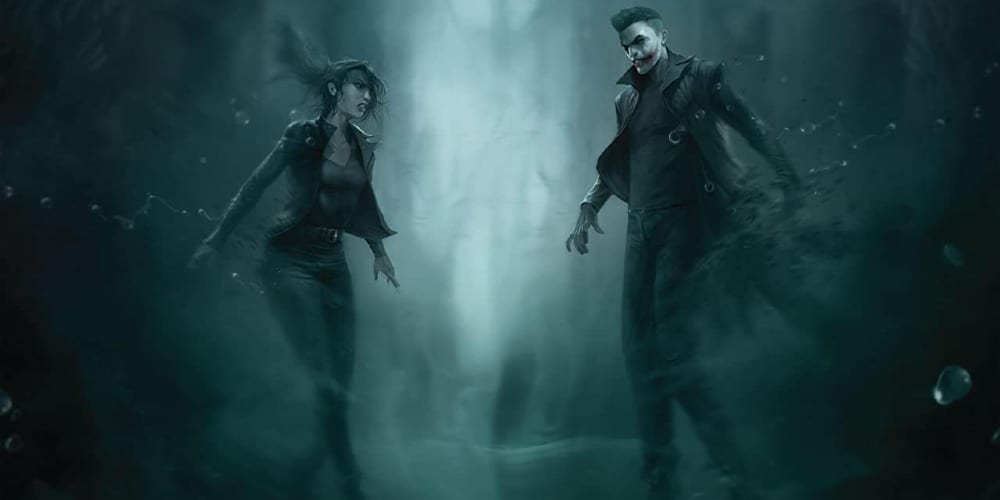 For September, the DC Comics event Dark Nights: Death Metal gets a bit more, well, hardcore. So, we're going to make a whole separate checklist for that, the way we did for Marvel's Empyre event. But even without all the awesome Death Metal titles coming out, there are still plenty of great DC monthly comics you should read this September. For our three selections this month, we have something monumental that can't not be on this list. Plus, a great conclusion to a storyline 101 issues in the making. And a new Black Label title that probably should have existed at the beginning of DC's Adult imprint.
Detective Comics #1027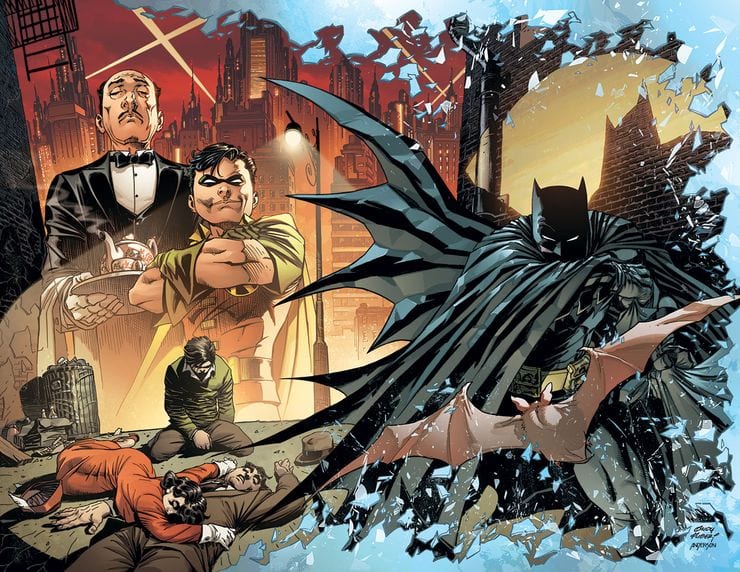 Look at this beautiful wrap-around cover! (DC Comics)
Not long ago, we were celebrating the 1,000th issue of Detective Comics. So, what makes #27 so special? Well, it might be more important than issue #1000, as #1027 marks the 1000th issue since Batman debuted in 1939. And Detective Comics should come out in September, which is, of course, Batman month. Of course, this is a massive issue, featuring several creators. This alone makes it one of the DC monthly comics you should read this September
Writers: BRIAN MICHAEL BENDIS, KELLY SUE DeCONNICK, MATT FRACTION, TOM KING, GRANT MORRISON, GREG RUCKA, SCOTT SNYDER, MARIKO TAMAKI, PETER J. TOMASI, JAMES TYNION IV, MARV WOLFMAN, and MORE
Artists: CHRIS BURNHAM, JAMAL CAMPBELL, JOSÉ LUIS GARCÍA-LÓPEZ, EMANUELA LUPACCHINO, DAVID MARQUEZ, DAN MORA, IVAN REIS, EDUARDO RISSO, JOHN ROMITA JR., RILEY ROSSMO, BILL SIENKIEWICZ, WALTER SIMONSON, BRAD WALKER, CHIP ZDARSKY, and MORE
Release Date: September 15th
Official Solicitation:
Light the Bat-Signal, because Detective Comics #1027 is here! In honor of Batman's first appearance in Detective Comics #27, this special, book-size celebration brings you the biggest names in comics as they chronicle the most epic Batman adventures Gotham City and the DC Universe have ever seen! The World's Greatest Detective has a mountain of cases to crack: Who murdered Gotham's most corrupt police officer? What does The Joker's annual visit mean for Bruce Wayne? And most importantly, what WayneTech mystery will sow the seeds of the next epic Batman event? All this and more await you within the pages of the biggest Batman issue of them all!
Hellblazer: Rise and Fall #1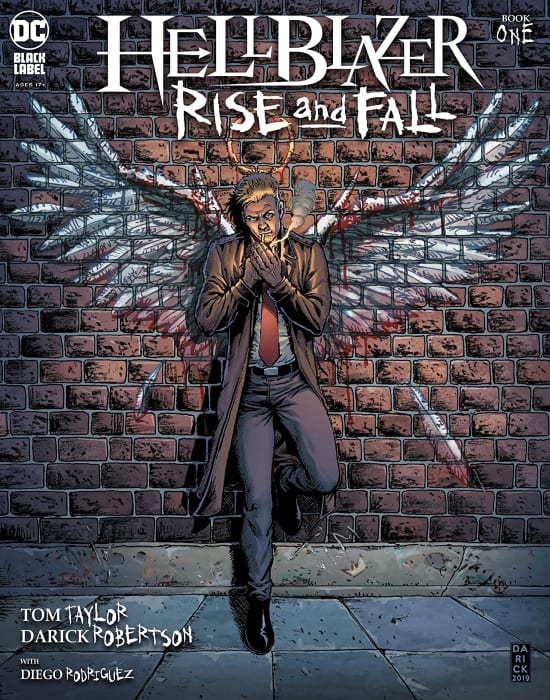 How does Constantine still have lungs? That must be magic. (DC Comics)
While there is an ongoing Hellblazer series under the Sandman Universe imprint for DC's Black Label, this new mini-series feels like it should have come out at the very beginning of the Black Label era. In Rise and Fall, we're going to learn more about John Constantine's youth. And we're going to learn more about the "first death on John's hands." Hellblazer has always been a paranormal detective, so it's going to be fascinating to see him investigate himself. And though the DC Comics Black Label series is bi-monthly rather than monthly, you should still read the first issue this September. It might be one of Constantine's best stories yet.
Writer: TOM TAYLOR
Artist: DARICK ROBERTSON
Release Date: September 1st
Official Synopsis:
A billionaire falls out of the sky and is gruesomely skewered on a church spire. Bizarrely, Angel Wings are attached to his back. More follow until, hallelujah, it's raining businessmen. Detective Aisha Bukhari is stumped by this, until she's visited by her childhood friend, occult investigator John Constantine. DC's Hellblazer discovers a link between the falling elite and a shocking moment in his and Aisha's misspent youth. How do these killings tie to the first death on John's hands? How does this involve heaven and hell? Even if this is kind of John's fault, will Constantine be happy to let a few more rich bastards fall from the sky, like a vindictive Robin Hood? It's an all-new DC Black Label mystery starring John Constantine in his very first tale spun by acclaimed writer Tom Taylor (DCeased) and artist Darick Robertson (The Boys)!
The Flash #762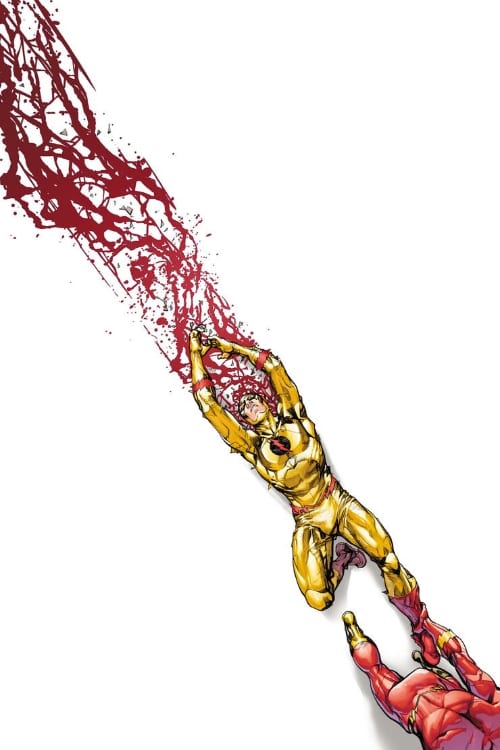 That's not how blood looks when you're dragging a body. Don't ask me how I know that. (DC Comics)
For four years, Joshua Williamson has delivered some of the best Flash stories since Barry Allen first put on the golden booties. And now, after 101 issues, Williamson is concluding his epic run. In an interview with Comic Book Resources, after so many issues, he said, "If I keep going, it's going to dilute that or not be as passionate as the stuff I wanted to do. So after looking at all that, I went to DC and said 'That's it, it's the end of the story.'" He also says it isn't his last Flash story, but it's the end of his ongoing story. 101 issues is a remarkable accomplishment in the comics industry. You should also read issue #761, the penultimate monthly issue, also coming out this September from DC Comics.
Lastly, don't worry, we're still getting plenty of Williamson at DC. He's currently writing Batman/Superman, and he'll be taking over Justice League with issue #53.
Writer: JOSHUA WILLIAMSON
Artist: HOWARD PORTER
Release Date: September 22nd
Official Solicitation:
"Finish Line" finale! Barry Allen and the Reverse-Flash race for the last time in this fast-paced conclusion. For years, Eobard Thawne has tormented Barry Allen, and now the Flash knows the only way to win is to make sure the Reverse-Flash never runs again! The story years in the making comes to a close as Joshua Williamson finishes his epic 101-issue run on The Flash!
What DC monthly comics do you think we should read this September?
(Featured Image: Joker/Harley: Criminal Insanity #5, DC Comics)
Roman Colombo finished his MFA in 2010 and now teaches writing and graphic novel literature at various Philadelphia colleges. His first novel, Trading Saints for Sinners, was published in 2014. He's currently working on his next novel and hoping to find an agent soon.
Leave a comment