What DC Comics Should You Read in August?
August is here! And DC Comics are back in full swing, it seems, so let's look at what you should read this August. We still see some pangs of the coronavirus lockdown; some comics are coming out of place. For instance, Red Hood: Outlaw #48 seems to take place after the Joker War. But we're catching up slowly. We're starting to get some of the Death Metal tie-ins, such as the Guidebook and Legends of the Dark Knights. And we have a few milestones. As well, we've got some great graphic novels and trades coming out. It's always hard to narrow it down, but here are the most exciting DC comics coming out this month.
What DC Comics Single Issues You Should Read This August
It would be really easy to list Dark Nights: Death Metal #3 here, but that's kind of a given. It's DC's BIG event. And as fun as Marvel's Empyre is, Death Metal feels bigger, crazier, and more consequential. That's quite an accomplishment, considering Death Metal only had two issues and no crossovers. As if the Batman Who Laughs wasn't terrifying enough, Snyder and Capullo introduced the Darkest Knight—the Batman who laughs with the power of Dr. Bat-Manhattan. So, of course, you should read the August issue of the big DC Comics event. But…what else is there?
Dark Nights: Death Metal: Legends of the Dark Knights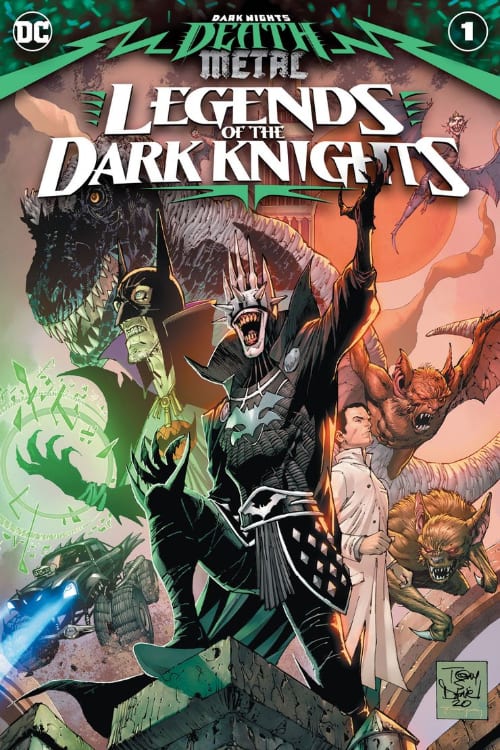 I'm hoping for a Mister BatMind (Image: Dark Nights: Death Metal: Legends of the Dark Knights, DC Comics)
Writers:  by SCOTT SNYDER, JAMES TYNION IV, JOSHUA WILLIAMSON, PETER J. TOMASI, WARREN ELLIS, GARTH ENNIS, DANIEL WARREN JOHNSON, and FRANK TIERI
Artists: TONY S. DANIEL, JIM CHEUNG, JOËLLE JONES, DANIEL WARREN JOHNSON, RILEY ROSSMO, and FRANCESCO FRANCAVILLA
Release Date: August 4th
Is this cheating? This is the first big tie-in to Death Metal, focusing on several nightmare Batmen, and one nightmare Robin. For Dark Nights: Metal, each of the nightmare batmen got their own one-shot. Here, they're just getting some short stories. One less since DC removed Warren Ellis's contribution. The Batmen in Death Metal are even stranger than the ones we've seen before. a Batmansaurus Rex, a sentient Batmobile, and who knows what other surprises Snyder and the gang will throw at us. Fortunately, we don't have to wait! It's already available.
Official Sollicitation:
The DC Universe has become engulfed by the Dark Multiverse, where demons dwell and reality is overrun by monstrous versions of the Dark Knight, all ruled by the Batman Who Laughs. In this collection of short tales, learn the terrifying secrets of these new Bats out of hell and other creatures of the night like Robin King, whose origin is just the worst! Plus, read about the secret buried beneath Castle Bat, the sentient Batmobile, and…how did Batman turn into a dinosaur?
Three Jokers#1 (of 3)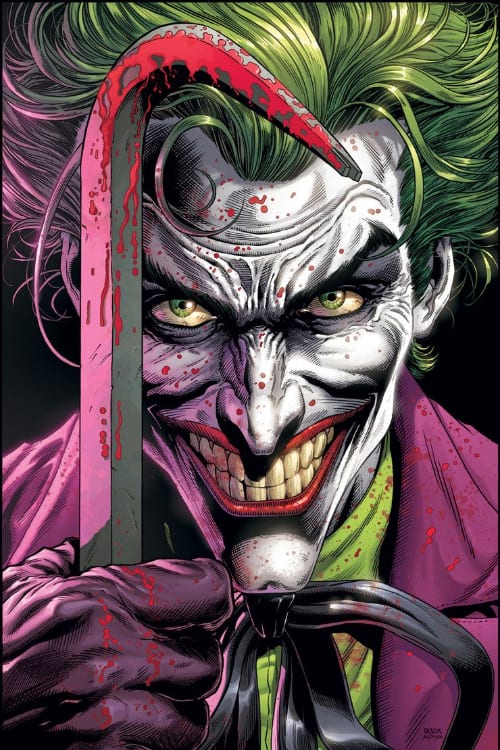 Anytime a crowbar comes up in a Batman book, things are going to end badly. (Image: Three Jokers #1 (of 3), DC Comics)
Writer: GEOFF JOHNS
Artist: JASON FABOK
Release Date: August 25th
In 2016's Rebirth, Geoff Johns dropped on the biggest game-changers in Batman history. When Batman finally has a chance to find out the Joker's identity, he's instead given a bigger mystery. There are three Jokers. How they operate, how this changes Batman's history, and future…we don't know. But DC Comics is finally answering those big questions in the August premiere of Three Jokers, a book you should definitely read if you're a Batman or Joker fan.
Official Solicitation:
Thirty years after Batman: The Killing Joke changed comics forever, Three Jokers reexamines the myth of who, or what, The Joker is and what is at the heart of his eternal battle with Batman. New York Times bestselling writer Geoff Johns and Jason Fabok, the writer/artist team that waged the "Darkseid War" in the pages of Justice League, reunite to tell the ultimate story of Batman and The Joker!

After years of anticipation starting in DC Universe: Rebirth #1, the epic miniseries you've been waiting for is here: find out why there are three Jokers, and what that means for the Dark Knight and the Clown Prince of Crime. It's a mystery unlike any Batman has ever faced!
Wonder Woman Annual #4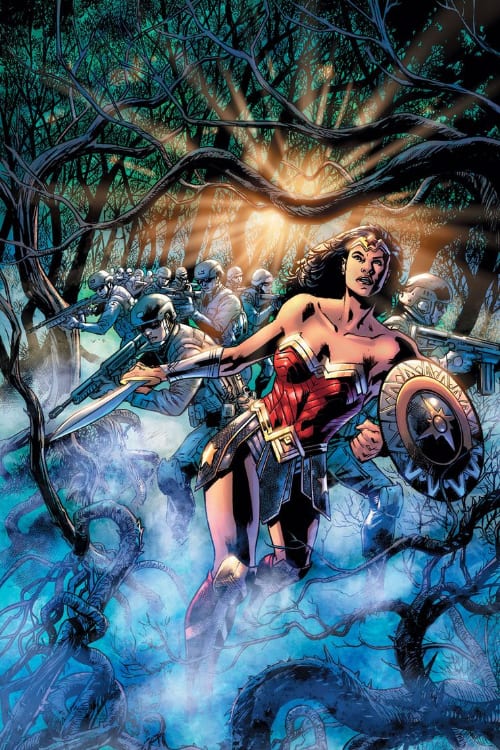 Don't go into the Mist! (Image: Wonder Woman Annual #4, DC Comics)
Writer: STEVE ORLANDO
Artist: JACK HERBERT
Release Date: August 18th
Since Wonder Woman #750, DC started pushing Diana as the premier superhero of their line. She's now the first superhero of the DC Universe, and she's the main character in Death Metal. However, one of the big mysteries of Death Metal is how the world changed, and how the heroes ended up where they are—especially Wonder Woman. The solicitation for Steve Orlando and Jack Herbert's Wonder Woman Annual #4 hints that we'll get some of those answers, as "dark energy envelopes a pocket of the planet." Or it's something else entirely. Either way, DC wants you to know that you should really read Wonder Woman comics, especially this August issue.
Official Solicitation:
There's something evil afoot in the heart of the Amazon rain forest, and Wonder Woman is on a mission to save the innocents caught in the crossfire! As a mass of dark energy envelops a pocket of the planet, Diana must use her golden lasso to keep tethered to reality as she ventures inside, or face being corrupted by the energy herself! But there's more than just a battle with the Dark Fates at play here…something else lurks in the heart of the Amazon that will shape the future of the DC Universe for years to come…
What DC Comics Graphic Novels You Should Read This August
DC Comics has a lot of graphic novels coming out this month, but for the ones you definitely should read, we're looking at a couple of something brand new, a beloved early modern collection—and one classic silver age collection, reprinted for the first time.  As it turns out, they are also three of the recent DC movies' most popular characters: Wonder Woman, Shazam! And Aquaman. A decade ago, no one would believe that they'd have more success than a Superman or Justice League movie. Now, these three characters are the only solo ones we know are getting sequels.
Wonder Woman Vol 2: Love is a Battlefield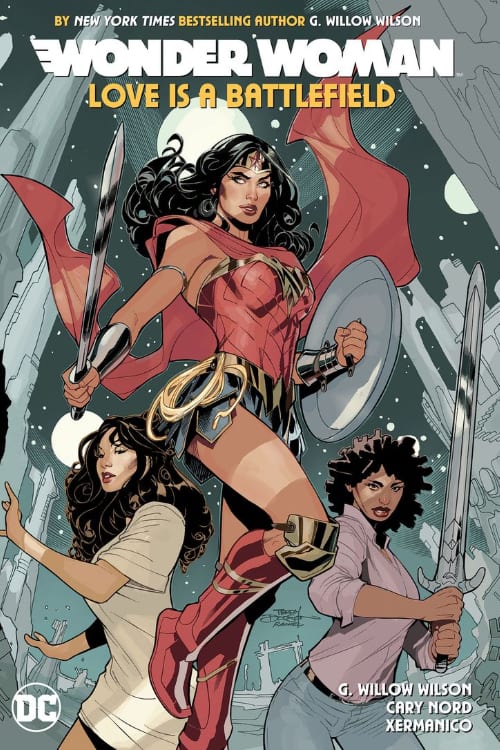 How much does this make you wish we could see Wonder Woman 1984? (Image: Wonder Woman Vol. 2: Love is a Battlefield, DC Comics)
Writer: G. WILLOW WILSON
Artists: XERMANICO, CARY NORD, RONAN CLIQUET, TOM DERENICK, and JESÚS MERINO
Release Date: August 18th
A few Wonder Women graphic novels were supposed to come out this summer—a sad reminder that we won't see Wonder 1984 anytime soon. And we won't see Gal Godot on the big screen either. I'm not yet convinced that the gods didn't bring Gadot to life from clay just to play Wonder Woman. A being that beautiful is not made of mortal flesh.
But, while we won't have the new movie, we do have a new graphic novel from G. Willow Wilson, who just won the best new series Eisner for Invisible Kingdoms. Her recent Wonder Woman work is outstanding. The first volume, The Just War, Wilson explored the rivalry between Diana and Ares. In Love is a Battlefield, we're going on an adventure! Wonder Woman and Aphrodite scouring the Earth for Wonder Woman's mom and Aphrodite's child. When you see "wayward Titans" in a DC Comics description for the Amazonian princess, you know you should read it, so be sure to pick this up on August 18th.
Official Solicitation:
Wonder Woman survives her battle against young god Ares only to discover her mother is missing—and so is Aphrodite's child! Together, they'll turn the world upside down to find them, but they must fight a pack of wayward Titans first. Can they convince Diana's foe Giganta to join the fight? Collects Wonder Woman #66-73.
Power of Shazam! Book One: In the BeginningWriter: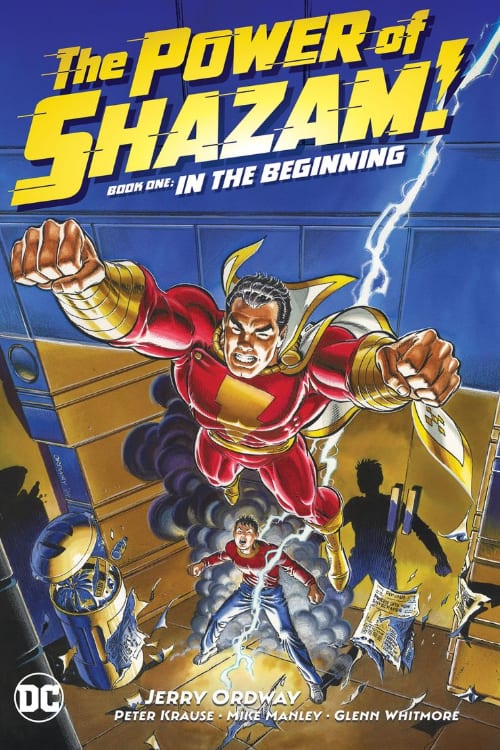 Jerry Ordway's cover here is a magnificent throwback, but still very modern. Not many artists can do that. (Image: The Power of SHAZAM! Book One: In the Beginning, DC Comics)
JERRY ORDWAY
Artists: JERRY ORDWAY, PETER KRAUSE, CURT SWAN, MIKE PAROBECK, and others
Release Date: August 18th
For many fans, Zachary Levi's portrayal as the magical superhero Billy Batson transforms into with that single, humble word: SHAZAM! I'll admit—I never saw the appeal of the once-named Captain Marvel. A kid yelling a corny word and turning into Superman kind of sounded lame. But damn was that movie good. Levi was great, but it was Asher Angel's performance as Billy Batson that made fans fall in love with the character. So, despite the movie coming out over a year ago, The Power of SHAZAM! Book One is an excellent book for those new fans.
Official Solicitation:
In 1994 Billy Batson's origin story was revitalized for a new era in The Power of Shazam!, the acclaimed graphic novel written and illustrated by Jerry Ordway. The story reintroduced Shazam, the Wizard, Dr. Sivana, and Black Adam, and was followed by an ongoing series, set four years later. This volume collects both the OGN and the first year of the series, bringing retro elements from Fawcett Comics history into modern-day continuity. Collects The Power of Shazam! graphic novel, The Power of Shazam! #1-12, plus a story from Superman & Batman Magazine #4.
Aquaman: Deadly Waters Deluxe Edition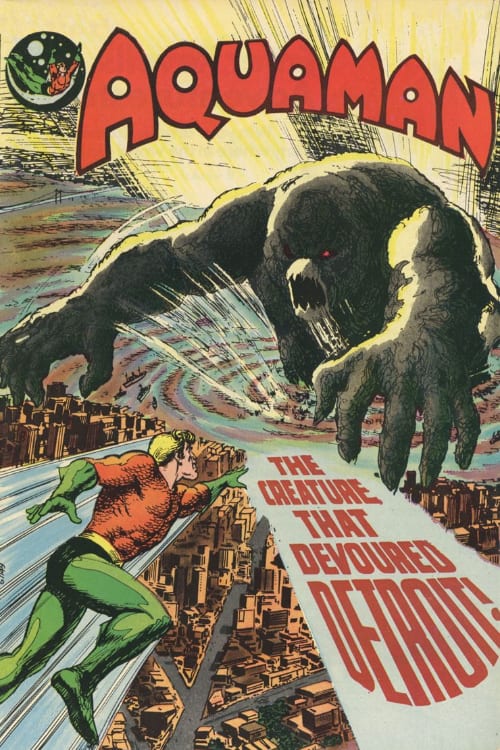 …Did the creature vomit Detroit back up? Because that would make a lot of sense. (Image: Aquaman: Deadly Waters Deluxe Edition, DC Comics)
Writer: STEVE SKEATES
Artist: JIM APARO
Release Date: August 11th
When people think about Aquaman now, they see Jason Mamoa, his long flowing locks of beautiful brown hair, his tattoos, his…wait, I'm getting off track. In the comics, Aquaman had a much different look. For example, he wore clothing that covered his body—seriously! He even wore a shirt. In these shirt-wearing Aquaman adventures, we see early DC attempts at a continuous storyline. Generally, DC Comics had one story every issue, and a brand new adventure after that. Marvel was all about the cliffhangers. But over these eight issues, we see Arthur Curry abducted to another planet, and what happens to his kingdom during his absence.  Beyond that, however, if you love silver age comics, make sure you read this DC comics collection when it hits bookstores in August.
Official Solicitation:
In this new Silver Age collection, Ocean Master returns with a dire warning as aliens transport Aquaman to another realm! With Atlantis now without its protector, Black Manta strikes! And when Aquaman returns, he soon realizes that he and Manta are both victims of a larger scheme! Collects Aquaman #49-56 for the first time in a new deluxe edition.
However, there are always too many choices. So, if I missed us, tell us in the comments below: what DC Comics do you think everyone should read this August?
(Featured Image: Dark Nights: Death Metal Guidebook, DC Comics)
Roman Colombo finished his MFA in 2010 and now teaches writing and graphic novel literature at various Philadelphia colleges. His first novel, Trading Saints for Sinners, was published in 2014. He's currently working on his next novel and hoping to find an agent soon.
Leave a comment