Werewolf Captain America: Short-Lived, Infamous, And Wonderful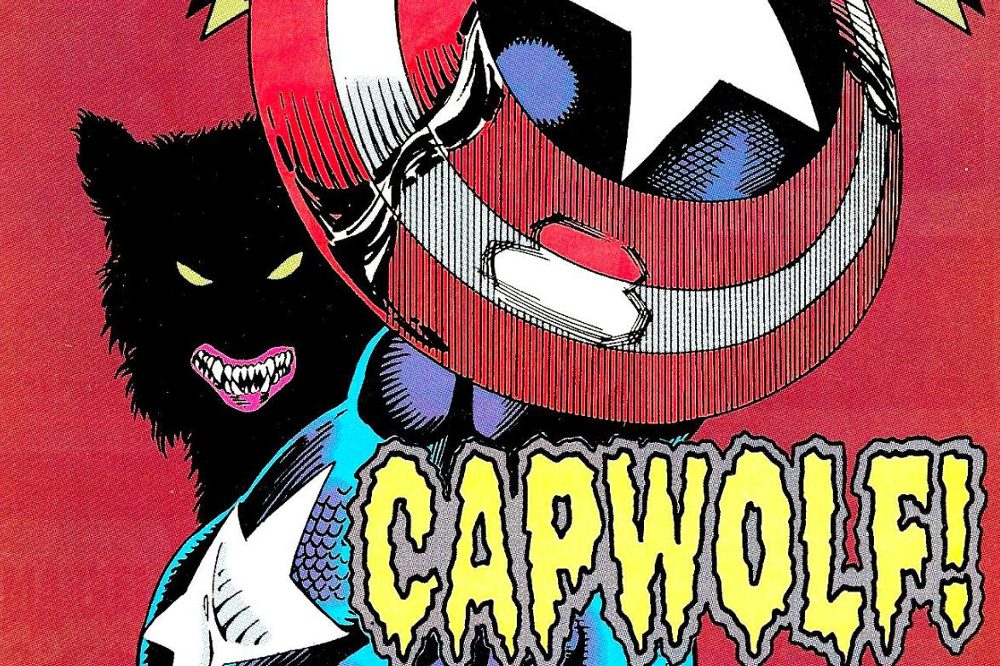 It wasn't an alternative universe story, like Marvel Zombies. Nor was it a fun Halloween special. It was an honest-to-god in-continuity seven-issue story arch in Captain America. To this day, people still refer to it as one of Marvel Comics' weirdest and most questionable choices, like the New Fantastic Four (if you know, you know). But just like some of Marvel and DC's most bizarre moments, this rendition of Steve Rogers has also become a cult classic. What are we talking about? The time Captain America turned into a werewolf. It was glorious.
How Did Captain America Become a Werewolf in the First Place? Space AND Magic AND Mutants!
(Image: Marvel Comics)
The sequence of events leading to the fanged and furry freedom fighter is like writer Mark Gruenwald, and artist Rik Levins took everything about the 1990s and tossed it into a blender but forgot to put a lid on it. Space-related? Check. We have former astronaut and Man-Wolf John Jameson as Captain America's prime suspect in a recent string of werewolf murders. Kung-fu magic? Check. For that, we go to Ferocia (AKA Fera), a wolf-person from K'un-Lun, where Danny Rand grew up to culturally appropriate and became the Iron Fist. Mad Scientist? Check on Doctor Nightshade, using Jameson and Ferocia to produce a wolf serum. Cult Magic? Hello Dredmund Cromwell, the Demon Druid.
Speaking of druids, do we get an Avenger character Marvel was trying to make happen like Gretchen wanted fetch? Oh, Doctor Druid, your lameness knew no bounds. A character decked out in leather, metal, and long hair? Moonhunter has arrived! And did Marvel eventually bring in Wolverine and other Wolverine-like characters to draw in more sales? Check, check, and check. And at the end, did everyone's favorite new pouch-covered grizzled mutant Cable appear? A check as big as his guns. So, let's try to make sense of all this, shall we?
Before Captain America Turned Into a Werewolf, He Hunted Man-Wolf
(Image: Marvel Comics)
As we said before, John Jameson used to be the Man-Wolf, thanks to a magical artifact called the Moonstone. When John goes missing amidst a series of werewolf-style murders, Captain America goes looking for his friend, bringing Doctor Druid with him. Maybe Doctor Strange was busy or something. As they investigate, Ferocia attacks them, having recently escaped Zachary Moonhunter. Moonie was a new villain introduced just for this story, and his thing was to kidnap werewolf and/or wolf-like people to "train" as his Moonchildren. If you have no idea who this guy is, don't worry. Marvel doesn't seem to remember him either. However, he goes after Ferocia and drags her back to Starkesboro, where Doctor Nightshade is experimenting on Jack Russell, the Werewolf-by-Night (an old foe of Moon Knight).
Captain America Fights a Werewolf Hunter in the Sky on Flying Motorcycles. Because the 90s.
(Image: Marvel Comics)
Doctor Druid is as useless as you'd expect. He's taken out of the fight immediately, and Cap pursues Moonhunter on his own. They fight, but Moonhunter somehow gets the drop on CAPTAIN FREAKIN' AMERICA. So, he gets Doctor Druid, and they go after Moonhunter, making their way to Starkesboro. Meanwhile, Wolverine finds his way to the mysterious mansion and finds himself surrounded by werewolves. He fights them off, but then Moonhunter again gets the drop, this time on FREAKIN' WOLVERINE. This dude took out Cap and Wolverine in one issue, and he's still one of the most boring characters to come out of the 90s. They take Wolverine prisoner, and then Cap and Druid arrive…and are immediately surrounded by dozens of werewolves.
Doctor Druid is Almost Useful!
(Image: Marvel Comics)
One of Druid's tricks is mesmerizing his opponents. He does this to a few werewolves to get to safety, leaving Captain America to fend off one werewolf after another. Finally, he realizes that maybe he should help and teleports Cap to safety. Something he could have done the entire time! Even better, he makes them invisible so that they can continue their investigation. Again… some helpful things he could have done from the moment they were attacked at the beginning of the investigation.
As Captain America and Doctor Druid flee werewolf mansion, Doctor Nightshade tries her wolf serum on Wolverine. It doesn't work. However, the mysterious benefactor (Demon Druid) mesmerizes our wolf-like mutant. It seems like that's just a standard druid trick. And then he sets Wolverine loose on Cap and Doctor Druid.
Unfortunately for Cap, his pal's cloaking spell doesn't mask their scent, meaning that one, any of the five dozen werewolves could have found them, and two, Wolverine finds them. Cap and Logan get into an epic fight, made even crazier for the townspeople watching since it looks like a berserker Wolverine is fighting himself. Oh, and Druid? He disappears. So, there's no one to counteract Demon Druid's spell. And since Cap is Cap, he knows he needs to stop Wolverine but doesn't want to hurt his friend either. So, Wolverine defeats him, and at Moonhunter's orders, brings him to Nightshade's lab.
Things are about to get harry.
Captain America + Werewolf = CapWolf!
And here we are—the moment at last. Gruenwald wastes no time here.  Nightshade injects Captain America with the werewolf serum and…
(Image: Marvel Comics)
But here's the kicker. Demon Druid? He tries to mesmerize him, but Capwolf doesn't go for it. Instead, he recognizes his "shiny thing" – his shield, which for some reason, they kept in the lab next to the prisoner – and escapes. But as a werewolf, Captain America doesn't exactly have the higher-level brain functions he usually does. So, when Wolverine attacks him again, he tries to communicate through growling. It doesn't work.
Capwolf does get away, however, only for Moonhunter to trap him with a silver rope. But after defeating Wolverine in berserker mode, Captain America uses his new werewolf enhancements to bring down Moonhunter. Literally – he pulls the silver rope and drags Moonhunter down with it. Oh, but what's become of our two druids? Glad you didn't ask.
Doctor Druid Loses a Staring Contest. No, Seriously, that's What Happens
(Image: Marvel Comics)
Why didn't Doctor Druid help Cap when Wolverine was kicking his star-spangled ass? He was at church. Well, a church. He was trying to find the source of the magic keeping the townspeople unaware of a mansion full of werewolves. While there, he finally encounters Demon Druid. And do they have an epic wizard showdown like Gandalf and Saruman in Fellowship of the Ring? No…they stare into each other's eyes until Doctor Druid makes a dumb mistake, trying to levitate a wolf's head statue to break open a glass dome containing the Moonstone. Demon Druid goes into epic beast mode staring and stares Doctor Druid into a bookshelf.
Captain America, Smarter than Your Average Werewolf
(Image: Marvel Comics)
While Wolverine is running around in a berserker rage, Capwolf drags Moonhunter back to the mansion to confront Doctor Nightshade. He might not have all of his wits about him, but he does realize that he needs her to undo whatever curse she put him under. So she tosses him into the pit of werewolves, where the pack leader, a white wolf, immediately challenges him. Capwolf wins kind of quickly, and a familiar face comes out from the shadows. Rhane Sinclair, Wolfsbane of the New Mutants.
Yet Rhane has all of her wits. She's not confused or mesmerized. In fact, she's perfectly fine. She could have probably defeated the pack leader and found a way to rescue everyone before it became a story about Captain America becoming a werewolf. Just a New Mutants annual starring Wolfsbane. But if that happened, we would have never gotten Captain America as a werewolf and Wolverine and Cable. You see, X-Force has their own Wolverine-but-female character: Feral. And when she goes missing, drawn to Starkesboro, Cable's not too happy.
Hearing Rhane talk, Capwolf realizes he can kind of talk too. But Cap needs to learn how. So, he masters just enough of this to lead the werewolves to freedom. However, in his wolf speak, he also explains that they were unlawfully prisoned and charged with no crime, which the mindless wolf monsters totally understand.
Wait, Which Side is Moonhunter and Nightshade On?
While Demon Druid berates them, Nightshade realizes she needs to find a way to break Dredmund's hold on Moonhunter. Confused? We're talking about Captain America turning into a werewolf. Story continuity is the least of our problems. As Capwolf and his new wolfpack escape, they run into Nightshade and Moonhunter – and quickly overtake them. Before Cap can restrain her, Nightshade warns him that his friend, Doctor Druid, is in grave danger. Because, of course, he is.
While Captain America was leading a werewolf revolution, Demon Druid started setting up a ritual with Doctor Druid at the center. Besides cutting off Doctor Druid's ponytail (honestly a favor), Demon Druid plans to cut the Avenger's throat, have him bleed onto the Moonstone, and then take the power for his own. Capwolf rushes in to save the day, but he's too late.
Thought the Story of Captain America Turning into a Werewolf Couldn't Get Weirder? Well, It Can!
So, Doctor Druid's blood powers up the Moonstone, and Demon Druid now just has to push it into his throat to become the Lord of the Wolves, the Starwolf!
(Image: Marvel Comics)
Capwolf tries to fight Starwolf, but he's overpowered. Starwolf is the alpha among all alphas. He doesn't get the upper paw until Jack Russell, Wolfsbane, and the rest of the werewolves he helped free from the pit show up with his shield. But that's not all! Cable shows up too, guns blazing. Which Capwolf doesn't think is a good idea, so we get a little fight between the two. Why shouldn't we? Things go from bad to worse as Starwolf wraps up Cable and Cap in a…carpet. Yeah. And then drops a boulder on them. It's all hopeless now. It's not like Doctor Druid somehow survived Demon Druid slitting his throat and was able to regain consciousness in time to remove the spell from Moonhunter and Wolverine.
So Doctor Druid survives Demon Druid slitting his throat, and then regains consciousness in time to remove the mesmerizing spell the Starwolf put on Moonhunter and Wolverine. Starwolf tries to control them, but Doc Druid's anti-spell spell is stronger. Wolverine frees Capwolf and Cable. He and Cable then fastball special Capwolf at Starwolf so that he can go after the Moonstone. And Moonhunter shoots Starwolf in the ass with a silver arrow.
After Cap gets the stone away from Demon Druid, Cable crushes it under his foot. Because that's how you get rid of magical stones in the 90s, but they saved the day, right. Just one problem. Captain America is still a werewolf.
How Does Captain America Change from Werewolf Back to Human?
In the five minutes or so between Jack Russell showing up to help Capwolf and Cap and friends defeating Starwolf, the former wolfpack leader, the big white one, forces Nightshade to develop an antidote to her wolf serum. Finally, after she tests the cure on the white wolf – who turned out to be John Jameson, the guy Cap was looking for in the first place – Captain America takes the antidote and is werewolf no more!
Oh, he also fights a demonic version of himself from the Infinity War crossover, a scene that isn't explained at all. The rest of the werewolves all go back to humans too, and go home to Starkesboro. Everything just wraps up. Doctor Druid? Throat's fine. Wolverine, Cable, and Wolfsbane? They just peace out. Nightshade's taken into custody. And Moonhunter…becomes a pilot for the Avengers. Aside from Moonhunter joining the Avengers facility, the entire story arc could be excised from continuity, and no one would ever know.
But just like the aforementioned New Fantastic Four, Capwolf took on a cult following of his own.
The Legacy of the Captain America Werewolf Story Lives On
One of Funko's new line of vinyl pops this year was Captain America-centric. The Year of the Shield. We got all kinds of cool Pops. Bucky from Winter Soldier holding the shield, a few Sam Wilson versions, Nomad…and this:
(Image: Funko Pop!)
But that's not all. The popular deluxe action figure line, Hasbro's Marvel Legends, also featured a CapWolf option:
(Image: Hasbro Toys)
Even Square Enix got in on the Capwolf craze, offering a werewolf Captain America skin for their Marvel's Avengers game:
(Image: Square Enix)
As silly and convoluted and flat-out weird as those seven issues were, comic book fans are fond of Capwolf. Maybe it's because the action in these issues is incredible. Seriously, Rik Levins gives us some great fights in this arc. Or perhaps it's just because Capwolf highlights just how insane superhero comics can get. There are no boundaries in this genre. Not only has Captain America become a werewolf, but Storm was once a vampire, and the Punisher turned into a Frankenstein Monster called "Franken-Castle."
Or maybe the reason is a lot more simple than that: Captain America looks freakin' awesome as a werewolf.
What do you think? A classic comic story or one of the most WTF stories ever written…or both?
(Featured Image: Marvel Comics)
Roman Colombo finished his MFA in 2010 and now teaches writing and graphic novel literature at various Philadelphia colleges. His first novel, Trading Saints for Sinners, was published in 2014. He's currently working on his next novel and hoping to find an agent soon.
Cable
Captain America
CapWolf
Funko Pop!
marvel comics
Marvel's Avengers
Werewolves
wolverine
Leave a comment