Comic Books For April 2019 – What To Read
Comic books are on the way in April, and that means a few new additions to your collection. To take a look at what's coming up may be too exciting to handle. Nevertheless, some heavy hitters are on the way, so here are the best upcoming comic books for April 2019.
This month, a few huge storylines come to an end, and others begin. For Marvel and DC, the adventures start to get some momentum moving into Spring. With Captain Marvel and Avengers: Endgame gaining a lot of attention online and at the movies, April is a big month for all comics. Even DC should see some added attention thanks to a superhero wave going across the globe.
Upcoming Comic Books for April 2019: Marvel
War of the Realms #1 (Marvel)
A lot of attention is on comic books for April in the Marvel world are about the hype behind Avengers: Endgame. Superheroes gain more popularity everyday, meaning new releases are getting more attention too. This is a specific series that is sure to be popular with new fans and seasoned Marvel readers alike. In War of the Realms, Malekith and his armies have taken over not just Heaven or Asgard. No, they have taken over every realm, except one. Midgard, home to the humans, is the last standing hope in defending the world and defeating Malekith. It's up to Thor to utilize his powers and the will of Midgard to save all living creatures.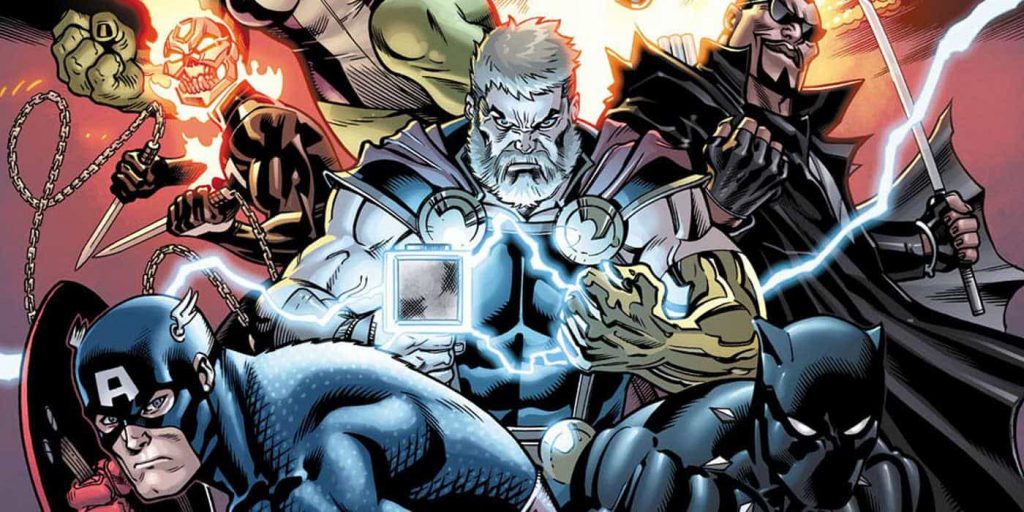 Avengers: Edge of Infinity #1
If you are itching for Avengers: Endgame, here is a taste of some superhero teamwork. In Avengers: Edge of Infinity #1, the entire solar system is at stake. M.O.D.A.K is at risk of destroying everything the Avengers know, so it's time to regroup and take on evil for one last battle before it all goes away. Captain America, Captain Marvel, Black Widow, and Iron Man lead the charge this time. With LUNAR on the rise and time running out, what will it take to keep everyone alive?
Marvel Team-Up #1
There are a lot of Marvel heroes in comic books for April that fans like to follow. From the Avengers to the Fantastic Four, there is a lot going on in the Marvel Universe. Spider-Man is an all time favorite, and fighting crime is a full time job. Another hero that Spider-Man finds himself working with a lot is Ms. Marvel. This time, in Marvel Team-Up #1, the two heroes find themselves again intertwined. Destiny, fate, whatever you call it: these two heroes are together because something big is coming. If you loved Spider-geddon and Ironheart in their recent releases, you will love this next adventure.
Upcoming Comic Books for April 2019: DC          
Detective Comics #1001
That's right, DC's Detective Comics hits a huge milestone this month. After over 1000 adventures, the series finds itself following Batman into a new era. Not only are threats increasing in Gotham City, but villains are joining together. The entire table of bad guys are ready to face the Dark Knight. Can he continue to keep Gotham safe? Story aside, this is a huge milestone for Detective Comics and an exciting book to pick up for collectors.
Scooby Apocalypse #36
Scooby Doo is a surprisingly fun comic to pick up, but Scooby Apocalypse has been downright perfect. At the end of the road, this series ends with number 36. The headquarters the Mystery Machine team is destroyed, and Fred has been resurrected. Will he be the key to saving the world? Scooby and Scrappy are in it for the battle, as well as the others. One thing is certain, the world will never be the same. Best of all, the limits of each character will be pushed to a climax nobody should miss.
Superman #10
Superman and Superboy are heading to the cosmos to find Jor-El before everything comes crashing down to Earth. This series is another entry in one of 2018's best comic series. The Unity Saga has been amazing, and Superman's father has some explaining to do about the condition of Superman's son. General Zod is at his worst again as well, and eveything rests on Superman, like always. He's up to the task, but is it all too much?
Exciting Upcoming Comic Books in April 2019
There are some really exciting things to come in April. Best of all, these are just some of the great things coming from Marvel and DC. Mix in independent comic publishers, free comic book day, and more, and April should be one for the books!
Taylor is the Gaming Editor of Comic Years and a lifelong fan of video games. He holds two degrees in Political Communication and wrote a Master's Thesis on resistance movements, race, and the exploitation of college athletes. His wife and two Toy Australian Sheppards keep him sane.
Leave a comment