The Best Gay Superhero Couples – Or At Least Some of Our Favorites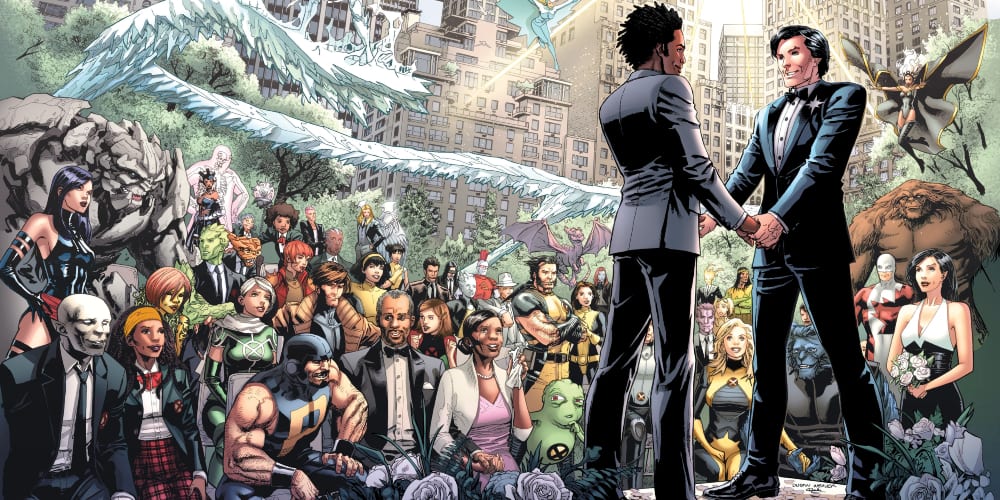 Throughout Pride Month, we've explored the history of queer representation in movies, TV, and comics, and we've had a wonderful time doing so. We all gush over certain couples regardless of our own sexuality, so we put them on a list! However, picking the best gay and Lesbian (another article!) superhero couples was both great and stressful. There are a lot more than we thought, but also some weird inconsistencies. For instance, DC Comics has many queer characters but only a handful of queer couples. Marvel Comics has many, but it also seems like they want to make sure that every queer character in is a relationship. However, we're not here to nitpick the representation. We're here to admire and praise the best of the best. So, here are just five of the best gay superhero couples in comics.
The Best, Craziest, Alternate-Reality Gay Superhero Couple: Hercules and Wolverine
It doesn't matter what your sexual preference is; that is hot. (Image: X-Treme X-Men, Marvel Comics)
In Greg Pak's underrated X-Treme X-Men, we get some really unique versions of the X-Men we love. For instance, Scott Summers is a Black runaway slave. And then there's "Governor-General of the Dominion of Canada" James Howlett. Or, as Pak describes him, "Wolverine meets Teddy Roosevelt but still Canadian). In his reality, he and Hercules were deeply in love, which only pissed off Zeus. However, he wasn't mad that Hercules was in love with a man – the gods are polyamorous and pansexual – but that his son dared be intimate with a mortal. So he banished them to Tartarus, where they had to fight their way out.
Sadly, after being separated,  they were reunited in X-Treme X-Men #8…but Hercules would die just a few issues later in the crossover X-Termination, and we haven't seen Governor Howlett since.
The Gay Superhero Couple That Pissed Off the Character's Creator: Rictor and Shatterstar
Really, Strong Guy? Because everyone else did. (Image: X-Factor (2004) #45, Marvel Comics)
For years, writers have teased a relationship between Rictor and Shatterstar, two mainstays of the X-Men and X-Force. In 2009, Peter David took the relationship all the way there, with one of the best kisses in comic book history. The moment sent shockwaves through the industry and hit Shatterstar creator Rob Liefeld most of all. In his forums at the time, he wrote:
"As the guy that created, designed and wrote his first dozen appearances, Shatterstar is not gay. Sorry. Can't wait to someday undo this… Shatterstar is akin to Maximus in Gladiator. He's a warrior, a Spartan, and not a gay one."
Marvel, at the time, responded with something like, "well, I guess he's never working here again." Peter David, one of the wittiest writers in the business, had damn good responses. As he told Xtra Magazine at the time:
"I was saddened by it, really, because I thought it brought out all the worst possible sentiments. First there were the Liefeld fans who believed that I 'made' Shatterstar gay because I was trying to somehow hurt Rob. It just goes to show you how people view someone being gay; that it's some sort of insult."

"I have to add that, just as a rule of thumb, if you're going to contend that your character isn't gay, don't compare him to ancient Greek warriors, as Rob did, because anyone who has the slightest awareness of history is going to start laughing uncontrollably."
The Liefield Progress?
Even if we can forgive Rob after coming around on Shatterstar, he will never be forgiven for this – And he knows it! (Image: Heroes Reborn (1998) Promotional Art, Marvel Comics)
Eventually, and maybe because Marvel offered him a gig, Liefeld changed his mind but tried to make it sound subtle – he failed, replying to a Twitter user, "Don't worry. Shatterstar's sexual preferences are not my concern and will not be changed." Going from "this sucks" to "I don't care" is maybe slight progress…right? Hopefully, because he's returning to X-Force for the 30th anniversary one-shot special. Or maybe, like many parents, he just accepted his beautiful creation for who he is. Like David also said, I understand that some parents have the same reaction. They were responsible for their children's first appearances and, when informed of their sexual persuasion, firmly declare it's impossible, they can't be gay." But, like many parents, maybe Rob finally accepts Shatterstar for who he is.
The Gay Superhero Couple Who Are Also the Best World's Finest Facsimiles: Midnighter and Apollo
A kiss so hot it showers everything in gold. Wait, that's probably not the best way to say it. (Image: Midnighter and Apollo #6, DC Comics)
What if Batman and Superman were a gay couple? Well, wonder no more because that's the premise of Midnighter and Apollo, two Wildstorm creations that became two of DC's most popular characters – especially Midnighter. While they aren't as exact copies as Hyperion and Nighthawk from Heroes Reborn, they were always meant to represent Batman and Superman. But they became so much more than that. They became the heroes we need. In 2016, writer Steve Orlando, who wrote a short-lived Midnighter comic series, promoted his Midnighter and Apollo mini-series with Logo. American culture was, to say the least, tense. "Midnighter and Apollo is the book we need right now," Orlando stated. "Queer couple face down a new enemy and show us that we can never give in to fear, hatred, and evil—and they do it with their own brand of action-movie wit and punching."
On a Personal Note…
Aside from just being one of the best gay superhero couples in comics, Midnighter and Apollo are special to me for another reason. In one of my Graphic Novel Literature courses, I assigned Orlando's Midnighter Volume One. This was for an undergraduate class primarily filled with first-year students. Most of them were just getting into comics, and citing Captain America, Thor, Iron Man, Batman, and Wolverine among their favorites. And what did I do? Assign a reader that they had never heard of who was like Batman but not Batman. But as we discussed the book and got into Midnighter and Apollo's marriage, the students came to love them. Some called Midnighter their new favorite superhero. It was a gamble.
Other characters on this list are much more familiar for new readers – like an alternate reality gay Wolverine. But Midnighter and Apollo were completely new to them, and through them, my students experienced falling in love with superheroes. Not through a movie but pages and panels.
The Best Young Adult, Intergalactic, Gay Superhero Couple: Hulkling and Wiccan
OMG, you two are totes adorbs. (Image: Empyre #4, Marvel Comics)
They might not have shared the first same-sex kiss in superhero comics, but when they did, in Avengers: Children's Crusade #9, it was a moment fans cheered for. Unlike Rictor and Shatterstar, who had ambiguously gay scenes until Peter David finally brought them together, Teddy and Billy were always a couple, since Hulkling (Teddy) debuted in 2005's Young Avengers. Now, while the two are adorable together (see their wedding scene in Empyre Aftermath: Avengers), they're one of the best gay superhero couples for another reason: they're the most stable and have the least amount of tragedy behind them. That's in part because Hulkling and this version of Wiccan are relatively new characters.
They also came after a time homophobic rules the Comics Code Authority put on creators. They were kind of the first two queer characters who really got to be themselves: no ambiguous coding, no strong hints. There are no obvious moments between the characters, but never using the word gay or showing them touching too much. Out of all the best gay and lesbian superhero couples out there, Hulkling and Wiccan have the most beautiful relationship.
Plus, Hulkling is the King of Space now, and Wiccan, now his husband, is right there with him.
Comics' First Gay Marriage of One and One of the Best Superhero Couples, Period: Northstar and Kyle
A historic moment in comics. (Image: Alpha Flight #106, Marvel Comics)
Okay, technically, Kyle isn't a superhero, but he and Northstar are incredible. Firstly, we should recognize that Northstar made history as the first openly gay superhero. Well, kind of. After his initial debut in 1979, Marvel tasked John Byrne with an Alpha Flight series. The problem? Alpha Flight's members had no backstory, no known motives other than that they're Canadian, but like, not the super-polite kind. It wasn't until 1992 when Scott Lobdell was writing the series, editor Tom DeFalco greenlit a storyline where Northstar said, not in an ambiguous way, "I am gay." There's a lot of history to how this happened and the before and after, best summed up by Peter David's observations at the time:
The news wires have been burning up the past week as, in the pages of "Alpha Flight" #106, writer Scott Lobdell (with the full support of editor Bobbie Chase and editor-in-chief Tom DeFalco) did away with the sly winks and nudges, and had Northstar hold a press conference in which he came out as being gay. (Or, as one news reporter rather cattily put it, and here you thought comic books were something that were kept exclusively in closets.)

It was, of course, a terrific news story. Over at DC, where sexuality had been an open topic for quite some time, they must have been gnashing their teeth. The Pied Piper casually informed Wally West that he, the Piper, was gay, and then there's the supporting cast over in "Sandman." But none of this caused the sort of stir that Northstar's revelation did.
Trolls of a Bygone Era
And, of course, many readers were upset with the idea of a gay superhero. One fan even had the audacity to write about it in fan mail – the old way idiots used to troll others:
Seriously, dude? You gave your name and location and everything. (Image: Alpha Flight #106, Marvel Comics)
Which Brings Us, Twenty Years Later, to Astonishing X-Men #51 by Marjorie Liu
We shouldn't be surprised that two Canadians became the first gay superhero couple to marry in comics. (Image: Astonishing X-Men #51, Marvel Comics)
Matt Fraction and Greg Land introduced Kyle in the pages of Uncanny X-Men. At first, he was Northstar's brand manager. Then they became friends…and then something more. When Northstar moved to San Francisco to join the X-Men in their new home, he and Kyle struggled with the long distance. But they found a way to make it work. Basically, they faced most of the same things as any other couple in the real world yet. Job interference, disagreements with friends and family, having your significant other mind-controlled to try and kill you. You know, normal human things. And like many humans in this real world, they eventually tied the knot.
Now they live together on Krakoa, both serving as members of X-Factor. But Kyle has a very awesome honor for Krakoa. He is only one of two non-mutant people, the other being New Mutants' Warlock, allowed to live on the island mutant nation. And they have a very happy relationship. They aren't just one of the best gay superhero couples in comics; they're one that we could all look up to. However, there's a third mutant couple on this list that might have the most tragic story of all. Not every story can have a fairytale ending (literally. At one point, Marvel revealed that Northstar was a fairy from a magical land), which we'll discuss in the best lesbian superhero couples in comics.
But we have one last, ridiculous note on Northstar and Kyle.
The Best Gay Superhero Couples Get the Dumbest Protestors
It's sad that this upset so many people: having a blue furry Episcopalian officiate the wedding! (Image: Astonishing X-Men #51, Marvel Comics)
Just to make it that much better, Million Moms, an anti-gay conservative Christian group, called for Christians to boycott Marvel – and DC, who introduced a gay character at the time – because of Northstar and Kyle's marriage. Their reasoning? Well…
"Children desire to be just like superheroes. Children mimic superhero actions and even dress up in costumes to resemble these characters as much as possible. Can you imagine little boys saying, 'I want a boyfriend or husband like X-Men?'

"This is ridiculous! Why do adult gay men need comic superheroes as role models? They don't but do want to indoctrinate impressionable young minds by placing these gay characters on pedestals in a positive light.

"These companies are heavily influencing our youth by using children's superheroes to desensitize and brainwash them in thinking that a gay lifestyle choice is normal and desirable. As Christians, we know that homosexuality is a sin (Romans 1:26-27)."
There's a lot of stupid here…
For instance, the verse that MM refers to has been altered (the NIV Bible is actually removing the word "homosexuality" from their future bibles). The actual meaning of "against nature" wasn't about homosexuality, but looking at the Greco-Roman audience Paul appealed to, it was an attack on pederasty. Other popular interpretations claim the verse means that any sex committed for pleasure was a sin. And as we now know, heroes aren't allowed to have that kind of fun. But here's the crème de la dumb: the X-Men. The X-Men?! Their whole deal is representing those who are oppressed or feel like social outcasts. For instance, when a conservative Christian group wants to boycott a comic book company for featuring a gay wedding. All these "millions" of moms did is prove the entire X-Men thesis.
Above All, the Best Gay and Lesbian Superhero Couples Have a Lasting Legacy.
Wolverine and Hercules might have been a short plotline explored in a short series, but other queer superhero couples featured here will have an impact for years to come. Midnighter and Apollo will continue being the most powerful couple. Hulkling and Wiccan will go on as the adorable young couple who also rule space together. Rictor and Shatterstar will be the wildest gay couple. Northstar and Kyle will continue breaking boundaries in the best ways by just being together as an interracial gay superhero couple.
But we need more. So much more. In the best lesbian superhero couples, we broke down the math on how poorly queer women are represented. Here we go. There are 18000 characters in Marvel and DC. Ludicrously, 73% of these characters are male, so about 13140 characters. Men make up 49% of the US population and about the same worldwide, so we should have no more than 9000 male characters.
Now, as far as queer male characters, we're going off that 13140 and the US census (flawed as it is) report that claims only 3.9% of men in America identify as queer. This comes down to, at a minimum, about 515 queer male characters and probably at least 200 couples. And like queer women in comics, we are nowhere near that as even a base number. Imagine a list of the best gay superhero couples if we had that many to choose from.
Now, what are your favorite gay or lesbian superhero couples in comics? We only explored five, but there are many others. Tell us – wait. We need to throw a potential curveball in this because we might have our first poly-triad relationship in comics too.
A Poly-Triad Relationship In Superhero Comics? Is That Even Allowed?
Now, this has only been hinted at in Jonathan Hickman's X-Men and Benjamin Percy's X-Force. And it all started with a graphic:
What do the gaps in the walls mean!? (Image: X-Men (2019) #1, Marvel Comics. Box added)
Those three joined bedrooms set the comic community abuzz with speculation. And then we started seeing through House of X and Powers of X that Jean Grey, Wolverine, and Cyclops shared quite a few tender moments between the three of them. Like this warm moment:
Best Superhero Poly-Triads in Comics…coming soon. (Image: House of X #1, Marvel Comics)
However, nearly two years into the Age of Krakoa era, we still haven't had confirmation. In fact, it seems like they might have forgotten. But for one of the most intense love triangles in any medium, this is not just the most logical place to take them next – it's the only place to take them.
Without Jean to fight over, Wolverine and Cyclops are a force to be reckoned with. Granted, a few years ago, they had a falling out over the direction of the X-Men, and then they both died. And then they came back and mended that friendship. Now that Jean's back after a long-lasting death (for comics), they can't revert back to their petty jealously. It would be just bad writing if they did. But they both love Jean. They love each other, either as friends or more, we don't yet know, and Jean loves both of them.
Maybe one day, along with the best gay and lesbian superhero couples lists, we'll also have the best polyamorist superhero relationships list.
What do you think? A happy thruple? Or did they just forget to include walls?
(featured image: Astonishing X-Men #51, Marvel Comics)
Roman Colombo finished his MFA in 2010 and now teaches writing and graphic novel literature at various Philadelphia colleges. His first novel, Trading Saints for Sinners, was published in 2014. He's currently working on his next novel and hoping to find an agent soon.
Alpha Flight
Apollo
DC Comics
Hercules
LGBTQIA+
marvel comics
Midnighter
Northstar
Pride Month
Rictor
Rob Liefeld
Shatterstar
wolverine
X-Factor
Leave a comment