Superman Smashes the Klan While Making a Classic Story Contemporary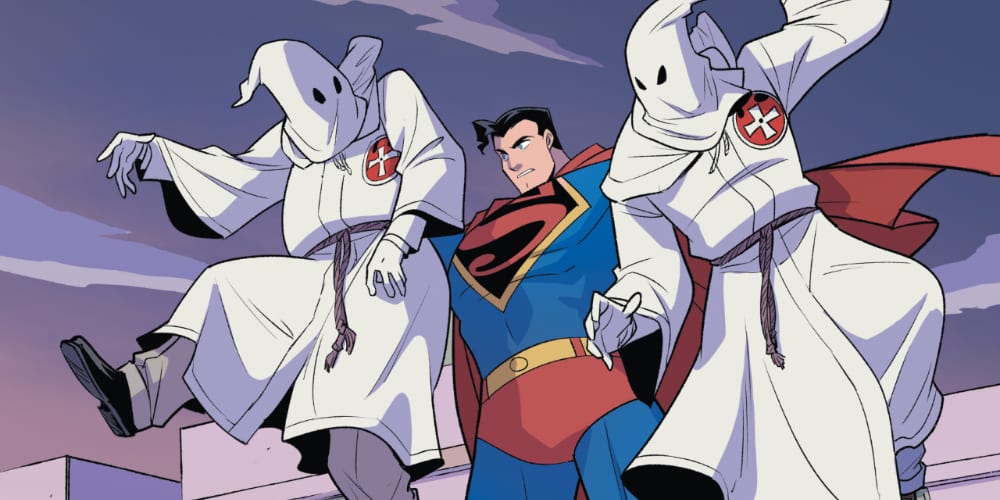 In 1946, the radio drama The Adventures of Superman aired a 16-episode arc that pitted Superman against the KKK. Well, not the actual KKK, but the "Klan of the Fiery Cross." In the story, a Chinese-American family moves to Metropolis and becomes the target of the Klan. Superman defends the family and takes down the local chapter of the Klan. It certainly seems like a great relic of a begotten time, pre-Civil Rights era. Fast forward to 2016, Charlottesville. White supremacists march the streets of Charlottesville, Virginia, causing a riot. Later one of them drove their car deliberately into a crowd, taking the life of protestor Heather Heyer. Suddenly, a story about Superman fighting white supremacists doesn't seem so antiquated. And that's why Gene Luen Yang's Superman Smashes the Klan is a perfect book for the strange times we live in. It also helps that it's a wonderfully written, drawn, and colored middle-grade graphic novel.
The Superman Origin Retold—and Told Better Than Ever Before
Young Clark Kent just wants to fit in and not be so super. (Image: Superman Smashes the Klan, DC Comics)
Readers forget two things about Superman. One, he's an illegal alien. And two, he's a "social justice warrior"—emphasis on "warrior." One of the main themes of Superman Smashes the Klan is the idea of "fitting in" to the society around you. Both Clark Kent and our young protagonist Roberta Lee desperately want not to be noticed. They don't want to be weirdos, as Roberta puts it. Because of this, Superman holds back on his powers. In fact, he holds back so much that he doesn't even realize he's doing it. He wants to be more man than super. But just like Roberta, he can't deny who he is.
But it's not just a story about Superman coming into his powers. We've seen that countless times. It's a story about how Superman became a (small "L") liberal hero. How he came to care so much about what's right and just. After all, what does truth, justice, and the American way even mean? It's subjective. To the Klan of the Fiery Cross, the American way is living only among your own kind, and that White people are superior. To Superman, an alien in the most extreme sense, the American way is embracing every culture, and working together. By protecting the Lee family, Superman learns what ideals he wants to fight for the most. Not just protecting people, but defending an ideology. It's the best version of Superman you'll ever read.
The Lee Family Vs. The Klan Is the Center of this Superman Story
Tommy and Roberta Lee, the two bravest kids in Metropolis. (Image: Superman Smashes the Klan, DC Comics)
Sure, this is a Superman story, and he's the title character. But he's not the main character. That would be Roberta Lee, a young Chinese girl who can't find her place in the world, especially when her family moves from Chinatown to a predominantly white neighborhood in Metropolis. To the Lees, despite that Chinatown is in the city, they see this as truly moving to Metropolis. It's the first time they feel like they are actually part of the city, as if Chinatown doesn't count. Since Metropolis represents all of America in Superman Smashes the Klan, this reflects how some immigrant families must feel. How does one shift from being an immigrant living in America, to being an American? It made me wonder when my Italian grandparents and great-grandparents felt like they were American citizens, and not "weirdos" just living here.
But moving doesn't make them feel part of the community at all. In fact, they are more isolated than ever before. While Roberta's brother Tommy has no problem making friends, he does so by making racist jokes about his own people—much to Roberta's horror. And even though the kids all hang out in a community center called "the Unity House," there's little Unity between them. The community needs a catalyst to come together. Sadly, it takes the Klan erecting a burning cross in the Lee's front yard and attempting to kill the Lee children. One of the saddest, and most accurate, commentaries of Superman Smashes the Klan, is that hate moves faster than help. There are moments Superman doesn't show up in time.
Gene Luen Yang Smashes the Klan Even More than Superman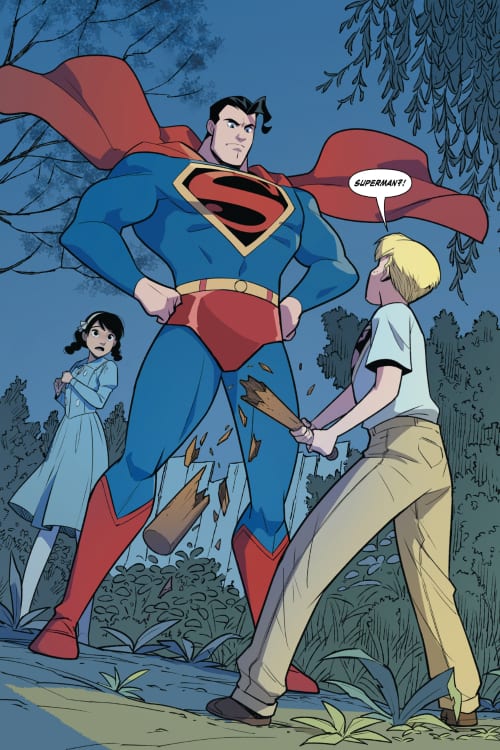 Superman Smashes the Junior Klan! (Image: Superman Smashes the Klan, DC Comics)
This is going to be a little spoiler-ish, so skip if you don't want to know anything. When we meet the man behind the white hood leading everything, he's surprisingly not that racist. Well, he is, but there's something even worse about him—he's exploiting people's fear for one reason only: money. When a recruit signs up, they pay (and this is 1946), $100 for membership, and another $25 for robes. And he's doing it to fund research to stop another kind of alien: Superman.
Why go this route? Why, in the end, is greed the biggest evil, even more than racism? Well, it's time to get a little more political. It's impossible not to, since this is a story about the KKK, even if by a different name. It's also time to quote Tommy Lee Jones from Men in Black: "A person is smart. People are dumb, panicky dangerous animals, and you know it" (Emphasis added). Oh, I'll also throw in a Nas lyric from his song "Hate Me Now," a classic: " fear what they don't understand, hate what they can't conquer, guess it's just the theory of man, became a monster."
Back to Charlottesville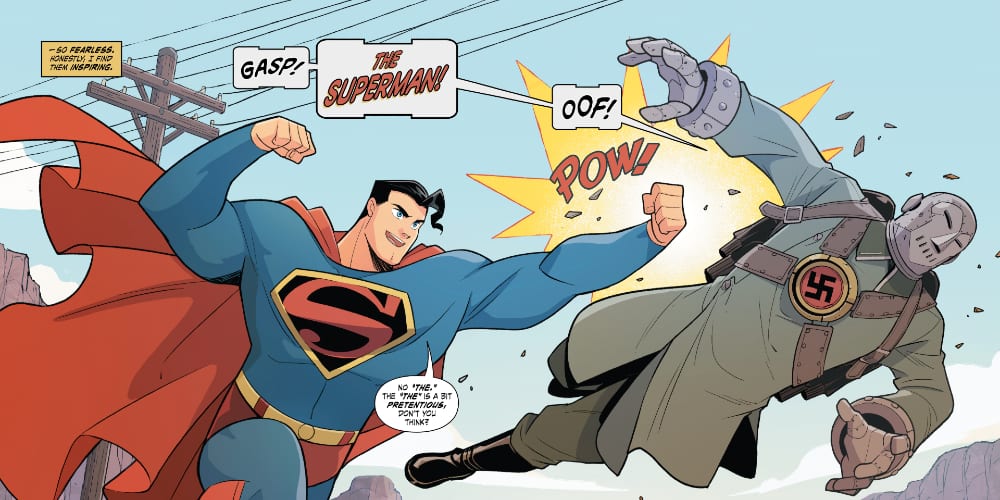 We need more "Superman punching Nazis" in our lives, right? (Image: Superman Smashes the Klan, DC Comics)
When we look at an individual, we can see all the subtleties and nuances that make them who they are, good or evil. But when we look at people, we see just the overlying aspect. And that aspect is exploitable. After the events of the "Unite the Right" rally in Charlottesville, the nation saw that white supremacists ideals weren't just still present in America; they were thriving. When a hate group commits a heinous act, the President of the United States tries to unite people in the face of division. After Dylan Roof killed several black people at the Emanuel African Episcopal Church in Charleston, South Carolina, President Barack Obama didn't just speak out against hatred; he sang Amazing Grace for all the world to hear.
But even more remarkable, and commonly forgotten, is what George W. Bush said of Muslims after the September 11th attacks. There was a lot of fear-mongering about Islam in the wake of the attacks, and assaults against Arab, Indian, and Sikh people increased dramatically. In response to this he, an evangelical Christian, spoke about Islam.
He said:
"The face of terror is not the true faith of Islam.  That's not what Islam is all about.  Islam is peace.  These terrorists don't represent peace.  They represent evil and war. When we think of Islam we think of a faith that brings comfort to a billion people around the world.  Billions of people find comfort and solace and peace.  And that's made brothers and sisters out of every race — out of every race…. Those who feel like they can intimidate our fellow citizens to take out their anger don't represent the best of America, they represent the worst of humankind, and they should be ashamed of that kind of behavior."
President Donald Trump took a different approach. He defended the people carrying torches, screaming "Jews will not replace us" and "blood and soil" (a Nazi slogan). It was a moment of incredible failure for an American president. His stated reason for defending them as "very fine people?" They had permits.
How Does This Tie Into Superman Smashes the Klan and Gene Luen Yang?
Just a reminder. This is a graphic novel for kids. (Image: Superman Smashes the Klan, DC Comics)
Was this on Yang's mind when he wrote the graphic novel? I can't say it definitely was, but it's hard to imagine that it, or that the current political climate, wasn't. Sadly, these kinds of events are why we need stories like Superman Smashes the Klan. This is a middle-grade graphic novel, and we have to teach children that bigotry is wrong. We especially have to do it when the real-world doesn't always reflect those values. Superheroes are great for delivering these messages. When I was a kid, the X-Men animated series showed the evils of bigotry in sometimes very visceral ways. A character dies because of intolerance in the first episode. Another is arrested.
Superman Smashes the Klan pulls no punches. Despite the childlike illustrations, it gets pretty visceral. There are some legitimately horrifying images in this graphic novel.  And even when it's not an image, Yang uses dialogue that you would not expect to read in a kid's book. Like when two members of the Klan detail to one of the Lee children how tar and feathering works, and how most people die just from the hot tar before they're rolled through feathers and dragged through the streets. But the X-Men aren't the right superheroes to fight this threat, not at this time. When the American President defends white supremacists, you need one of the two quintessential American heroes to fight hate. Superman is one of those heroes (Captain America is obviously the other one). And since Superman is also an immigrant, he's the perfect choice to speak against bigotry in these times.
But Wait—Superman is White, Why is the Klan After Him Too?
They need to add "one species" after their chant if they want to be totally accurate. (Image: Superman Smashes the Klan, DC Comics)
Another reason that we needed this particular Superman story is that it exposes how stupid racism is. This is why greed is the bigger evil. Greed is smart. People using hate for their own greed are a special kind of evil. Racism is dumber than a bag of homogenous rocks. To the Klan, Superman is a great, white, American…until he isn't. When the Klan members learn that he's an alien, he goes from "white" to "passing-for-white." And our country has a really dumb history of this ideology, particularly against Italian, Jewish, and Irish people. Racism isn't driven by skin color alone. Human beings can find incredibly nuanced ways to hate each other for no reason, a hate driven by fear and ignorance. Once the Klan realizes that Superman is not who they thought he was, he becomes an "other," and they want to kill him. And so, Superman indeed smashes the Klan.
Superman Isn't the Only One Smashing the Klan. He Has Some Friends Helping, Too
People should be more afraid of Lois Lane than they are of Superman. Superman will break your legs. Lois will break your life. (Image: Superman Smashes the Klan, DC Comics)
Bringing down the Klan in Metropolis is a team effort on four fronts. For the more physical smashing, we have Superman. For changing the hearts of Metropolitans (?), we have Roberta and the kids of the Unity House. One such kid's family is part of the Klan, leaving him very conflicted. Then we have the free press, exposing the Klan and their actions. And finally, we have the police, the legal force that can prosecute and arrest the Klan members. Why is it essential that they see this? Because kids need to know that bigotry can't be defeated by one person alone, even if that person is Superman. Not just that, but they need to be part of the effort to overcome hatred. Roberta is maybe ten, but she plays a very active role in ending the Klan's activities, even though she's afraid and wants to go back to Chinatown.
Superman Smashes the Klan Deserves a Newbery Medal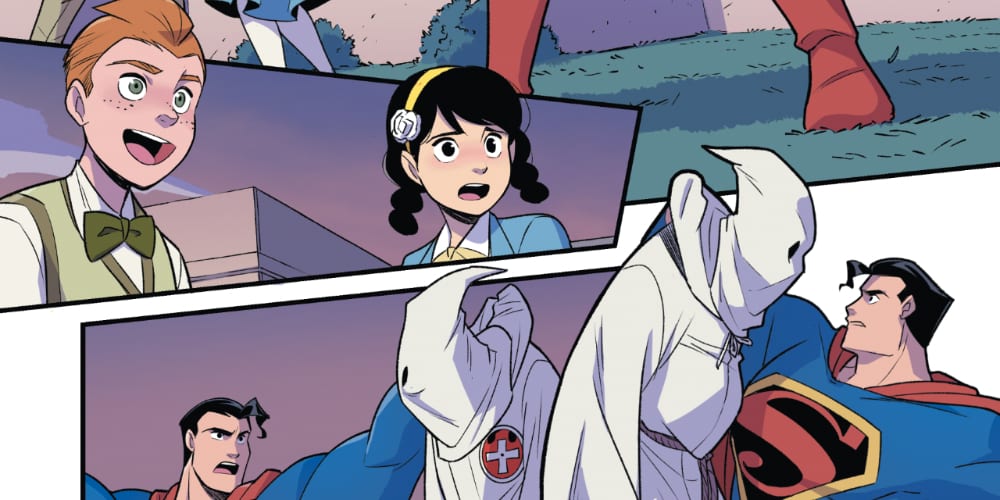 Jimmy, Roberta, and Superman V The Bed Sheet Bigots: Dawn of Smashing. (Image: Superman Smashes the Klan, DC Comics)
Last year, The New Kid became the first graphic novel to win the Newbery Medal. We need to see Superman Smashes the Klan be the second. Not just would it be the second graphic novel, but it would be the first superhero graphic novel. The book is incredible, including Yang's history/memoir essay at the end. And like Puerto Rico Strong, it should be included in classroom curriculum across the nation. Even if you don't appreciate the political aspects of Yang's work, read it for the brilliant retelling of Superman's origin and the classic radio program. And remember, we all need to band together to fight, as Roberta calls them, the "bedsheet bigots."
(Featured Image: Superman Smashes the Klan, DC Comics)
Roman Colombo finished his MFA in 2010 and now teaches writing and graphic novel literature at various Philadelphia colleges. His first novel, Trading Saints for Sinners, was published in 2014. He's currently working on his next novel and hoping to find an agent soon.
Leave a comment