Strange Encounters, the new Anthology by Editor Marco Lopez (Interview and Press Release!)
Marco Lopez may have just won an Eisner for Puerto Rico Strong, but now he's moving from an intimate exploration of his home to Strange Encounters—an anthology filled with magic and fantasy, from his imprint King Skull Comics. Being a good friend to us here at Comic Years, we talked again about comics, anthologies, and just who is the King of Skulls.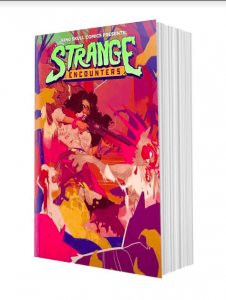 (King Skull Comics)
Hello, Marco. Feels like we did this not too long ago. Has life been crazy since the Eisner win?
Not crazy but winning the Eisner has made it so that publishers and editors reply to my emails now. haha Not saying I'm gonna be the next big thing and it's not like I have a swarm of people knocking down my door to work with me but there has been a lot of positives with it.
Can you keep the reporters off of you? 
Haha! I can. But I am grateful for all the sites and podcasts that have interviewed us or me post-Eisner win. Black Comics Chat, Geek Culture Congress, Fanbase Press and of course you all at Comic Years.
Well, we're grateful that you're talking to us too. 
So, what is King Skull Comics?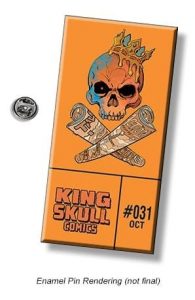 (King Skull Comics)
It's what I like to call right now a boutique label. Run by Derek Ruiz, Neil Schwartz and me. They were also editors on Puerto Rico Strong. Puerto Rico Strong is actually what solidified us to move forward as KSC. 
But who is the King of Skulls? You?
There is no King of the Skulls though Derek would probably disagree and say he is. haha But then I guess that's what Game of Thrones was all about, right? So Game of Skulls here we come.
Strange Encounters looks absolutely fantastic; are you becoming an anthology master? 
(King Skull Comics)
I'd say no, but given another project coming up that I can't talk about (because I'm working with a publisher), that may be an appropriate title for me. Who knew? But I can't hate on it. Anthologies have helped my career in comics.
It looks like the Kickstarter is off to a good start—five grand in seven days. 
Yeah, a crazy good start, but this is Kickstarter so you can never sit on your ass and think you got this. We're pushing hard. Reaching out via social media constantly, hitting up horror and comic news websites for coverage. It's a constant grind that's tiring but everyone involved really wants the Strange Encounters anthology to be a success. We know it's gonna be a book everyone will love to read over and over, especially the fans of Rue Volley, JD Brown, Rachel Rawlings, and Kim Alexander. If you like their prose work you're gonna love their stories translated into comics. Plus you can't go wrong with a Kickstarter Exclusive Variant cover by Brett Booth.
Obviously, the Strange Encounters anthology is much different than Puerto Rico Strong. What was the inspiration for this collection?
I believe this project originally started at Dabel Bros with Derek, but I think it was mostly early talks and development and then Derek decided to take it to this new label he wanted to create, King Skull Comics. The idea was to work with the rising horror and supernatural prose writers to adapt their stories to comics. We also want the Strange Encounters anthology to include original comic stories.
Is there a certain type of supernatural you really wanted to highlight?
There's a sub-genre in prose called "paranormal romance." Many of the women in the Strange Encounters anthology come from this genre, but even though their work has romance elements they're no different than a lot of other horror stories male writers tell while using romance as a subplot. These women just happen to be, well, ladies and so they're stories are marked as "romance." But these women kick ass and write kick-ass supernatural stories, romantic subplots or otherwise.
Speaking of kick-ass women, there are some big names in the Strange Encounters, such as writer J.D. Brown and the artist Ally Cat. How did they come aboard? Were you particularly excited to work with someone? 
A lot of the women involved with this volume (and will be in future volumes) are thanks to Gladys Gonzales Atwell. She's the Author Talent Manager that made all this possible. I am definitely excited to be working with them and I don't think we could have asked for a better bunch of talented women. I reached out to artists like Ally Cat and others involved. I had previously talked to them here or there before through social media, or I was already friends with them. Some I worked with them on other projects. Derek brought Brett Booth on board.
There are a few guys in here too.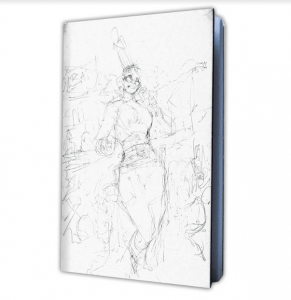 Variant Cover Pencils (King Skull Comics)
Yeah, we also have DC Hopkins involved with lettering. The man is one of the best in the business. And Bryan Magnaye is our colorist extraordinaire on two stories. I worked with him before on the Luchaverse for Chido Comics. 
Puerto Rico Strong was an anthology about cultural identity. Strange Encounters is an anthology about magic. What genre or topic do you want to tackle next?
It's going to be straight-up horror. We're talking Stephen King, Clive Barker, Joe Hill, Rod Serling type stuff but LatinX and that's all I can say about that for now. 
When are we going to see a full Marco Lopez production? Not that we don't love the anthologies, of course.
Hopefully, the end of this year or early next year. I've got a lot of irons in the fire as they say and I'm talking to publishers, editors and there are also projects I'm going to be solo Kickstarting. A lot of incredible people I'm working with here.
The Official Strange Encounters Anthology Press Release: 
Character Designs (King Skull Comics)
From the team that brought you the Eisner Award-Winning and Diamond Gem Award-nominated, Puerto Rico Strong Anthology (Marco Lopez, Derek Ruiz, and Neil Schwartz).
Strange Encounters is a 64-page comic book Anthology about magic, mystery and the Strange Encounters that happen when you meet beings of the supernatural kind.

(King Skull Comics)
This anthology will be made up of original tales, and stories adapted from some of the most popular novels and novellas from some of the most talented female authors in the supernatural prose genre today.
We're aiming to bring you the next must-have anthology and it's coming from our brand-new boutique label, King Skull Comics.
If you like what we did with Puerto Rico Strong. If you like what Derek Ruiz did at Dabel Bros and if you like what I did with The Luchaverse with Chido Comics, then you ain't seen nothing yet. We can promise you this will be worth your time and money.
Just look at some of the talent involved.
Brett Booth is illustrating for us a KICKSTARTER EXCLUSIVE variant cover. Everything this man draws is the coolest and just screams pure joy.
We mentioned earlier prose authors. We're talking Rue Volley (Hellhound, 13 Ways to Midnight), Kim Alexander (Pure, The Demon Door Series), JD Brown (Athena's Oracle, The Ema Marx Series), and Rachel Rawlings (The Maurin Kincaide Series, Rotten Luck). Excited yet?
Let's talk about some of the other artist's and creators involved. We got Jose Marono, Ally Cat (Spread, Spook House), Jess Taylor (Catalyst Prime Summit, Adventure Time), Puis Calzada (Hatchet: Vengeance, Zorro: Rise of the Old Gods), Jamie Jones (The Baboon, Kicking Ice), DC Hopkins(IDW, Lion Forge, DC, BOOM! Studios, Dynamite) and Bryan Arfel Magnaye (Titan Comics, Chido Comics).
And if that's not enough here are some character sketches from two of the stories in the anthology.
We're offering a softcover trade in print and a digital PDF. Prints of both covers to hang on your wall and the option to be drawn in the short story, I Hate the South (From the Case Files of Izzy Desoto) as a monster of your choice. And for the amazing retailers out there because we love retailers, we're also offering a Strange Encounters Retailer Pack at a fantastic discount.
But wait there's more!
Because we got STRETCH GOALS! And if we meet these goals everyone that pledges will get a bookmark, a Strange Encounters Pin, a King Skull Comics Pin, mini prints by the incredible Leila Leiz (Alters, Horde) and Ariela Kristantina (Mata Hari, Adora, and the Distance), a BOOKPLATE by Sweeney Boo (Marvel Action Captain Marvel, Eat and Love Yourself) signed by the prose authors and last but not least a PREMIUM sketch card by Brett Booth of his variant Kickstarter Exclusive cover. It'll feel like the 90s all over again when holding that card in your hand.
So, come and join us at https://kickstarter.com/projects/kingskullcomics/king-skull-comics-presents-strange-encounters
We promise to not let you down. We love this industry. We love the fans and we aim to bring you a product you will want to read over and over. King Skull Comics a brand you can rely on.
Also, don't forget to follow us on twitter @kingskullcomics and Instagram @kingskullcomics and Facebook as King Skull Comics.
Roman Colombo finished his MFA in 2010 and now teaches writing and graphic novel literature at various Philadelphia colleges. His first novel, Trading Saints for Sinners, was published in 2014. He's currently working on his next novel and hoping to find an agent soon.
Leave a comment