Ten-ish Graphic Novels to Read About Social Justice and Racial Discrimination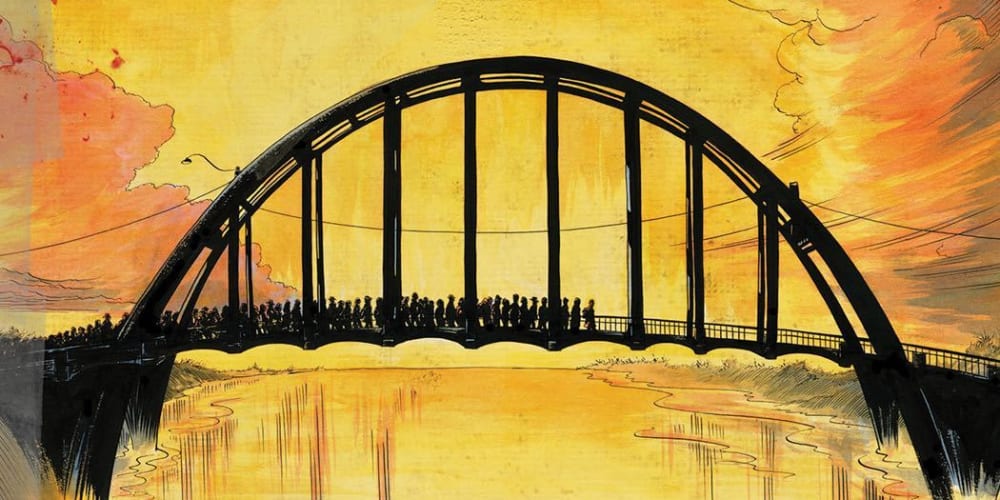 The state of America right now is beyond chaotic. Even Loki and the Joker would probably want things to settle down a little bit. After several days of protests, civil disobedience, and violent response from police, many Americans woke up to the images of the White House surrounded by wire fences and concrete highway dividers as barriers. Then they went to work, or went to shower, or to try and teach their kids math that they haven't had to do in thirty years. Despite the chaos, life goes on. If it all feels overwhelming, that just means you're human. Thankfully, comics, novels, film, stage, music—they have all been tools for people to cope and understand what's happening in the world. And when it comes to social justice and racial discrimination, there are dozens of great graphic novels. This is just a Top 10 list, containing 12 books, of some of the best graphic novels on the subject.
10. Graphic Novels About Industrial Prison Complex, Social Justice, and Racial Discrimination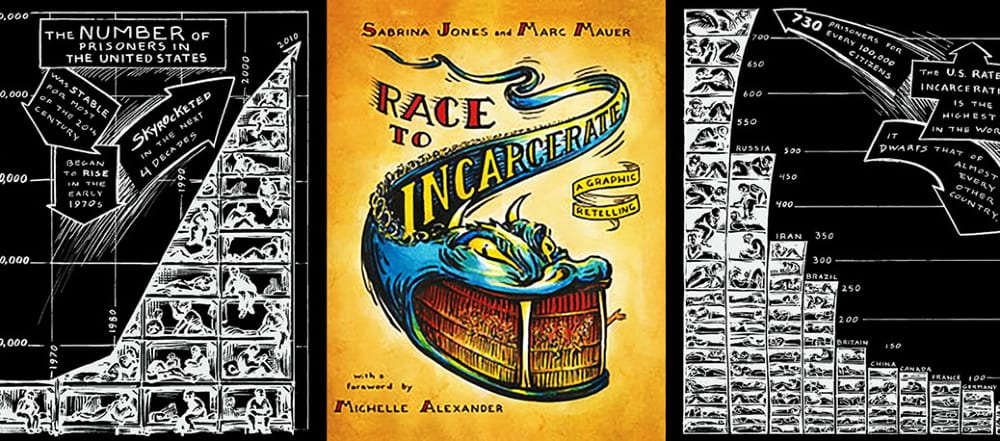 (Image: The New Press)
Even before we discuss how race becomes a factor in the American prison system, there's the horrific fact that there are about two million Americans in prison, the highest amount in the world for one country, and the highest per capita. According to the NAACP, "Today, the United States makes up about 5% of the world's population and has 21% of the world's prisoners." But when we look at race as a factor, it gets even worse. The US imprisons Black Americans five times more than White Americans.
But the racial injustice in the prison system is a complex situation. Luckily, there are two brilliant social justice graphic novels that tackle this long history: Race to Incarcerate by Marc Mauer and Sabrina Jones, and The Real Cost of Prison Comix, by a host of talented creators. Race to Incarcerate is a graphic adaptation of Marc Mauer's original book. The Real Cost of Prison is three comics: Prison Town: Paying the Price by Kevin Pyle and Craig Gilmore, Prisoners of the War on Drugs by Sabrina Jones, Ellen Miller-Mack and Lois Ahrens, and Prisoners of a Hard Life: Women and Their Children by Susan Willmarth, Ellen Miller-Mack, and Lois Ahrens. Oh, and even better? The three The Real Cost of Prison Comix are all free to read on their website!
9. Racial Discrimination, Social Justice, Dating, Kung Fu Movies, and Cartoons

(Image: Silver Sprocket Press)
In 2017, NPR named Ben Passmore's Your Black Friend as one of their favorite comics of all time. The comic also received an Ignatz Award and an Eisner nomination. But Passmore wrote several humorous comics challenging serious issues in society. Your Black Friend (and Other Strangers) compiles all of his work into one outstanding anthology. Passmore's vibrant art and styling of New Orleans adds another wonderful level to the graphic novel. Your Black Friend is, of course, "preachy," but instead of condescending, it feels like a lively talk with a friend. Passmore respects the reader's intelligence while explaining both the nuances and the unambiguous issues of racial discrimination.
8. When Current Events Give You the Blues, Read a Graphic Novel about the Blues

(Image: NBM Publishing)
Rob Vollmar and Pablo G. Callejo's Bluesman is both an exploration of Depression-era racial discrimination and a love letter to the Blues. We follow a fictional Blues musician, Lem Taylor, as he runs from the police for a crime he didn't commit. But how Vollmar and Callejo tell the story is brilliant. Bluesman is structured like a traditional blues piece: 3 parts with four chapters; or, three sections with four bars each. Sometimes the best stories are the ones that aren't big, massive statements or epics. Bluesman is just a beautiful addition to social justice graphic novels.
7. When Black Panther Went to New York City…and Got a Full Dose of Racial Discrimination

(Image: Marvel Comics)
Christopher Priest's Black Panther run isn't just one of the best runs on that particular character, but one of the best runs of any comics in comic book history. There's no way to get into how themes of social justice and racial discrimination weave through the four graphic novel volumes Black Panther by Christopher Priest: The Complete Collection in just one short paragraph. However, there's a scene early on that helps set up how Priest would tackle the issues—he complicates the hell out of it.
When T'Challa visits the United States as a king—and not as a superhero—there's a significant problem. The White House only invited one Black person. When word got out that King T'Challa was in New York City, a massive crowd of Black Americans shows up outside the dinner event. The first thing that happens is Everett Ross yelling over a radio "there's a crowd of black people outside…I want model 8 up and running a half-hour ago. Wake up everybody." It gets worse. When the men with military weapons show up, Ross directs them to "put on a big show…make sure they can see the guns but be a pal and try not to actually fire them. You guys are our best chance to prevent a Rodney King here."
Oh, But That's Not All…
White government agents being racially insensitive? Yeah, that's expected. What happens next, however, is shocking. T'Challa goes to address the crowd, dressed as the Black Panther. Turns out, they aren't too fond of him. The Black citizens of New York point out that he was never with them. He was with the Fantastic Four or the Avengers—"their heroes." The big teams do nothing for Black citizens facing everyday racism and injustice. T'Challa assumes they were with him. He doesn't expect backlash. And through the series, we return to this problem. When the Avengers show up to "help," they make it much worse. Despite the superheroes, the scene is all too real as a horse-mounted NYPD officer yells, "gas them!" And this is maybe a total of five pages that tackle social justice and racial discrimination out of four massive graphic novels. The entire series just keeps getting more brilliant.
6. From One Black Superhero to Graphic Novels About All Black Superheroes

(Image: Black Mask Studios)
Let's stick with superheroes for just a moment and go from Marvel Comics to the relatively new comic imprint Black Mask. Black Mask is producing all kinds of fantastic indie comics, such as Young Terrorists and Kim and Kim. But their debut series is still one of their greatest: Black. Kwanza Osajyfo's story starts with an all too familiar scene: police gunning down a young Black man, Kareem. But he doesn't just survive the act of police brutality; he discovers one of the biggest secrets in the world: superpowers are real, and only Black people have them. However, in a world that irrationally fears Black people, superpowers would only make it worse. Throughout the graphic novel, Kareem debates if they should stay secret or seek true social justice.
Black also has some great spinoffs called Black AF—no, not the Netflix show. America's Sweetheart asks, "what if Superman was a Black teenage girl?" In September, we get Widows and Orphans. This is graphic novel will dive into racial discrimination and social justice in a much darker way: human trafficking.  And finally, from Vita Ayala, there's Black AF: Devil's Dye, which brings the world of Black to drug dealing and addiction. The tapestry of Osajyfo's world is already as fleshed out as Marvel and DC's, and there are only four stories so far.
5. Exploring the Long-term Effects of Slavery Using Time Travel

(Image: Henry N. Abrams Press)
If you haven't read Octavia Butler's novel Kindred, you need to. And the graphic novel adaptation is beautiful. The images are harrowing, as you'd expect from a story about slavery. Though the characters live in the 1970s and are well aware of how slaveowners treated Black people, they aren't prepared at all for actually seeing it firsthand. As a graphic novel, Kindred might be a good way for YA readers to learn about the need for social justice as a result of slavery even 157 years after the Emancipation Proclamation. The story also makes readers connect to the horrors of slavery in a stronger way than even most slave narratives do. When readers see someone from a more contemporary setting suffering, it's a lot easier to see themselves in those situations.
4. A Graphic Novel About a Social Justice Undercover Detective…Inspired by a Real Person

(Image: Berger Books)
Growing up, most kids might pretend to be superheroes, astronauts, cowboys, police officers, or any number of characters. Writer Mat Johnson had a very specific character growing up. Because Johnson had very light black skin, he could "pass" as white. As a kid, he would pretend to be an undercover officer, pretending to be white while investigating hate crimes against Black people. Pause for a moment to think about what that says about the world. A child's idea of a superhero was going undercover to stop hate crimes. Children's fantasies generally come out of their needs. It's doubtful that any non-white children would create a character to investigate crimes based on the color of their skin.
But here's the amazing part—there was an investigator who did just what Johnson imagined. Walter White (perfect name for this) worked for the NAACP to investigate lynchings, using his light skin to get him into White establishments. Johnson used this as inspiration for his character Zane Pinchback, a 1930s New York journalist famous for investigating lynchings. A graphic novel noir mystery about racial discrimination and social justice? Yes…read it.
3. The Historical Figure Who Puts the "Warrior" in "Social Justice Warrior"

(Image: Henry N. Abrams Press)
I'm from New York, but my family moved to Southern Virginia when I was young, and it was there that I got my first Civil War lessons at school. I knew they'd be a bit skewed, but I didn't realize how much until I was older and learned more about Nat Turner. When they brought up Turner in my school, it was to very quickly say that he was a monstrous killer and moved on. So what did he do that was so horrific? He killed the people who were killing and enslaving his people and led one of the most significant slave rebellions in history. So, to recap, according to the very "south will rise again" teacher I had, the killing of slaveowners was so much worse than anything the slaveowners did.
Kyle Baker's graphic novel Nat Turner, which won a Harvey Award, delivers the most accurate account of Turner's story. Even more impressive, Baker's graphic novel about social justice in the slavery era is nearly wordless, letting the brutal images stand on their own. It's a great graphic novel for high school students, especially. Just…not any younger. It is pretty brutal.
2. A Non-American Social Justice Hero All Americans Should Look Up To

(Image: The Nelson Mandela Foundation)
No single person can win a revolution, but if anyone ever came close, it was Nelson Mandela. Of course, he would disagree with that, but regardless, he is one of the most influential political heroes of all time. Produced by the Nelson Mandela Foundation, Nelson Mandela: The Authorized Comic takes his memoir, Long Road to Freedom, historical documents, personal accounts, and interviews and weaves them into a compelling graphic novel biography. Readers of all ages will appreciate the book, but it's another book perfect for YA readers.
1. The Congressman and Civil Rights Hero Who Became Famous for his Graphic Novels in his 70s

(Image: Top Shelf Productions)
Representative John Lewis was a young man in college during the Civil Rights Era, but he became one of the most influential voices in the movement and worked very closely with Martin Luther King Jr. When the living social justice legend announced that he was going to write a memoir as a graphic novel, it made a lot of heads turn. People who looked down on comics and graphic novels, but praised any work about the Civil Rights era, must have shut down like a broken computer (like some of my teaching colleagues).
The March Trilogy is more than a memoir; it's more than an account of the civil rights era. John Lewis, Andrew Aydin, and Nate Powell created a civil rights epic. The intensity of each page and each scenario is incredible. I've taught March several times now. At first, my students look at it like "great, a history book," like they were duped when they signed up for "graphic novel literature." But at the end of the term, regardless of anything else we've read, going from Ms. Marvel to Saga to V for Vendetta, nearly every student says that the March Trilogy was their favorite text. To many, it's not just another social justice graphic novel. It's the social justice graphic novel.
They're not wrong.
1. The Most Important Graphic Novel about Racial Discrimination, Police Brutality, and Social Justice for What's Happening Right Now

(Image: Tu Books)
The March Trilogy might be the best graphic novel overall on this list, but the most important is, by far, the YA graphic novel I am Alfonso Jones. Like Black, Alfonso Jones, by Tony Medina, Stacey Robinson, and John Jennings, starts with a police officer shooting a young Black man without any cause. Alfonso is just a geeky kid. He's about to star as Hamlet for his school play, he's nervous about telling his friend Danetta that he has a crush on her—and he's about to buy his first suit. How many high school students are excited about buying a suit?
The officer who shoots him claims that he mistook the hanger for a gun. To make it even more painful, Alfonso wanted the suit because his incarcerated father was finally exonerated for a crime he didn't commit.
In the afterlife, Alfono's guided by other victims of police brutality, riding a train. Meanwhile, his friends, family, and community have to come to terms with his death. It's heartbreaking but amazing. It's also the first YA graphic novel that focuses on social justice for police brutality. No wonder it's quickly becoming required reading in many schools.
There Are Many Other Social Justice Graphic Novels Out There

(Image: Square Fish)
This list focused on stories of Black characters and creators, and I still had to cheat on the "top ten" idea. Another essential one, with art from the Nate Powell, the artist of the March Trilogy, is The Silence of Our Friends. If we branched out to social justice graphic novels of all kinds, we'd need several dozen lists. Regardless, we're living in a time when access to these books is essential. Read them and give them to others. Right now, many people are just afraid. These books can help inspire them instead.
(Featured Image: March Trilogy, slipcase cover, Top Shelf Productions)
Roman Colombo finished his MFA in 2010 and now teaches writing and graphic novel literature at various Philadelphia colleges. His first novel, Trading Saints for Sinners, was published in 2014. He's currently working on his next novel and hoping to find an agent soon.
Leave a comment