Silver Surfer: Rebirth #1 Brings Back Ron Lim And Ron Marz For Adventure And Nostalgia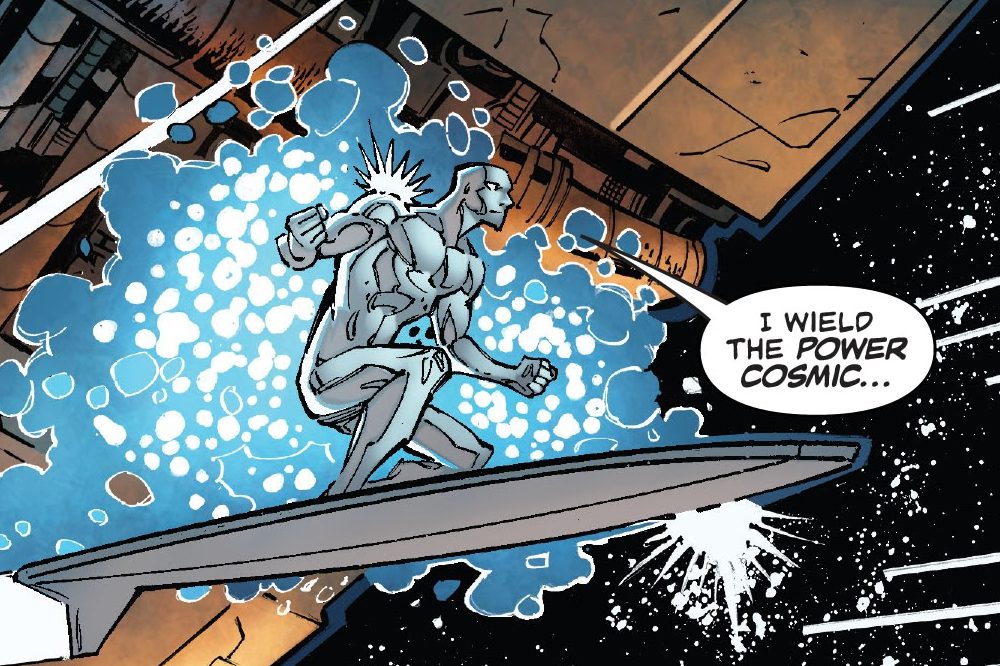 For a decade, from the late 80s to the late 90s, Silver Surfer had an incredible run. The series started with Steve Englehart writing, then Jim Starlin took over and wrote the classic Silver Surfer: Rebirth of Thanos arc. And then, with issue #51, Ron Marz took over. Marz would end up writing 60 issues. But his main collaborator, Ron Lim, worked with Englehart and Starlin, too, penciled or provided cover art for 85 of the first 100 issues. That's a remarkable achievement. Marz and Lim, the two Rons, worked well together. Lim's cosmic sensibility and Marz's scope for epics combined into one of the best runs ever. So, it's great to see this creative team return for Silver Surfer: Rebirth #1, the first part of a five-issue series. And they start big.
Spoilers to Follow!
Silver Surfer: Rebirth #1 is all About Nostalgia and Fun
(Image: Marvel Comics)
Nobody is pretending that this team-up is about anything more than giving us a classic Silver Surfer story. The title of Silver Surfer: Rebirth #1 is "Those Were the Days." Even the cover (seen above) is a throwback to the style of the late 80s and early 90s. Back then, comics were so reliable that they put the month under the issue number! Marz's writing has the same feel it did in the early nineties. Comics were nearly entirely transitioned away from thought bubbles and wordy captions, but the dialogue still had a lofty quality to it. These god-like characters spoke like gods. This worked up until the late 90s and early 2000s when readers started connecting more to characters who "felt real" – because nothing says "real" like a dude from another planet, on a surfboard, flying through space, suffering from depression, with a former boss who ate planets.
Marz's return to that style feels like returning to a place you loved years ago, child or otherwise. But it's not just the writing. Lim's art still looks like he chiseled the pages in stone instead of drawing with pencil and paper. But even more than that, he still goes big. About two-thirds into Silver Surfer: Rebirth #1, Norrin Radd somehow breaks through into a universe where the original Captain Mar-Vell never died, and they're about to intervene in a Skrull invasion. It's a massive scene, literally and figuratively. Lim utilizes the double-page spread that ComiXology listed the 24-page comic as just 19. The images are, literally, big.
It's Not Just Marz and Lim Who Make Silver Surfer: Rebirth #1 So Good
(Image: Marvel Comics)
Rounding out the creative team, we have inker Don Ho, who brings out Lim's definition and more rigid lines. And we also have colorist Israel Silva, who does things with Lim's art that just weren't possible when he first started penciling Silver Surfer in the late 80s. Not because colorists weren't talented, but because the quality of paper and printing wasn't yet there.
Between Marz's writing and the combined artwork of Lim, Ho, and Silva, what we get is a classic cosmic story that could only be told today. This really does feel like a rebirth for the Silver Surfer. However, there is one more character who, looking back, Marz and Lim had to include.
Marz and Lim Bring Back One of Comic Books' Most Epic Rivalries
Surfer has no idea where he is. One second, he's flying with Legacy, Captain Mar-Vell's son; the next, he's flying by Captain Mar-Vell himself, a version who survived his cancer. Still, Skrulls are attempting to conquer a planet while killing civilians. So, duty calls, and he joins Mar-Vell in the fight. Well, until something blasts Captain Mar-Vell off of his feet. Who has the power to take out such a powerful character so effortlessly? Which character steals the show in Silver Surfer: Rebirth #1? Do you really need to ask?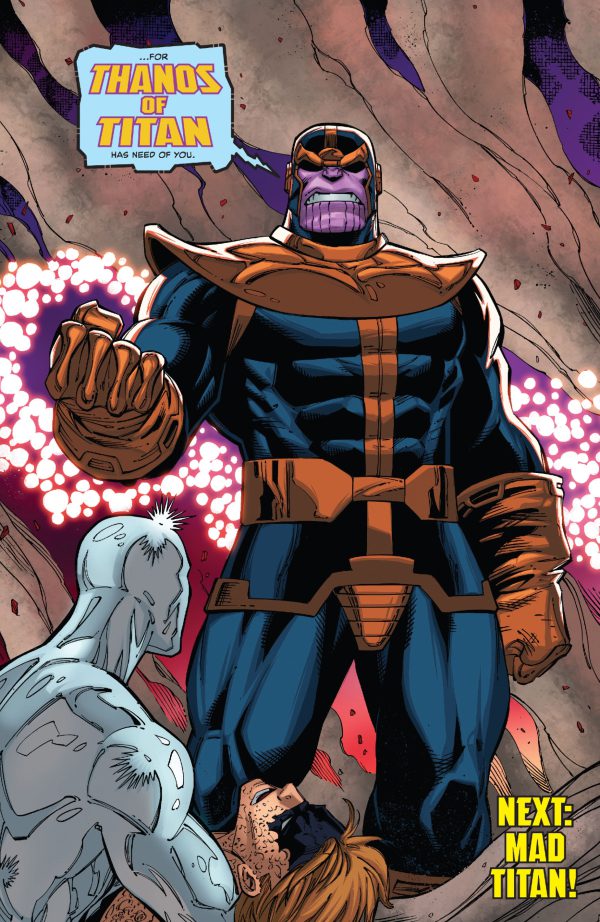 (Image: Marvel Comics)
Not only do we get Thanos, but we also get Ron Lim's Thanos. A dark, menacing monolith that lives up to the adjective "titan" often following his name. And, despite the heavy shadows and dark tones, we get that bright, glowing, cosmic energy surrounding him, making him even more imposing.
This will be a fun series, but Marz and Lim always started a story on a lighter side only to have us gripping a future issue so tightly that the value was ruined, and we didn't care. So whatever this mini-series holds, it will be just like the good old days – and still like nothing we've ever seen.
And maybe this particular comic really connected with me because Ron Lim penciled the first comic I ever owned – Silver Surfer #50, the prelude to The Infinity Gauntlet. I wouldn't read Gauntlet until about 20 years later, but that issue has always been one of my favorites, and probably one of the most influential stories on my writing,
Are you hyped for the Silver Surfer: Rebirth series? What is your favorite Silver Surfer story? Tell us in the comments below!
Roman Colombo finished his MFA in 2010 and now teaches writing and graphic novel literature at various Philadelphia colleges. His first novel, Trading Saints for Sinners, was published in 2014. He's currently working on his next novel and hoping to find an agent soon.
Leave a comment