SDCC 2021 X-Men Panel Doesn't Reveal Much But Makes What We Know More Exciting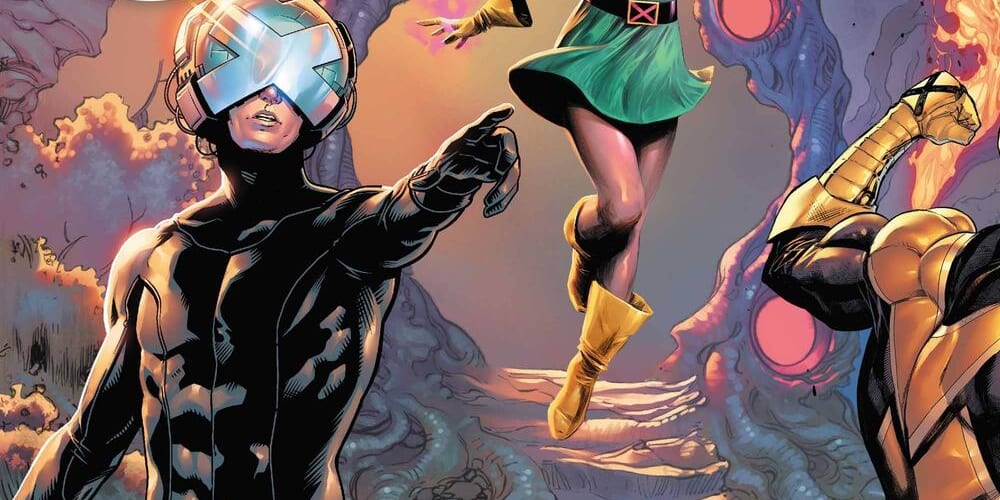 Last year, just before X of Swords exploded into the biggest X-Men event since Age of Apocalypse, the 2020 SDCC Marvel's Next Big Thing Panel gave us a glimpse of upcoming X-Men stories. Well, story. Singular. But during the SDCC 2021 X-Men panel, we got a bit more details on several stories. However, what made this a little more digestible was that it's coming after an event: The Hellfire Gala. So instead of zeroing in on one big moment, we got several stories spread out over the franchise. Mostly, we learned that the Reign of X era probably isn't ending too soon. It's not like one of the most dangerous women in the Marvel Universe wants to burn down the island, right?
The Writers On the SDCC 2021 X-Men Panel Define the Krakoan Era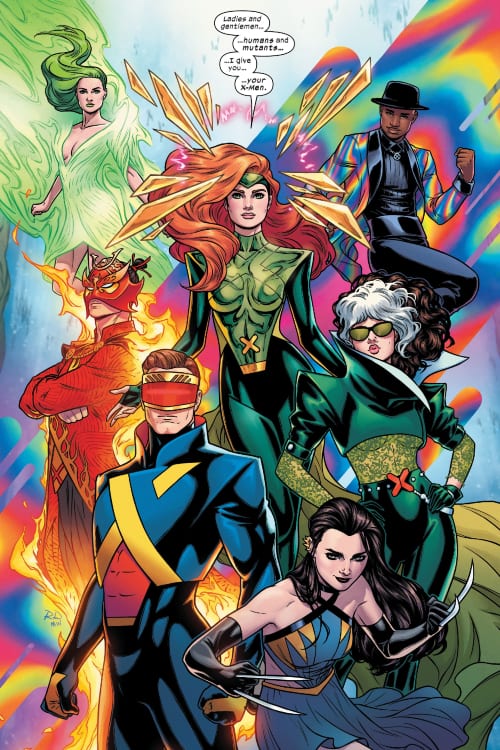 (Image: X-Men #21, Marvel Comics)
This is the most exciting era for X-Men fans since X-Men: Messiah Complex, over a decade ago. But even then, the X-Men were "all doom and gloom," as X-Men scribe Gerry Duggan described. The X-Men were always reactionary. For instance, why did they move to Utopia? Because Norman Osborne drove them out of San Franciso. Their war with the Avengers? Because the Avengers landed on Utopia like a militarized police squadron at a Black Lives Matter event (and that's not exactly my words, as we'll see). And their war with the Inhumans? Because the Inhumans were passively committing mutant genocide. But with Krakoa, there was never any tragic incident that led to Xavier forming the country. Instead, it was something they were working on for decades, behind the scenes. 
As Duggan continued, Mutants are "no longer asking permission to be who they are." And the other X-Men writers on the SDCC 2021 panel added even more. Vita Ayala remarked on how Mutants are now synergized, "solving human issues in non-human ways." Leah Williams pointed out not just the building community, but also how Krakoa is an entire nation healing from Trauma. But it was Benjamin Percy who brought it home. This era is "reflective of larger cultural shifts like Black Lives Matter and MeToo." All around the world, people are saying "enough is enough," and that's what the X-Men did. 
But the major point woven through all of their statements is that the X-Men are still altruistic to the rest of the world. Maybe even more than they ever had been before. And the new X-Men team is part of that. Duggan says the new team is "a gift from Krakoa to protect Earth.
The
Hellfire Gala
and the X-Men Voting Campaign Were Massive Hits
(Marvel Comics)
The Hellfire Gala was a unique event. While there was a vague passage of time between issues, each title worked as a standalone issue (except for X-Force and Wolverine being a 2-parter). But what the X-Office didn't expect was how much the fans would embrace the Gala. Sharing their favorite outfit designs, salivating over Colossus, and voting for one of the new X-Men team members. In fact, fans got really into the voting. There were campaigns, attack ads, debates, and more. But how did the X-writers vote?
Vita Ayala: Marrow

Gerry Duggan: Tempo

Leah Williams: Marrow

and

Temp

She cheated and used a different IP address to vote twice

Jordan White: Tempo

But also revealed that, though she didn't make it to the X-Men, she'll be joining the Marauders.

Benjamin Percy: Maggot

Note…Maggot was not an option, but the X-Staff loves him, apparently.
Will there be more Hellfire Galas and voting initiatives? It looks like it. 
What the SDCC 2021 X-Men Panel Got Us Most Excited For: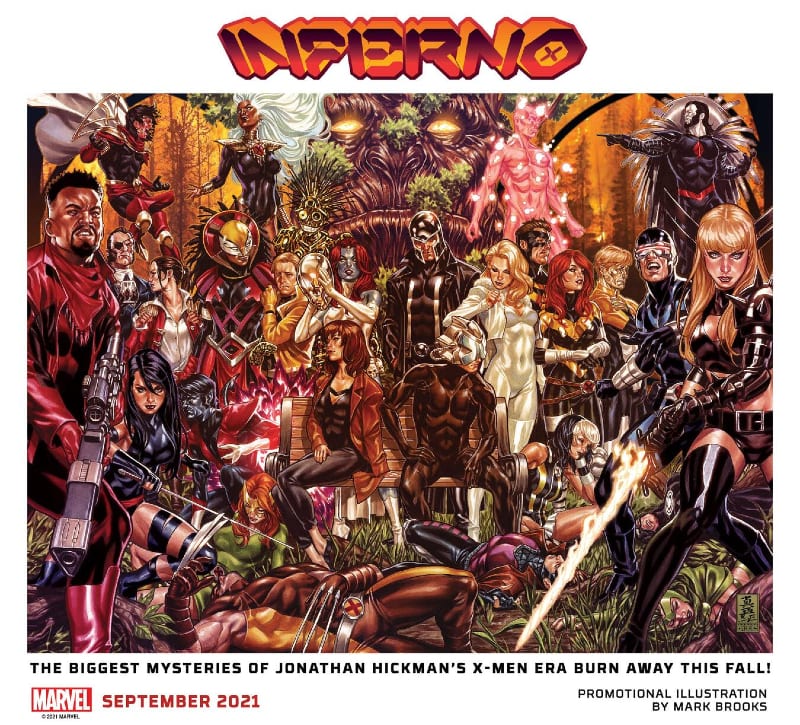 (Image: Marvel Comics)
There are two self-contained events on the horizon. Firstly, we have Leah Williams's The Trial of Magneto. At the end of the Hellfire Gala, X-Factor and X-Force are standing over Scarlet Witch's dead body, and Magneto is the prime suspect. But as Williams notes, "trial" has more than one meaning…like "trials and tribulations." Secondly, there's Jonathan Hickman's Inferno, which will answer many questions from House of X – Powers of X, and fundamentally change a few characters. Editor Jordan White promised that "we won't know who to root for."
But then there are the ongoing titles. In the SDCC 2021 X-Men panel, we got a little bit of info for each one. In X-Men, we'll see many cosmic threats, new enemies, and surprising old ones. X-Force will have to deal with the repercussions of Beast's actions at the Hellfire Gala. Oh, and we'll learn the identity of Chronicler. Meanwhile, X-Force member Wolverine will investigate the destruction of the Marauder ship, and cross paths with Arakko's breakout star, Solemn. In the Marauders, Emma will go through quite a lot, despite throwing an amazingly successful state function. Well, almost. Excalibur will deal with the UK ending their treaty with Krakoa. Finally, Vita Ayala's New Mutants will show why Shadow King is such a threat to Krakoan children and youth. And we'll "understand it" even if we can't sympathize with him.
Oh, and Children of the Atom? Maybe not as canceled as we think it is. Though they could appear elsewhere, like maybe New Mutants since one of them actually is a mutant now.
So, while we only got a little news, we got a lot to look forward to. What X-Men title are you currently enjoying the most?
Roman Colombo finished his MFA in 2010 and now teaches writing and graphic novel literature at various Philadelphia colleges. His first novel, Trading Saints for Sinners, was published in 2014. He's currently working on his next novel and hoping to find an agent soon.
Leave a comment