SDCC 2021 Batman Panel Gives Us All The Fear State Details
James Tynion IV is great at spacing out his Batman events. After Tom King's City of Bane, he gave us a character-driven story and the BAM we were in the Joker War, with Batman losing everything. Then we slowed down, but we knew where it was all heading: Future State. The Batman side of the event took place in the near future, and Gotham was (will be?) a mess. But it all began in Infinite Frontier, one of the DC Future State epilogue week titles, with the shocking events of "A-Day." Using a modified Joker toxin – and implicating Joker in the process – Scarecrow kills nearly every patient, guard, doctor, and staff member in Arkham Asylum. Even Bane. But soon, we're going to see Scarecrow's plans come into fruition with the Batman event, Fear State. Thankfully, we got even more details during the SDCC 2021 Batman Panel.
Biggest Thing We Learned From the SDCC 2021 Batman Panel?
Fear State
Is Coming For Almost All of Gotham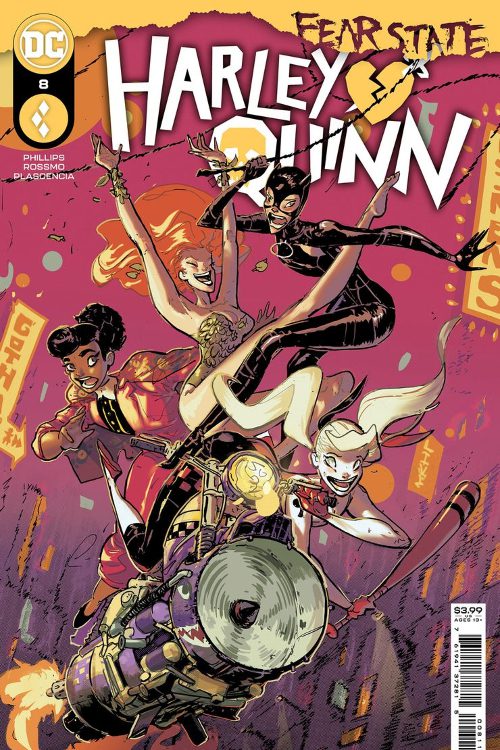 (DC Comics)
Nearly every corner of Gotham City will fall into Fear State. But, according to Harley Quinn scribe Stephanie Phillips, Harley won't be able to stay on the sidelines. Harley will pull together some of her allies, such as Catwoman, Poison Ivy, and the new villain, the Gardner. Now that she's trying to redeem herself, she's on a side. The Joker War was a turning point for Harley, and Fear State will put her newfound heroism to the test. Sadly, she's going to learn that even if she does the right thing, it won't always turn out well, and not everyone will even like her afterward. Oh, also, Waffle Dog is coming!
In Nightwing, we'll see Dick Grayson embrace being a billionaire thanks to Alfred's will. And he's trying to do for Bludhaven what Batman wants to do for Gotham…only better. As writer Tom Tayler puts it during the SDCC 2021 Batman panel, Nightwing "sees in Gotham what he shouldn't do in Bludhaven." But Dick isn't going to be alone. He'll have the love of his life, Barbara Gordon, helping. And both will have important roles in Fear State. Yet there might be some tragedy ahead for the former Robin, as Taylor warns that something "life-changing" will happen to Dick in issue #81.
Oh, and something even more awesome? Tim Drake is coming back, along with the Batgirls. Taylor said he always saw Nightwing as an A-lister and wants to show why that is. It really looks like he's living up to that promise.
Batman and Mayor Nakano Will Have to Work Together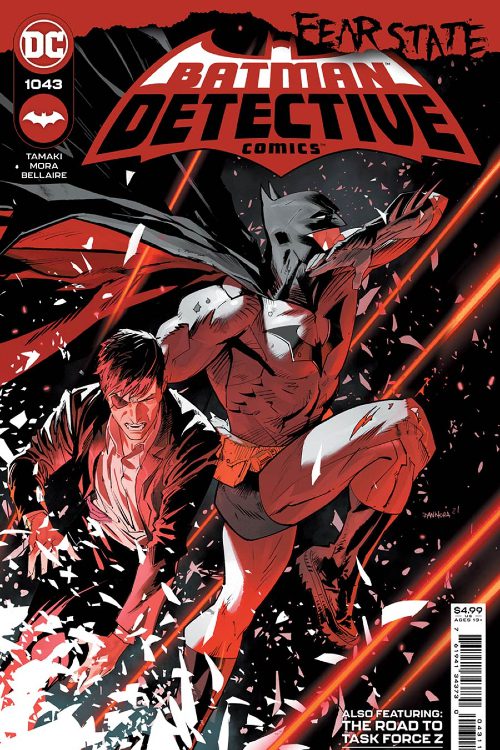 (DC Comics)
Mayor Christopher Nakano is one of the more interesting characters that debuted in recent years. He's an antagonist to us as readers, but he's a better hero for Gotham than Batman. As Detective Comics writer Mariko Tamaki described, Nakano has a tragic past, growing up in a culture of injustice. And he's really not that much different than Bruce Wayne. Both use their trauma to guide their actions. Just, one dresses like a bat and the other wears a suit. They are adversaries believing they know what's best for their city. But in Fear State, Tamaki says that the two will be "forced together…in the grossest way possible. Conflict resolution in comic book style."
Two New Characters Also Got the Spotlight in the SDCC 2021 Batman Panel: Peacekeeper-01 and Jace Fox, the New Batman
(DC Comics)
Another Gothamite also thinks they're doing good, but certainly not in the best way. Sean Mahoney, AKA Peacekeeper-01, wasn't the best-handled character in Batman Future State. The writers kept us guessing about his identity, only to have him be someone we've never seen before. But in recent Batman comics, we finally learn more about the eventual Bat-killer. Like how he comes from an entire family of corrupt cops that Batman and Gordon shut down. We're going to see a lot of him in Fear State, but the creators only hinted that much during the SDCC 2021 Batman panel.
However, one of the most exciting announcements came from John Ridley is a pre-recorded intro. Jace Fox won't just have a role to play in Fear State, but the upcoming I am Batman title will be Jace's first ongoing series. Jace is probably the most popular character coming out of Future State, and fans can't get enough of him. DC gave him a limited digital-first series, Second Son, but now he's here to stay. (Also, Ridley is writing both a Batman series AND the upcoming Black Panther relaunch. That's just nine layers of awesome.
What Are the Villains Up To During
Fear State
?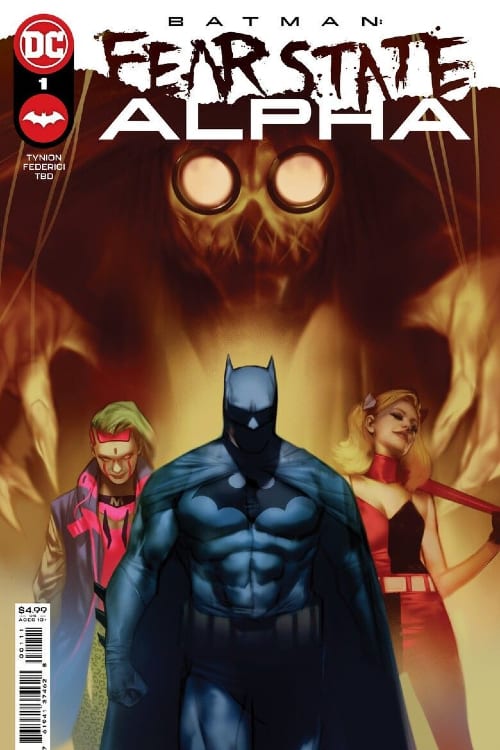 (DC Comics)
We already know that Bane will be not quite resurrected in Task Force Z, the team of zombie villains with Red Hood in charge. Sounds like a great idea, doesn't it? However, one strange thing we learned is that the Joker, despite Scarecrow framing him for the attack on Arkham asylum, won't be a part of Fear State. 
But the main star of the event this time around is Scarecrow. And oddly, Scarecrow isn't out to destroy Gotham – he wants to help the city. Not save it, necessarily, but lift it up. Remember, Jonathan Crane is a psychiatrist and psychologist. But what is just perfect is who inspired Scarecrow's method of "treatment" for Gotham: Batman. As James Tynion IV said during the SDCC 2021 Batman panel, Scarecrow sees how Batman used his fear to rise above his trauma. So now "he wants to do to Gotham what Gotham did to Batman." That is, give them something to fear and overcome as an entire city. It's not not the worst plan someone had for "saving" Gotham.
More than anything, James Tynion IV loves this character. In his prerecorded outro, he stated that he always saw Scarecrow as an A-list villain and that he's finally getting the "A-list Batman story he deserves." But what makes this Scarecrow event even more intriguing is that Tynion is taking away a fundamental part of the character. Through the entirety of Fear State, Scarecrow won't use "a single drop of fear toxin." Instead, he'll be a conductor of a "fear orchestra."
Okay…that sounds awesome. Sign me up. How about you? Are you ready to see a symphony of fear take over Gotham?
(Featured Image: DC Comics)
Roman Colombo finished his MFA in 2010 and now teaches writing and graphic novel literature at various Philadelphia colleges. His first novel, Trading Saints for Sinners, was published in 2014. He's currently working on his next novel and hoping to find an agent soon.
Leave a comment