Robin Revealed As Queer, And Other Memorable LGBTQ Character Revelations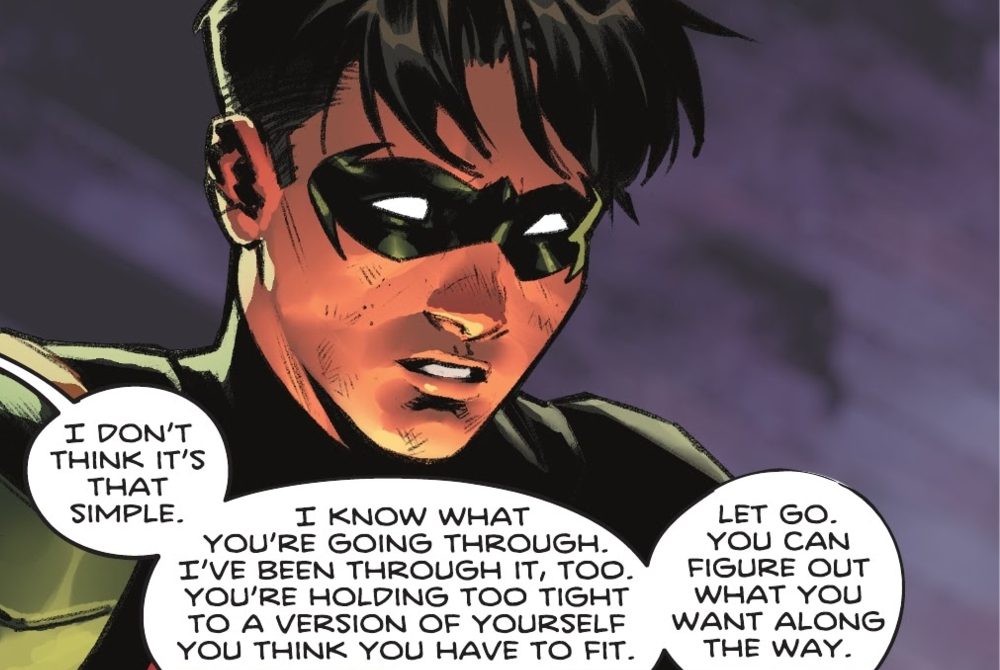 In the recently released Batman: Urban Legends #6, writer Meghan Fitzmartin revealed Tim Drake, the third Robin, as a queer character. It's a wonderful story, even if it gets a little lost in the massive anthology series. But the way Fitzmartin and artist Belén Ortega show Drake telling a boy is beautifully done. It's one of those moments where you know that a young queer reader would see and feel encouraged and reaffirmed. Yet this got us thinking of other major LGBTQ character revelations. While we did talk about the best gay superhero couples and best lesbian superhero couples, some of the characters had profound coming-out stories. Others, however, were melded into the story, without a clear moment on when that revelation happened. But that doesn't mean they are bad revelations – in fact, some of the more subtle revelations work quite nicely.
So, starting with Robin, let's look at how creators revealed certain superheroes (and villains) are queer.
Robin Identifying as Queer Wasn't Just Revealed to Us, but Robin Too
(DC Comics)
In the comics, Tim Drake is still a teenager, and like most teenagers, he's starting to figure out who he is. The vigilante superhero stuff comes easy to him. As one character tells him, it's who he is. However, that's how it is for most of us. What we love doing, where our skills lie, and what we want to do? We kind of figure that out in high school. Who we are? Now, that's a bit more complicated. There's never just one grand revelation, but a series of them that slowly define us. And the way Fitzmartin revealed Robin as a queer (bisexual, to be more specific) character leans into that "ah-ha" moment:
(DC Comics)
This also isn't a "wow, I'm bi now!" statement. We've seen that before, and it's bad writing. This is contemplative. Tim is 90% sure by the end, but he's still learning what all of this means to him. Fitzmartin and Ortega revealed that Robin is not necessarily set-in-stone queer, but that he's ready to explore that side of him. If there's ever a textbook on introducing queer young adults, this creative team just wrote the chapter on queer teen superheroes.
Tim Drake Wasn't the Only Drake Revealed as Queer; Bobby Drake – Iceman – Was as Well
(Marvel Comics)
First, let me get away with a technicality. The title refers to "memorable" queer character revelations…that doesn't necessarily mean "good." Sometimes a story is memorable for all the wrong reasons. And while Tim Drake, Robin, got a wonderful moment when Fitzmartin and Ortega revealed him as queer, Bobby Drake, Iceman, was outed – a horrible experience for LGBTQ+ teens.
This is a weird story. When the young time-displaced Jean confronts Bobby, she takes away his "coming out" moment by reading his mind. Granted, she didn't do it on purpose – she was struggling with her powers at the time – but she still took away a defining moment for a gay teenager's life. However, that doesn't mean it was a poorly written story. While we all want queer characters to have their sexuality revealed the way Robin had his revealed, sometimes people don't get that story. Take Love, Simon, for instance. Instead of coming out to his friends and family, a fellow student outs him when he doesn't get what he wants.
The toxic fanbase didn't react well to the revelation, pointing out that adult Bobby dated girls. Because, apparently, there is no history of gay people dating or marrying straight people to conceal their identity. As it turns out, of course, adult Bobby was always afraid of coming out. This might be because his father is a bigoted asshole. In fact, the first seed of Bobby's sexuality was in Uncanny X-Men #319, when he brings Rogue to his parents' house for dinner. Iceman's cartoonishly bigoted father almost calls him out on his sexuality:
(Marvel Comics)
Things Don't Get Much Better For Bobby
For a few years, young Bobby got to be himself, and helped adult Bobby embrace their own queerness…but then Extermination came along. Everyone knew that the time-displaced X-Men would have to go back to their own time eventually. But to preserve the timeline and not muck it up even more, they need to erase their memories…which means Bobby had to go back in the closet, so to speak.  When confronted with this ultimatum, older Bobby reassures him that – you know what? Just read it. It's actually pretty touching:
(Marvel Comics)
Harley Quinn and Poison Ivy Were Kind of Just Always Queer
(DC Comics)
Almost since Harley Quinn's first episode with Poison Ivy on Batman: The Animated Series, January 1993, readers and viewers just knew the two were in love. But for years, it was never explicitly stated, just heavily implied. The first near-confirmation came in 1998's Batgirl Adventures #1:
(DC Comics)
Indeed, Paul Dini seemed to love almost giving fans what they wanted. During his run on Gotham City Sirens, Harley confronts Ivy about her feelings. But after "awakening" the "ghost," she quickly betrays her "more than a friend."
(DC Comics)
So, when did we actually get confirmation that they were a couple? Well, not in the comics. Jimmy Palmiotti and Amanda Conner, the husband-and-wife creative duo who wrote the longest run on Harley Quinn, clarified for fans that "Yes, they are Girlfriends without the jealousy of monogamy." This was not too long ago – 2015. However, here's the real crime against romance. They didn't share their first in-canon kiss until Harley Quinn #25…after DC Rebirth, as seen above. That was 2017. 2017! Nearly a quarter of a century after we first saw them together – and despite being one of the most famous couples in comics – we didn't see them share a kiss for 25 years. Hopefully, now that DC has revealed him as queer, Robin won't have to wait until 2046 to kiss a boy.
Oh, and if you want a good tearjerker moment, here's a scene from Batman #43 from 2018:
(DC Comics)
Unlike Robin, There Was Never a Need to Reveal Wonder Woman as Queer…It Was "Obvious."
(DC Comics)
Or, at least, it should have been obvious. Some writers and artists played with the idea of Themescyria being an island of lesbians – mostly for more, um, raunchy reasons – but there is more nuanced than just an "island full of babes." First, there's William Marston and his wives Olivia and Elizabeth. The polyamorous trio had to hide their relationship, obviously, and that certainly influenced Wonder Woman's creation, but, more importantly, the two women inspired every aspect of Princess Diana, from her strength to her beauty – even her bracelets.
But you don't need to know the complete history of Wonder Woman to make the connection. When Greg Rucka, who wrote Wonder Woman at the beginning of rebirth, stated in an interview:
"It's supposed to be paradise. You're supposed to be able to live happily. You're supposed to be able — in a context where one can live happily, and part of what an individual needs for that happiness is to have a partner — to have a fulfilling, romantic and sexual relationship. And the only options are women. But an Amazon doesn't look at another Amazon and say, 'You're gay.' They don't. The concept doesn't exist. Now, are we saying Diana has been in love and had relationships with other women? As Nicola and I approach it, the answer is obviously yes."
While it is great to have these moments of queer affirmation, like how they revealed Robin as bisexual, we also need more moments like this. The "this should be obvious" moment, and the story pick up as if that's just how it always was. Some might say Rucka retconned Diana's sexuality all the way back to her origins, but it was always there…obviously.
Why Robin Being Revealed as Queer is So Important
There are more queer characters now than ever before. Some are brand new, and some are established characters getting further development. But there is one trend that needs to stop. By and large – or maybe bi and large? – we're seeing female characters revealed as queer and almost always as bisexual. Why is that a problem? Because revealing a female bisexual is the safest option…because of toxic male fandom (TMF®). When Jean outed Iceman, the TMF community did not respond well. Now, when Fitzmartin revealed Robin as queer – and bisexual, the response was mostly positive. However, on the writer's Twitter post comments, the TMF with poorly developed parts somehow all made their way to the top of the post.
We aren't going to post any of that nonsense here. Instead, we're going to leave with this response. Even when Bobby was revealed as gay, most people wouldn't have had the courage to post this. 2021, with Robin revealed as queer; we get this:
Haven't cried reading a #ComicBook in awhile but after reading the #TimDrake/#Robin & #BernardDowd story with my own #gayboyfriend we both shed a few tears. Thank you @megfitz89 @BelenOrtega_ @loquesunalex
for this. Hate waiting till issue 10 for this to continue👨‍❤️‍👨🏳️‍🌈 pic.twitter.com/3N3ToyuT8K

— Monitor Earthprime (@MEarthprime) August 11, 2021
Batman Urban Legends #6 is available wherever you get your comic books. 
What do you think? How did the storytelling team handle revealing that Tim Drake, the third Robin, is a bisexual character? Share your thoughts, reactions, and comparisons to other stories like this in the comments below.
Roman Colombo finished his MFA in 2010 and now teaches writing and graphic novel literature at various Philadelphia colleges. His first novel, Trading Saints for Sinners, was published in 2014. He's currently working on his next novel and hoping to find an agent soon.
Leave a comment