Superhero Comics about Contagions During a Contagion: Batman: Contagion
It really feels like we're living in some kind of comic book or disaster movie. There's a global pandemic, people are walking around in face masks, and there are protests in the streets against new regulations. Us comic nerds should have been prepared, right? We've seen this before in the comics we read. But did we expect that the biggest threat during this, aside from the sickness, would be boredom? Or finding something to do? Should we really be surprised that people are protesting because they want haircuts? Well, in a few superhero comics, all of these things happen. And reading them now …it's weird. So, let's take a look at the superhero comics that deal with a contagion, starting with Batman.
Batman: Contagion, the 1990s Superhero Pand-epic
"Apocalypse Plague" was the name of my band in high school! (Image: Batman: Contagion, DC Comics)
Batman: Contagion is a minor classic from the 90s, and one of the first superhero stories to tackle the horror of a deadly pandemic. The Chuck Dixon-led event is loosely based on Edgar Allen Poe's "The Masque of the Red Death." In Poe's story, there's a deadly virus killing the people of a town, all around a mansion where the wealthiest residents are having a party, uncaring about the suffering outside. Batman: Contagion flips this. A walled-off, affluent neighborhood called Babylon Towers becomes ground zero of a pandemic, and throughout the comics in this event, Batman and his superhero allies try desperately to keep the contagion it to that area of the city.
They fail, but they never had a chance. The contagion spread before they even knew there was a sickness, to begin with. When the people of Gotham find out about the virus killing people all within hours, they calmly go into their homes and wait for the officials to tell them that it is safe to go outside again—just kidding. They riot and protest and spread the disease even faster—including to Robin (Tim Drake), who comes very close to dying. The other issue the city has is an ineffective mayor and police commissioner. Gordon was out of a job at this time, and an idiot was in his place. It was so bad that Gordon commandeers the command of the police. It's a fantastic moment.
This Superhero Story Gets One Thing Very Wrong—Dangerously So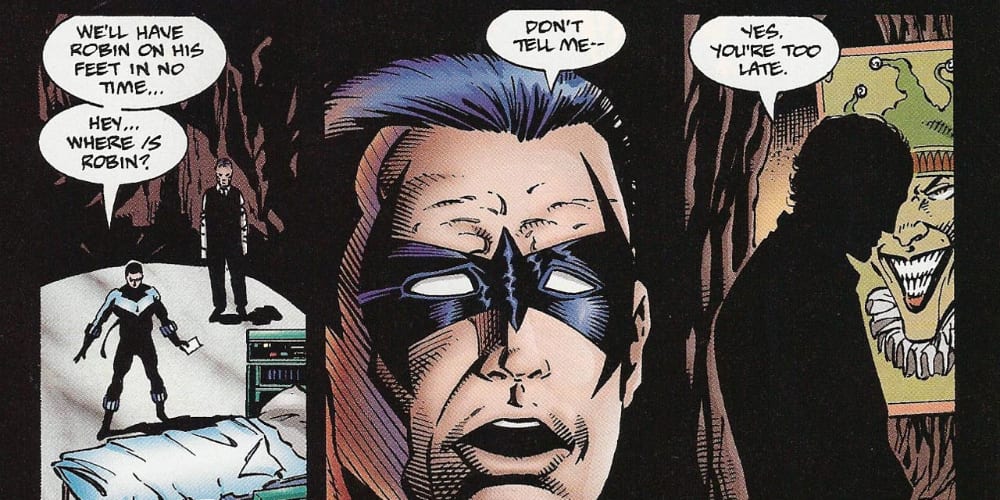 So, Alfred punks Nightwing and makes him think that Robin is dead. Who knew Alfred was that kind of dick? (Image: Batman: Contagion, DC Comics)
One thing Americans struggle with is that it is going to take months, maybe even years, to come up with a vaccine. Vaccines need testing. We need to make sure they work and stay effective. You can't do that in just a few days or weeks. But in Batman Contagion, the superhero Azrael, who once filled in as Batman during the Knightfall storyline, sort of stumbles upon the vaccine. Within 24 hours, the virus is eliminated, and Tim Drake is going on dates with his girlfriend and fighting crime at night. There's one thing that makes this leap of reality okay for the comic—it was a manmade virus, and Azreal happened to battle against the organization who created it. Oh, he also happened to have kept their documents, which contained the cure. Oh, the virus itself happened to look like the even agency's logo.
That's not going to happen. Even if we just find a cure written on a piece of paper, it's going to still take months to mass-produce and then more months to distribute. By then, the 7 million people of Gotham would dwindle to about 100—as Batman himself estimates. And what makes it even harder for him in the comics is that the virus is a villain that no superhero can stop. It moves to fast and is undetectable. But the problem with the sudden cure is that we see this in movies and stories of all kinds. And it's shaped the cultural understanding of how this contagion thing is "supposed to happen." Some brilliant scientist discovers a cure and next week, we're sharing breadsticks in the Cheesecake factory.
Final Thoughts on Batman: Contagion
Azrael racing to Gotham to deliver the cure…because when you're in a rush, you don't actually sit in the driver's seat, right? (Image: Batman: Contagion, DC Comics)
Beyond that, though, Batman: Contagion is an excellent take on contagions, perfect for superhero comics. There are a lot of artists and writers involved, but what all of them do wonderfully is tap into the horror and frantic nature of the situation. When Batman despairs, and you believe that he really can't stop this virus (in fact, he doesn't; Azrael does), that's a powerful achievement. Batman never shows doubt and despair. If not for a stroke of luck, an entire city would die. But in the real world, there's no stroke of luck waiting. There's no miracle cure. We need to just wait for it, and that sucks.
Thankfully, Batman: Contagion is over 500 pages long, so it'll take up a good amount of time of your quarantine.
(Featured Image: Batman: Contagion, DC Comics)
Roman Colombo finished his MFA in 2010 and now teaches writing and graphic novel literature at various Philadelphia colleges. His first novel, Trading Saints for Sinners, was published in 2014. He's currently working on his next novel and hoping to find an agent soon.
Leave a comment