Nick Spencer Leaving Spider-Man After One Of The Most Celebrated Runs Yet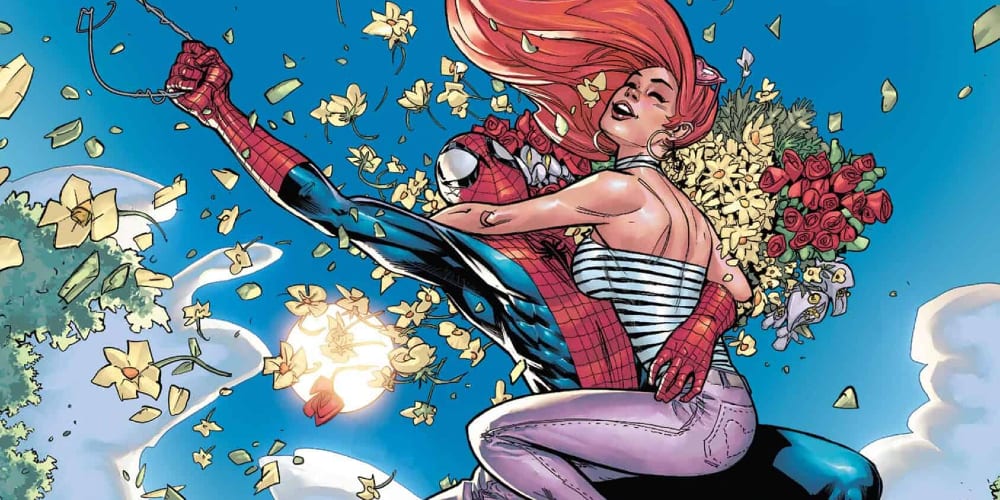 When Dan Slott left Spider-Man after a decade, fans immediately complained about the next writer. That's what fans do. And when Marvel announced that Nick Spencer, the writer who infamously turned Steve Rogers' Captain America into a Hydra Agent, culminating in one of the most polarizing events yet, Secret Empire, those same fans felt even more justified to hate him before Spencer even picked up the pen. But as many changes go, Spider-readers started to love the vastly different approach to the character. Story arcs like Hunted and Sins Rising only made the title more popular. But now, Nick Spencer is starting his last Spider-Man epic, Sinister War, but he'll be leaving the character when that concludes. And he's going out with style.
Nick Spencer Is Leaving Spider-Man With a Mega-Sized Milestone Issue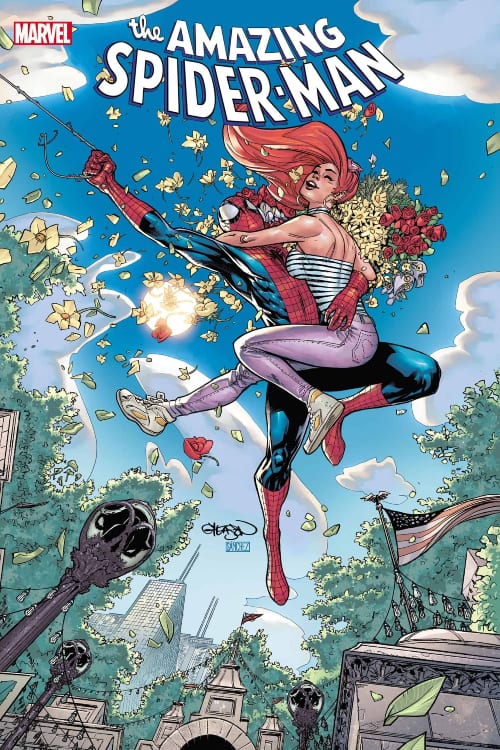 The full cover for the massive Amazing Spider-Man #875. (Image: Marvel Comics)
Writing seventy-four issues of one series is incredible for any writer, but Spencer's last issue coincides with a, let's say, amazing milestone. His 74th issue so happens to be Amazing Spider-Man #875, in legacy count. So, with this milestone issue and Nick Spencer leaving Spider-Man, Marvel is going big. The comic will be "an incredible 80-page blockbuster issue complete with artwork from some of the artists that have contributed to this landmark run," Marvel describes. The artists include "Patrick Gleason, Mark Bagley, Marcelo Ferreira, and more!" One other webhead who should be celebrating is editor Nick Lowe, who was with Spencer since issue #1. But, of course, Lowe is focused on what Spencer accomplished:
"The last three years of AMAZING SPIDER-MAN have been Nick Spencer's love letter to his favorite character and comic. He may be the biggest Spidey fan ever as evidenced from the fact that he read every Spider-Man comic in preparation for his landmark run. From #1 all the way through #74, Nick…has gone huge with more villains, more supporting characters, and more punishment for Peter Parker. From 'Hunted' to 'Sins Rising' to 'Last Remains' to 'King's Ransom' to 'Sinister War'…'What Cost Victory' Nick will bring his web-slinging rollercoaster ride back into the station in a way you'll never forget!"
Where Will We See Nick Spencer Next?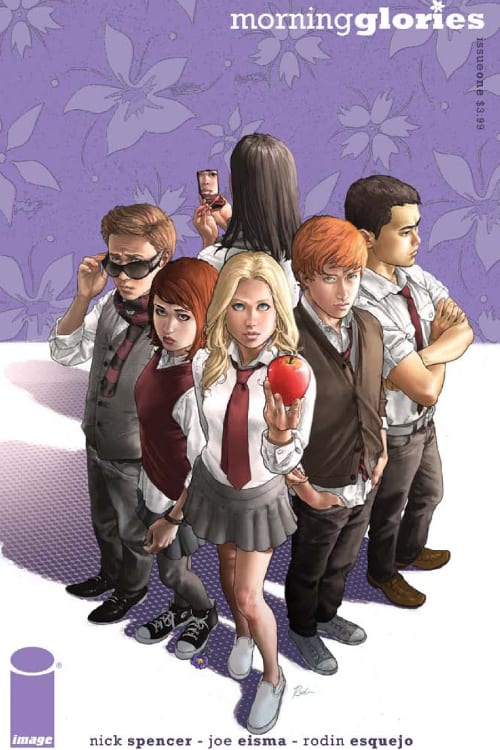 Spencer's history of great indie comics is about to come in handy. (Image: Morning Glories #1, Image Comics)
While writing legendary superheroes is great and all, every writer eventually wants to do something new and challenging. Usually, in comics, this is starting an indie series or even just going to another franchise. For Brian Michael Bendis, for instance, it was hopping from Marvel to DC. But Nick Spencer is leaving Spider-Man for something much bigger and much more challenging. He'll be leading a new initiative and platform for comic book writers. Substack, not well known for fiction of any kind, wants to get into the comics game. So, to do it right, they hired a celebrated comic book writer. Spencer will help Substack "cut deals with comics writers that allow them to hire artists and a small production team," co-founder Hamish McKenzie told Business Insider.
Hopefully, for Nick Spencer, it will be worth leaving Spider-Man and superhero comics for. And for all of us. Writers have a hard time breaking into this industry, but having a Spidey writer trying to help them? That's great.
In the meantime, we still have plenty of Nick Spencer Spider-Man comics coming out before he leaves.
Roman Colombo finished his MFA in 2010 and now teaches writing and graphic novel literature at various Philadelphia colleges. His first novel, Trading Saints for Sinners, was published in 2014. He's currently working on his next novel and hoping to find an agent soon.
Leave a comment