New Shang-Chi Villain Lady Iron Fan Is Based On A Classic Chinese Novel
A new Shang-Chi series recently debuted to coincide with Dinsey's Shang-Chi and the Legend of the Ten Rings release. Gene Luen Yang and Dike Ruan's new ongoing title picks up where their last mini-series left off. Shang-Chi wants to restore honor to the Five Weapons society. Unfortunately, Marvel's heroes want to stop him. However, he has some new villains too. One new Shang-Chi villain is Lady Iron Fan, and she's going to rise in power in the Marvel Universe quickly.
A Classic Chinese Novel Inspired This New Shang-Chi Villain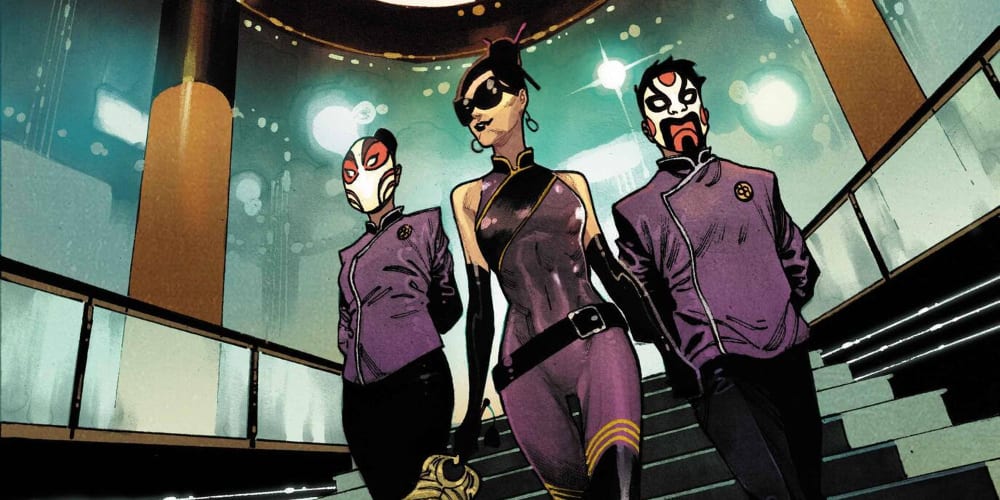 This is a classic "powerful crime lord" power pose. (Image: Marvel Comics)
Like Thor, Hercules, and many other superheroes, Gene Luen Yang looked to classic literature for Lady Iron Fan. "Lady Iron Fan is inspired by Princess Iron Fan, a famous character from the Chinese classic Journey to the West. Her powers are inspired by the classic character," Yang said in Marvel's debut of the new Shang-Chi Villain. Lady Iron fan uses "psychic abilities to control an arsenal of razor-sharp fan weaponry."
Additionally, that's not her only power. She also commands "a powerful criminal organization of her own. Apparently this organization "rivals those of Hydra and AIM!" But for Yang's story, "Lady Iron Fan is the owner of a popular casino hotel in Macau. She plays hostess to the biggest supervillain social event of the season," Yang said.
This is great for Marvel. There aren't that many Kingpin-level women. Basically, we have Ophelia Sarkissian, AKA Madame Hydra, AKA Viper. Sure, fans can argue that Contessa Valentina Allegra de Fontaine is too. But Val's more anti-hero, which we'll probably see in Captain America 4. Moreover, the power Lady Iron Fan holds makes her not just any new villain, but the Kingpin to Shang-Chi. It's going to be great seeing how she develops in Yang and Ruan's series.
(Featured Image: Marvel Comics)
Roman Colombo finished his MFA in 2010 and now teaches writing and graphic novel literature at various Philadelphia colleges. His first novel, Trading Saints for Sinners, was published in 2014. He's currently working on his next novel and hoping to find an agent soon.
Leave a comment