New Man-Bat Limited Series Coming February 2nd!
Of all the Batman villains, Man-Bat is probably the laziest idea any writer ever had. Really, it's not the most creative moment in comics. But, like any character, it's not the name or even the concept that makes them work—it's the stories creators tell using the character. Over the years, Kirk Langstrom had more than a few great stories. And now, the Man-Bat is getting a new limited series from DC Comics, starting February 2nd, even with Future State still going strong!
The New Man-Bat Limited Series Preview Pages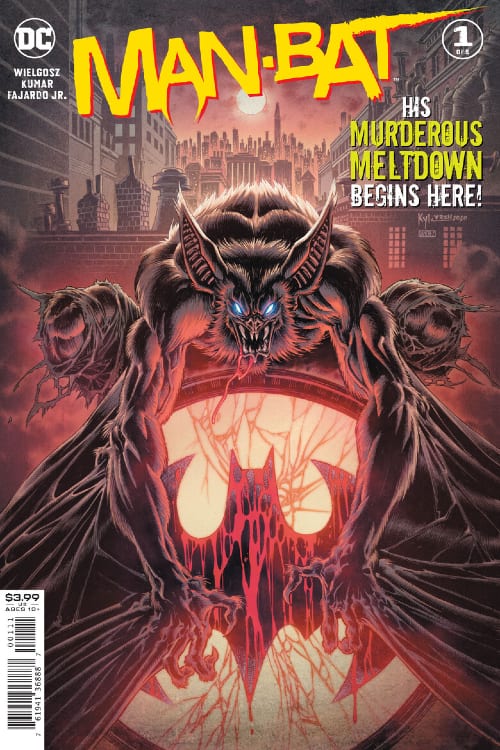 Na Na Na Na Na Na Na Na Man-Bat! (Image: DC Comics)
Thanks to DCComics.com, we have a great preview of Sumit Kamari and Dave Weilgosz's first seven pages. And the new  Man-Bat limited series sounds like a lot of fun. As described in the preview:
For years Kirk Langstrom has struggled with his monstrous alter ego Man-Bat and the serum that transformed him. But he's finally hit rock bottom following a devastating setback, and he's going to take out his anger on every single citizen of Gotham City. Will the combined might of Batman and the GCPD be enough to stop Langstrom once and for all? Or will this just be the start of Man-Bat's devastation?
But it gets better. DC continues:
Man-Bat is on the run from the law following a horrific night of blood and mayhem on the streets of Gotham City. But the police aren't what Kirk Langstrom's monstrous alter ego should worry about… it's Task Force X, better known as the Suicide Squad! To undo the damage he has caused, Man-Bat must seek a cure for the innocents he has injured, all while staying out of the deadly sights of the world's most dangerous mercenaries!
Man-Bat, Suicide Squad, Gotham…this new limited series is going to be crazy. Check out more preview pages at DCComics.com.
Roman Colombo finished his MFA in 2010 and now teaches writing and graphic novel literature at various Philadelphia colleges. His first novel, Trading Saints for Sinners, was published in 2014. He's currently working on his next novel and hoping to find an agent soon.
Leave a comment