New Comixology App – The Amazon Store Has Far More Drawbacks Than Benefits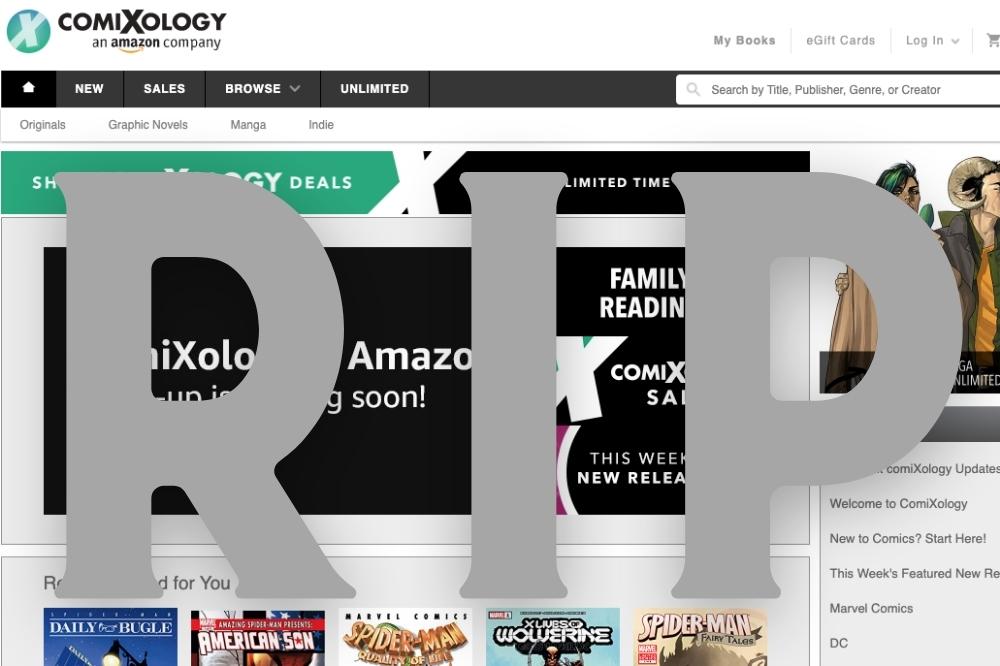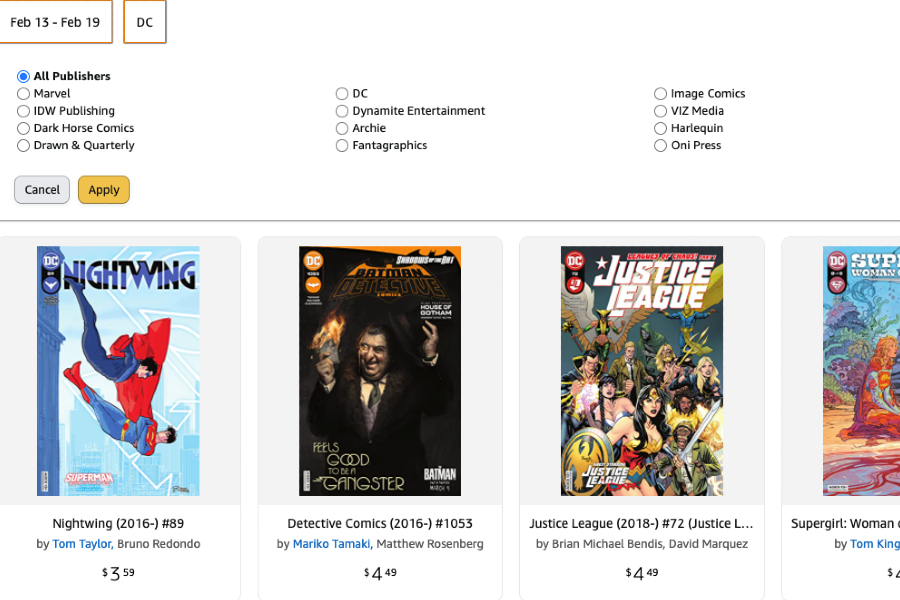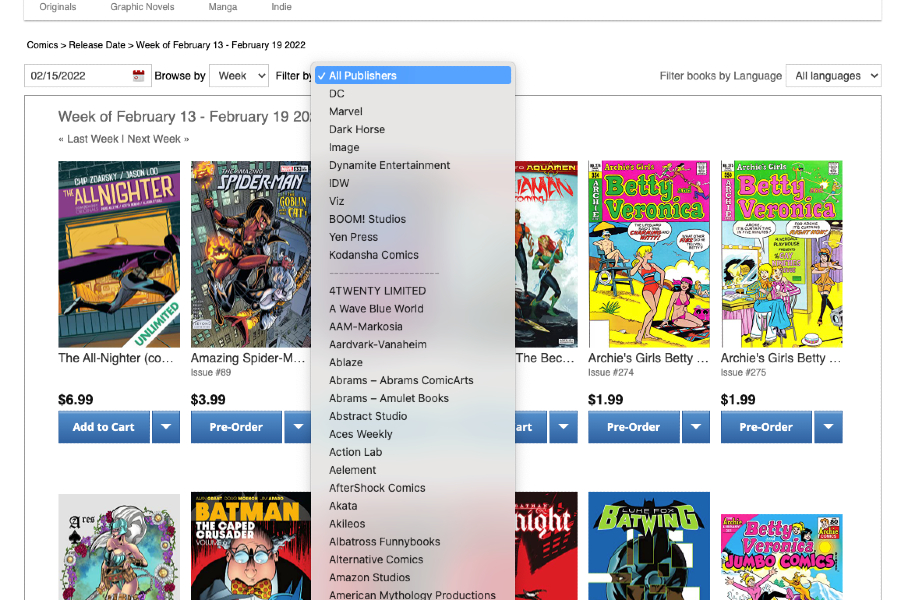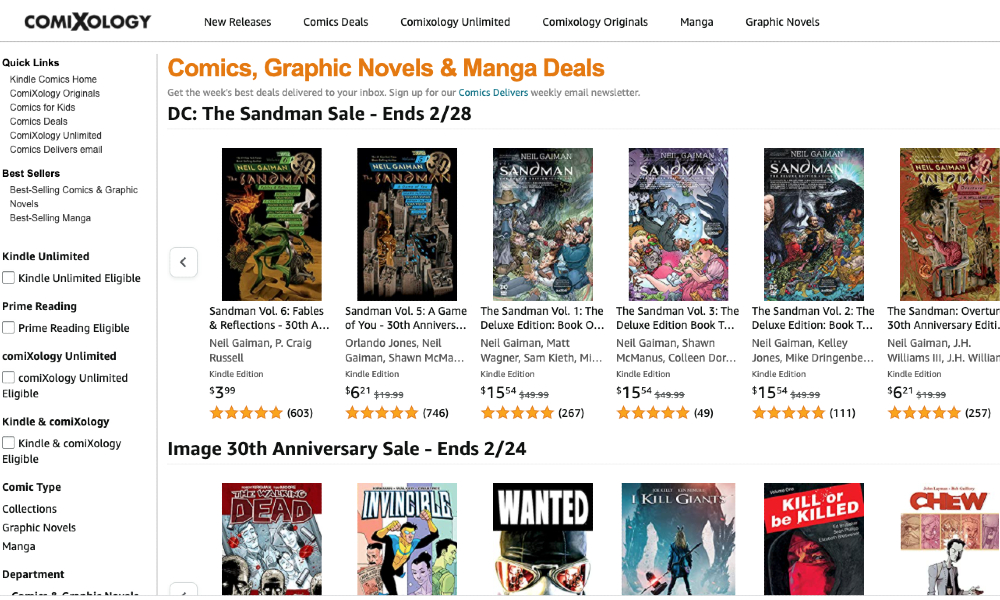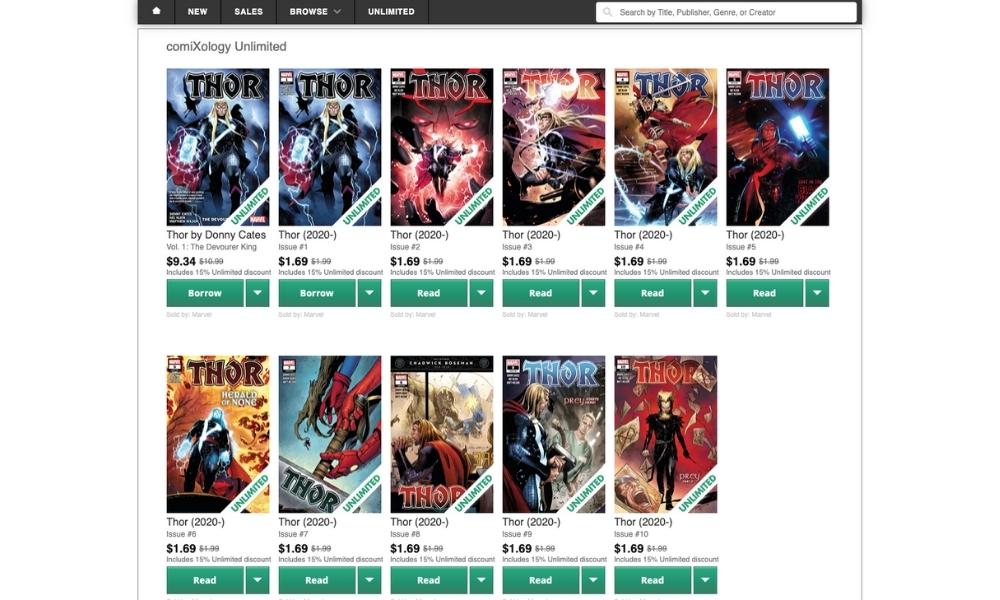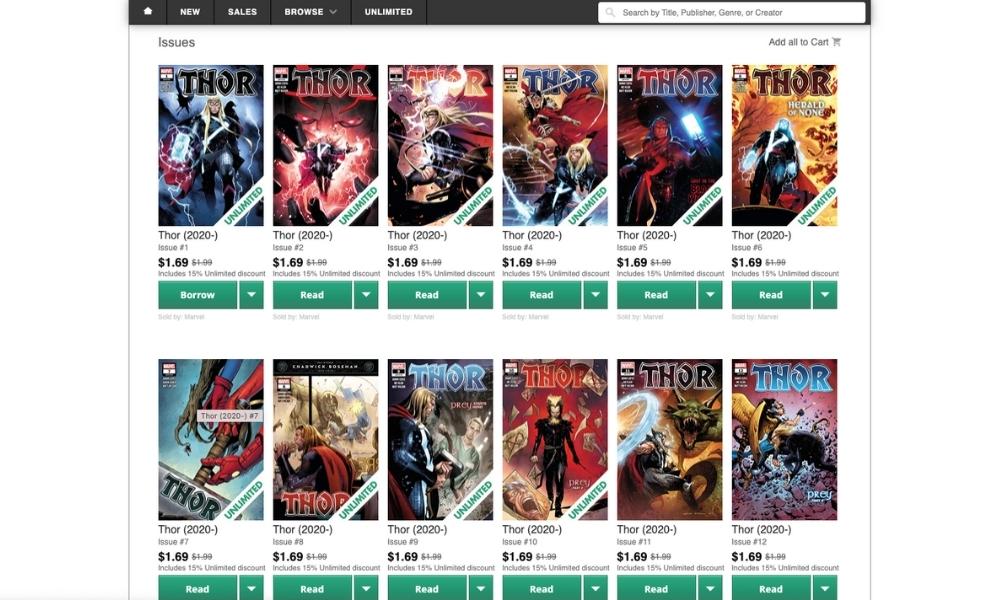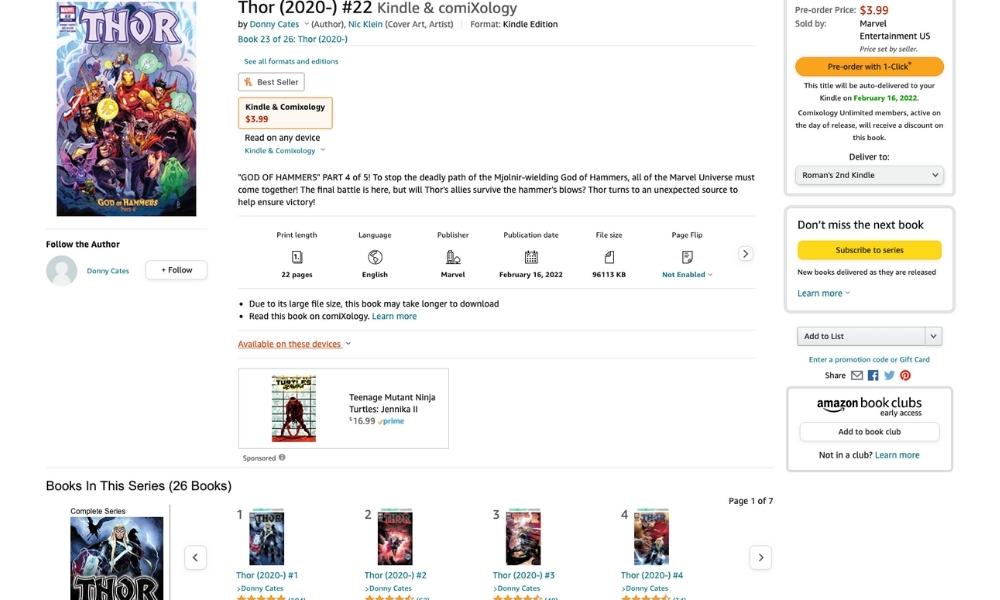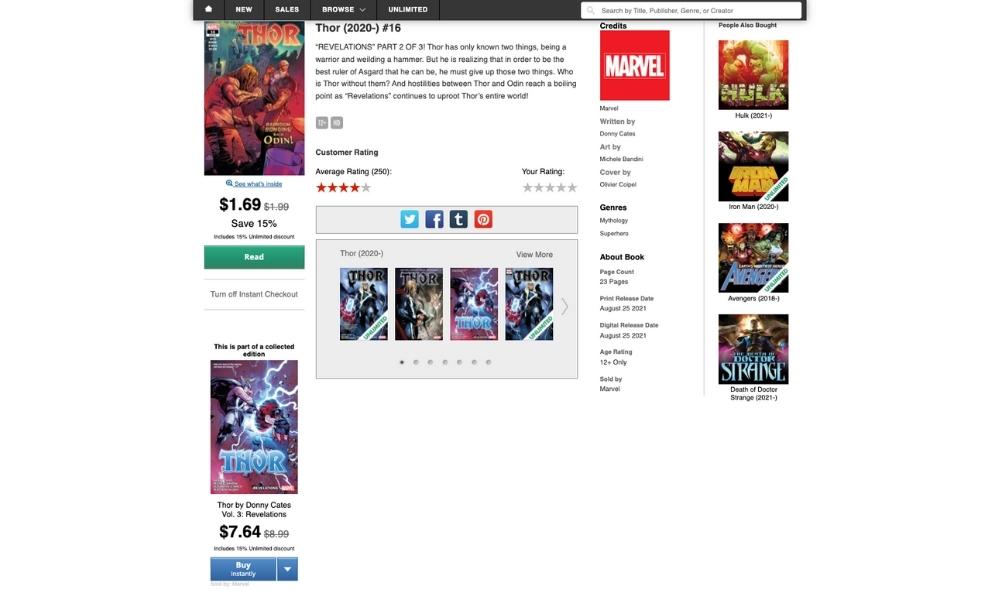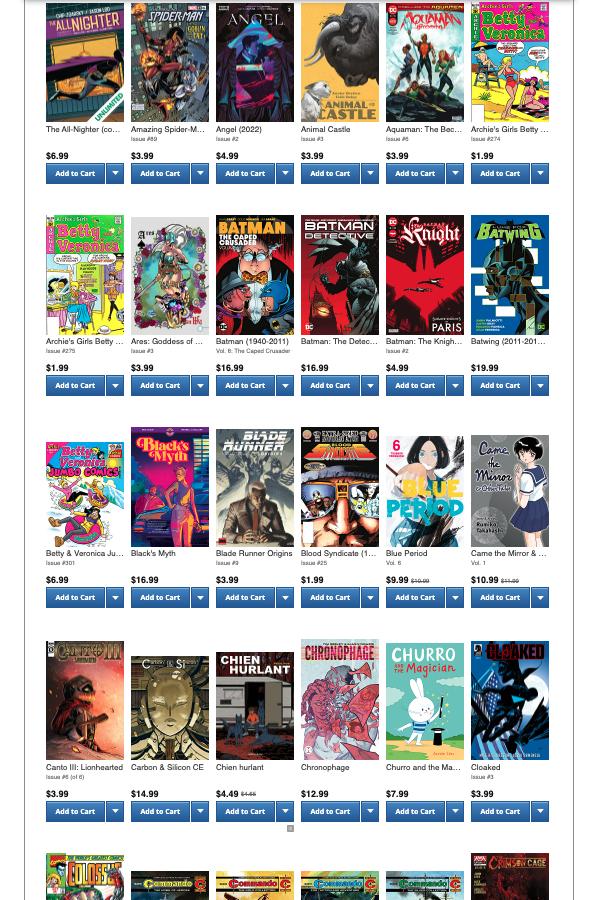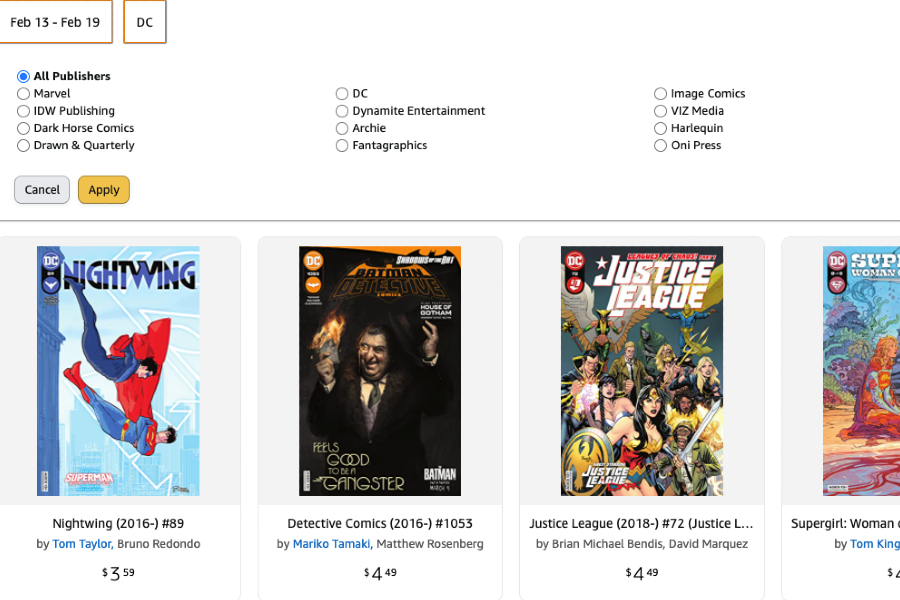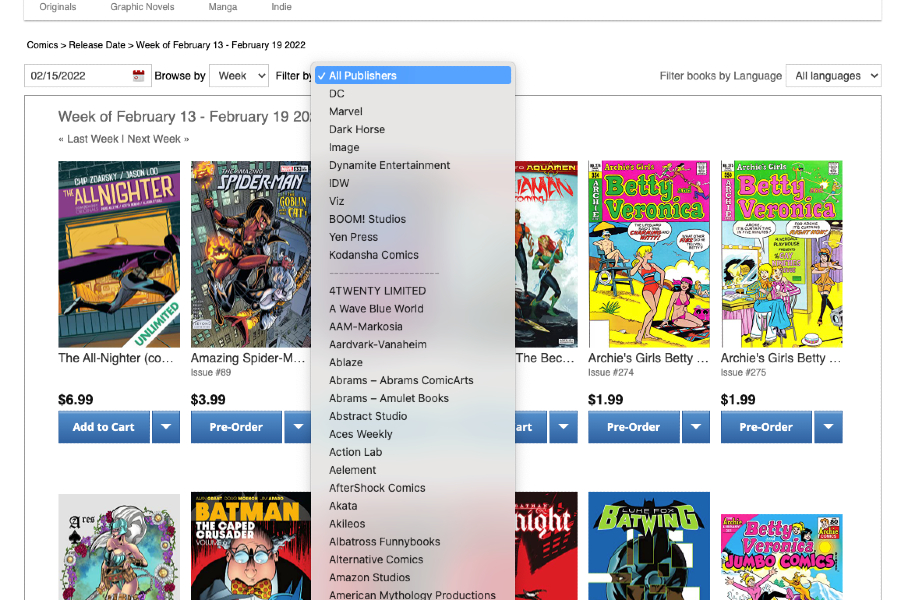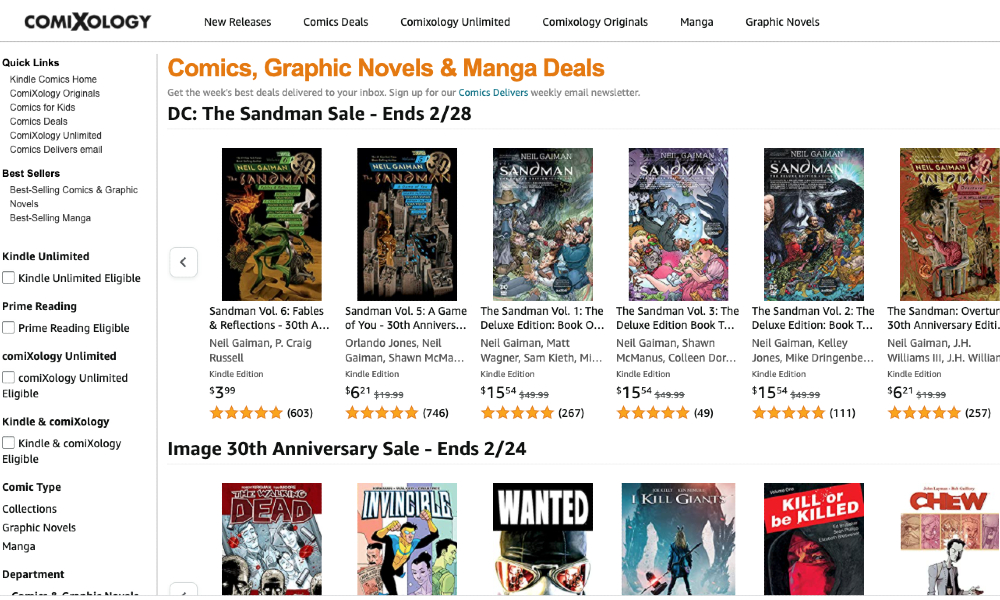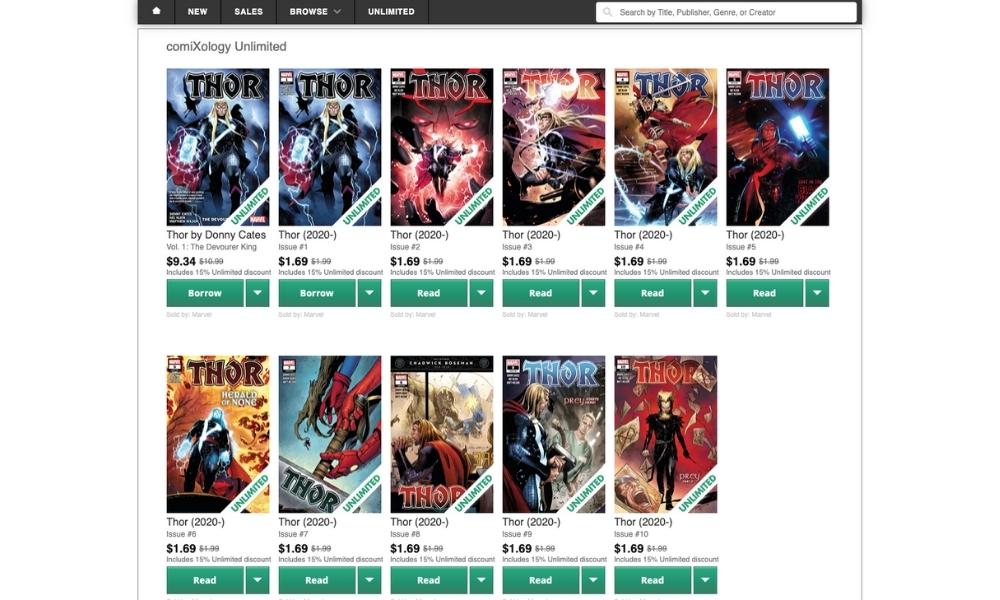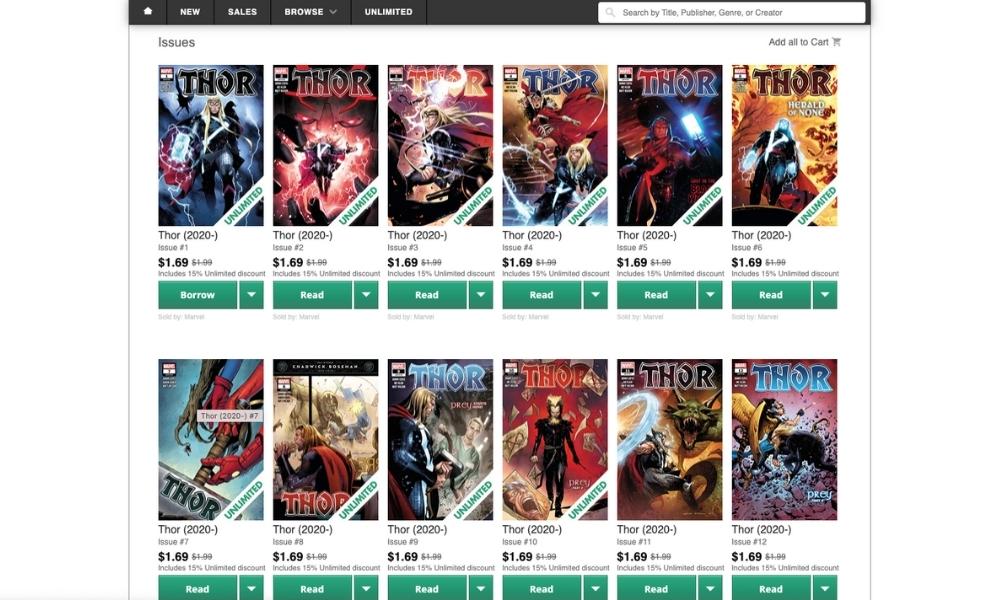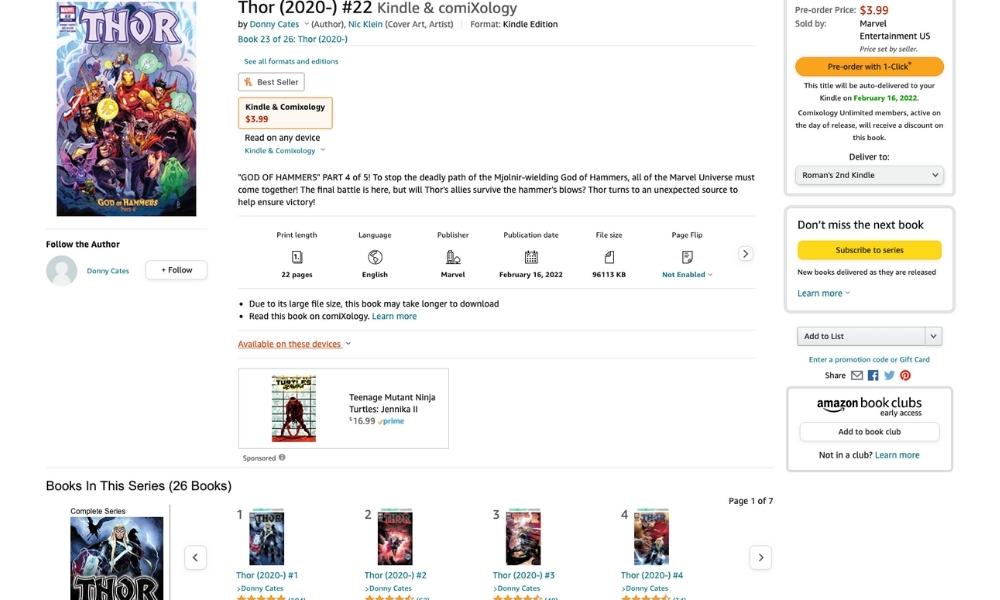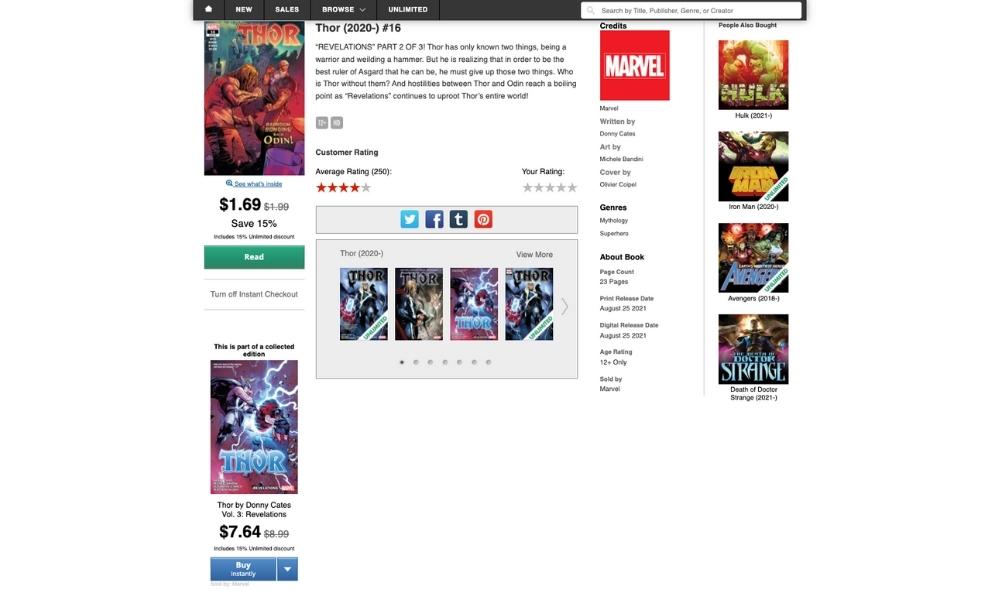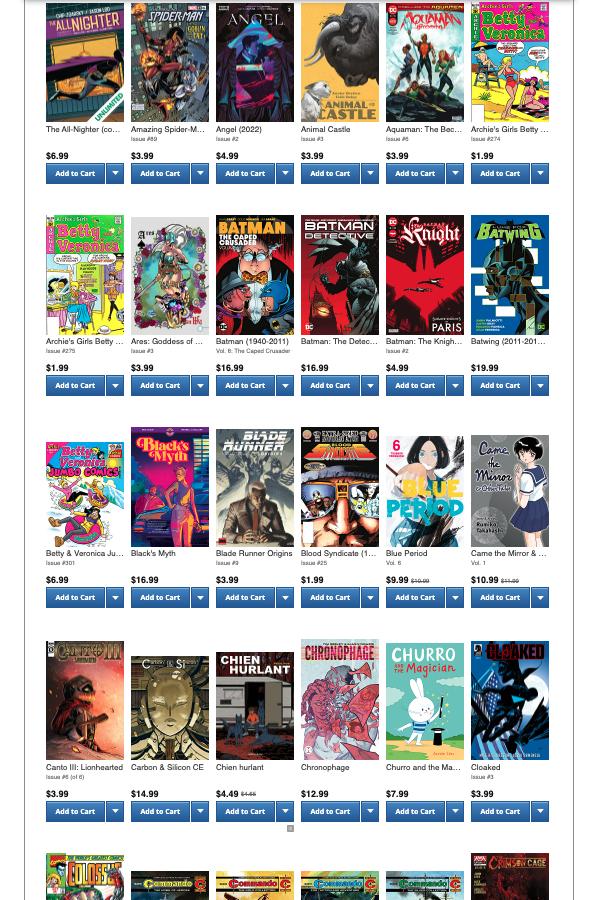 The Pros of the New Comixology App Store
The first pro is that it looks more modern. I've been using Comixology for a decade, and the site hasn't changed much. It's kind of an "if it ain't broke, don't fix it" approach. The site could use a few aesthetic updates. And with that, there are some better filtering options. For instance, when looking at all new releases, filtering by the publisher is a lot cleaner. On their "New Releases page, you can scroll past the featured items (more on that later) to the release date and find this.
Contrarily, on the current Comixology, you need to go to Browse, Release Date, and find your publisher in a dropdown. And all Publishers are listed even if they don't have any releases.
Likewise, the sales/deal page on the new Comixology Amazon store is a better experience, even if it looks a little cluttered at first. On the current site, the deals are all on one page, and you have to keep scrolling to see all of them.
The new site has Amazon's filtering system. So, if you just want to see Marvel books on sale, you can filter for just Marvel. You can even filter by character and series after that:
The best upgrade is the landing page. The current site, seen above, depending on your screen size, is both too empty and too cluttered.
But the new Amazon comics store reduces how much Comixology tries to throw at the customer. When you go to the new site, you get a simple design.
Much less "buy this! And this! Oh, and this!"
But after that, buying becomes a pain in the ass.
The Cons of the New Comixology App Store
The first major drawback? No cart. On the current site, you can "buy now" or "add to cart." This is very helpful when you are looking to buy multiple items. And you can just scroll over a title for a menu to pop up with those options.
But since the new Comixology store is a Kindle page, you only have the one-click buy now option. Somehow, they made the experience a little less convenient. The hover menu is no more, but when you click on the item, you get a sidebar with very little information anyway.
It's like, go big or go home. If you take away the small hover menu and cart, the click should bring you to the item's full page. The only benefit the sidebar would have is if you could add it to the cart and then look at other titles. This is just annoying, and readers will be less likely to purchase something.
If you read a lot of comics, digitally or in print, you probably have a mix of single issues and trades. The current Comixology site makes it very easy to see everything a series has to offer, both collections and single issues. And they make it easy to see what you already own, and what is coming out. For this, we're going to look at Donny Cate's Thor series. First, let's start with the search. I just put in Thor, and on one page, I got what you see above.
Continuing down the Comixology search results page…
That's a great search page. The most recent series is easy to find, but it's also easy to find everything else. But, we're interested in the newest series. So, let's go to the series page.
I own most of the issues, but the current comiXology page tells me what else there is, and if I missed something.
Showing us the available trades, still on the same page.
The series page ends with all the available single issues. It's a clean, solid look.
Now, let's head over to the new Comixology App store. Starting with the search results page.
The first thing we see isn't even a comic. It's an ad for Viking rings. Sure, those look awesome and I want one, but that's not the place for that ad.
Then, after just three results, we get another ad.
The rest of the page has no clear sorting. For most Amazon products, that's fine. But it's a hassle when looking for a particular book for a specific series or checking to see what you need. And then we get to the page…s. Yes, we need to go to multiple pages.
The Utterly Infuriating Way To View ONE Series
First, we don't get an option for the series, we have to select one of the issues That brings us here.
You see the buy now and subscription options, and beneath all of that, "books in series." Not "issues," even though that's what they are. Instead of hitting the next button seven times, let's view the complete series.
First, we get a mostly blank page, but some good information, like how many issues you own and if you are subscribed.
And when you scroll down, you see all the issues one by one. Here, I can also see where I left off.
And one cool feature is "hide books in my library."
Pretty cool, but there's a problem… it's only the single issues.
For the trades, we have to go back to search and look for a specific volume. But because of the titles and the numerous volume ones, you would need to know the exact writer to find what you are looking for. The opposite of "new-reader friendly."
We then get the product page for Volume One.
And then the series page, showing the three graphic novels.
The Trade and Single Issue Readers Will Not Like the New Comixology App Store
Okay, so, since I'm behind, maybe I decide to switch to trades since they are much cheaper anyway. I go to the most recent volume and see that it ends on issue 18 and includes the Thor annual. Do I have those issues?
Above, you see what Vol 3's page looks like on the current Comixology site. Notice that there is a box showing other volumes with a side-scrolling arrow and "View More."
If we click "View more," we go right back to the series page, where I can easily confirm that I do in fact have up to issue 18, plus the annual, meaning I'm at a clean point to switch to trades. Quick and easy.
Say I had up to issue 16 and wanted to see which trade included that issue. I can go to the issue's page, and see this.
See that "This is part of a collected edition" under the issue cover? It also tells us how much it is and if we own it or not. We can click on that, see what the trade includes, and quickly go back to see if we have the rest of the issues.
What's the Big Drawback to the New Comixology Amazon App?
On the new Comixology App store, we'd have to go back and forth to multiple Amazon pages several times. Or, to get all the information the current Comixology has via one page, you would need at least six tabs open to go back and forth through. But it gets worse!
The first time I searched Thor on the new Comixology App store, I got the most recent issue. But, because I searched for vol one since then, putting in Thor, or even Thor #1, keeps bringing me to various Thor Vol 1 titles. Why? Amazon cookies! They track your shopping habits, meaning the search results will adapt to your browsing. On the current site, everything is static, so your search will always yield the necessary results.
The Worst Thing About the New Comixology App Store
I can live with a few inconveniences, but the one unforgivable change? No Archiving. When you have thousands of single issues and graphic novels, you don't want to have to see ones you've read in your library. And if you do, you can always go to the site and unarchive the issue. But Kindle has no archive – which is already a drawback for Kindle. It's even worse with comics and graphic novels. I thought that it might be the store, but they confirmed that arching wouldn't be available in their app announcement. Oh, the clutter that will cause, even if it is digital clutter.
And yes, I have nearly 2000 issues and graphic novels archived. Another 2000 in the regular library. Please…don't take away archiving with the new Comixology app!
The New Comixology App will be released by Amazon on Friday, February 18th, 2022.
Once it does, we'll look at the app and compare the reading experiences. And make a few suggestions. Until then, what do you think about these changes?
Over the past year, Comixology has been keeping its customers posted about a new app and a new store on Amazon, their parent company. After a few setbacks (the app was supposed to launch last year), they're finally rolling everything out. First, though, is the Amazon store they've been building. This new store is Amazon, even if the banner says it is for the Comixology app. In the actual URL, it's just "kindle-dcbs/comics-store." So, what are the changes? Are they good or bad? Well, while Amazon offers some excellent new features, they removed a lot of what made the current Comixology site work.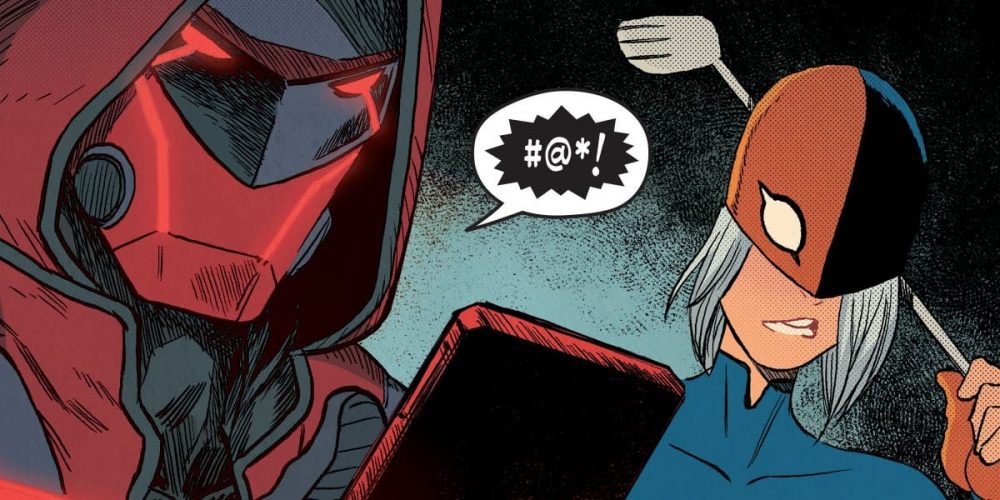 (Image: DC Comics)
In fact, the user interface is so different, a lot of readers are going to feel very confused by the alterations. Where did Smart Lists go? Why is there an even more obsessive push for ComiXology Originals? What if I need to find one particular issue in every run on Thor ever? Why are they making a new Comixology app to begin with?
Since many people switched to digital comics during the pandemic, let's take a look at these changes. We're going to try breaking the new store for the Comixology app down as best we can, showing the differences, but also the steps needed for readers to do what they were once able to. Scroll through the gallery to see what the changes look like and what they mean for you as a reader and a customer.
Some of the new Comixology app changes, at least on the store level, are cool. A cleaner look, a better filtering system, and a couple of other things. But for the most part, we're losing too much to make the change worth it. The big question is: will these changes dissuade people from continuing with the new Comixology app? We can't answer that yet, since the new app isn't out yet, but we can stalk about the store.
Roman Colombo finished his MFA in 2010 and now teaches writing and graphic novel literature at various Philadelphia colleges. His first novel, Trading Saints for Sinners, was published in 2014. He's currently working on his next novel and hoping to find an agent soon.
Leave a comment