Neil Gaiman Has Two Seasons Of Sandman Already Planned For Netflix
Neil Gaiman is bringing his landmark Sandman series to Netflix. The series is currently in pre-production, so we don't have any casting news quite yet. However, Gaiman often updates his loyal fans on Twitter with tidbits about what to expect. The first change will be updating the time period from the 1980's to current day. This is an unsurprising development, given that the time period for Good Omens was adjusted in a similar fashion. The newest information from Gaiman also indicates that the writers have two seasons planned out for Netflix already.
Gaiman describes Sandman in one sentence with the following summary: "The Lord of Dreams learns that one must change or die, and makes his decision."
DC Comics first announced the Netflix Sandman adaptation via Twitter back in July.
Are you prepared to meet the Lord of Dreams? THE SANDMAN is officially coming to @netflix! Head here for more: https://t.co/zlamTMHen0 pic.twitter.com/zQbgXKdrZX

— DC (@DCComics) July 1, 2019
Neil Gaiman Is Updating Sandman For Present Day
"The idea is to stay faithful to Sandman, but to do it for now rather than making it a 1980s period piece," Gaiman said in an interview. "In Sandman number one, there is a sleeping sickness that occurs because Morpheus, the Lord of Dreams, is captured in 1916, and in 1988 he escapes." This is the first major change to the story that Gaiman has discussed.
"Instead of him being a captive for about 80 years, he's going to be a captive for about 110 years and that will change things." What those changes will be remains to be seen.
Sandman Has A Lot Of Source Material To Draw Upon
Gaiman also took to Twitter to address the series length for Sandman. The first season will run 11 episodes, pretty standard for Netflix these days. Gaiman says that the first season will cover the Sandman: Preludes & Nocturnes. This trade edition of the comics collects Sandman issues 1-8. The original run of Sandman saw 75 issues in the series that ran from 1989-1996. This means that Netflix has a lot of source material to work with, and the potential for a long-running series.
It will be interesting to see how much Netflix commits to Sandman, since most shows on Netflix rarely last longer than three seasons. Gaiman reports that he has the series plotted out for at least two seasons so far. This should take the series into the Sandman issues that make up The Doll's House. However there are also a plethora of other stories that Gaiman has written in the Sandman universe that could come to inform the Netflix series in seasons to come.
The Endless | Image via DC Comics/Vertigo
The first season will introduce the protagonist Dream (also known as Morpheus) and the character of Death. They are part of 'The Endless' – characters that represent natural forces; Destiny Destruction, Desire, Delirium, and Despair. All of these archetypes eventually appear in the Sandman comics, and are likely to appear in the show as well. Gaiman has said that other than some necessary changes, the series will remain faithful to the comics.
The first season will be eleven episodes. That's the start of it all. Preludes and Nocturnes and a little bit more. https://t.co/tOlfJ1kS1y

— Neil Gaiman (@neilhimself) July 2, 2019
Sandman Follows Several Other Successful Neil Gaiman Adaptations
Neil Gaiman is an author whose works can be notoriously difficult to adapt for the screen. Some of his novels have had success as live-action films (Stardust) while others have excelled as animated features (Coraline). In recent years, Gaiman's works have found success translated as television series instead of movies. Good Omens (co-authored with the late Terry Pratchett) came out last year as a BBC mini-series. And Gaiman's novel American Gods has been running as a drama on Starz for several years.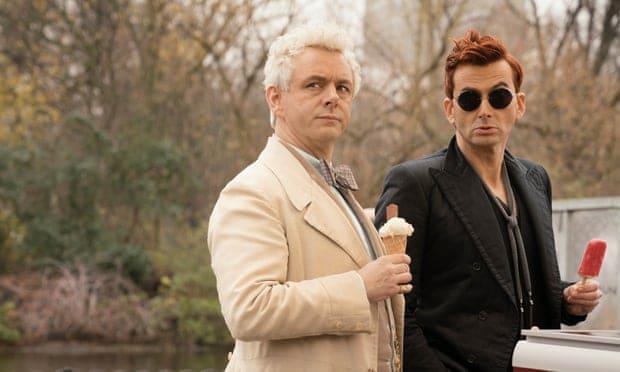 Michael Sheen & David Tennant in Good Omens | Image via Amazon
Gaiman is a prolific writer who dabbles in various mediums. He has written episodes of television previously for Doctor Who and Babylon 5. He has also been acting as showrunner for American Gods since the departure of Bryan Fuller after the first season. Gaiman says that working on adapting Good Omens gave him the confidence to finally bring Sandman to life on-screen. Various people have been attached to adaptations of Sandman over the years, but this is the most involved that Gaiman has been. He is working with showrunner Allan Heinberg (Wonder Woman) and David Goyer (Constantine) to bring the series to Netflix.
Are you excited for Sandman on Netflix? Who would you like to see play Morpheus and Death? Join the conversation with Comic Years on Facebook and Twitter today.
(Featured image via DC Comics/Vertigo)
Emily O'Donnell is a writer and photographer with roots in some of the earliest online fandoms. She cut her genre teeth on the Wizard of Oz books at the tender age of 6 years old, and was reading epic adult fantasy novels by the age of 10. Decades later, she still consumes genre fiction like there is no tomorrow. She is delighted to be living through the golden age of sci-fi and fantasy popularity. She is unashamed of the amount of fanfiction that still lingers online under her name.
Leave a comment