National Book Lovers Day: Eleven Graphic Memoirs You Must Read
It's National Book Lovers Day, so, to celebrate, we're taking a look at ten original graphic memoirs that either already have a lasting impact on graphic novel literature or will have one. The popularity of these memoirs has increased a lot over the past few years, but they have a long history. As a graphic novel literature teacher, I can't stress the importance of these books enough. The reason why the people have started taking the comic book medium more seriously is because of the graphic memoir—and many of the works on this list. From these, texts like Watchmen, The Dark Knight Returns, Sandman, and, especially now, Infinity Gauntlet were looked at in a new light. Before they were superhero comics. Now they're intricate moral and societal portrayals with complex characters. These eleven graphic memoirs are not only influential but great books too. So, in no particular order…
Graphic Memoirs from Two Godfathers of the Comic Industry
The importance of these two men can't be overstated. One of them revolutionized the comic industry, co-creating hundreds of characters we still love today, and injecting much-needed pathos into the superhero tale. The other is so synonymous with greatness, the industry's top award is named after him. If you want to learn more about the minds behind the makers, these two graphic memoirs are a good place to start.
Amazing, Fantastic, Incredible: A Marvelous Memoir
Stan Lee with Peter David and Colleen Doran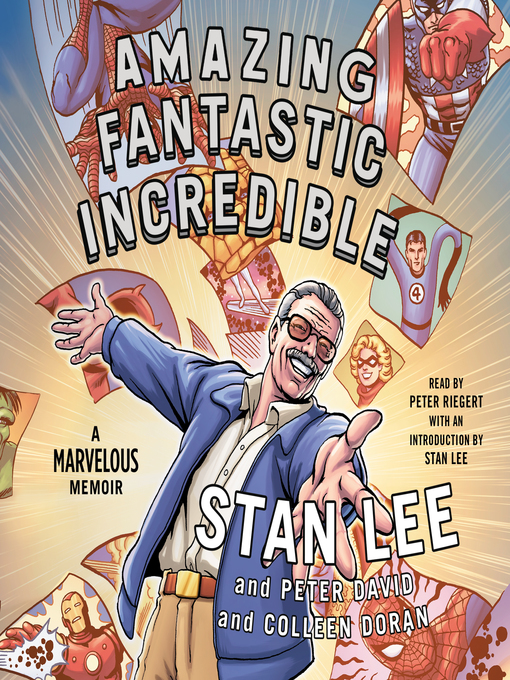 (Gallery 13 Press)
From a poor childhood to a World War II propaganda writer, to editor-in-chief of the biggest comic house in the industry, this is the story of Stan Lee. Out of all the graphic memoirs on this list, this is the only one that looks and feels like a superhero story—and it should. Stan "the Man" is as mythical and legendary as the superheroes he helped create. His story needs to feel like one of his old comics. Colleen Doran provides that feeling. With a little help from one of the industry's best writers, Peter David, Amazing, Fantastic, Incredible: A Marvelous Memoir feels more like an origin story than it does an autobiography.
Life, In Pictures
Will Eisner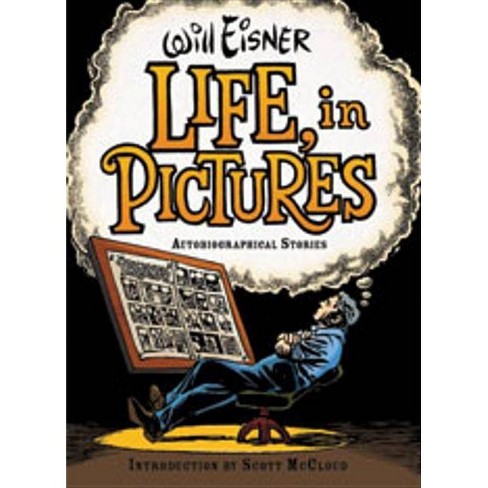 (W.W. Norton and Company)
We're talking about graphic memoirs, but that is an offshoot of graphic novels—and Will Eisner was the first person in the industry to create one (A Contract with God). His work on The Spirit, a 1940's comic series, dabbled in themes and experimented with form in a way later creators would be praised for, especially Alan Moore and Frank Miller (In fact, Frank Miller directed The Spirit film.) And since this is Will Eisner we're talking about, his graphic memoir is uniquely different from all the other memoirs on this list. Instead of a linear narrative, he offers short episodes throughout his life. The result is actually quite powerful. Have you ever had one of those moments, sitting with a grandparent, and they launch into a story about their past that is amazing to hear? Well, that's what Life in Pictures is like.
The Classic Graphic Memoirs
These three works are assigned in classrooms across the country, from High School all the way through the Ph.D. (I know because I've assigned them to my classes.) But it's not just in graphic novel lit courses we see them. Fun Home is assigned regularly in women's studies classes. Maus in Holocaust history and literature. Persepolis in Middle Eastern history and literature. I've met middle school teachers who assigned all three texts, despite some very heavy material for an eleven or twelve-year-old. Back when comics were seen as childish and low-brow, these graphic memoirs the "exceptions" to the rule. Sure, they're comics, but they "rise above" the form. But they aren't great "despite" being comics. They're great because they are comics.
Fun Home: A Family Tragicomic
Alison Bechdel
(Mariner Books)
Bechdel wrote two graphic memoirs: Fun Home and Are You My Mother: A Comic Drama. They are both wonderful, but Fun Home was a true sensation when it came out. Don't let the title fool you. Fun Home is bleak. Bechdel explores her relationship with her cold and distant father: an English teacher and funeral home (or, as Bechdel's family calls it, fun home) director. Bechdel came out as a lesbian in college, and then her father came out as gay—sadly, he died shortly after, leaving Alison with more questions than answers. Fun Home is how she processes these questions, and it makes for one of the most powerful graphic memoirs of all time.
The Complete Maus: A Survivor's Tale
Art Spiegelman
(Pantheon)
Maus is actually two graphic memoirs, split between book one, My Father Bleeds History, and book two, And Here My Trouble Begins. As far as graphic memoirs go, the complexity of Maus is both brilliant and captivating. First, it's two books—no, not just the two installments, it's simultaneously a graphic memoir and a graphic biography. Spiegelman accounts his father's experience before, during, and after the Holocaust, but he also explores his relationship with his father.
The book is most known for depicting the Jewish characters as mice (hence the German word for mice as the title), and the German characters as cats. This decision was only a small part of what makes Maus so unique. Even among other Holocaust stories, Maus is very different. Spiegelman doesn't try to make his father look like the suffering saint. Instead, he's honest about how flawed his father was, even showing how other Holocaust survivors disliked him. He doesn't allow us to use the horrendous experience to explain away his father's actions later in life. It's raw, it's rough, and it's real.
The Complete Persepolis
Marjane Satrapi
(Pantheon)
Like Maus, Persepolis is two graphic memoirs: The Story of a Childhood and The Story of a Return. Satrapi's art style is overly cartoonish in stark black and white. Meanwhile, her memoir focuses on growing up in Iran during the civil war in the 1980s. All Marjane wants to do is listen to American music and be a kid, but the country is changing. Women can no longer be unaccompanied by a man. They can no longer drive. American music, movies, and everything is outlawed. Clothing becomes more restricted. Her mother and father are liberal Iranians, along with her family—and people start disappearing.
Her parents are forced to send her away to Europe, where she'll be safe. After her teenage years in France, she returns home—but realizes you can't ever really go home. She's changed too much. She doesn't recognize Iran anymore. We see stories coming out of the Middle East often, but Persepolis gives a perspective from a child, with the style of a kids' cartoon. It's a surreal experience.
Soon-to-be Classic Graphic Memoirs
While the last three graphic memoirs have established themselves as classics, these next three are right on the line of being a classic.
Stitches
David Small
(W.W. Norton and Company)
David Small is mostly known for children's books, but Stitches is definitely not one of them. In this memoir, Small tells the story about a devastating moment in his life, waking up at fourteen with a vocal cord removed and rendered mute. While going through the dark days of adolescence, he also has to undergo more surgeries to get his voice back. This is a harrowing story of recovery—physically and psychologically. As hard as it is, it's one of the graphic memoirs on this list that young adults should certainly read. While others explore teenage years, like Persepolis, but Stitches gets more into the psyche and personal troubles of those formative years unlike any other.
Blankets
Craig Thompson
(Drawn + Quarterly)
Blankets is a love story…set in the Midwest during a harsh winter and a militantly fundamental Christian church. But Craig manages to find his first love, Raina, during Church Camp. Blankets is a great graphic novel for anyone struggling with not fitting in with their community. Both Craig and Raina dream of escape. They struggle with religious questions. It's also a story that's very familiar. The excitement of first love and the pain of first heartbreak. But the way Thompson tells his story makes it one of those graphic memoirs that feels like it's a part of you when you're finished.
March Trilogy
Congressman John Lewis with Andrew Ayden and Nate Powell
(Top Shelf Productions)
When Congressman John Lewis decided to finally write about his experiences during the Civil Rights era, everyone was looking forward to that book. But what no one expected was that Lewis chose to tell his story in three graphic memoirs. A Congressman wrote a comic book. And not just any Congressman—a living legend and hero. And it's a really powerful series too. March starts as an intimate story of John Lewis's childhood and ends as an inspirational rallying cry to stand up and fight for America. Every American citizen should—nay, has a duty—to read March.
The Future Classic Graphic Memoirs
These next three are pretty recent, and though not as well-knows, probably will be soon, especially since once is by an icon in both the Sci-Fi community and the LGBTQ+ community.
The Bride Was A Boy
Chii
(Seven Seas)
The Bride Was A Boy is an upbeat memoir about a transgender woman finding the love of her life while in transition…it wasn't her plan. Chii was assigned male at birth. In her memoir, she describes her struggles with gender identity and sexuality growing up—and her husband who is adorably in love with her. Reading this love story will make you long to find a relationship this genuine and hopeful. Out of all the graphic memoirs on this list, The Boy Was A Bride will leave you smiling the most.
My Lesbian Experience with Loneliness
Kabi Nagata
(Seven Seas)
There are many graphic memoirs exploring sexuality, but Nagata also details her fight with depression. It's this aspect that we need more of. Nagata tackles her mental disorders head on. All the anxiety, loneliness, depression, etc. We see how depression makes it hard for her to pursue her art—one of the most relatable things that many creators feel—and the crippling doubt. However, as serious as these topics are, the memoir is very uplifting. If you struggle with depression, regardless of gender or sexuality, My Lesbian Experience With Loneliness will help you understand it more.
They Called Us Enemy
George Takei with Justin Eisinger, Steven Scott, and Harmony Becker
(Top Shelf Productions)
Takei might best be known as Sulu in the original Star Trek series and movies, but he's also a Japanese-American citizen who speaks openly about his experience as a child in a Japanese internment camp, which the U.S. government called "relocation centers." We often use Holocaust stories, like Maus, to discuss the horrors of—in technical terms—concentration camps, but because those stories take place in Germany, they feel isolated and far away. They Call Us Enemy shows an America that is ugly and heartless. It shows the inhumanity of putting people behind barbed wire, in cages. It should also stop anyone from excusing the practice for not being "as bad" as the concentration camps of Germany. Not as bad is still bad. And yes, this book came out right as America is once again forcing an ethnic group into camps, or, as officially called, "detention centers" instead of "relocation centers." Takei's memoir shows, you can change the terms, but a camp is a camp is a camp. Sadly, in the future, we'll have graphic memoirs similar to They Called Us Enemy about children locked away. They could even have the same title.
Go Read Some!
There are hundreds of graphic memoirs. Choosing eleven was painful (the list started as ten). If you want to check out more, Book Riot has a great list of graphic memoirs. There are also a lot coming out. If you're looking for a good mix of diverse voices, check out The Conscious Kid's list too. If you haven't read any graphic memoirs, go for one. Because of the sequential art, graphic memoirs feel much more personal, and we connect more strongly to the subjects too.
Side Story 
One year, I assigned to my class Maus, V for Vendetta, and  X-Men: Endangered Species + X-Men: Messiah Complex. They were the first three texts we read in the class and my students asked me why I overloaded them with depictions of concentration camps. It was entirely by accident, but it did explain why they were all so depressed by the time we finished Messiah Complex. Oops.
(Featured Image from Blankets by Craig Thompson)
Roman Colombo finished his MFA in 2010 and now teaches writing and graphic novel literature at various Philadelphia colleges. His first novel, Trading Saints for Sinners, was published in 2014. He's currently working on his next novel and hoping to find an agent soon.
Leave a comment