What Monthly Marvel Comics You Should Read This November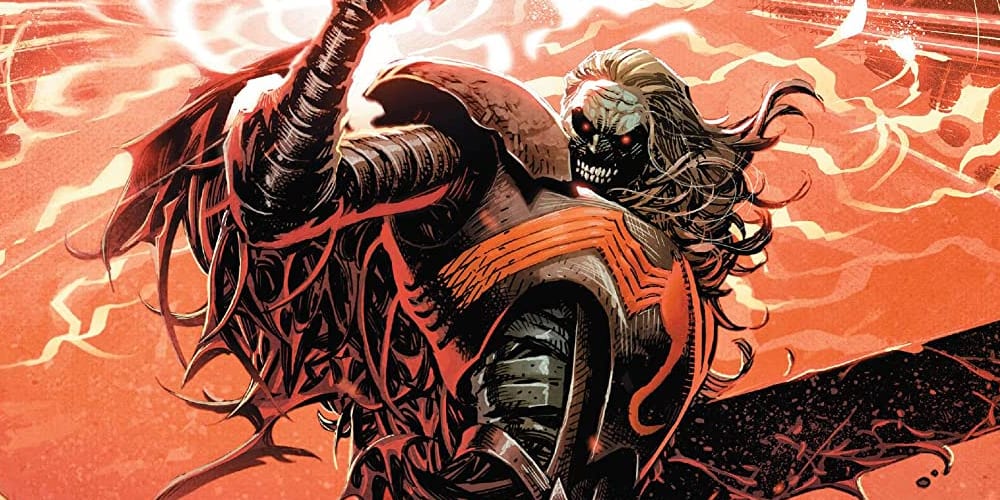 Throughout November, X of Swords is still Marvel's big cash grab. However, some comics are coming out that might be even more exciting, or at least just as cool. For instance, one of the best writers Marvel ever had returning for a new mini-series. Also, a classic villain-turned-hero (several times over) joining the Avengers. And something really unique, even if DC did it first. So, here's the monthly Marvel Comics you should read this November.
U.S. Agent #1 (of 5)
Anyone else with OCD really want to button the flap? (Image: US Agent #1 (of5), Marvel Comics)
Christopher Priest's name should be enough reason for anyone to pick up a comic since he wrote the most critically acclaimed run on Black Panther ever. At DC, he did the same for Deathstroke and even had a short but epic run on Justice League. But coming back for US Agent? Priest has a unique writing style, mixing humor and politics with superheroes. John Walker is a perfect character for him to write. Also, Georges Jeanty, is drawing this. He has awesome work at Marvel, including Weapon X: The Return and Bishop: The Last X-Man. It's going to be a fun monthly Marvel comics series you should certainly read this November.
Writer: Christopher Priest
Artist: Georges Jeanty
Release Date: November 4th
Official Solicitation:
CHRISTOPHER PRIEST & GEORGES JEANTY BRING BACK THE SUPER-SOLDIER YOU LOVE TO HATE! "American Zealot" Chapter 1 of 5: John Walker, the former Super Patriot, has been stripped of his official US Agent status and is now operating as an independent government contractor protecting government covert interests. His latest protection detail draws him into a conflict between a small town and the corporate giant trying to destroy it. John acquires a new partner and new enemy along the way while being haunted by ghosts from his past and confronting challenges to his future.
Wolverine: Black, White, and Blood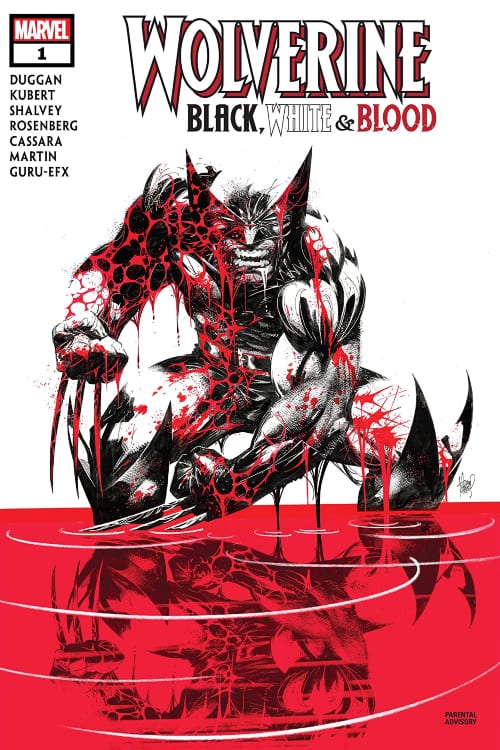 What really happened? Marvel Comics ordered too much red ink. (Image: Wolverine: Black, White, and Blood #1 (of 4), Marvel Comics)
Yes, there is an entire 22-part X-Men event that we're covering, but Wolverine: Black, White, and Blood isn't part of that event. In fact, it's pretty much a return to Marvel Max. Since the only color artists are using is red—and only when there's blood (presuming). DC did something very similar with Harley Quinn: Black, White, and Red, and it looked beautiful. The preview for Wolverine: Black, White, and Blood show that this series will be just as gorgeous. This isn't just one of the monthly comics you should read this November, but with the lineup of artists Marvel has, it's one you need to see too.
Writers: Gerry Duggan, Matthew Rosenberg, Declan Shalvey
Artists: Adam Kubert, Joshua Cassara, Declan Shalvey
Release Date: November 4th
Official Solicitation:
LOGAN. PATCH. WEAPON X. WOLVERINE. The mysterious mutant has gone by many names and lived many different lives. Now, experience ALL-NEW untold tales of the best there is through the lens of an all-star cast of creators, in the unadulterated black and white format (with a healthy splash of blood red all over)!
Return to the Weapon X program with Gerry Duggan and Adam Kubert, and a new revelation from Wolverine's shattered memories. Join Matthew Rosenberg and Joshua Cassara on an explosive deep-cover spy mission from Wolverine's association with NICK FURY. Head into the wilds with writer/artist Declan Shalvey as Logan finds himself in the crossfire of a deadly trap! This is the one you've been waiting for, bub.
Savage Avengers #14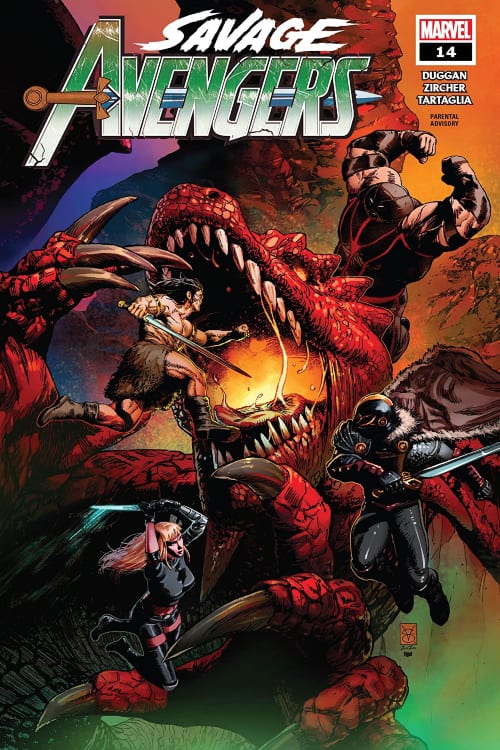 Can we get Juggernaut vs. Pogg Ur-Pogg? (Image: Savage Avengers #14, Marvel Comics)
Juggernaut is joining the Avengers.
Oh, you need more reasons why you should read this issue of the monthly Marvel Comics series this November. Okay, so, um. Oh—JUGGERNAUT IS JOINING THE AVENGERS. Sure, it's the Savage Avengers, but this team keeps getting more awesome. It's also a pretty massive team. For this issue, we have Conan the Barbarian and Magik, both already Savage members, returning. And aside from Juggernaut joining their ranks, we also have classic Avengers member the Black Knight. Gerry Duggan's series is insane, and some of the most fun you'll have reading comics every month. Adding Juggernaut to this chaotic beauty just makes sense, and it's going to to be, dare I say…unstoppable???
(Also, if you haven't been reading Fabian Nicieza's Juggernaut mini-series, that is also really damn good.)
Writer: Gerry Duggan
Artist: Patch Zircher
Release Date: November 11th
Official Solicitation:
Conan leads a team of Savage Avengers against an Asgardian dragon in a quest for treasure. Get out your twenty-sided dice and roll to attack with Conan, Magik and new Savage recruits the Black Knight and Juggernaut!
And remember, Marvel Comics is releasing eleven chapters of X of Swords this November, and even though they are weekly instead of monthly, you should really read them. This event is nuts. If only they could work in Juggernaut…
(Featured Image: Web of Venom: Empyre's End, Marvel Comics)
Roman Colombo finished his MFA in 2010 and now teaches writing and graphic novel literature at various Philadelphia colleges. His first novel, Trading Saints for Sinners, was published in 2014. He's currently working on his next novel and hoping to find an agent soon.
Leave a comment