What Monthly DC Comics You Should Read This December 2020
It will be a little harder to write these suggestions next month due to the Future State event. So, it's kind of a relief that there are still plenty of Monthly DC comics you should read this December. And before we get to the big event next month, we have a little event this month. Moreover, a monumental run comes to an end. Let's take a look!
Justice League: Endless Winter #1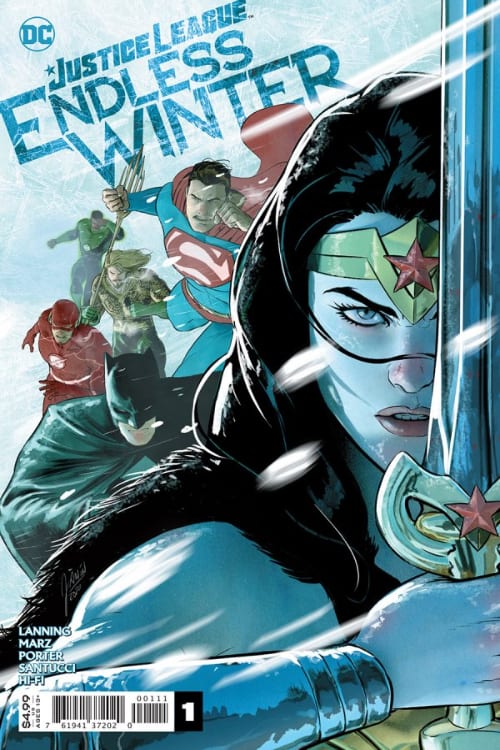 (Image: Justice League: Endless Winter #1, DC Comics)
Technically, this is for the entire Endless Winter event taking place throughout the month. Consequently, this is more like a weekly DC Comics series you should read this December, rather than monthly. This feels like an old school DC Comics story. A greedy scientist goes too far, digging in the North Pole where Superman's Fortress of Solitude used to be. Of course, he awakens an ancient god called the Frost King. Good job! The event jumps between one-shots, like this one, and ongoing series, like the Flash. But if you managed to follow all 22 chapters of X of Swords over 2 months, you'll be fine here.
Writers: Ron Marz and Andy Lanning
Artists: Howard Porter and Marco Santucci
Release Date: December 1st
Official Solicitation:
"ENDLESS WINTER" CHAPTER ONE!

The crossover event of the season begins here! The Justice League encounters an extinction-level global storm brewing at the former site of the Fortress of Solitude. Enter the Frost King, a monster mad with power with an army at his command! What devastating mystery lies in his past? And how does he tied to Queen Hippolyta, Swamp Thing, Viking Prince, and their reluctant ally, Black Adam? Two timelines will reveal further clues and secrets throughout each chapter of this blockbuster tale!
Batman Annual #5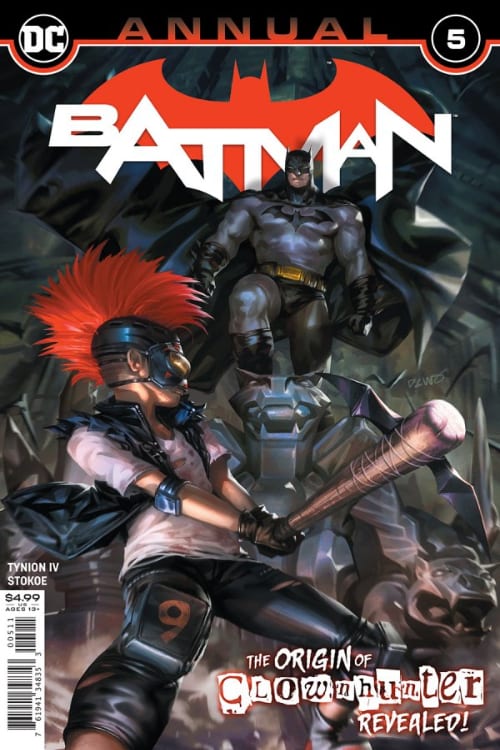 (Image: Batman Annual #5, DC Comics)
James Tynion IV started his Batman run after Tom King wrapped up one of the best—and longest—runs of all time. But Tynion is holding up against that challenge, especially with the recently wrapped Joker War. This Annual…which I'm still going to say counts as a Monthly DC Comic you should read this December despite the "Annual" in the title…explores a new fan-favorite character: Clownhunter. So, who is this kid? Well, we're going to find out.
Writer: James Tynion IV
Artist: James Stokoe
Release Date: December 29th
Official Solicitation:
The riveting new vigilante known as Clownhunter was a breakout star of "The Joker War"— but what's the tragic origin of this teenage assassin? How did his parents die at the hands of The Joker, and is there a place for him in the evolving Gotham City? Can there be redemption for the infamous Clownhunter?

This epic tale reteams writer James Tynion IV and artist James Stokoe, the storytellers behind the definitive Clownhunter tale from Batman: The Joker War Zone #1!
Brian Michael Bendis's Superman Finales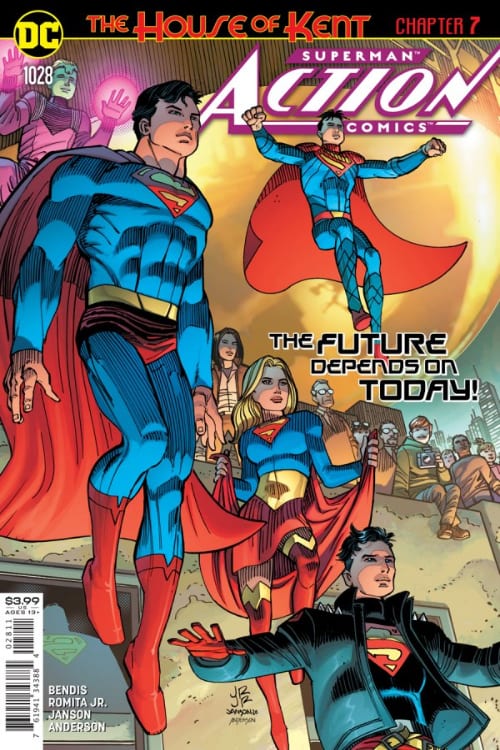 (Image: Action Comics #1028, DC Comics)
After 20 years, Brian Michael Bendis left Marvel Comics to write Superman for DC Comics. But now, just three years later (or so), he's wrapping up Superman and Action Comics. Like most of Bendis's work, people either love it or hate it, but he is always good for discussion. I have one friend who said it was the best Superman writing in years, but the worst Action Comics in years. Not sure how that works. Still, these are two monthly DC Comics you should read this December because. Why? Because Bendis loves leaving the next author with an impossible task. For example, the way he ended his Daredevil run almost felt like he intentionally wanted Ed Brubaker to suffer. But first, we need to see how he leaves Superman.
Superman #28
Artists: Ivan Reis and Joe Pardo
Release Date: December 15th
Official Solicitation:
MYTHOLOGICAL, FINALE

It's the Man of Steel's last stand in this final Superman tale by the superstar team of Brian Michael Bendis, Ivan Reis, and Joe Prado! Superman comes face to face with an alien race that he desperately wants to help before it is too late. As the cosmically powered race known as the Synmar aim their deadly power at the Man of Steel's adopted planet, Superman finds himself pushed past anything he has ever faced! Get ready to experience a powerhouse moment for Superman that's been years in the making!
Action Comics #1028
Artist: John Romita Jr
Release Date: December 22nd
Official Solicitation:
THE HOUSE OF KENT, EPILOGUE

The powerhouse creative team of Brian Michael Bendis, John Romita Jr., and Klaus Janson wrap up their run on Action Comics! With the final fate of Metropolis's underworld revealed at last, it's time for each member of the House of Kent to face their unknown futures head on, including Lois, Conner, Jon, Kara, Jimmy, and, of course, Clark Kent! This standalone Superman story connects threads from Superman's Pal Jimmy Olsen, Lois Lane, Superman, Justice League, Legion of Super-Heroes, and other unforgettable series in epic—and unexpected—ways!
Well, these are our suggestions for monthly DC Comics you should read this December—but, as always, we'd love to hear from you. And who is looking forward to yet also dreading Future State?
(Featured Image: Superman #28, DC Comics)
Roman Colombo finished his MFA in 2010 and now teaches writing and graphic novel literature at various Philadelphia colleges. His first novel, Trading Saints for Sinners, was published in 2014. He's currently working on his next novel and hoping to find an agent soon.
Leave a comment