Women's History Month Graphic Novel Spotlight: Monstress by Marjorie Liu and Sana Takeda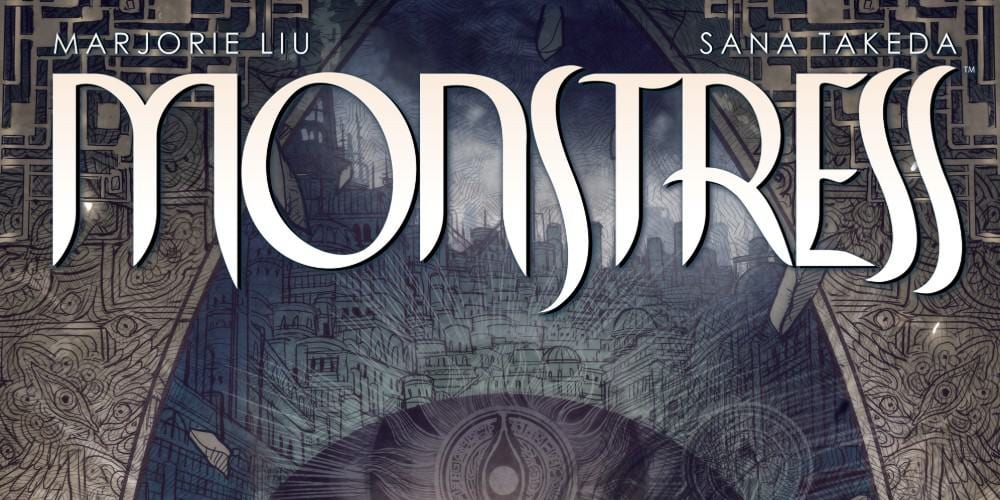 "Don't kill Kippa." If you know who I'm referring to and feel the same way, you are one of the many fans of Monstress, an Image series by writer Marjorie Liu and artist Sana Takeda. Monstress didn't slowly gain momentum and popularity the way many other indie comics do. It hit the ground running with a 70-page first issue. But the story of Monstress is so much more than what's on the page. It was forged in both the pain and the hope of the two amazing women who created it. Monstress is a story about rage, injustice, grief, vengeance…and cats. Lots of cats.
Out of the Darkness, Liu and Takeda formed Monstress—a Beacon of Light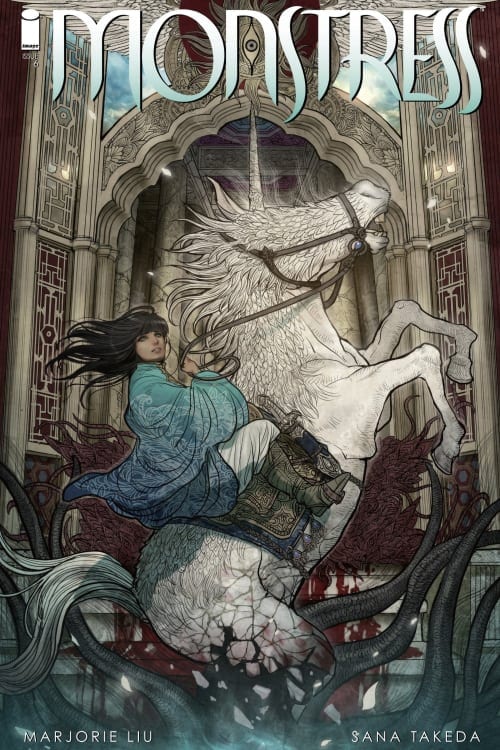 (Image: Monstress #6, by Marjorie Liu and Sana Takeda, Image Comics)
Marjorie Liu started her career as a lawyer with a background in biotech. When she published her first romance novel, she decided to dedicate her life to writing. Then something strange happened—a Marvel editor read her romance novels and thought "I bet she'd be great to write Daken: Dark Wolverine." Well, not exactly in that order. She worked on NYX first. But Liu's Marvel career exploded. Soon she was writing X-23, Black Widow, and her crowning achievement, Astonishing X-Men. Her Astonishing X-Men run featured the first gay wedding in comics, and Liu's writing was so wonderful, that she won a GLAAD award for it.
She was also suffering badly from depression and imposter syndrome. And she felt guilty about feeling that way when she had a career other writers can only dream of. Of course, that's not how depression works. This eventually led to burnout. Her novels and her comics were too much. She needed a break. More importantly, she decided to stop writing novels. When she came back to writing, Liu only wanted to write comics, and Monstress, with Takeda, would be her first one. But she's not the only one was unsure of her future.
"Your Style is Too Manga" Or: How Takeda and Liu Defied Genre Expectations in Monstress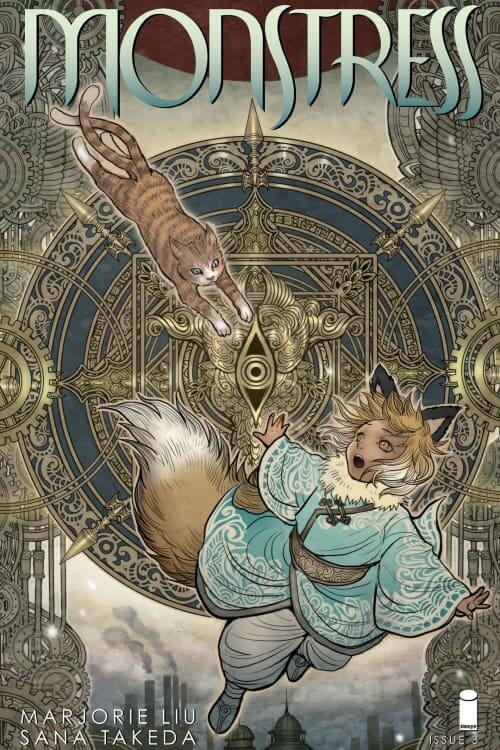 (Image: Monstress #3, by Marjorie Liu and Sana Takeda, Image Comics)
Before Monstress, Takeda worked with Liu on some pages of NYX. Takeda was just a fill-in artist, and was having trouble getting work with the "Big Two"—Marvel and DC. Editors really did tell her that her style was too "Manga," and that she wouldn't find work in American Comics. Maybe they've never seen Humberto Ramos or Chris Bachalo. That'd be strange, considering both artists were working with Marvel at the same time. What makes Chris and Humberto different from Sana. Hmmmmm…Balls! I just don't know.
When Liu approached Takeda for Monstress, she was trying to find work in any artistic field she could. Graphic Design, logos, etc. But only Takeda could bring Liu's vision to life. Takeda jumped at the opportunity and now produces what is likely the most beautiful series in comics right now. Plus, her style went beyond whatever "too manga" means, and, as Liu described, became "art deco-inflected steampunk."
Working and Reading in Traditionally Homogenous Industry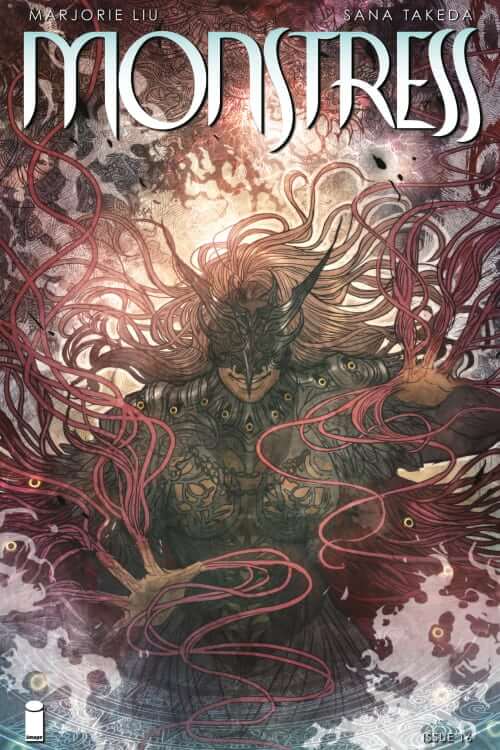 (Image: Monstress #16, by Marjorie Liu and Sana Takeda, Image Comics)
When we're kids, we don't think about what our media is doing to us. It's not until we're older that it starts to seem strange that, despite the very diverse world we live in, nearly all characters are straight white men. Some straight white male fans feel outraged when companies introduce more diversity into their comics, but they aren't looking at how it affects everyone not like them. As Liu said in an interview with the Atlantic:
I was deeply immersed in Chinese culture in my community and my family growing up, so how come when I was writing fiction as a kid, all my stories were about white people? Even though my personal life was incredibly diverse, my imaginary life was very white.
Liu and Takeda Focus Strongly on Diversity in Monstress
(Image: Monstress #17, by Marjorie Liu and Sana Takeda, Image Comics)
The issue with race in media heavily influences Monstress; in fact, nearly all of Liu and Takeda's characters are women of color (and a wide variety at that). There's not a white male in sight. Monstress is Liu facing these issues mostly head-on. In an interview with Guernica, Liu explained:
It's taken me all these years to wrap my head around all those different forces surrounding me, what that was doing to my sense of self. But I see it most clearly in my work, because I was obsessed with the "other," with telling stories about monsters that are misunderstood, monsters that are incorrectly judged, that are vilified because of the way they look.

As a kid, this felt completely natural. Beauty and the Beast was my favorite fairy-tale for a reason. And now, as an adult, I look back and realize this was my way of dealing. Every story I wrote as a kid, and as an adult, was my way of negotiating this part of my life, that didn't require me to face racism head-on but allowed me to integrate it in the ways that fiction allows people to handle difficult topics. It allowed me to address these ideas without having to… name them.
Inspired By The Past. Looking Towards the Future.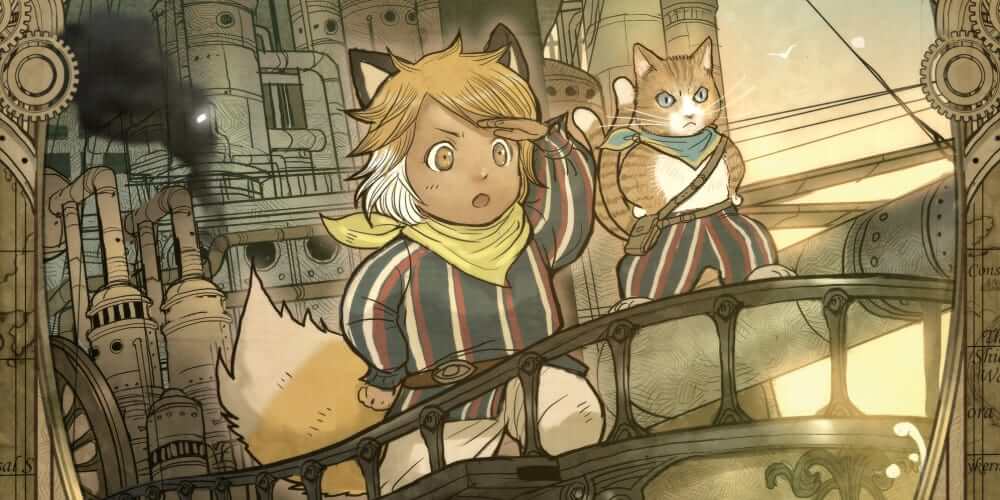 Captain Kippa! (Image: Monstress #9, by Marjorie Liu and Sana Takeda, Image Comics)
It's not just diversity issues that inspired the look and cast of Monstress, Liu and Takeda also drew from Asian history. One story that specifically influenced Liu was her grandmother's. When her grandmother was 14, living in China during World War II, she escaped Japanese troops. She walked over 1000 miles on foot. If she didn't escape, the Japanese military would have made her a "comfort woman." In other words, a sex slave. "Historians are still unsure of the numbers," Liu explains. "Anywhere between 200,000 to 500,000 women across Asia—who were conscripted into being sex slaves for the Japanese military."
We see this in the opening pages of Monstress as Liu and Takeda portray Maika, the main character, in chains at a slave auction. And the series afterward focuses on Maika's journey—by foot, sea, and even sky. Liu's grandmother is the heart of the story. In an interview with Publisher's Weekly, she talked about the light her grandmother brought into her stories:
What struck me, always, was that even when she told those stories, she smiled—and in every photo I've seen of her postwar (and there are a lot), she was always beaming. Monstress is a very somber story about war, colonialism, genocide, racism, but its heart is inspired from a place of great hope.
Liu And Takeda are Amazing—but what is Monstress About?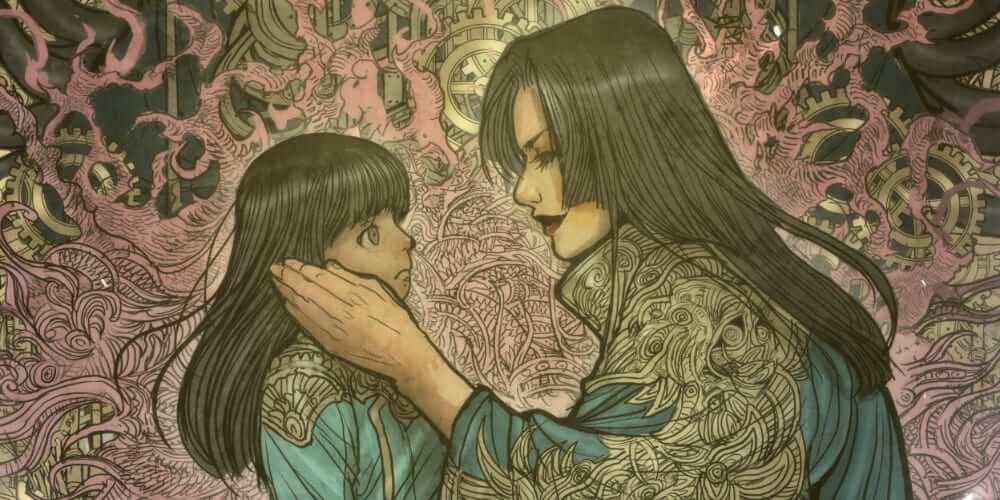 Motheress? (Image: Monstress #21, by Marjorie Liu and Sana Takeda)
This is hard to explain, but in a good way—like any ongoing indie series. The most impressive part of Monstress, however, is the level of world-building Liu and Takeda accomplished. The epic takes place in an alternate 1900s Asia, ruled by a matriarchal society. There's a war between the Humans and the Arcanics—an anamorphic race. At the center is Maika, a teenage girl suffering from PTSD after a devasting attack. Maika is an Arcanic, but looks like a human girl. She's been through hell, sold into slavery, and lost an arm. But she is also psychically connected to an immensely powerful god called an eldritch monster. Using her connection to this being, Maika seeks to answer the questions of her past, and save her fellow Arcanics. Also, cat scholars.
Liu and Takeda won a number of awards for Monstress, but the most important is Best Writer. Why? Because Marjorie Liu is the first woman to ever win the award. Not only did they win Best Writer and Best Painter/Multimedia Artists, but the series also won Eisner's for Continuing Series, Publication for Teens, and Cover Artist. They won Harvey awards for Book of the Year and Best Graphic Story. And a host of others, including our 10 best Indie Comics of the Decade. All of it well-deserved. If you haven't read it yet, check out the deluxe volumes. They are beautiful collections.
(Featured Image: Monstress #12, by Marjorie Liu and Sana Takeda, Image Comics)
Roman Colombo finished his MFA in 2010 and now teaches writing and graphic novel literature at various Philadelphia colleges. His first novel, Trading Saints for Sinners, was published in 2014. He's currently working on his next novel and hoping to find an agent soon.
Leave a comment