Marvel's Wastelanders: Old Man Star-Lord Episode One Review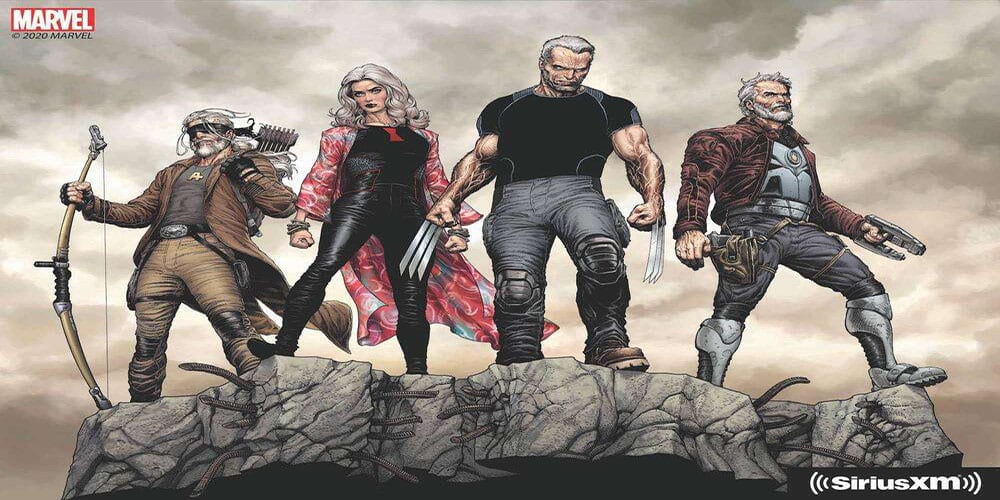 I'm a big podcast fan, which is the least interesting thing to say at a social gathering. Nevertheless, it's true. A big part of my love for podcasts comes from my love of radio, the industry in which I got my start in journalism. Old Time Radio dramas, or OTR, immediately piqued my interest when I first discovered it. For a long time, I wondered why current-day radio dramas weren't more common. Then came the podcasts like The Thrilling Adventure Hour and others. Marvel is in the game too with its recent releases via Stitcher and Sirius XM. The latest entry in the audio world for Marvel adventures is Marvel's Wastelanders: Old Man Star-Lord. Two episodes are available now and we're starting with a review of Marvel's Wastelanders: Old Man Star-Lord Episode One today. Let's talk about what we like so far in this promising series.
An Older But Not Necessarily Wiser Star-Lord and Rocket
Image Credit: Marvel
Marvel's Wastelanders: Old Man Star-Lord is a 10-episode podcast that launched this week via Sirius XM. In Episode One, entitled "Record of a Fallen World," we get a lot of world-building in the span of 30-ish minutes. Timothy Busfield plays an aged Star-Lord, who is at least in his mid-to-late 50s according to banter with his pal Rocket, played by Chris Elliot. The two are in space in search of a mysterious artifact known as the Black Vortex. The Collector is hoping to get her (yes, her – this isn't the MCU) hands on the device to control some unknown cosmic power. While exploring a ship, they come under siege and end up trapped with a Rigellian Recorder who Quill names Cora. After some creative maneuvers, the crew decides to track the Black Vortex to Earth, but things have changed on the third planet from the sun.
On Earth, the villains of the Marvel Universe won. The planet is now a wasteland hardly recognizable to Quill, who has spent a lot of the past 30 years in space. In that same amount of time, villains took control over Earth and things are a total mess. When Quill, Rocket, and Cora arrive to Earth, they crash-land in what appears to be South Dakota. Mt. Rushmore's iconic faces of four U.S. presidents is now replaced by the faces of Doctor Doom, who has a hold over the Midwest. The duo and their new companion could take their time and learn more about this changed country land, but they're in a rush. The Collector placed guillotine collars on their necks and set them to kill unless the job goes well. Talk about pressure. With all of that in mind, the podcast gets off to a great start in this first episode.
A Promising Start: Episode One Review of Marvel's Wastelanders: Old Man Star-Lord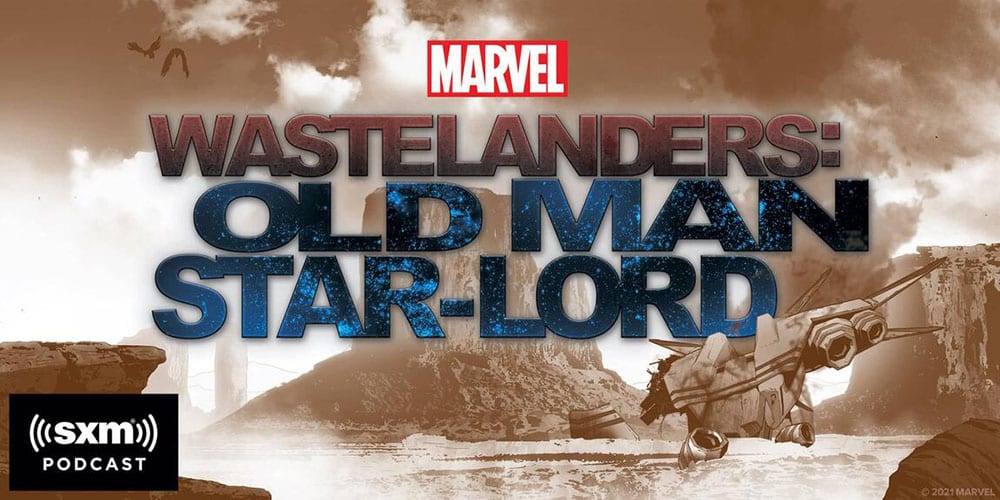 Image Credit: Marvel & Sirius XM
From a narrative standpoint, the first episode of Marvel's Wastelanders: Old Man Star-Lord achieves something many radio dramas fail to do. The first episode sets up a lot of information. Usually, it's tough to make this all fit in naturally without feeling like a details dump. I think writer Benjamin Percy, who also worked on the Wolverine pods for Sirius XM, is deserving of the credit here. Much like comics, setting up a world can go smoothly or it can feel strictly procedural. Things go well here and it's Percy's experience of the audio medium within Marvel's expansive worlds that makes it possible.
Moving forward, there's promises of Ghost Riders, a Kraven the Hunter appearance, and more cameos from other characters in the Marvel universe. In the first episode, we even hear Star-Lord question whether or not Nick Fury is still alive. There's so much to look forward to here, and I'm excited to keep talking all things Old Man in the future. Be on the lookout for our next review for Marvel's Wastelanders: Old Man Star-Lord soon here on Comic Years.
Marvel's Wastelanders: Old Man Star-Lord is available on Stitcher Premium, Spotify, Apple Podcasts, and likely wherever you listen. Check out Marvel's homepage for the project on their website.
Featured Image Credit: Marvel & Sirius XM
Taylor is the Gaming Editor of Comic Years and a lifelong fan of video games. He holds two degrees in Political Communication and wrote a Master's Thesis on resistance movements, race, and the exploitation of college athletes. His wife and two Toy Australian Sheppards keep him sane.
Leave a comment