Marvel Comics July Empyre Checklist: The Event Begins!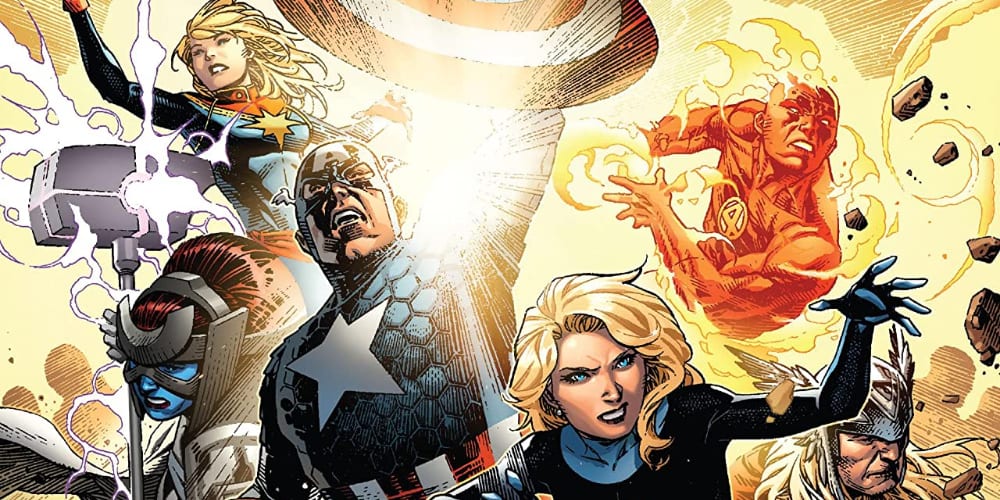 The big Marvel Comics event this year, Empyre, was supposed to start with a midnight release party in April after building a lot of excitement. Then COVID put its foot down on the nation, and the comic industry came to a screeching halt. Now that the country is starting to reopen (for now), the industry is trying to get back on track. DC Comics' method was a full-frontal assault of most of their line. Marvel, however, decided to be a little more careful. The problem, though, is Empyre. It's a massive crossover event with mini-series and one-shots and tie-ins. Like all Marvel and DC events, it has dozens of moving parts. And since they lost the buildup to the event, Marvel's new release schedule shows their plan B: momentum. In July, we're getting 14 issues relating to Marvel's Empyre, so we put together a checklist to get started.
When it comes to major events, there are three kinds of readers: main event only, main-event + interested tie-ins, and the ALL-IN readers. Instead of going week by week, we'll break it down so that it's easier to decide on purchases. We have a checklist for Marvel's main Empyre series, one for the one-shots, another for mini-series, and a final one for tie-ins from ongoing series. Of course, it might look like a lot…because it is. Still, events are all about going big and having fun—so, dive in! Or not. It's your wallet.
Marvel's Empyre: Main Series July Checklist
The Preludes: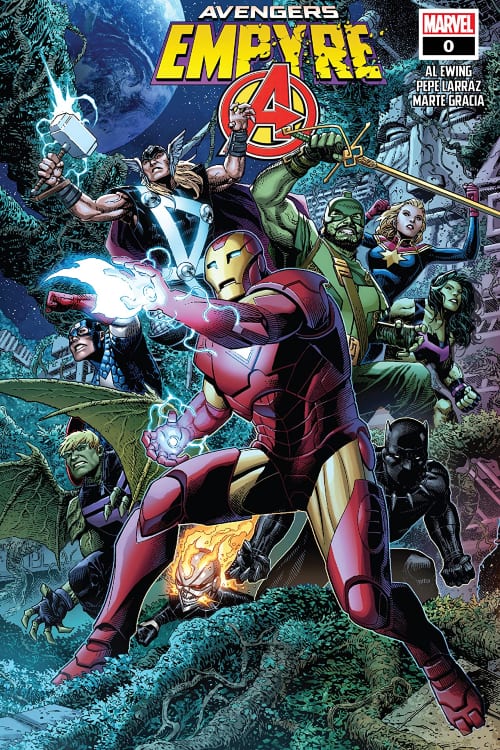 Guessing they don't know yet that Hulkling is about to lead a massive army against them. (Image: Empyre #0: Avengers, Marvel Comics)
These two preludes billed as #0 issues aren't technically part of the main series, but they are pretty helpful in setting the stage for Marvel's Empyre, so it felt right to put them here in the July checklist—even if one of them did come out in June.
Empyre #0: Avengers
Writer: Al Ewing
Artist: Pepe Larraz
Release Date: June 24th
Official Solicitation:
Tony Stark wakes from strange dreams – as old allies make a distress call to the Avengers. In the new Green Area of the Moon, the Cotati are waiting with news of a terrible enemy that could wipe out both them and humanity itself. The Celestial Messiah has returned… but are the Avengers ready to hear his message?
Empyre #0: Fantastic Four
Writer: Dan Slott
Artist: R.B. Silva
Release Date: July 8th
Official Solicitation:
"The Last of the Kree/Skrull Warriors" – a pivotal issue, not just for EMPYRE, but for the future of the FF! In the most unlikely of places, the Fantastic Four witness the final conflict of the Kree/Skrull War… and the fate of these final warriors will mark a stunning change in the lives of Marvel's First Family for years to come. All this, and the introduction of a long hidden Elder of the Universe… the Profiteer! Witness the first appearance of this new, major player in the cosmos!
The Main Event
Uh-oh, Hulkling got the "gazing over the heroes" pose that Thanos had in the Endgame posters. (Image: Empyre #1 (of 6), Marvel Comics
Writers: Al Ewing and Dan Slott
Artist: Valerio Schiti
It's begun! The coming of EMPYRE! Um…what is Empyre? It's been a while since they first solicited the event. Before we start looking at the July checklist for Marvel's Empyre, let's catch up. The Skrulls hate the Kree. The Kree hates the Skrulls. But there is one planet that they both hate more than each other: Earth. After decades of the Avengers, Fantastic Four, X-Men, and other Earth-based teams giving them beatdowns, the two empires finally decided: hey, they can't defeat both of us together, right? To signify their new union, they made Hulkling (from the Young Avengers), a half-Kree, half-Skrull superhero, their EMPEROR! Yep, Wiccan's boyfriend, still a teenager, is now the king of two of the most powerful forces in the Marvel Universe. What could go wrong?
Empyre #1 (of 6)—Director's Cut
Release Date: July 15th
Official Solicitation:
Featuring action-packed extras including a Cover Gallery, Script, Inked And Color Pages and more! The Kree and the Skrulls have united under a new emperor – and their war fleet is on a collision course for our world. On the moon, the Avengers are ready to strike with the full power of Earth's Mightiest Heroes. Approaching from outer space, the Fantastic Four are seeking a diplomatic solution. If the two teams can't work together to save the day, things can only get worse…
Empyre #2 (of 6)
Release Date: July 2nd
Official Solicitation:
Three Avengers are trapped on the moon as war breaks out on Earth – and an ancient enemy reveals a scheme decades in the making! Meanwhile, the Fantastic Four fight against a creeping horror that might destroy them all – starting with the Thing! Captain Marvel is their last, best hope… But if Carol Danvers survives, what will she become?
Empyre #3 (of 6)
Release Date: July 29th
Official Synopsis:
The tag-team action comes home! Wakanda is the battleground – as the Avengers and the FF unite to prevent a Vibranium-powered threat to all life as we know it! A long-lost Avenger returns to active duty – but will that be enough to turn the tide? And in space, interstellar intrigue threatens the fragile Kree/Skrull alliance…and the repercussions might just doom planet Earth!
In three weeks, we're getting the first half of the entire primary series. That's a lot to take in. But we still have a lot more to cover.
Marvel's Empyre: One-Shots July Checklist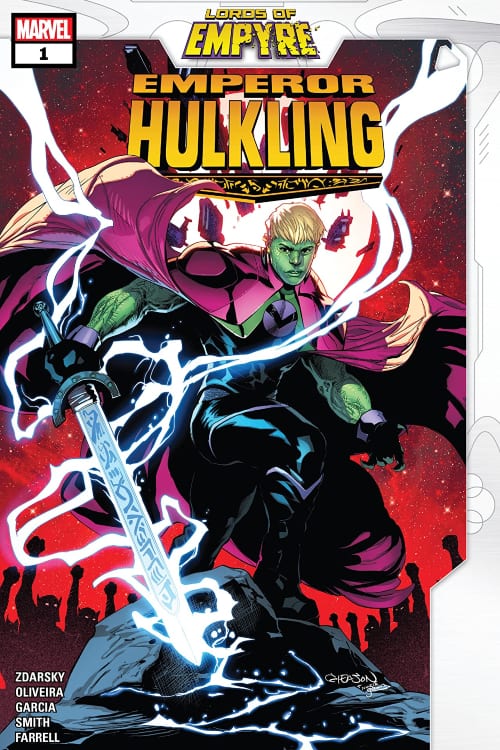 Seriously. This Kid? The sweetest member of the Young Avengers? He's now an emperor of two warrior races hellbent of destroying Earth? (Image: Lords of Empyre: Hulkling, Marvel Comics)
Admission: When it comes to tie-ins, I prefer one-shots. They're self-contained and give a great snippet of the event from a different perspective without having to commit more time and money to a longer story that isn't the main story. For the July Checklist, Marvel's Empyre is a little light on tie-ins of any kind, but the three one-shots look great. First, handbooks are very helpful during event comics. DC Comics is going to do one for Dark Nights: Death Metal. And since Hulkling is pretty central to the event, his one-shot is kind of vital. As far as the Savage Avengers? This team is awesome. So, I suspect, the one-shot will also be awesome.
Lords of Empyre: Emperor Hulkling
Writers: Anthony Oliveira and Chip Zdarsky
Artist: Manuel Garcia
Release Date: July 22nd
Official Solicitation:
DESTINY FULFILLED! The child of the Kree hero Mar-Vell and Skrull Princess Anelle, Dorrek VIII — known on Earth as "Teddy" — has spent years evading the clutches of both bloodthirsty empires. But now fate has caught up to him. The Kree and Skrull worlds are aligned — and only a man born of both can lead them. But what has led Hulkling to abandon Earth and the Avengers he's fought beside? And what will become of his fiancé, the hero Wiccan? Star writers Chip Zdarsky and Anthony Oliveira team up with artist Manual Garcia for a can't-miss one-shot!
Empyre Handbook
Various Artists and Writers
Release Date: July 29th
Official Solicitation:
Multiple races across the universe are pulled into a major conflict when EMPYRE hits! The Official Handbook of the Marvel Universe helps keep the participants straight with updates of the major players in this star-spanning war: The Avengers! The Fantastic Four! Captain Marvel (Danvers)! The Skrulls! The Kree! Hulkling! Plus: All-new profiles of Kree members Bel-Dann, Captain Glory (Gla-Ree) and Tanalth, Skrull member Raksor, and the Cotati Swordsman! Also featuring the mysterious, never-before profiled Blue Area of Earth's Moon!
Empyre: Savage Avengers
Writer: Gerry Duggan
Artist: Greg Smallwood
Release Date: July 29th
Official Synopsis:
In South America, Conan finds himself enslaved – which is typically bad news for those attempting to do the enslaving! But these enslavers come from beyond the stars, and they've got a singular and grisly end in store for the Cimmerian – one that only Venom can help him avoid!
Marvel's Empyre: Mini-Series July Checklist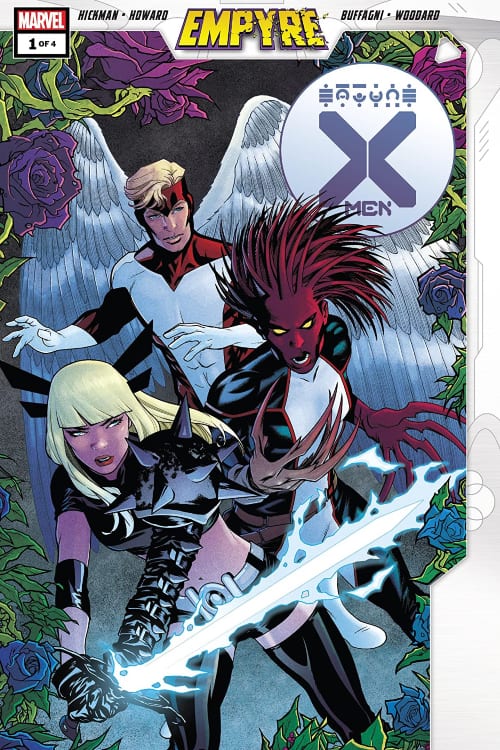 I'm on their side. Whichever side that turns out to be. Xavier was right. (Image: Empyre: X-Men #1 (of 4), Marvel Comics)
Of course, no comic book even is complete without far too many tie-in mini-series. In July, we're starting with three…but there will be a lot more in August. In fact, after July, the checklist for Marvel's Empyre will get a bit longer. For now, our wallets won't take too much of a hit. Note the X-Men mini-series, because that's not the only X-Men tie-in we're going to see. Despite its numerous tie-ins, Empyre is billed as an Avengers and Fantastic Four event. So, which side will the mutants of Krakoa take? Considering that the rest of Earth has treated them so poorly, they just started a new civilization, I wouldn't be too quick to place my bets on the X-Men siding with their Earthly colleagues.
Empyre: Avengers #1 (of 3)
Writer: Jim Zub
Artist: Carlos Magno
Release Date: July 22nd
Official Solicitation:
With the threat from the stars now reaching Earth, Captain America sends out the call for heroes to meet its advance across the globe! But in the far–off Antarctic Savage Land, Ka–Zar and the Agents of Wakanda have located an enemy offensive that could change the course of the conflict! Which Avengers will answer the call to this remote area and will they be able to cope with the strangeness they find there?
Empyre: X-Men #1 (of 4)
Writers: Jonathan Hickman and Tini Howard
Artist: Matteo Buffagni
Release Date: July 22nd
Official Solicitation:
Plant people from outer space have come to Earth and, wouldn't you know it, they just happen to be here when millions of mutants rise as undead creatures hungry for human flesh.
Empyre: Captain America #1 (of 3)
Writer: Phillip K. Johnson
Artist: Ariel Olivetti
Official Solicitation:
The invasion has made landfall! Captain America stands on the front lines – but when the threat goes global even he won't be enough to stem the tides! Will Captain America be able to find allies willing to fight alongside him – or will he fall in the face of this intergalactic incursion?
Marvel's Empyre: Tie-Ins Checklist
If you know, you know. (Image: Fantastic Four (2018) #21, Marvel Comics)
The last part of all major events are the awkward in-series tie-ins. You're reading a series, at issue like #53, and then BAM! All of a sudden, there's an annoying banner for a story you had no interest reading derailing the narrative. It even makes a checklist weird, like for the last two tie-ins for the July issues of Marvel's Empyre. For instance, the 10th issue of X-Men? The 21st issue of Fantastic Four? But what if you haven't read issues #1 through #20, will you be horribly lost? Especially for an "all-in" reader, it's a pain in the ass. But if you are interested, here they are…
Fantastic Four #21
Writer: Dan Slott
Artist: Paco Medina
Official Solicitation:
EMPYRE TIE–IN! With the Fantastic Four neck–deep in the menace in space, who can Powerhouse and Brainstorm call upon to deal with the crisis down on Earth? Only Spider–Man and Wolverine, of course!
X-men #10
Writer: Jonathan Hickman
Artist: Leinil Francis Yu
Official Solicitation:
EMPYRE TIE–IN! The Summers family has grown a Krakoan home on the moon. Now some new neighbors have moved in.
And that's it for July! We'll get August's up early the first week, but here's a hint: more. And this is after they cut nearly half of the event. Indeed, if you were excited for The Union, don't be. Because it's no longer solicited.
(Featured Image: Empyre #2 (of 6), Marvel Comics)
Roman Colombo finished his MFA in 2010 and now teaches writing and graphic novel literature at various Philadelphia colleges. His first novel, Trading Saints for Sinners, was published in 2014. He's currently working on his next novel and hoping to find an agent soon.
Leave a comment