Superhero Comics about Contagions During a Contagion: Marvel's Contagion by Ed Brisson and Various, Awesome Artists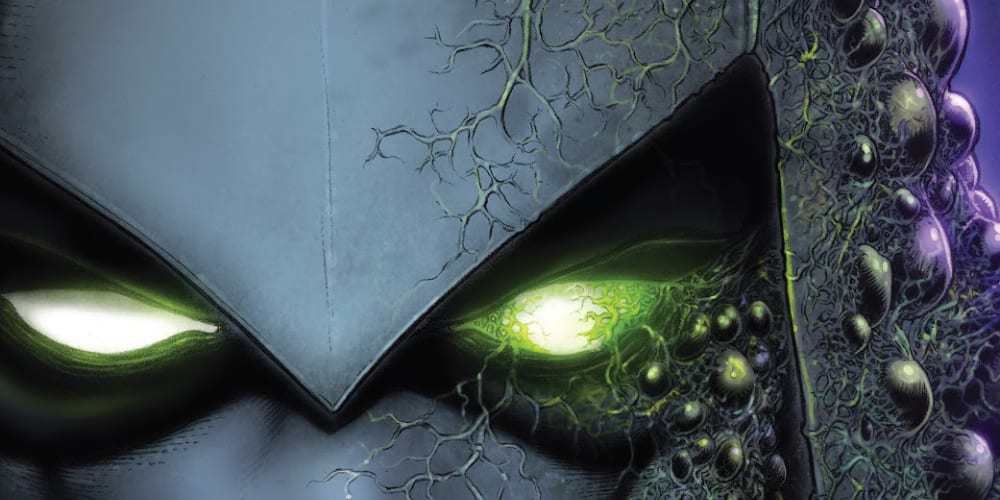 The first superhero contagion story we looked at was Batman: Contagion, one of the larger, yet often forgotten, Batman events of the 1990s. Now, we're going to take a look at a much more current story, Marvel's Contagion, by Ed Brisson and five different artists. Contagion came out in single issues last year. But the trade paperback came out January 15th, 2020, just one day after the World Health Organization confirmed human-to-human transmission of the Coronavirus. So, given that Marvel's Contagion came out alongside the Coronavirus outbreak, how does it hold up now? That's not easy to answer.
Marvel's Contagion, by Ed Brisson, Is a Lot Less Serious than Batman: Contagion
Punch that malignant virus right in its helical nucleocapsids! (Image: Marvel's Contagion by Ed Brisson)
The tone of Marvel's Contagion works both for and against it. At any other time, this would be a fun story. Ed Brisson makes some interesting choices. By interesting, I mean kind of cool. He takes out the smartest people on Earth first, leaving the fate of Manhattan and the world to a few cut-rate magicians and brawlers. Without Reed Richards, Tony Stark, or T'Challa, heroes like Jessica Jones, Iron Fist, the Thing, and Moon Knight are left trying to find a cure. Even the plague in Contagion is far from anything real. It's an ancient, magic-based virus. It's also sentient.
Marvel's Contagion is so far removed from reality that, unlike Batman: Contagion, it isn't horrifying to read during our current epidemic. However, it's also so far removed from reality that it's hard to connect to anything happening in the story. It's strange to consider that just a few months ago, reading Marvel's Contagion in single issues, no one would second guess Ed Brisson and the various artists' choices. We had no idea what a mass contagion looked like. Now we do, and suddenly everything Ed Brisson writes feels antiquated.
What a Difference a Day of a Real Contagion Makes for Pop Culture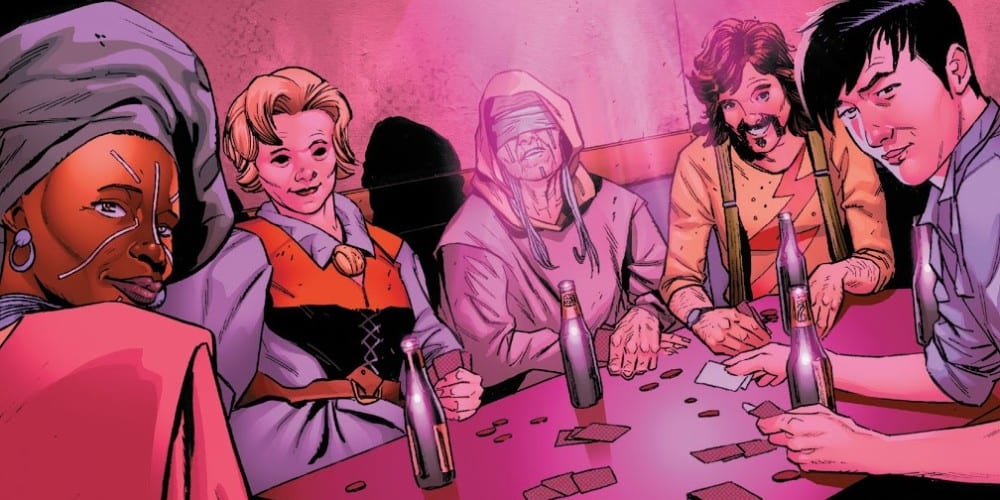 The League of International Magic Practitioners will ALWAYS be pop-culture relevant. (Image: Marvel's Contagion by Ed Brisson)
A year ago, if I read Marvel's Contagion alongside Batman: Contagion, I would have thought the 1990s' "extreme" event was the one that was the more unrealistic one. Surely, people wouldn't go out protesting the safety protocols the government set up. Obviously, our leaders in government would be quick to act to contain the spread of the virus. It definitely wouldn't get to the point where the finest hospitals in the world would get overcrowded with patients. Meanwhile, in Marvel's Contagion, people stay off the streets after the initial outbreak. There's even an eerie sense of calm as the heroes attempt to determine the best course of action. Because, obviously, people would act more rationally if a magical fungus-based contagion broke out and spread like wildfire.
Yeah, I'd be wrong. The insane Batman story was the more accurate one. And that one involved industry trying to profit off the deaths of citizens. Maybe I had a bit too much hope in humanity.
The Absurdity of Marvel's Contagion is the Best Part of Ed Brisson and The Artists' Story

Wait, can we just hang out there for a minute and maybe try some shrooms? (Image: Marvel's Contagion, by Ed Brisson)The more absurd Ed Brisson gets, the better Marvel's Contagion reads. And we reach peak absurdity in issue five, when Moon Knight infects himself so that his mind becomes part of the virus. The theory is that since Marc Spector has dealt with multiple personalities and battles in his own mental landscape before, he was best equipped to fight the virus from the inside. Even in superhero comics, that's a big jump in logic, but for this story, it works. It also allowed artist Adam Gorham to explore inside the virus. One of the weird facts about the Coronavirus is that the closeup molecule is kind of beautiful. The same goes for the mental landscape of the sentient virus in Marvel's Contagion. The monster inside this world? Terrifying. The world itself? Bright and colorful.
Yeah, it's an utterly absurd moment, but one thing I love about Ed Brisson's story was that it showcased some street-level characters in a much different setting. As weird as this was, it was an excellent moment for Moon Knight, who ends up being the hero of this story, even if he doesn't have an active role until issue four. We also see Jessica Jones take a leadership role, and if Ed Brisson gets a chance to write a street-level Avengers book with her in charge, I'll subscribe in an instant. But the best inclusion? Senior Magico and the League of International Magic Practitioners (L.I.M.P.). With Doctor Strange infected, it's up to L.I.M.P. to magically contain the virus as much as possible. Marvel's Contagion might not reflect reality at all, but damn is it fun.
The One Small Detail of Marvel's Contagion That is Regrettable
Well, this is an unfortunate coincidence with reality. (Image: Marvel's Coronavirus by Ed Brisson)
As we discussed in Superman Smashes the Klan, there's an unfortunate rise in xenophobia happening right now. Ed Brisson is not that—at all. It's just a bad coincidence that the virus in Marvel's Contagion comes from K'un-Lun, the ancient mystical Chinese city. Obviously, Brisson could have never guessed that a pandemic would originate in China. He also would have no way of knowing that Chinese and Asian citizens around the world would be harassed and blamed for the failures of other people.
Take Italy, for example, where the Chinese citizens of Prato, Italy, were being attacked and ostracized. There were even false reports that the virus spread so severely in Italy because of the Tuscan Chinese residents working in the fashion industry. What actually happened was that the 50,000 Chinese residents of Prato were so careful that not a single one of them was infected with the Coronavirus. The Italians went from blaming them to asking them for help.
When issue one opened on K'un Lun, it was a bit gut-wrenching. The mystical city was a logical choice, of course. Marvel readers are already familiar with K'un Lun, so it makes it a good place for the ancient virus to originate from. However, it feels like watching an old show that praises someone who turned out to be horrible. For example, re-watching The Unbreakable Kimmy Schmidt, it's awkward to see Matt Lauer guest star, interviewing women who were held prisoner, raped, and then make jokes about it. Did Tina Fey imagine that one day, we'd learn that Lauer is a sexual predator? Probably not.  Would Ed Brisson have imagined that in the very near future, we'd see a pandemic start in a Chinese city? Nope
The Disconnect from Other Countries is All Too Real in Ed Brisson and Marvel's Contagion.
Who cares if the X-Men are acting like weirdos—call them! (Image: Marvel's Contagion by Ed Brisson)
Ed Brisson writes several books for Marvel, including the current New Mutants, alongside Jonathan Hickman. Early in the series, Iron Fist says that they need to contact the Avengers and "the X-men…even if they are acting like a bunch of weirdos right now." If you haven't been reading the Dawn of X books, shame on you part of the story is that Krakoa produced plants that can cure almost anything. It's Krakoa's main export. Strange and Richards should have called the X-Men immediately. But they don't, and we have no mention of the X-Men again. The X-Men's new way of living bothers the heroes so much that they let the virus spread wildly instead of calling the mutants for help.
And why does this stick out more? Because of that great Moon Knight scene mentioned earlier. Since the contagion is conscious, and captures the minds of its victims, the best people to fight it are telepaths. On Karakoa, they have Jean Grey, Emma Frost, and Professor X—the three most powerful telepaths in the world—along with a few other telepaths, like Rachel Grey and the new Captain Britain. So, calling in the X-Men could have solved this issue much faster if they bothered calling. If Ed Brisson was right about anything in Marvel's Contagion, it's the lack of communication between nations.
What's Next for Superhero Pandemic Stories After Marvel's Contagion?
Yeah, the sample is on your face…do you wash that thing? Ever? (Image: Marvel's Contagion by Ed Brisson)
Since Ed Brisson and Marvel's Contagion came out so recently, we'll be able to have an immediate "before" case. This begs the question, what will superhero contagion stories look like going forward. This doesn't count zombie stories, even if Ed Brisson utilizes a small zombie element in Marvel's Contagion. We'll be looking at two more, Wonder Woman: Contagion and Wolverine, The Best There Is: Contagion. Maybe by the time we're done, we'll be able to go out again safely! In the meantime, please wear a mask, wash your hands, practice social distancing, and stay—the frac—home.
(Featured Image: Marvel's Contagion by Ed Brisson)
Roman Colombo finished his MFA in 2010 and now teaches writing and graphic novel literature at various Philadelphia colleges. His first novel, Trading Saints for Sinners, was published in 2014. He's currently working on his next novel and hoping to find an agent soon.
Leave a comment