Who is Valentina Allegra de la Fontaine? The MCU's Countess
Contessa Valentina Allegra de la Fontaine's name is of noble origin. That is one of the most referenced names in the comics. Valentina Allegra de la Fontaine also goes by her alias, Madame Hydra. She is a fictional espionage agent active in Marvel Comics.
Long-time artist and writer Jim Steranko created her. Valentina Allegra de la Fontaine appeared first in 1967 in Strange Tales #159. Since then, she has made several appearances in individual comics.
She has had affiliations with international organizations such as S.H.I.E.L.D. and Thunderbolts. Above all, she's famous for being a triple agent, holding important positions in these agencies.
Image via Marvel Comics
Valentina Allegra de la Fontaine's History and Biography
Fontaine is prominently featured in 1968's Strange Tales #168 as an agent of S.H.I.E.L.D. and in the same series of the same name the following month. Valentina was an agent who had a clash with Nick Fury from the start. What was at first a professional brush quickly turned into a romantic relationship, which materialized after a series of seduction sequences featured in S.H.I.E.L.D. #2.
The original story was reprinted in 1983 and published in Nick Fury Special Edition #1. By 2001, Nick Fury, Agent of S.H.I.E.LD.: Who is Scorpio? was reprinted. 
Image via Marvel Comics
Spy agent Fontaine descends from a family of Russian agents. Her parents served the secret terrorist agency Leviathan. Hence, her surname is supposed to be Russian, her original identity being a mystery. After the murder of her parents, Dugan recruited her to be part of his organization. She assumed a European jet set identity, with money and connections to fulfil her objectives. Thus, she became a double agent.
Despite all this, Fontaine felt that her life was meaningless. She joined the international agency S.H.I.E.L.D., entering the training programme to minimize the pain and carry on her parents' legacy. There, she first saw the agency's then-executive director, Nick Fury. In a derogatory manner, Fury made a nasty comment about the organization's female agents, so Fontaine attacked him viciously without thinking.
The Leader of the Femme Forces
Because of her skills and abilities, this agent quickly became one of S.H.I.E.L.D.'s most prominent female agents. She was named the agency's Femme Force leader.
She was then reassigned to the S.H.I.E.L.D. liaison position based in the United Kingdom. Her first assigned mission was to support Union Jack, a British superhero, Sabra, an Israeli superheroine, and Arabian Knight, a Saudi superhero. The aim was to thwart a terrorist attack devised by the RAID organization with radical ideas against the city of London, England.
Sometime later, Valentina Allegra de la Fontaine supported Commodore Lance Hunter and Alistaire Stuart. Her mission was to create the Superhuman Registration Act in its British version. Already with a taste of it, it was Fontaine's turn to meet with superheroes such as Captain Britain, Peter Wisdom, Joseph Hauer and Union Jack. The aim was to inform the entire British superhuman population of the ramifications of this law.
Secret Invasion
During Secret Invasion, a Skrull agent posed as Fontaine to spy on Nick Fury. The goal was to learn as many of the secrets as possible. But Fury knew Fontaine very well, and when he became seriously suspicious that it wasn't her, he killed this Skrull. Fontaine was then able to return to her proper form, revealing the invasion plans of the alien community.
When Captain America died, a second imposter again posed as Fontaine. He approached Dum Dum Dugan to learn the exact location of Fury, who was responsible for finding the Skrulls. However, it later revealed that Dugan did not know this information. Fontaine's imposter then stabbed him to death with claws similar to those of Wolverine, the X-Men. Dugan's body was thrown into the ocean to take his place this time.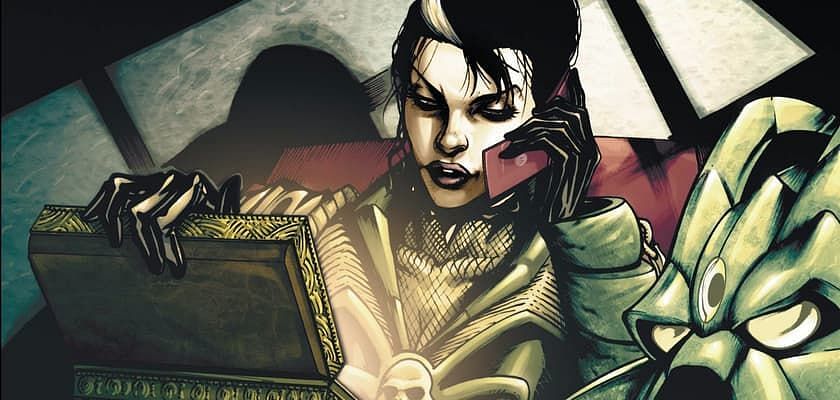 Image via Marvel Comics
Secret Warriors
Subsequently, both Fontaine and Dugan are alive and well. They escape captivity with other humans that the Skrulls abducted to be replaced and fulfill specific objectives. When the Secret Warriors series premieres, Nick Fury fights against Norman Osborn's H.A.M.M.E.R. It is then shown that Hydra controlled S.H.I.I.E.L.D. from the beginning.
At that time, Fontaine assumed the role of the new Madame Hydra. This agent was a Russian mole recruited by S.H.I.E.L.D. and working for Leviathan, a former Soviet espionage group. This betrayal reached the ears of Fury, who was on the job of bringing down Hydra and Leviathan. At the same time, Fontaine assassinated the current Madame Hydra, who resurrected in a new form. Now defeated, Nick Fury attempts to rescue Fontaine from prison.
Other Versions of
Valentina Allegra de la Fontaine
Valentina Allegra de la Fontaine has other versions:
MC2
Fontaine appears as a S.H.I.E.L.D. agent who has an action-packed encounter with Spider-Girl. This version is released under the MC2 imprint and is an alternate universe.
Ultimate Marvel's Valentina Allegra de la Fontaine
This character in the Ultimate Marvel Universe plays the president of the OXE Group, the world's largest holding company. She belongs to the Kratos Secret Club, a group of industrial billionaires who aim to use their influence to get things done the right way, no matter what.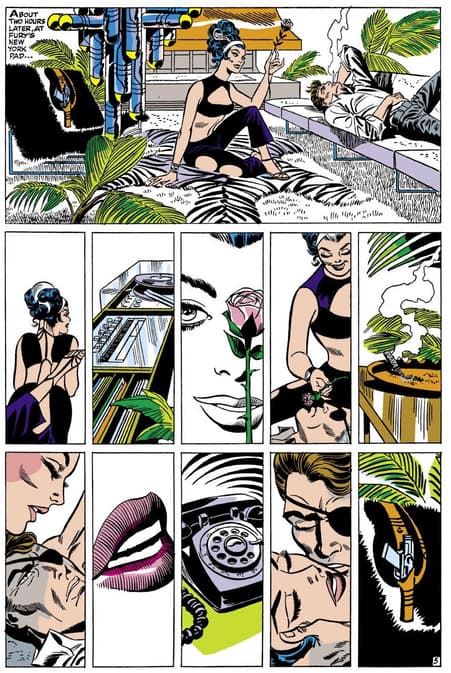 Earth X
At the time of the events of Earth X, Fontaine was an active member of S.H.I.E.L.D. In this version, Norman Osborn takes control of the United States of America. By this time, Nick Fury did not want to have any dealings with Osborn. 
Previously, Fury had already created the Hydras, which are parasitic creatures, all thanks to information found in the Bloodstone archives. The Hydras had to attack and take down S.H.I.E.L.D.'s helicarrier. Because of this incident, the agents who came into contact, including Fontaine, were transformed into host bodies for the Hydras. That led to Fontaine's murder. Like many infected people, her murder prevented this Hydra entity from taking over her body.
Fontaine's soul went instead to the Realm of the Dead, where she would experience several historical events in his life. Her body was already part of the Hydra group commanded by "Mistress Hydra", who controlled She-Hulk's body. Almost all of the Hydras ended up residing in New York City, where the invading army of the Skull apparently killed them. However, the group survived the attack, returning to a secret base.
Armed with Rom's disintegrator, Captain America banished the Hydra to Limbo. Thus, Fontaine's soul was in Mar-Vell's army of the dead in the final battle against Thanos, Death and Mephisto. Later, she received a place in the paradise of Mar-Vell. After this incident, her whereabouts were still unknown. Like many other characters, the Earth X phase marked Fontaine forever.
Mutant X
In Mutant X, Valentina Allegra de la Fontaine is again a S.H.I.E.L.D. agent fighting Havok and the Six on Liberty Island. At the time, this team was supposed to launch the Legacy Virus to kill any super-powered life.
Valentina Allegra de la Fontaine's Skills
Active espionage agent Valentina Allegra de la Fontaine is an expert marksman and martial artist. But her skills don't stop there. Despite not possessing any superpowers, her training allows her to face any obstacle without any problem. She has excelled in her missions by being a master of disguise, managing to deceive the leading spy agencies.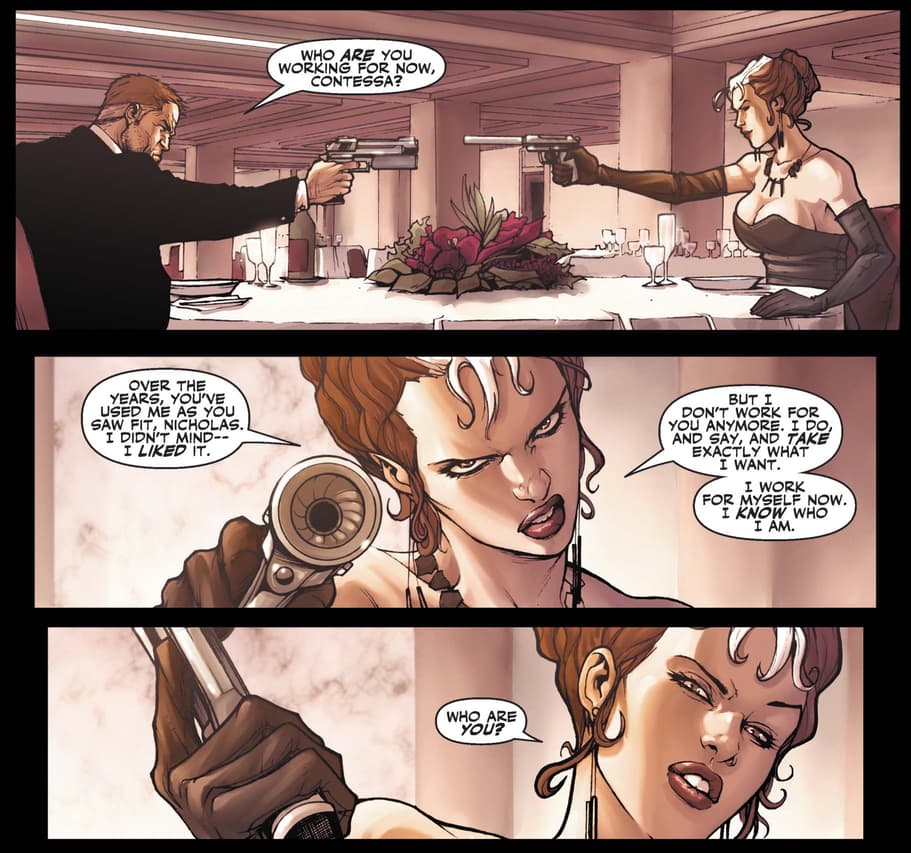 De La Fontaine's Relationships
Valentina Allegra de la Fontaine's relationships are:
Her Family
Fontaine is only known to have had a romantic relationship with agent Everett K. Ross. Their romance evolved to such an extent that they married and lived together. It all ended when he was arrested and charged with treason for allegedly exchanging information with Okoye and Shuri. As for offspring, there are no records of them having children together.
Her Allies
While undergoing spy training at the S.H.I.E.L.D. Academy in Manhattan, Fontaine allied with Clay Quartermain and Sidney Levine. In addition, other allies include:
Olivia Walker

The F.B.I.

Bishop Security

S.H.I.E.L.D.

The U.S. State Department

The Thunderbolts

Leviathan

HYDRA
Valentina's Appearances in Other Media
Contessa Valentina Allegra de la Fontaine has had several media appearances, including:
Television
On the small screen, she appeared in:
1998 appearance in 

Nick Fury, Agent of S.H.I.E.L.D.

, where Lisa Rinna played her.

The Avengers: Earth's Mightiest Heroes

, where she makes a voiceless cameo. She also appears in the episode "Winter Soldier", where she is a squadron member under Nick Fury's command.

In 2021, Fontaine appeared in the episode "The Truth" in the miniseries The Falcon and The Winter Soldier.
MCU
On the big screen, Fontaine's appearances have been relatively sporadic:
She appears in live-action media in the Marvel Cinematic Universe, where Julia Louis-Dreyfus plays her.

Also, Fontaine has a post-credits scene in 

Black Widow

 where she hires Yelena Belova to assassinate Clint Barton, who she believes is responsible for Belova Natasha Romanoff's death.

More recently, Fontaine appears in 

Black Panther: Wakanda Forever.

 She oversees the C.I.A. spy agency and is Everett K. Ross's boss. Valentina is the principal liaison to Wakanda and the outside world. But upon discovering an alleged exchange of information with Shuri and Okoye when Wakanda and the U.S. had high tensions, she arrests him and charges him with treason.

In 2024, actress Louis-Dreyfus would return to play Fontaine in 

Thunderbolts

. In this role, Fontaine would further establish the morally questionable character, who is assigned the most daring missions. In this film, she would share the screen with prominent figures such as Harrison Ford's Taddeus "Thunderbolt" Ross, Florence Pugh's Yelena Belova, and David Harbour's Alexei Shostakov/Red Guardian.
In the plots shown, Fontaine's character moves in the shadows, where she can weave webs in peculiar circumstances. She is a very stealthy agent, which gives her a particular interest, making her a key player in Phase 4 of the Marvel Cinematic Universe.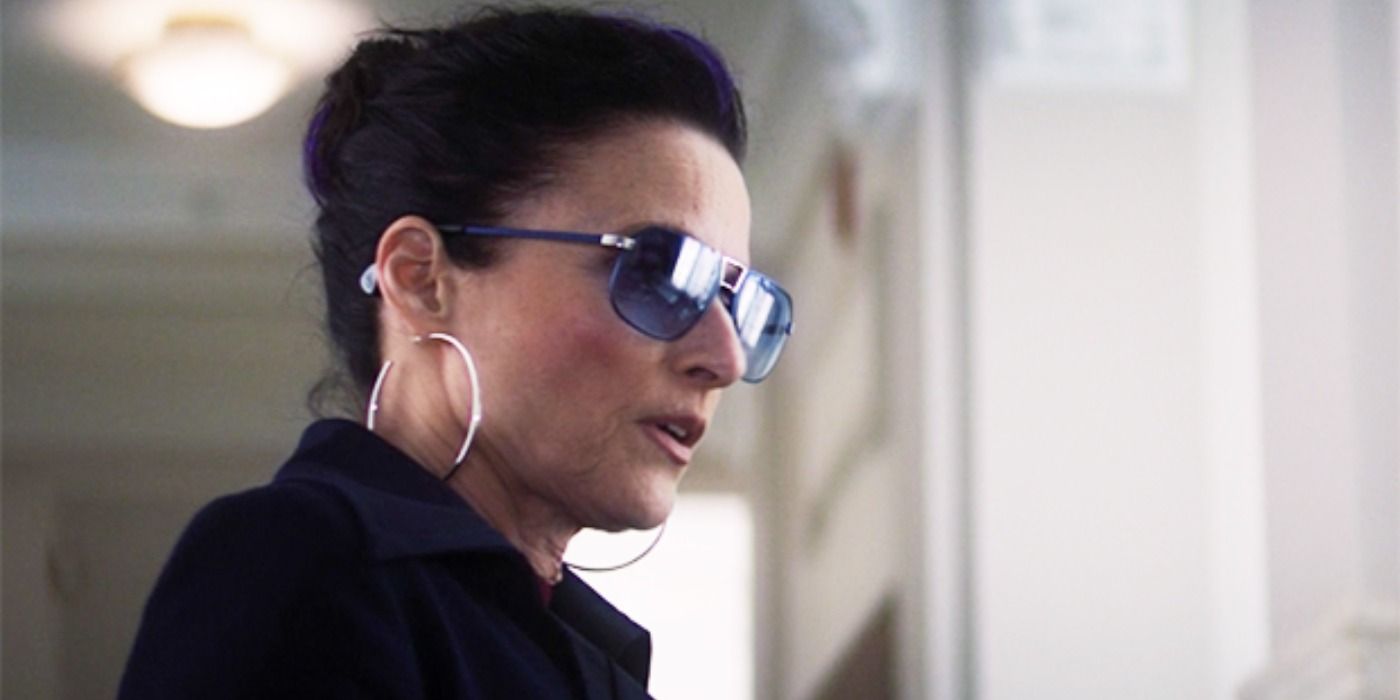 Image via Disney
Still Much to Learn About
Valentina Allegra de la Fontaine
Lisa Rinna played spy agent Contessa Valentina Allegra de la Fontaine in 1998's Nick Fury, Agent of S.H.I.E.L.D. On the other hand, Julia Louis-Dreyfus plays her in the Marvel Cinematic Universe.
Valentina's next appearance will be in the Thunderbolts film in 2024. That is part of Marvel's strategy to relaunch its comic book characters.
Since her first appearance, Fontaine has aroused much curiosity among fans. Now, they expect her to be a new version of Nick Fury, perhaps, and unleash her full potential.
What is clear, however, is that Valentina Allegra de la Fontaine will bring new repercussions to the entire MCU. Hopefully, she will assemble a new team on that fragile thread between good and evil. But she has always been entrusted with the most challenging missions, which she has successfully executed.
Leave a comment