Who is the Human Torch? The Flamingest Member of the Fantastic Four
The Human Torch is one of the superhero's from the Fantastic Four team. This Marvel Comics superhero appears in the first issue of the saga that bears his name. Stan Lee and Jack Kirby created him in 1961.
His real name is Johnny Storm, and his powers are attributed to the bombardment suffered by cosmic rays to the spaceship that transported them to travel to hyperspace. The character stands out for being one of the founding members of the Fantastic Four and the younger brother of Sue Storm.
This superhero is a close friend of Spider-Man, another superhero of the same age. For this reason, on many occasions, they are seen together fighting villains. His temper is a weakness, but it has given him the leading role in several solo adventures.
History and Biography of the Human Torch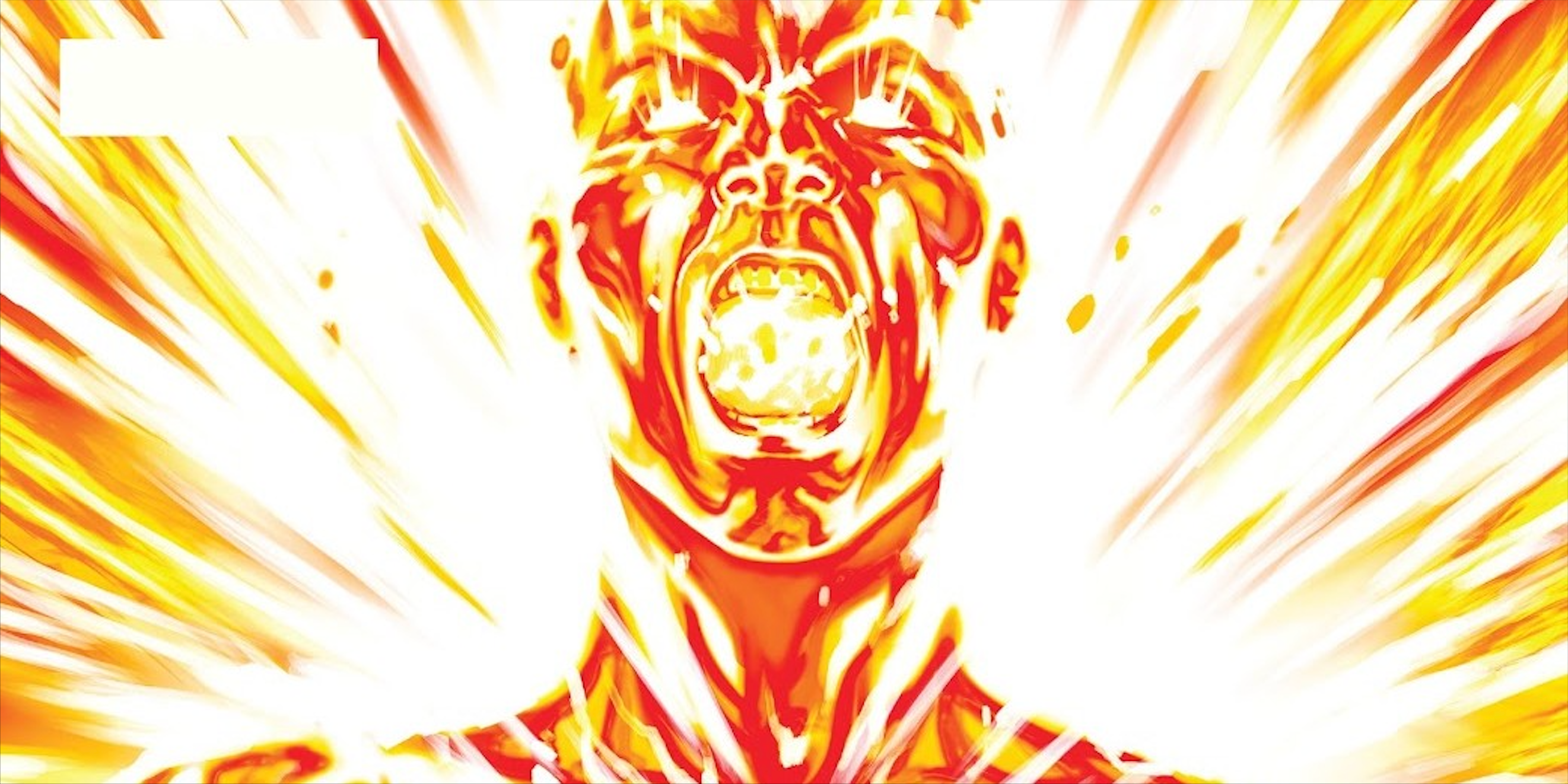 Image: Marvel Comics
The Human Torch character was originally created by Carl Burgos in 1939, for Timely Comics. The revival of this superhero came from Stan Lee as a writer and Jack Kirby as the drawer.
Storm first appeared in 1939 in The Fantastic Four #1. Here he is established as a member of the superhero team, where he was allowed to burn objects but not people in the plot. He was introduced as the younger brother of the well-known Invisible Girl, Sue, which caused tension within the group more than once.
As a solo member of the Fantastic Four, he appeared in Strange Tales #101 – 134 between 1962 and 1965. For 1974 and 1975, he had an eight-issue series called The Human Torch, where he reprinted stories featuring the original android Human Torch.
For 2003 to 2004, there were twelve issues called Human Torch, written by Karl Kesel and drawn by Skottie Young. Likewise, in 2005 the five-issue miniseries Spider-Man / Human Torch was written by Dan Slott and Ty Templeton as a cartoonist.
In the Marvel Team-Up, The Human Torch participated as a co-star after three issues since its creators found the format too restrictive. He also co-starred in two one-shot comics.
Early Years
Johnny Storm grows up in Glenville, a fictional suburban city in Long Island, New York. He loses his mother in a car accident, surviving only his father, surgeon Franklin Storm, who is unharmed.
As a result, his father fell into alcoholism and, financially ruined, was imprisoned for murdering a loan shark in self-defense. As a result, his older sister, Sue Storm, raised him next to his aunt Marygay, where they went to live. At an early age, Johnny was inclined towards automobiles despite his mother's fatal accident. Thanks to this, he became an excellent mechanic at an early age.
The Fantastic Four
At 16, Johnny Storm joins his sister and fiancé, Reed Richards on a space flight. During the trip, piloted by Ben Grimm, cosmic radiation hits them, giving them superpowers. The four crew members end up becoming superheroes. This situation leads them to form a team called the Fantastic Four.
Johnny called himself the Human Torch, paying homage to the heroes of World War II. He showed courage within the Fantastic Four team and participated in several adventures.
Despite belonging to this team, because of his age he continued attending high school in Gleville. He tried to go unnoticed as if he had a secret identity, to which his fellow citizens just went along with him.
College
When he finished high school, Johnny enrolled in Metro College. In this institution, he strengthened ties with Wyatt Wingfoot. This character would later join the Fantastic Four on a trip to Wakanda.
On that trip Johnny met the Black Panther, helping him to defeat Klaw. Around the same time, he met the young Crystal of the Inhuman Crystals, with whom he immediately fell in love. He and the rest of the team joined forces to help her defeat Maximus, the mad prince of the Inhumans.
But this passionate love was short-lived. Crystal had to return to Attilan, where she married Quicksilver, Magneto's son. This crushed Johnny sentimentally, trying to move on, hoping to meet again someday. Despite everything, Johnny and Crystal continued their friendship for years.
Marriage
Image: Marvel Comics
Johnny was kidnapped by the Messiah, who was trying to expand the Earth by superheating the core of his planet. When he manages to return to Earth, he was deeply attracted to the former girlfriend of the Thing (Ben Grimm), named Alice. This event caused the estrangement to last for a long period.
The lowest point was when a child fan of the Human Torch, Tommy Hanson set himself on fire to look more like his superhero, dying instantly. Which led to him retiring from his role on the team.
Johnny ends up marrying Alicia, but the Thing offers his place in the Fantastic Four to Crystal. This causes old feelings to revive, but despite this, his feelings for Alicia were stronger and he did not give in to temptation.
Unfortunately, sometime later Johnny discovers that the Alicia he married was a Skrull imposter named Lyja. This villain was sent to infiltrate the Fantastic Four, but who ended up really in love with Johnny.
Continued Adventures
The adventures for Johnny Storm continued. This time he joined his nephew Franklin to face Vanguard. This was considered his extra-dimensional counterpart, to convince him to abandon the mission of eliminating the redundant reality.
But Lyja was still on the scene. This time she pretended to be a student named Laura Green to be closer to Johnny. Here Johnny managed to recognize her and tried to explore old feelings.
Civil War
If the Fantastic Four team was already divided, the civil war disunited them even more. Johnny was left in a coma when beaten while visiting a nightclub. When he managed to wake up, none of his teammates was there, as they were immersed in the Iron Man pro-registration act.
With the death of Bill Foster, Johnny is inclined to support his sister Sue, joining Captain America's team. When this civil war ends, both Sue and Johnny return to the Fantastic Four. The Thing returns to the team, and Black Panther is added as a new member, with his wife Storm, while Sue and Redd try to save their marriage.
Secret Invasion
In the Skrull invasion, the Fantastic Four were also affected when a Skrull invades the Baxter building. This villain impersonates Sue, whereas Johnny, Ben, Valeria and Franklin are affected by entering the Negative Zone.
These events lead Johnny to confront the Skrull. This way, he discovers that his old love Lyja was protecting them for a long time. John refused when the affected ones were found to leave the Negative Zone. He wanted to discover who Lyja was.
Human Torch Death
The inevitable happened. While Sue and Redd were absent, the Cult, an evil group, entered the building by breaking the portal to the Negative Zone. While inside, the Cult turned an endless army of Annihilus insectoid soldiers against Johnny, the Future Foundation kids and Ben.
Franklin came to their aid by destroying the army, proving he had the power to do so. However, to achieve it, someone had to sacrifice himself. Johnny threw himself through the portal to close it so no one could enter or leave again.
Human Torch Powers, Abilities and Weaknesses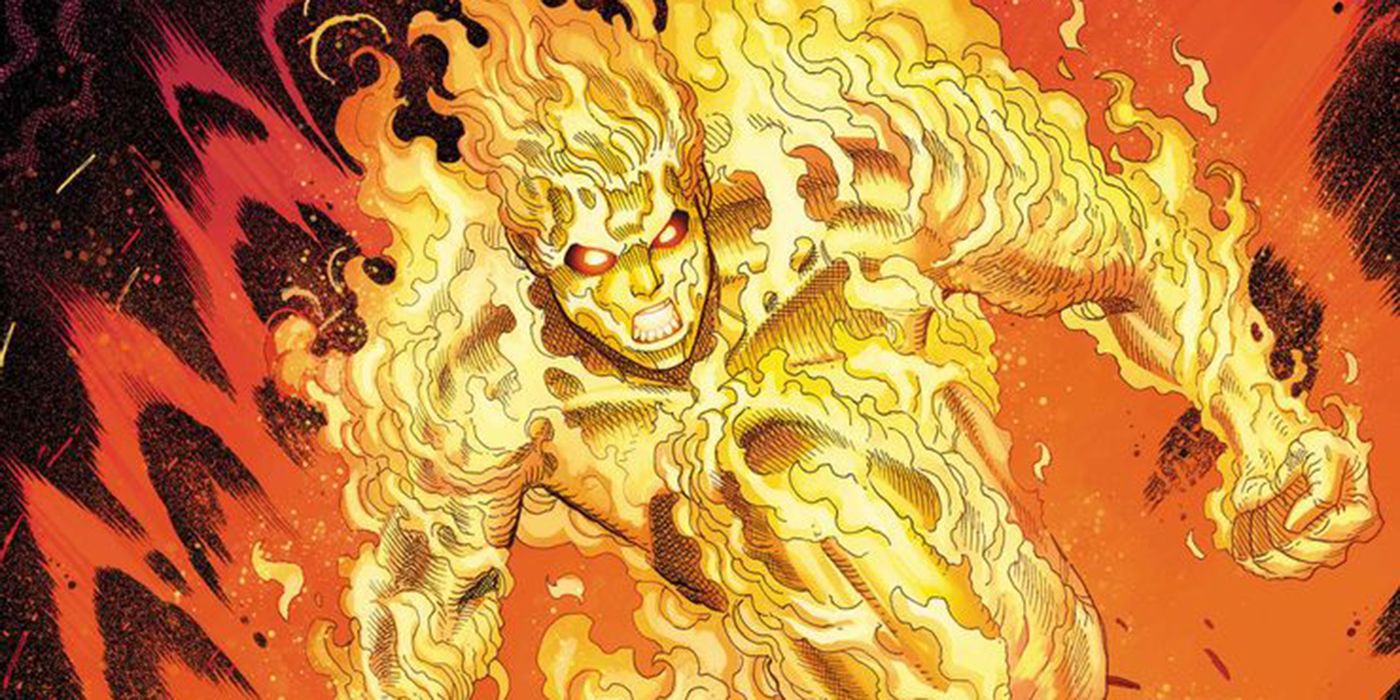 Image: Marvel Comics
Johnny Storm, the Human Torch, is a superhero known for various powers and abilities.
Powers
This character has the power to will wrap his body in flames. He can also fly and absorb fire harmlessly, controlling it whenever he wants. When he shouts his famous slogan, "Flame on!" we already know what's coming.
All the powers presented by Johnny are linked to fire. Superhuman powers suffered from the mutagenic effects of the cosmic radiation to which he was inevitably exposed.
He can also vaporize incoming projectiles thanks to a plasma field surrounding his body when he ignites the flames. The aura of flames created for him usually cannot extend beyond a few inches from his skin, so he avoids igniting nearby objects.
Abilities
The main ability of Johnny Storm, the Human Torch, is to envelop his body with a plasma that coats his body and can ignite in fire, without harming himself. He can also generate fireballs from his hands.
He can also manipulate flames into rings and other forms, including a fiery duplicate of himself that he can control remotely.
Johnny can control fire even if it is not wrapped in flames, as long as it is within his range of vision, increasing or decreasing its intensity at will, or moving according to the pattern that he indicates in his thoughts. Being able to absorb plasma/fire into his body without detrimental effects.
He can hold a person without burning them or making them feel uncomfortable heat. He has a vast knowledge of fire management that he lectures and regularly visits fire stations in New York.
Weaknesses
This is the youngest member of the Fantastic Four team, so his emotional state impacts the ignition of fire in his body, which can represent a great weakness.
Also, by age, he is impetuous and reckless compared to his older sister Susan Storm, the grumpy Ben Grimm, and his level-headed brother-in-law Redd Richards. Which sometimes gets the team into serious trouble.
While it's true, he can generate flames in his body without getting burned, and it's one of his main means of defense. The fire that emanates will depend on the amount of oxygen around him. 
But, sufficient quantities of water can extinguish this flame, empty surroundings, and flame retardant foam. But it can ignite again when it senses some oxygen.
Human Torch Appearances in Other Media
20th Century Fox
Johnny Storm's media appearances are varied and can be seen on different media like:
Television
On television, he has been present in:
1967, in the Fantastic Four series, where Jack Flounders perform the voice.

1978, this character does not appear in the Fantastic Four series, being replaced by HERBIE, a robot.

1994, in the Fantastic Four series, playing the voice Brian Austin Four during the first season, in the second season the voice was performed by Quinton Flynn.

1994, he also appears with his other team members in the Spider-Man series "Secret Wars", again voiced by Quinton Flynn.

The Super Hero Squad Show voiced by Travis Willingham.

The Avengers: Earth's Mightiest Heroes voiced by David Kaufman.

Hulk and the Agents of SMASH, voiced by James Arnold Taylor.
Movies
In the cinema, there are several films where he has appeared, such as:
Roger Corman produced the 

Fantastic Four 

(1994), and Jay Underwood starred in the Human Torch.

In 2005-2007, in 

Fantastic Four

, we saw the Human Torch played by Chris Evans.

In 2008, Simox Rex played the Human Torch in the parody film 

Superhero Movie

.

By 2015, Johnny Storm was played by Michael B. Jordan in 

Fantastic Four

.
Human Torch in Video Games
In video games, the Human Torch is present as a playable character in:
The Amazing Spider-Man 2.

Spider-Man for SNES.

Game Boy Advance is called Fantastic 4: Flame On.

Ultimate Spider-Man.

Fantastic Four: Rise of the Silver Surfer from 2007.

Marvel Nemesis: Rise of the Imperfects.

Marvel Ultimate Alliance.

Marvel: Future Fight.

Lego Marvel Super Heroes.
The Human Torch: The Flamingest Member of the Fantastic Four
Image: Marvel Comics
The Human Torch is one of the Marvel Comics characters that have become known on the small screen and in movies and video games. In the film The Fantastic Four (1994 ), Jay Underwood was the first actor to play this superhero. 
Since then several actors have played this role, such as Chris Evans in 2005 with Fantastic Four and the sequel in 2007. In 2015 we saw again the character in Fantastic Four, where Michael B. Jordan brought the character to life. 
The superhero will be back on the big screen with the upcoming MCU project centered on this team. Phase VI of this franchise will give a lot of importance to this production, although it is unknown who will play Human Torch.
Featured Image Via Marvel Comics
I am a circus aerialist influenced by Dick Grayson and Spider-Man. Fortunate to write about the characters that inspired me. I also have a Bachelor's degree in Political Science and a Master's degree in International Trade.
Leave a comment