Who Is Simon Stroud? A Look At The Characters In The Morbius Film
Morbius just came out in theaters and while we already know quite a bit about the living vampire named Morbius, who are some of the other supporting characters in the film? Today I'm going to be looking at Simon Stroud, the CIA agent turned special investigator who's played by Tyrese Gibson. So who is Simon Stroud and what is his history with Morbius?
Who Is Simon Stroud And What Are His Talents?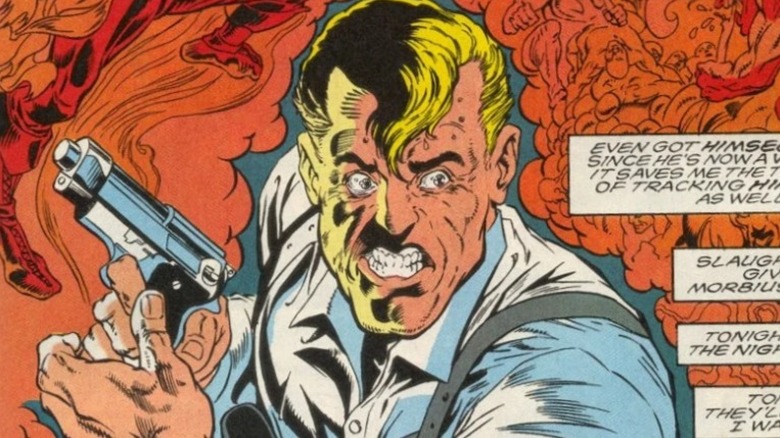 Image via Marvel Comics
Simon Stroud is an ex-CIA agent who later works for the NYPD in handling and seeking out supernatural cases. While in the CIA, he worked alongside Russian assassin Natasha Romanoff, who we all know as Black Widow. This seems to be a common theme with Stroud though: he has ties to a lot of other MCU characters throughout his character's history. 
During his early days with the NYPD, he gets his first supernatural case: tracking down a werewolf that attacked none other than Daily Bugle publisher J. Jonah Jameson. He later discovers that the werewolf is actually Jameson's son, John Jameson. He follows the junior Jameson to a nearby park and is about to shoot him when Kraven the Hunter intervenes. He's able to arrest both Kraven and John, but the Man-Wolf does end up escaping. At another point, he teams up with Natasha again to take down Leland "Owl" Owlsley, otherwise known as the "New Kingpin" of New York, who's an antagonist to Daredevil. Spider-Man also joins in on the fight and helps Natasha when Stroud ends up getting kidnapped. 
Stroud is trained in the use of deadly force and uses a handgun to shoot at his targets. He's also a skilled hand-to-hand combatant. When his cases become increasingly more involved with the supernatural, he ends up acquiring a lot of specialized weapons, such as a cross and stake for vampires. In the Morbius movie though, Stroud is equipped with a weaponized mechanical arm that he can shoot at his opponents. 
A History of Simon Stroud and Morbius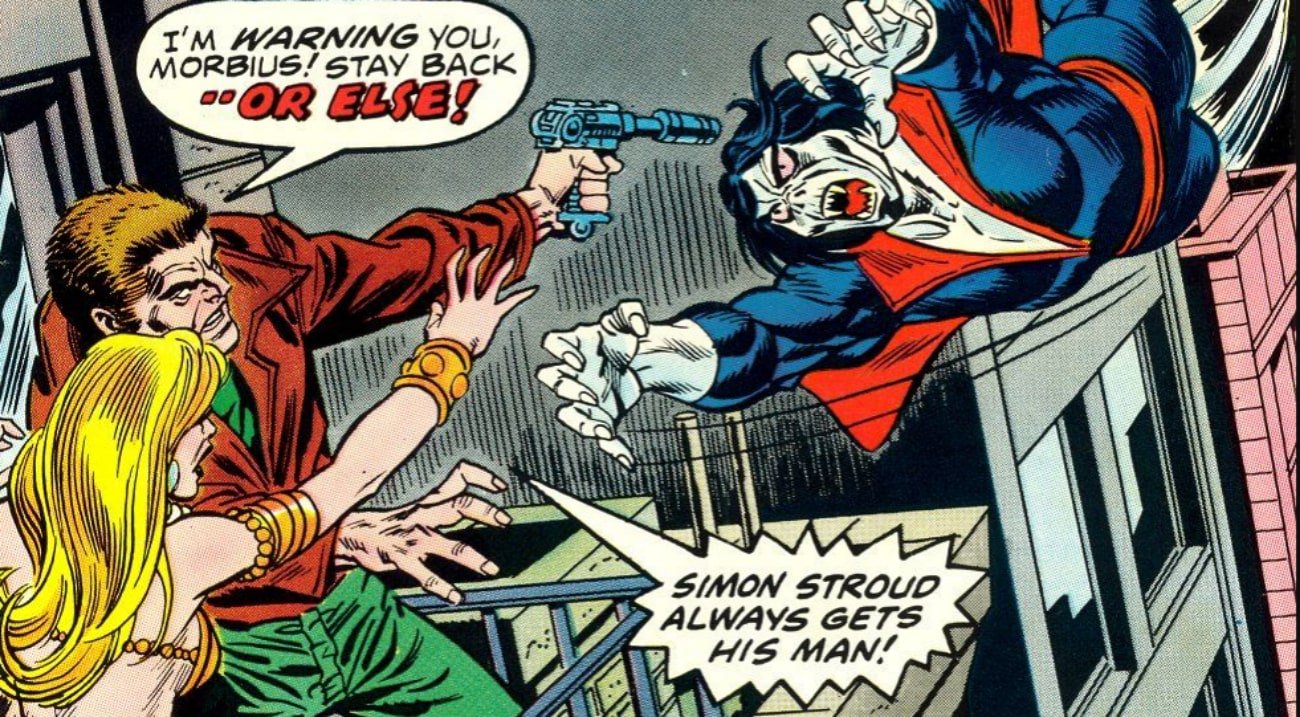 Image via Marvel Comics
The character of Simon Stroud was created by Doug Moench and George Tuska and first appeared in Creatures on the Loose #30 in April of 1974. He's generally considered a "good guy" although he has been known to ally with unlikely associates, which is a perfect transition to the relationship he has with Morbius. How did Stroud first encounter Morbius? It was while working on a case in Boston, where the city was experiencing an onslaught of vampire attacks and Morbius was Suspect #1. He takes Martine Bancroft in as an accomplice to Morbius and together they track down the living vampire. Stroud and Morbius end up in Helleys' dimension (Helleyes is an interdimensional demon) and Stroud reluctantly teams up with Morbius to escape. At another point in Stroud's career, he once again goes head-to-head with Morbius and ​​hires U.S. Marine-turned-mercenary Vic Slaughter to hunt down Morbius. 
Given Stroud's connections to Kraven the Hunter, Spider-Man, and potentially Daredevil, it makes sense that Gibson will be appearing again on our big screens since we're getting a Kraven the Hunter movie and he's also part of Spider-Man's Sinister Six. Also, Disney+'s Hawkeye series introduced Kingpin and made the connection between Sony and Marvel even stronger. However, Stroud and the rest of the MCU aren't necessarily connected, at least for now. In an interview with Comicbook.com, Gibson confirmed that Morbius is part of the MCU, saying "Yes," when asked. Sony later issued a statement saying that the movie is not part of the MCU, noting that Morbius is connected to other Sony Spider-Man films, but not with the wider MCU. Despite this, it seems very likely that Gibson as Simon Stroud is a very real possibility, especially because he noted on his Instagram that he has a three picture deal. He told Maxim the following on being cast in Morbius:
"That arm has all kinds of special effects and powers, and that's going to mess people up when they see this movie. It's my first time ever officially being a superhero. I've done some superhero s***, but I ain't never been a superhero. I had to explain this to my daughter."
Even if Gibson's Simon Stroud isn't officially part of the MCU, I'm excited to see where his character goes and how everything plays out. He's working hard to bring his best to the Stroud role and I look forward to everything! As he said in his interview:
"Well, doing this movie opposite Jared Leto, man, was nerve wrecking, exciting, and inspiring. He's really, really interesting, this guy, to work with. (Director) Daniel Espinosa kept me nervous the whole time as well. He's a real alpha, very aggressive filmmaker. He's very honest so he'll tell you… He'll tell you, sometimes, things you don't want to hear about how to step your game up as an actor and he did it to everybody. He pulled some great performances out of everybody. I don't know, man, I think a lot of people are gonna be shocked."
While we're on the topic, check out our movie reaction to Morbius. If you haven't seen it yet, go watch it and then come back and let us know if you agree or disagree with our reactions.
Morbius is currently showing in theaters everywhere. 
Do you feel like you have a better sense of who is Simon Stroud in Morbius? Is Simon Stroud's history likely to help connect all of the other Sony Marvel movies? Let us know in the comments below! 
Keilin Huang is a freelance writer that likes the Oxford comma, reading from her neverending pile of books from the library, and Reeses peanut butter cups. She thanks her Dad for introducing her to his Superman comics and probably majored in Journalism because of Lois Lane. Contact her at [email protected]
Leave a comment