Who Is Nick Fury, The Smart Secret Agent In Charge Of The Avengers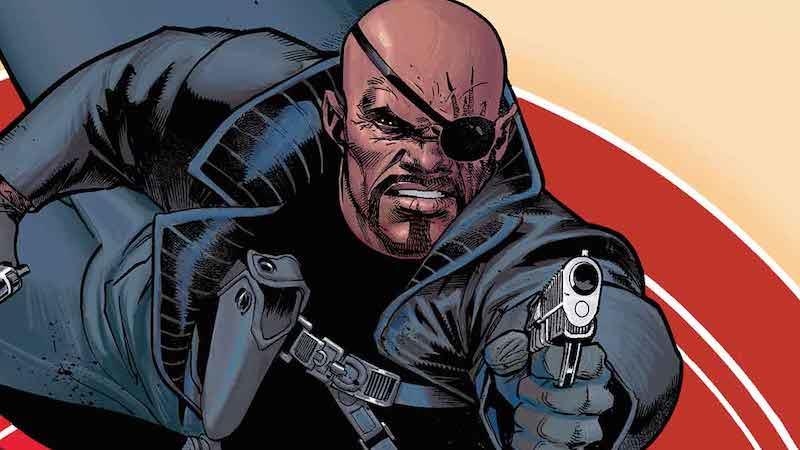 Nick Fury is another of Marvel's fictional American comic book heroes. His real name is Nicholas Joseph Fury, an American agent. Stan Lee and Jack Kirby were his creators.
Nick Fury is a founding spy of the Avengers and former Director of S.H.I.I.E.L.D. This character was appointed Colonel of the United States Army. Later, he joined the CIA during the Cold War.
This is one of the superheroes in several of Marvel's series set in alternate universes. He enjoys wide popularity because of his rather controversial personality and character.
Nick Fury Biography
Image: Marvel Comics
Nick Fury is one of the most popular characters in different decades. We tell you about his biography.
Early Years and Wartime
The first years of Nick Fury's life were quiet. He was the eldest of three brothers, whose father was Jack Fury, an American national. He enlisted in World War I into the Royal Flying Corps of the United Kingdom of Great Britain and Ireland.
The three brothers grew up in their home in Manhattan, New York neighbourhood, which became known as Hell's Kitchen. At a very early age, he began boxing, becoming a fan of his city's Police Athletic League.
As a teenager, in 1937, he went abroad to fight with the International Brigades in the Spanish Civil War. While on leave, he was bombed by the fascists.
Nick had a friend named Red Hargrove, with whom he had several adventures. Together they enlisted in the U.S. Army, and lived through the Japanese onslaught against Pear Harbor. Red loses his life, and Nick seeks revenge against the Japanese and Nazis.
C.I.A.
At the end of World War II in Europe, Nick Fury was seriously wounded in France by a land mine. He was found by Dr. Berthold Sternberg and cured. Because of his condition, the doctor took him as a test subject for one of his inventions, the Infinity Formula.
Nick began working at the Office of Strategic Services (OSS), the forerunner of the Central Intelligence Agency (CIA). When he was six months into his service, he realized that the Infinity Formula had stopped him from aging. But, if he did not receive annual doses, he would age rapidly and die. During Nick's time at the CIA, he wore the patch over his left eye.
S.H.I.E.L.D.
Image: Marvel Comics
Nick joined S.H.I.I.E.L.D., quickly becoming the second in command. Who was the final authority of S.H.I.I.E.L.D. is revealed to be alongside 12 cliques, including men and women, and Nick Fury is placed under their command.
The identity of these men and women was never revealed. But, the main suspect is the nemesis organization of S.H.I.E.L.D., HYDRA. Baron Wolfgang von Strucker created the international terrorist organization. Who is Nick's worst enemy.
S.H.I.E.L.D., when Nick was in charge, became one of the most powerful organizations in the world. He managed to make strategic alliances with various organizations worldwide, including the Avengers.
This made Nick become the main contact for several superhero groups. And he is one of the most used liaisons when contacting the government to deal with crises.
Sometime later, Nick discovers that both S.H.I.E.L.D. and Hydra have fallen into the hands of Deltites, sentient groups of androids called Life Model Decoy. Betrayed, he walks away but was pursued. And despite defeating the Deltites he dissolves the agency.
Nick Fury in Secret Invasion
Before the secret invasion Nick manages to rebuild S.H.I.E.L.D. and undertakes several fights with superheroes recruited by himself. But he had to go into hiding, and in that time he discovered that Valentina Allegra de Fontaine had a macabre plan against S.H.I.I.E.L.D.
Valentina's idea was to extract secret codes from the agency to access the files and exterminate Nick. But, Nick kills her first. And she returns in her version of Skrull, to make a secret invasion to the Earth.
Nick seeks to recruit several superheroes who are not infected and deal with the invasion. Fight that took place in several places of the United States. Defeating the Skrulls, he meets the real Valentina and Dum Dum Dugan. Being all teleported to Secret Warriors.
Dark Reign and Secret Warriors
While eliminating a S.H.I.E.L.D. secret base in Chicago, Nick discovers that Hydra has always managed this organization. So, a renewed Nick plans to confront Hydra.
This is how he hires the Howling Commandos. An organization comprised more than 1,200 former S.H.I.I.E.L.D. agents who did not want to join Norman Osborn's H.A.M.M.E.R..
All this arduous struggle sadly revealed that a Hydra-like organization could exist in the upper echelons of world government. Leviathan was founded by the Soviets, whose mission is still undisclosed.
Siege
The battle has not ceased. Now Nick and the Secret Warriors are called by Captain America. They must help their friend Thor from the siege of Asgard, which Norman Osborn launched.
The team rescues Thor, but he ends up in Osborn's dark realm. During the battle, almost about to win the victory, they were thwarted by Sentry. Who is possessed by the Void and begins to attack them.
Loki tries to help Nick and the other superheroes. To do so, he uses the Norn Stones, giving them power. But the Void overcomes and kills them. The Avengers manage to survive and declare to the press that another era, the "Heroic Age", has begun:
Heroic Age
In this era, it is discovered that Nick is alive is underground. This allows Steve Rogers to take control of the super spies. Staying in contact with the remaining heroes on Earth.
In this way, he monitors the activities and gives a special serum to the New Avengers. This serum is a combination of the Super-Soldier serum and the Infinity Formula.
They then try to help Mocking Bird. Nick, in that attempt, spends the last dose of that serum to save Bucky's life. And he discovers that he is still immortal due to the small doses of the formula received earlier.
Battle Scars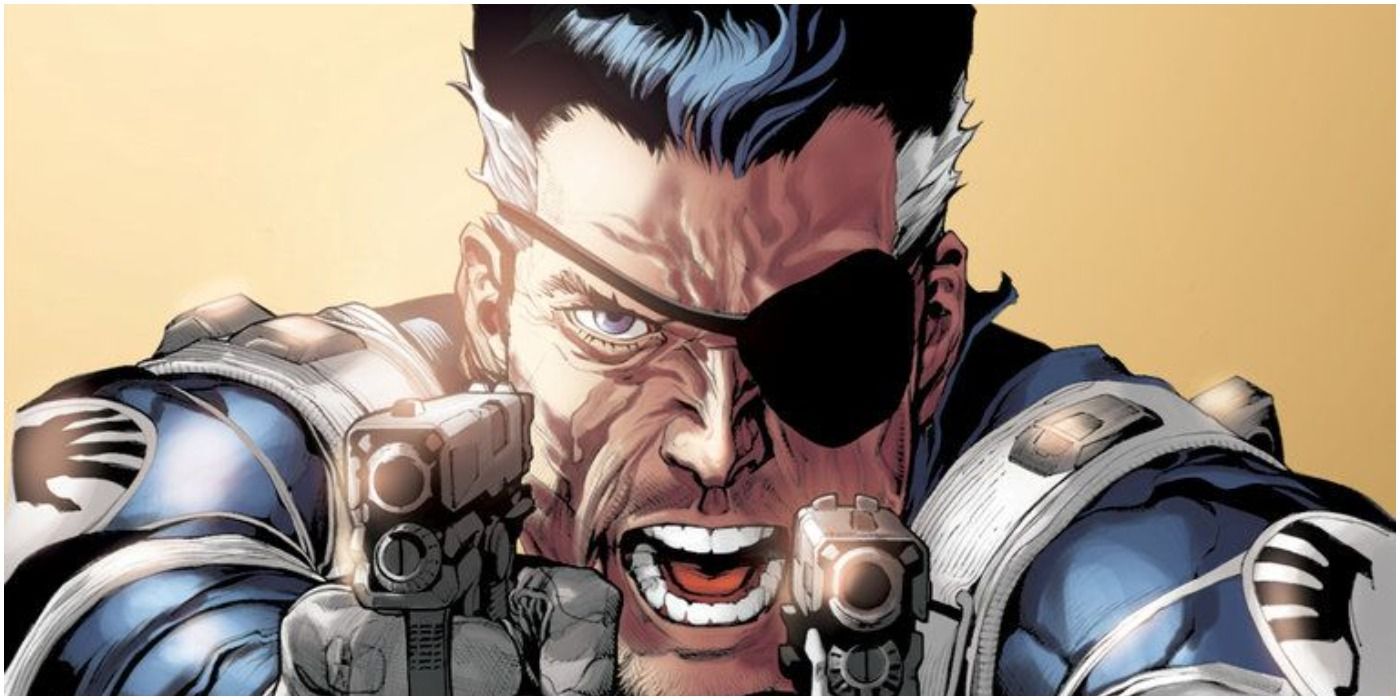 Image: Marvel Comics
In 2012, a six-part series called Battle Scars was made. Here, Nick Fury's secret son, Sgt. Sgt. who goes by the name Marcus Johnson is introduced. He is also African-American and loses his eye in that series.
The character is said to bear a broad resemblance to actor Samuel L. Jackson from Ultimate Universe's Nick. At the end of the series, Nick retires, and his son joins S.H.I.I.E.L.D. Upon joining, he changes his birth name to Agent Coulson.
Original Sin
In the Original Sin storyline, Nick is called in to help investigate a murder. It involves Uatu the Watcher. In that plot, Winter Soldier discapacitates Nick Fury.
His death was not real, as Nick Fury appears wandering around the moon later. He wears long robes and hides his face. Thus he becomes a replacement for Uatu. Meanwhile, the Winter Soldier takes his place on Earth, as the "Man on the Wall".
What is not seen
In 2015, the events suffered a change. Nick Fury return as "The Invisible One", in the Secret Wars miniseries. Thus he advises Odison about the existence of another hammer. In this way, he manages to intervene in various ways in the Multiverse.
Nick Fury Powers, Abilities and Equipment
Image: Marvel Comics
Despite having a rather advanced chronological age, Nick Fury is one of the most athletic human superheroes. Despite this, his aging is slowed down, thanks to the Infinity Formula.
The formula is a serum that Dr. Berthold Sternberg created. Nick first used it to inoculate himself in 1940. From there he began to take it annually. Otherwise, he would get the reverse of the desired effect.
Nick's appearance is quite imposing. His left eye is injured from a grenade explosion that affected it in World War II. For this reason, he wears a cosmetic eye patch, with which he seeks to avoid vision distortion.
Unlike other superheroes, Nick Fury does not have superpowers. But, he does possess abilities that give him the battle to any enemy. Demonstrating expertise in hand-to-hand combat.
He was one of the most talented boxers in the army, being a heavyweight in World War II. He has also demonstrated extensive performance in martial arts, such as in Taekwondo, where he reached black belt, and Jiu Jitsu, where he obtained a brown belt.
In addition, he was trained as:
Ranger.

Paratrooper.

Vehicle specialist.

Green Beret.

Expert demolitionist.
Nick wears a S.H.I.E.L.D. uniform designed by 9-ply Keviar, which distinguishes and protects him. It is bulletproof and thermal. He carries different types of specialized weapons to go into combat.
Nick Fury Other Versions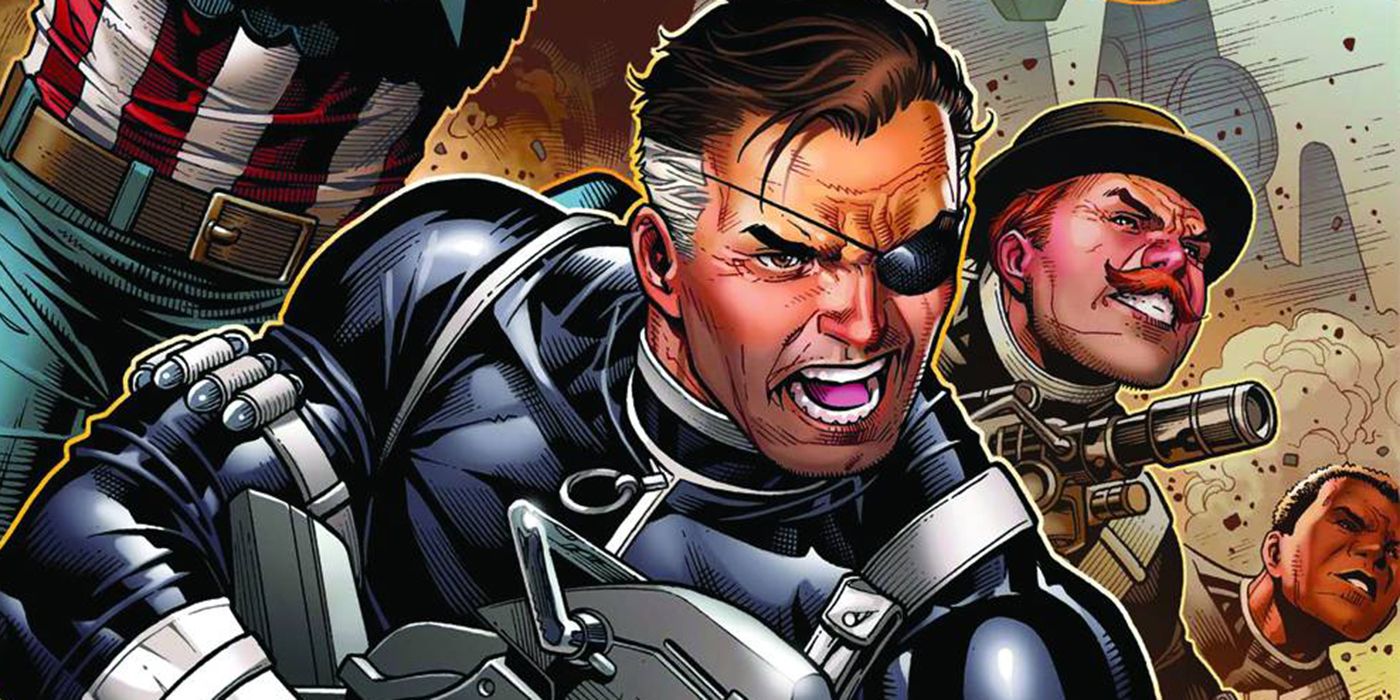 Image: Marvel Comics
In other versions, Nick Fury is presented as:
Ultimate Nick Fury
This version of Nick Fury is African-American born in Huntsville, Alabama. In this Ultimate Marvel Universe, he is represented by actor Samuel L. Jackson. To later, make live-action adaptations of this character in the Marvel Cinematic Universe.
Marvel Zombies
In Marvel Zombies, Nick Fury is the one who organizes a resistance against zombies. But in the end he was devoured by the zombified Fantastic 4. Before dying, he orders Thor to destroy the teleporter. Tony Stark built this.
They gave the order despite the existence of a small group of heroes who could use it to escape from the zombies. However, the end justifies the means, the Fantastic Four had to be prevented at all costs from escaping to another dimension to save the Multiverse from the zombies.
The Transformers
By 1985, Nick Fury and Dum Dum Dugan appear in the series of toy licenses pertaining to Transformers #3.
Nick Fury Other Media Adaptations
Image: Marvel Studios
Nick Fury appears in several media adaptations, including:
Television
On television, the character is present:
Animation
He appears in animated series such as X – Men, Wolverine and Spider – Man.

Appears in the animated series X – Men: Evolution, where Jim Byrnes does the voice.

He appears in the series The Avengers: Earths's Mightiest Heroes in 2009, voiced by Alex Désert.
He is present in several series where the voice is done by Chi McBride, such as: 
Ultimate Spider – Man from 2012.

Avengers Assemble from 2013.

Hulk and the Agent of S.M.A.S.H. from 2013.

Phineas & Ferb: Mission Marvel from 2013.

Lego Marvel Super Heroes: Maximun Overload from 2013.
Live Action
1998, David Hasselhoff played Nick Fury in Agent of S.H.I.E.L.D.

After that date, the actor who has played Nick Fury has been Samuel L. Jackson in:

Agents of S.H.I.I.E.L.D.

Disney+, What if…?

In 2023, the actor will reprise the role again in Secret Invasion.
Marvel Cinematic Universe
Image: Marvel Studios
In the cinema, this superhero appears interpreted by the actor Samuel L. Jackson has made all the interpretations in the ultimate version, in its African-American version, where he appears in several films of the Marvel Cinematic Universe as:
Iron Man post-credit scene.

Iron Man 2.

Thor in post-credits scenes.

Captain America: The First Avenger.

The Avengers.

Captain America: The Winter Soldier.

Avengers: Age of Ultron.

Avengers: Infinity War.

Captain Marvel.

Avengers: Endgame.

Spider – Man: Legos from home.
Animation
Actor Samuel L. Jackson has starred in all of Marvel Studios' animated films to date. These include Ultimate Avengers and Ultimate Avengers 2.
Nick Fury in Video games
Image: Marvel Studios
In video games, Nick Fury is almost always featured as a playable character in:
The Punisher.

The Punisher from 2005.

Marvel Ultimate Alliance.

Marvel vs Capcom 3: Fate of Two Worlds.

Spider – Man Web of Shadows.

X – Men Legends II: Rise of Apocalipse.

Ultimate Spider – Man.

Marvel Super Hero Squad Online.

Facebook Marvel: Avengers Alliance.

Lego Marvel Super Heroes.

Marvel Heroes.

Disney Infinity: Marvel Super Heroes

Spider – Man Unlimited.
Nick Fury, The Smart Secret Agent in Charge of The Avengers
Image: Marvel Studios
Nick Fury as a superhero, has had a pretty solid popularity. For 2011 he ranked 33rd in the IGN-sponsored top 100 comic book heroes. He also ranked 32nd on "The Top 50 Avengers" list.
However, this character is often considered an anti-hero due to his development. Marvel has developed several series where Nick is present. Coming soon is the premiere of the series Secret Invasion, where we will see this character played by Samuel L. Jackson.
Featured Image Via Marvel Comics  
I am a circus aerialist influenced by Dick Grayson and Spider-Man. Fortunate to write about the characters that inspired me. I also have a Bachelor's degree in Political Science and a Master's degree in International Trade.
Leave a comment