Who Is MODOK, A Multi-Layered Experimental Villain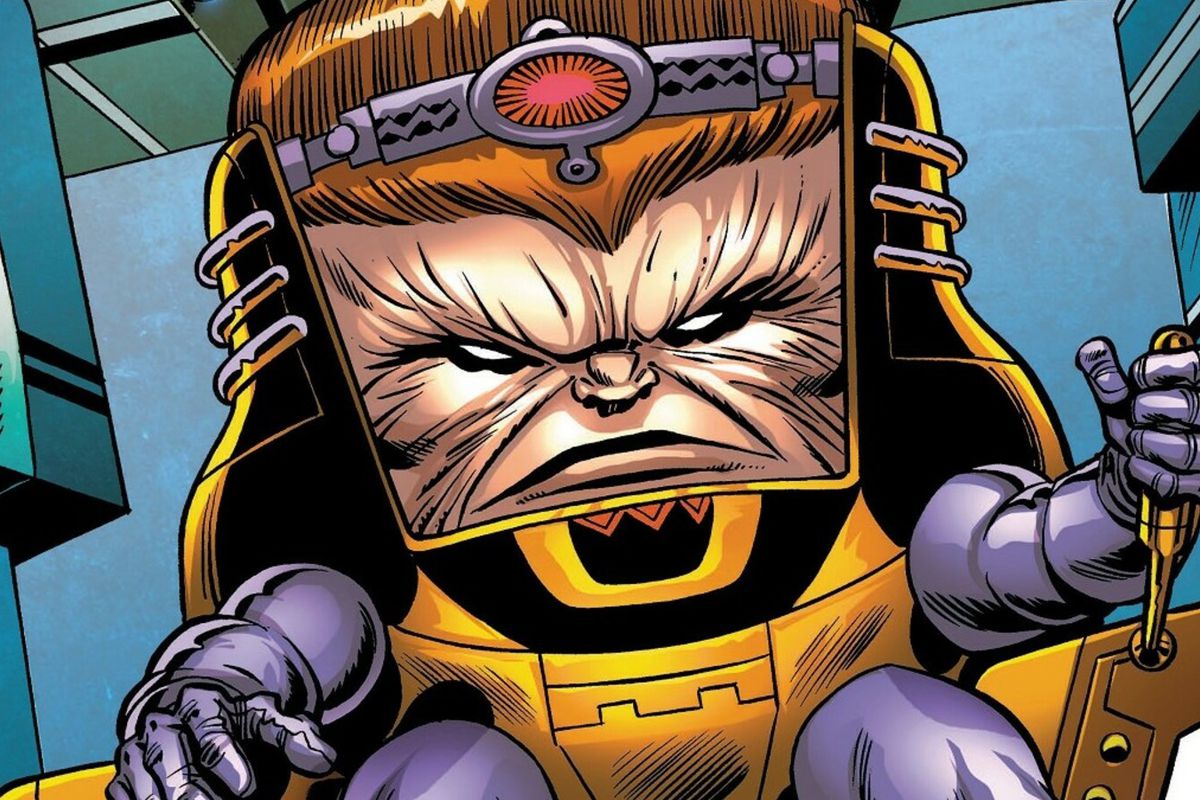 MODOK is another of Marvel Comics' science fiction characters. He is also known by the acronym Mental/ Mobile/ Mechanized Organism Designed Only for Killing.
Initially, the first MODOK was an ordinary human being. His name was George Tarleton, a former employee of AIM, the Advanced Idea Mechanics organization. His mission was arms trafficking, specializing specifically in futuristic weapons.
Tarleton is subjected to medical experiments that seek to increase his intelligence through a substantial mutagenic process. This experiment was indeed successful but gave him a horrible physical appearance.
His appearance is completely abnormal, whereas his head is deformed and abnormally developed. He also has an atrophied body and needs to be in a floating chair to move around. After the experiments, he murders all his creators, thus taking over AIM.
History of MODOK's Publications
Image: Marvel Comics
The first appearance of MODOK is in 1967 in Tales of Suspense #93 and 94, being a frequent enemy of Captain America. His creators were Jack Kirby and Stan Lee.
In 1969, he reappeared again in Captain America #112, continuing in 1969 in issue #120 and in 1971 in issue #133. With his inferiority complex, he needed to harass the hero with physical perfection.
In 1972, he appeared in a story in Sub-Mariner #49 before being the main star as a villain in 1973 in the extended story of the fabulous The Incredible Hul vol. 2 #167 – 170.
By 1975 he made his presence felt in Iron Man #74 and 75, the "Supervillain War" story. Continued his appearances in 1977 in different issues of Ms. Marvel #5, #7, and #9 – 10, where he had encounters with the superheroine Ms. Marvel.
This did not stop here. The battles against Marvel heroes continued, such as Iron Man Annual #4 in 1977, in 1981 in Marvel Two-In-Ones #81 – 82, and in Marvel Team-Up #104. By 1983, he failed to use the fearsome Abomination, his sidekick, in The Incredible Hulk vol. 2 #287 – 290.
A Dreadful Return
Image: Marvel Comics
After the murder of MODOK in Captain America #313 in 1986, he has a dreadful return in the same year in Iron Man #205, appearing that resurrects in 195 in several stories, such as:
Taking AIM in Avengers #386 – 387.
Captain America #440.

The Avengers #388

Captain America #441
Likewise, in the years to come, several attempts were made to improve the version of the character, such as in:
1998, Iron Man/ Captain America Annual.

2001, The Defenders (vol. 2) # 9 and 10.

2005, Captain America and the Falcon #9 and Cable & Deadpool #11.
The character was given a humorous touch on three occasions, such as in 2005 in Wha… Huh? #1, in 2006, in Marvel Holiday Special and Gla – Xmas Special #1. For 2007 he appears briefly in Mutants X – Men #200 and The Uncanny X – Men #488. In the same year, MODOK appeared in Ms. Marvel (vol. 2) #14 – 17, in two miniseries in 2008, such as Marvel 1985 #1 – 6 and Super – Villain Team-Up: MODOK's 11 # 1 – 5.
By 2009, he appears in The Incredible Hulk (vol. 2) #600, Astonishing Tales (vol. 2) #2, and in a single issue MODOK: Reign Delay #1. In 2016, the counterpart of MODOK was created as a successor in MODOK Superior, created by Jeff Parker and Gabriel Hardman in Hulk (vol. 2) #29, where he plays the archenemy of Gwendolyn "Gwen" Poole.
MODOK Biography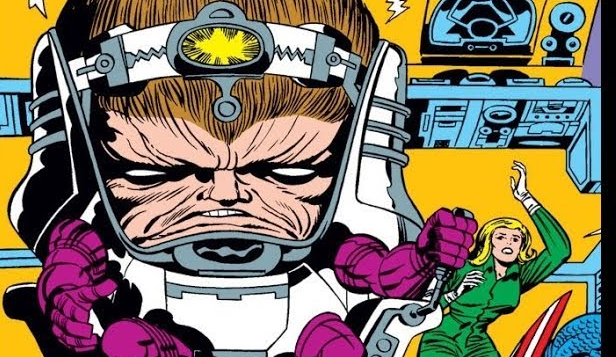 Image: Marvel Comics
There is much to tell about MODOK's biography in its evolution:
George Tarleton
Before becoming MODOK, George Tarleton belonged to the organization founded by his father, Alvin. This company was called AIM, Advanced Idea Mechanics, a criminal organization, and Tarleton was a technician.
Tarleton was born in Maine Bangor. He is transformed into MODOK when he is subjected to an advanced mutagenic process by a Cosmic Cube, who became a man-mind with superintelligence. The formation of his initials has to do with a Mental, Organism, Designed Only for Computing.
But in a lust for power, the already converted MODOC becomes MODOK (Mental, Organism, Designed Only for Killing), so he murders his creators and takes over the leadership of the AIM company. From that moment on, he became a bitter enemy of Captain America, facing countless fights against him and several superheroes.
MODOK Superior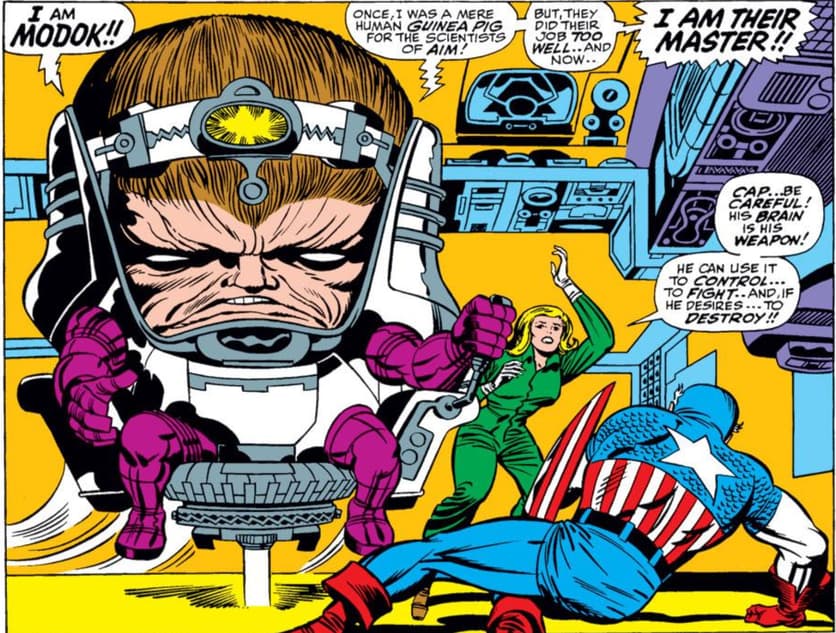 Image: Marvel Comics
MODOK deceives everyone with plans to end the world, which is a simple distraction. For his operation, he used several brain clones that were part of a supercomputer. These were destroyed by Red Hulk, surviving only a brain cloned to be an organic computer, already loaded with the mind of MODOK.
Thus a new MODOK is formed with the appearance of the original MODOK, the intelligence of genius, and the mental powers of the first, with none of its weaknesses, and is called MODOK Superior.
In this new version, he fights again with various superheroes such as the Avengers, Thor, Red Hulk, and others. Between MODOK and Zero/One, a romance is born while they make a truce to fight against the Soldiers of the Serpent.
Agents of MODOK
MODOK Superior had a brief retirement from the battlefields, returning to create a group of assassins he called Agents of MODOK. This organization was intended to be made up of mercenaries willing only to kill.
But, those assassinations were intended only for evil people. MODOK made the serious mistake of recruiting Gwen Poole, thinking she was superhuman. However, upon discovering that she was not, he tried to eliminate her, and she turned against him. She subsequently sent him into space, injured in one eye and with damaged equipment. After a brief period of Gwen's leadership, the organization disbanded.
MODOK's Family Life
MODOK, as such, had no real family but hallucinations driven by his father, AIM founder Alvin Tarleton. The character saw himself with a human wife, children, and a robot daughter, all of which never existed except in his mind.
Powers and Abilities
Image: Marvel Comics
Due to the mutagenic process to which George Tarleton was subjected, he was given hyperintelligence among his abilities. For this, he sacrificed his body, having the largest brain in the world. 
This characteristic gave him enhanced intuition. This way, he could solve patterns and improve his storage and retrieval of information, better structuring both logically and philosophically.
As a predominant ability, he has precognition, with which he can predict strategic and tactical scenarios. His memory is almost perfect, being able to remember every moment. But, on the other hand, his creativity is within the average limits of any human.
In addition, he has telepathy as a psychic ability, able to control large groups or individuals mentally and indifferently. He can also generate force fields to withstand minor nuclear explosions. Through the technology provided by AIM using a wreath, he can concentrate all his mental power on devastating energy rays.
While it is true that he has MODOK powers and abilities, this process generated him to sacrifice his body, which could not support the weight of his brain, being prostrated to a Doomsday chair to be able to move. This also led to accelerated wear and tear of his internal organs.
Other Versions of the MODOK
Image: Marvel Comics
In other versions of the character, we can find:
Marvel Adventures
In Marvel Adventures: The Avengers appears MODOC which stands for Mental Organism Designed Only for Conquest, being defeated by the Avengers.
Ms. Marvel Marvel
MODOK and AIM had several iterations in the two series of Carol Danvers, better known as Ms. Marvel.
MODOT
This version, unlike the original, can walk and does not require a floating chair. It goes by the name MODOT and stands for Mobile Organism Designed Only for Talking, who is a former Nobel Prize contender.
MODOG
This other version has the genocide and Iron Man had an encounter with it in The Invincible Iron Man, second volume.
Marvel Max
Another version of MODOK appears in Marvel Max's US War Machine miniseries.
Ultimate Marvel
This version shows MODOK as a disembodied head in Ultimate Vision. And he appears as a cyborg in Ultimate Armor Wars #2.
Nextwave
Beyond Corporation made at least 4 versions of MODOK inspired by Elvis Presley.
Amalgam Comics
MODOK appears in Iron Lantern #1 as part of the Amalgam Comics imprint, where he crosses paths with DC Comics' HECTOR.
Marvel Zombies
MODOK appears as an alternate version that devours Hawkeye and She-Hulk in zombified versions.
Earth X
In this version MODOK is killed like the rest of the telepaths of the planet when Red Skull activates his powers, using his armchair.
Old Man Logan
MODOK is one of the villains who attacks Danielle's group in Avengers of the Wastelands.
MODORD
A version of MODORD (Mental Organism Designed Only for Roller Derby) is introduced in the miniseries X Men: Serve and Protect.
MODOK: Assassin
MODOK in this version is an assassin of all known superheroes, this occurred in Secret Wars, the Battleworld domain of Killville.
MODAAK
This character was once based on Donald Trump when he was a U.S. presidential candidate, and appears in Spider – Gwen, designed to be a king.
MODOK's Appearances in Other Media
MODOK's appearances have been varied, such as:
Television
Image: Marvel Studios
On the small screen MODOK has appeared in countless occasions, we will try just to mention some of the series:
Iron Man in the voice of Jum Cummings.

Iron Man: Armored Adventures in the voice of Lee Tockar.

The Super Hero Squad Show voiced by Tom Kenny.

The Avengers Earth's Mightiest Heroes voiced by Wally Wingert.

Ultimate Spider – Man voiced by Charlie Adler.

Avengers Assemble voiced again by Charlie Adler.
MODOK in Marvel Cinematic Universe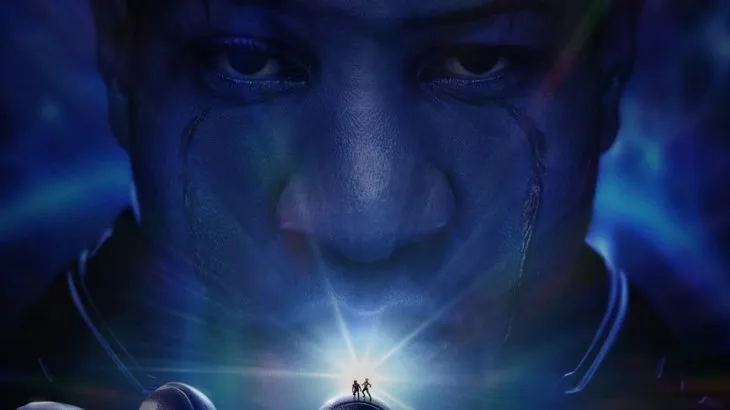 Image: Marvel Studios
There are several incarnations that the Marvel Cinematic Universe (MCU) franchise has considered to bring out MODOK in a film, such as:
In 2008 with the Iron Man movie, it was first considered to exploit the character.
In 2014 it was thought to come out in Captain America: The Winter Soldier, but the role was eliminated.
In 2017 the character did not appear in full in the Agents of SHIELD television series, which was reduced to show only his brain.
The character will finally come out in Ant-Man and the Wasp: Quantumania.
Video Games
Image: Marvel
MODOK can be seen in several video games, so many that we will mention just a few:
Marvel Ultimate Aliance, where he appears as a boss in the voice of Michael Gough.

Marvel Super Hero Squad, where Tom Kenny plays the voice.

Marvel Super Hero Squad: The Infinity Gauntlet, where Tom Kenny again performs the voice.

Marvel vs. Capcom 3: Fate of Two Worlds, and Ultimate Marvel vs. Capcom 3, where he appears as a playable character voiced by Wally Wingert.

Marvel Super Hero Squad Online, where he is a playable and unlockable character in the voice of Tom Kenny.
Music
Music has also played the supervillain MODOK in:
The song "Baby Botterdamerung" by the band Monster Magnet.

The song "MODOK (Supervillain Music)" sung by rapper Akira the Don.
MODOK Toys
Image: Marvel Legends
The toys of this MODOK character have been several, such as:
Action figure for the 1994 Iron Man animated series produced by Toy Biz.

MODOK figure for Toy Biz's Wave 15 in their Marvel Legends toy line in 2006.

Child version of MODOK made by Hasbro in 2010, packaged next to Iron Man, for the Super Hero Squad line.

New minifigure released by LEGO in 2014, which came in the "Hulk Lab Smash" set. The same company released a variant in 2020, where MORDOK could be built with bricks in the Avengers Helicarrier set.

Statue designed and sculpted by the Kucharek brothers in 2011, sponsored by Bowen Designs.

New figure released by Hasbro in 2021 as part of the revival of the Marvel Legends toy line.
Novels
This evil character appears in the paperback novel Iron Man: And Call My Killer… MODOK! Written by William Rotsler.
Collector's Editions
MODOK appears in Bob the Angry Flower in the collectible editions from 1999. Also, in 2007, he appeared in a strip called Thinking Ape Blues.
A Multi-Layered Experimental Villain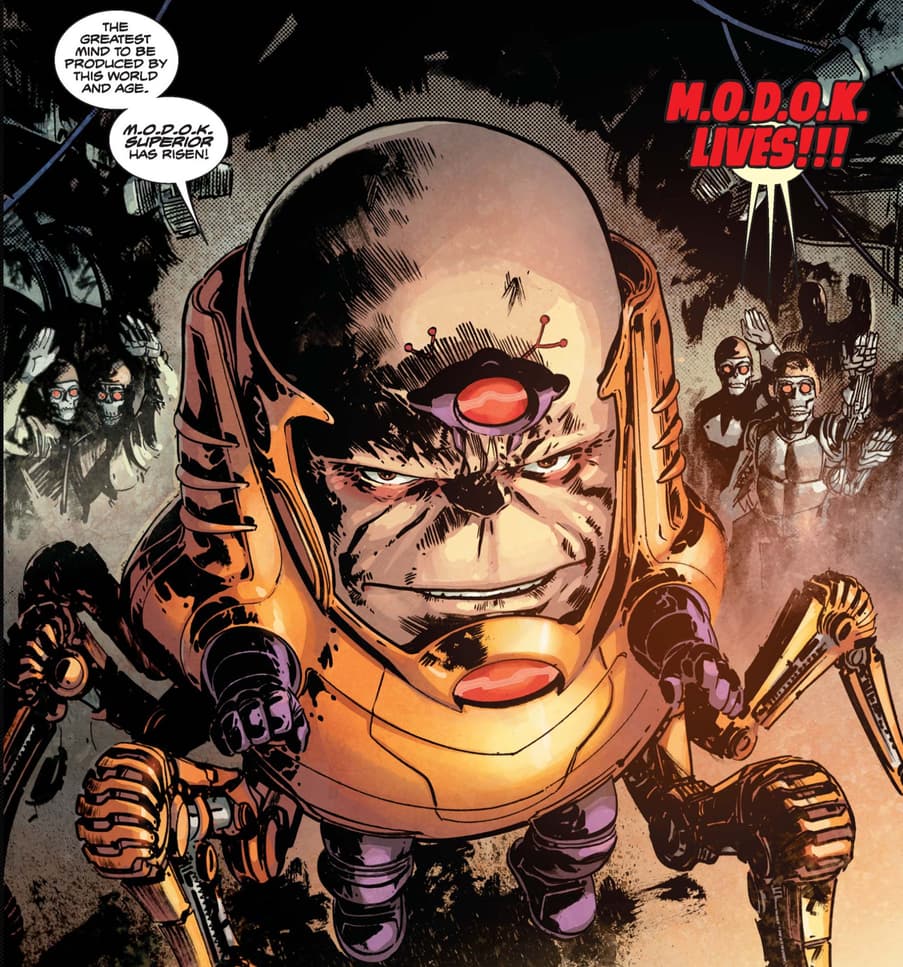 Image: Marvel Comics
MODOK is one of the comic book villains ranked by IGN's list as the 100 best of all time, occupying the 100th place. This villain will soon be seen in the movie Ant-Man 3, where he will debut on the big screen.
This character is one of the most difficult to portray in a film, all because of his strange and abnormal appearance. But in the latest trailer of the film that we have already seen, we can see a great representation, which is worth seeing.
The appearance that we believe this villain deserves after more than four decades of starring in series and miniseries in the Marvel universe. So, we hope a fantastic performance made by the actor Corey Stoll in the movie Ant-Man and the Wasp: Quantumania will be released in 2023.
Featured Image Via Marvel Comics 
Leave a comment