Who Is Lizard? A Look At The Villains In The Spider-Verse
One of the most highly anticipated movies this winter is Spider-Man: No Way Home. Fans are eager to find out what will happen to Tom Holland's Spider-Man after the events of Far From Home (*SPOILER*: Mysterio reveals to the world that Peter Parker is Spider-Man). We already got the action-packed trailer that revealed that Peter will not only have to face off with supervillains from his own universe, but from the other Spider-Verses as well (hello Doctor Octopus and Green Goblin). Given that the trailer also showed fans that the multiverse is going to be ripped open, it's likely we'll be seeing a lot more characters from both the Spider-Verse and the MCU, which is why me and my Comic Years colleague (check out Roman's post on "Who Is Electro"!) are going to be looking at a few of the supervillains that the webbed slinger has faced off with. In today's blog post, I'm asking: who is Lizard?
Who Is Lizard And What Are His Powers?
Image via Marvel
Lizard (alias Curtis "Curt" Connors) was a gifted surgeon from Coral Gables, Florida. He enlisted in the U.S. Army and tended to wounded GIs until a blast injured his right arm and he had to have it amputated. After that, Dr. Connors went back to civilian life as a research technologist and he became obsessed with reptilian limb regeneration. He was able to successfully develop an experimental serum using reptilian DNA and when he tested it on a rabbit, it regrew it's missing paw. Excited about this new development, Dr. Connors injected himself and while he did grow a new arm, he also became a humanoid reptilian monster.
When Dr. Connors is in his human form, he doesn't have any superpowers save for his intelligence in the fields of genetics, physics, biochemistry, and herpetology. When he transforms into Lizard, however, he gains powers that make him somewhat of an enhanced reptile (or maybe it's more like a dinosaur given his size and power). He has superhuman speed, stamina, agility, and reflexes, and can also scale walls using a combination of sharp claws and micro-scales on his hands and feet that act as molecular friction (similar to a gecko). A thick scaly hide protects Lizard from punctures or hits from weapons; a powerful tail can be whipped around to knock things down; and a set of razor-sharp teeth set in a muscular jaw allows him to deliver lethal bites. Of course, Lizard can also regenerate any lost limbs, not just his right arm. Like his reptilian counterparts, he's considered cold-blooded in his lizard form and needs to warm up under sunlight; if he stays in a cold environment for too long, his metabolism will slow drastically and he'll become dormant.
Lizard can communicate and command all reptiles within a mile of himself through limited telepathy. In some appearances throughout his comic history, he's been known to secret powerful pheromones that caused humans to behave violently or he could telepathically compel humans to act our their primal urges via their "lizard brain" (the correct scientific concept is that the emotional control in the amygdala is suppressed).
The History of Lizard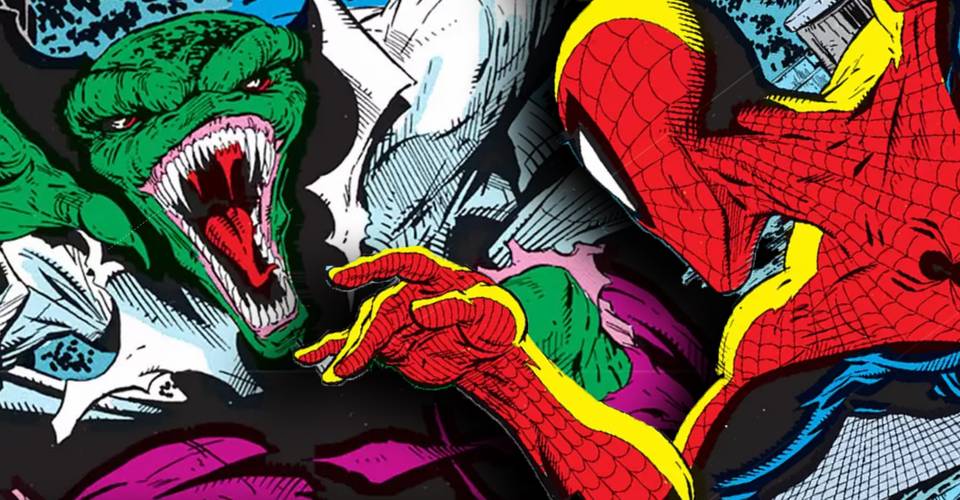 Image via Marvel
The Lizard character was created by Stan Lee and Steve Ditko, and he first appeared in the 1963 issue titled The Amazing Spider-Man #6. Similar to King Shark, he's been portrayed as an animalistic being with little intelligence to a creature that's extremely smart and eloquent, although the majority of portrayals show Lizard has being able to talk and think critically when put in contact with  humans. Because Spider-Man: No Way Home is set to introduce audiences to several of the villains from the Spider-Verse, that version of Lizard is like part of the Sinister Six, a group of supervillains that go up against the web-slinger. The original group consisted of by Doctor Octopus, Vulture, Electro, Mysterio, Sandman, and Kraven the Hunter, but Lizard was part of the group in the Civil War story arc.
Lizard, like many characters in the MCU, has been written and rewritten throughout the years. He's had a few continuity problems through the years, such as whether the Dr. Connors/human part of his being is actually able to control the animalistic part of himself. Some versions show Dr. Connors being in control, whereas in other versions, it appears that Lizard has complete control. There are also some storylines where Dr. Connors/Lizard knows Peter Parker is Spider-Man, but no one is sure how this happened. Dr. Connors also had a son named Billy, but even that changed between versions.
Lizard In Other Media
Image via 2010 Broadway
Besides the upcoming Spider Man: No Way Home movie and an appearance in The Amazing Spider-Man played by Rhys Ifans (starring Andrew Garfield as the web-slinger), the Lizard character has made several appearances in other media. The character's human form was also in Sam Raimi's Spider-Man trilogy (mentioned in the first movie and appearing in the second and third movies by actor Dylan Baker), but never appeared in his reptilian form.
Lizard In Television
Lizard has made appearances in several different animated Spider-Man series throughout the years, including the 1967 Spider-Man animated series (voiced by Gillie Fenwick); the 1981 Spider-Man animated series (voiced by Corey Burton); the Spider-Man: The Animated Series (voiced by Joseph Campanella); in the Spider-Man: The New Animated Series (voiced by Rob Zombie); The Spectacular Spider-Man animated series (voiced by Dee Bradley Baker); in the Ultimate Spider-Man animated series (voiced by Tom Kenny in season one and Dee Bradley Baker for the rest of the series); and in the 2010s Spider-Man animated series (voiced by Yuri Lowenthal). In all of these animated series, Lizard has slightly different characteristics and variations, one of the most intriguing being a vampire version known as Lizard King. 
Lizard In Video Games
Lizard has also been in several different video games featuring Spider-Man. He first appeared in 1984 in the Spider-Man Questprobe game. His most recent appearance was as a playable character in the 2017 Lego Marvel Super Heroes 2. The supervillain has ranged from a short appearance in a game to playing a major role in the overall plot.
Lizard As Toys And Collectibles 
You know you've made it big when you have a toy or action figure of yourself! The first Lizard action figure was produced by Mego in 1974 as part of their "World's Greatest Super-Heroes" line of toys. There have been several other iterations of the Lizard action figure between the years of 1994 to 2006 from Toy Biz, and then they were later reissued by Hasbro. The latter released a Lizard toy as part of the 2007 Spider-Man 3 film tie-in based on his appearance in the video game of the same name. There were other tie-ins for the 2008 animated TV series, The Spectacular Spider-Man and the Amazing Spider-Man film tie-in toy line in 2012.
Lizard In Live Performances 
Lizard also made an appearance in the fraught Broadway show, Spider-Man: Turn Off the Dark, played by Brandon Rubendall. He also appeared in the Marvel Universe: LIVE! arena show as a member of the Sinister Six.
Catch a glimpse of Lizard in the Spider-Man: No Way Home trailer:
You can see Lizard in Spider-Man: No Way Home, which will be in theaters everywhere December 17, 2021.
Do you feel more excited to see Lizard in action now that you know the origins and history? Let us know in the comments below!
Featured image via Sony Pictures
Keilin Huang is a freelance writer that likes the Oxford comma, reading from her neverending pile of books from the library, and Reeses peanut butter cups. She thanks her Dad for introducing her to his Superman comics and probably majored in Journalism because of Lois Lane. Contact her at [email protected]
curtis connors
lizard
Spider-Man
Spider-Verse
Leave a comment