Who Is Kraven The Hunter? A Look At The Villains In The Spider-Verse
One of the most highly anticipated movies this winter is Spider-Man: No Way Home and it has exceeded expectations if the box office numbers are any indication. The film takes place after Mysterio revealed to the world that Peter Parker is Spider-Man and there were so many things to unpack that I won't get into (that's what our spoiler review of Spider-Man: No Way Home is all about). One of the biggest draws of the movie was being able to see the crossover of Spider-Man villains from other multiverses all coming together, which fans already knew was happening thanks to the action-packed trailer (hello Doctor Octopus and Green Goblin). My colleague and I have already looked at a few of the Spider-Verse villains (who are Electro and Vulture, for example), but in today's blog post, I'm asking: who is Kraven the Hunter?
Who Is Kraven the Hunter and What Are His Powers?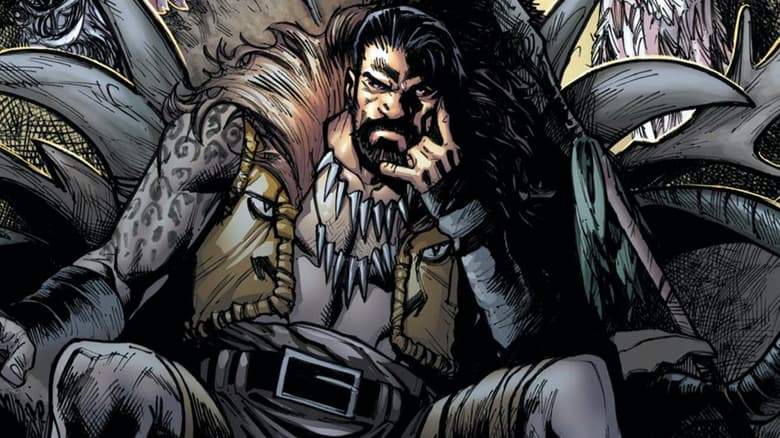 Image via Marvel Comics
Kraven the Hunter (alias: Sergei Kravinoff) is a Soviet immigrant who escaped with his family to the United States in 1917 after the Russian nobility was destroyed by the Revolution. He's a maniacal big game hunter and wants everyone to know that he's the greatest hunter in the world. He prefers to take down large animals with his bare hands (no guns or bows and arrows for this supervillain), but he still hunts by a code of honor, choosing to hunt fairly.
Kraven regularly ingests a potion made from various unnamed jungle herbs which give him superhuman physical abilities. His body is more durable and resistant than the typical human body and he can withstand great impact forces (e.g. falling from great heights or being repeatedly beat up by a strong opponent). The potion also acts as a fountain of youth of sorts: despite being over 70 years old, he appears to have aged little, if at all, and looks as he did 40 years ago. Kraven has enhanced sight, hearing, and smell, which make him a formidable tracker and a worthy adversary to the creatures that he hunts.
Even before Kraven started to take the jungle potion, he was an Olympic-level athlete and gifted tactician, hunter, and hand-to-hand combatant. All of these became enhanced thanks to the potion. He also knows a lot about pressure points in both animals and humans. When he strikes at these points, he's able to incapacitate even the most powerful of foes. Lastly, he's familiar with many exotic poisons and tranquilizers, which he utilizes while hunting.
The History of Kraven the Hunter
Image via Marvel Comics
Kraven the Hunter was created by Stan Lee and Steve Ditko, and first appeared in the August 1964 The Amazing Spider-Man issue #15. He's one of Spider-Man's longest standing enemies and is a founding member of the Sinister Six. There have been several other versions of Kraven the Hunter throughout the years, some of them quite fascinating. In Marvel 1602, he was a butcher in addition to a hunter (makes sense), and in Marvel Noir, he was an animal trainer in a circus. I think my favorite version though, is a Steve Irwin-esque character: In the Ultimate Marvel series, Sergei Kravinoff is a Russian-Australian and the host of his own TV reality show, where he hunts down dangerous animals and intends to hunt and kill Spider-Man on live television in order to boost his ratings. He's arrested after being knocked out by a single punch from the webslinger and his show is canceled.
The Supervillain In Other Media
Image via ABC Television
We've never seen a live-action Kraven the Hunter although his spear appeared in the end credits of the Andrew Garfield-led The Amazing Spider-Man 2 in 2014. The supervillain would've appeared in The Sinister Six film and in The Amazing Spider-Man 3 before the franchise was canceled. However, earlier this year, we learned that Aaron Taylor-Johnson (he played Quicksilver for a hot second in Avengers: Age of Ultron) was cast as Kraven in a live-action film coming from Sony. There's no release date yet, but having a Kraven the Hunter film would fit in nicely with the Venom films and the upcoming Morbius film with Jared Leto. In the meantime, Kraven the Hunter has appeared in several different media, including television, video games, newspapers, and even a podcast.
Kraven the Hunter In Television
Kraven the Hunter's first television appearance was in The Marvel Super Heroes animated series "Iron Man" segment episode "Cliffs of Doom", voiced by Chris Wiggins. His most recent appearances were in 2017, first in the Spider-Man animated series, and later in the Avengers: Black Panther's Quest animated series episode "T'Challa Royale." Both appearances he was voiced by Troy Baker.
The Villain In Video Games
The character has appeared in several video games about and starring Spider-Man. A majority of them appear to have him as a boss, both as a playable character and just as a cameo. His most recent appearance was in Marvel's Spider-Man 2.
Kraven The Hunter In The Funny Pages
Kraven the Hunter has appeared in multiple storylines in the newspaper edition of The Amazing Spider-Man. In the most recent story, Kraven had been paroled from prison for helping medical science by locating a rare plant. 
Sergei Kravinoff the Broadway Star
Kraven the Hunter appeared in the Broadway musical Spider-Man: Turn Off the Dark, portrayed by Christopher Tierney. This version of Kraven was a scientist who was experimented on by the Green Goblin and manipulated into joining the Sinister Six.
Marvel Heroes and Villains Have A Podcast?
A future version of Kraven appears in a Wolverine alternate universe (the Old Man Logan's timeline) on the Marvel New Media/Sirius XM podcast Marvel's Wastelanders: Old Man Star-Lord, voiced by Patrick Page.
Kraven the Hunter isn't part of the Spider-Man: No Way Home trailer, but you can catch other members of the Sinister Six:
There's no release date for the Taylor-Johnson led Kraven the Hunter film yet, but Spider-Man: No Way Home is currently playing in theaters everywhere.
Do you have a better sense of who is Kraven the Hunter? Are you looking forward to Aaron Taylor-Johnson playing him? Let us know in the comments below!
Featured image via Marvel Studios
Keilin Huang is a freelance writer that likes the Oxford comma, reading from her neverending pile of books from the library, and Reeses peanut butter cups. She thanks her Dad for introducing her to his Superman comics and probably majored in Journalism because of Lois Lane. Contact her at [email protected]
Kraven the Hunter
Sergei Kravinoff
Spider-Verse
Leave a comment