Who Is Drax The Destroyer From Guardians Of The Galaxy?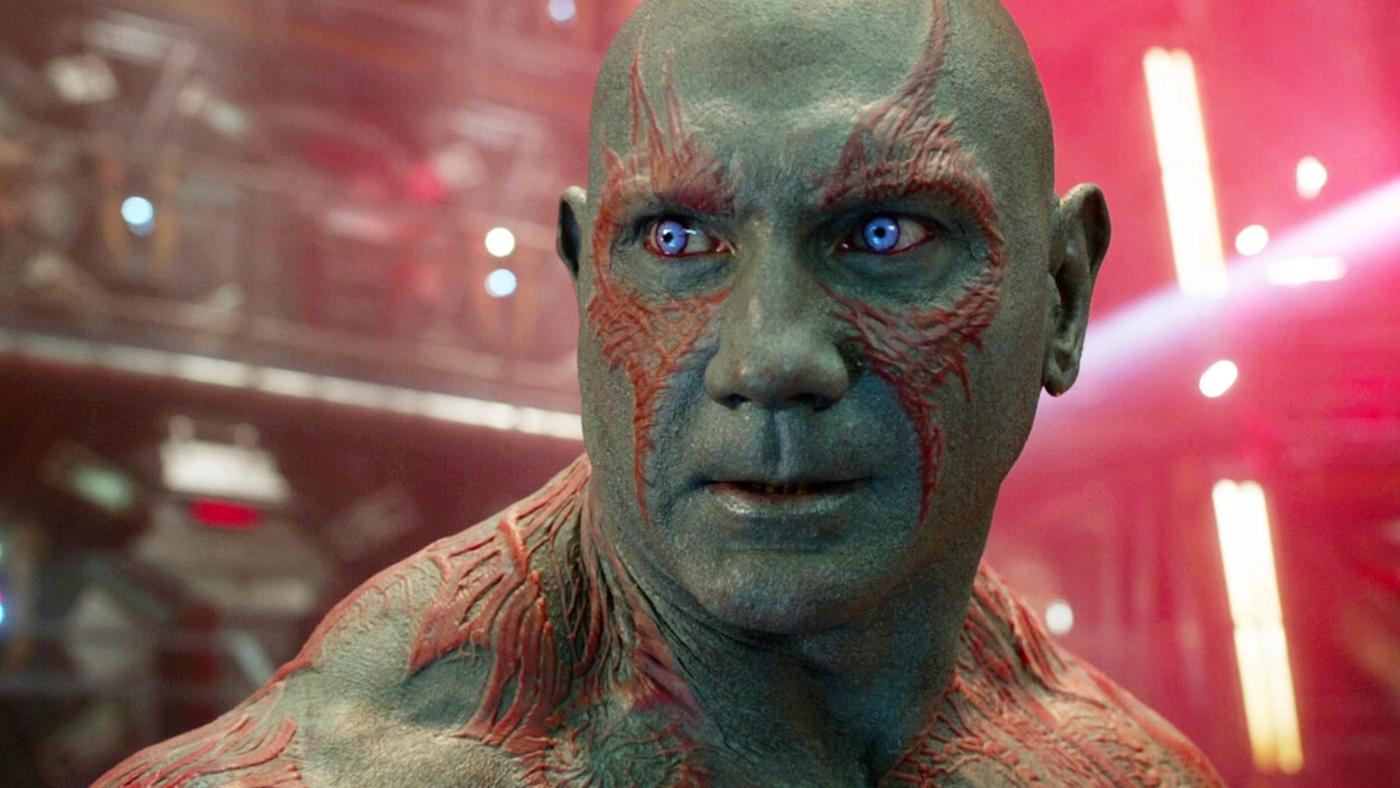 Arthur Douglas is better known as Drax the Destroyer, another fictional superhero from Marvel comics. Artist and writer Jim Starlin and writer Mike Friedrich created him. Drax appears as part of the Guardians of the Galaxy team.
Drax has various abilities and powers that give him superhuman strength, flight, and energy management. Although in some versions, he is seen as diminishing all of these.
Drax's origin story in the comics is an orphaned human being. Thanos, the supervillain, killed his parents. As the latter was to be destroyed, Kronos took Arthur's spirit and placed it in another, much more powerful body, giving birth to Drax, The Destroyer.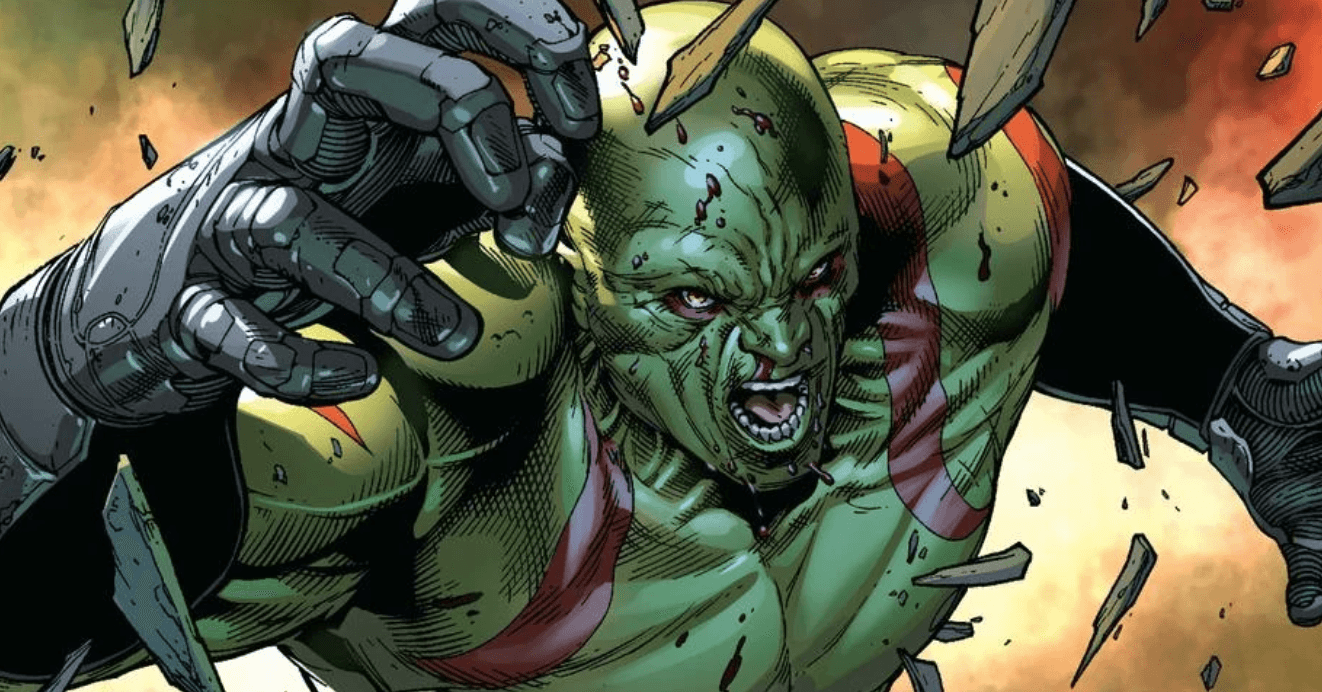 Image via Marvel Comics
Who is Drax?
The first time Drax appears is in 1973 in The Invincible Iron Man #55, who had a recurring role in Captain Marvel in the same year with the number 27. He appeared again in 1975 in Warlock #10, in 1976 in Iron Man #88 and Warlock #15, and 1977 in Logan's Run #6.
In 1981 he appeared in Thor #314, in 1982 in Avengers #219, and in that same year, in Avengers #220, he was killed by Moon Dragon. By 1990, Drax was resurrected in Silver Surfer vol. 3 #35, where his role was frequent until issue #50.
He appears in 1991 in The Infinity Gauntlet # 1 – 6, and he also comes out from 1992 – 1995 in Warlock and the Infinity Watch # 1 – 42, belonging to the Infinity Watch team. He reappeared from 1998 to 1999 in Warlock vol. 3 # 1 – 4 and in 2001 in Captain Marvel Vol. 4.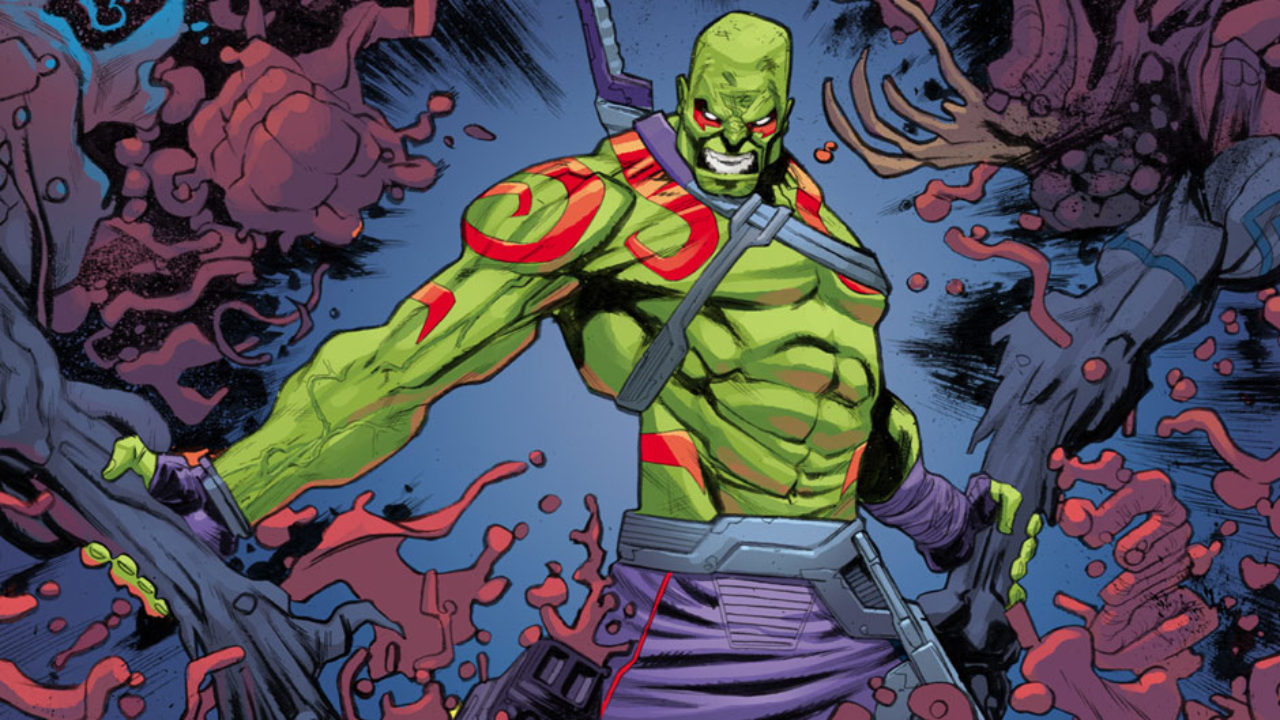 Image via Marvel Comics
In 2004, Drax was in a miniseries consisting of 4 issues that bore his name, and he starred in 2005 in Annihilation: Nova # 1 – 4 and in 2006 in Annihilation: Nova # 1 – 6. Also, in 2007 he appeared in Nova vol. 4 # 4 – 7 and in 2008 in the story of Annihilation Conquest. As a member of the Guardians of the Galaxy, he appeared in the series in 25 issues.
Similarly, he had an unrepresentative role in 2010 in The Thanos Imperative # 1 – 3, where he died. He reappeared in 2012 in Avengers Assemble in issues 4 – 8, where no reference was made to his death. He will make his relaunch in Marvel NOW in the Guardians of the Galaxy vol. 3 movie, appearing in a starring role.
Drax's Biography
In one of the attacks on Earth, Thanos invaded Arthur Douglas' car, where he travelled with his daughter Heather and wife. Heather survived the attack, and Thanos' father adopts her, so she is raised on Titan, later becoming a Moon Dragon.
Needing an opponent against Thanos, Kronos, the Titan god, and Mentor, capture Arthur's spirit and have it placed in a new body that is much more powerful. This one is renamed "Drax The Destroyer," whose mission is to eradicate Thanos for good.
Image via Marvel Comics
Iron Man joins Drax in this fight against Thanos, but also against the Blood Brothers to stop them from getting the Cosmic Cube. However, Thanos flees, and it is Captain Marvel who defeats him. Drax fights Captain Marvel, seeing that his mission has been taken away from him.
Subsequently, he wanders through space, waiting for Thanos to resurrect. Drax destroys him in battle alongside Adam Warlock, The Avengers, and Captain Marvel. Sometime later, he meets Moon Dragon, who is his daughter. Together with Thor, they search for knowledge, stumbling upon the planet Ba – Banis, where a whole outcome takes place, and Moon Dragon remains a threat to Drax, forcing him to vacate his artificial body.
From Guardians of the Infinity to Guardians of the Galaxy
Adam Warlock chooses Drax to be the protector of the Power Gem, thus forming ranks in the Infinity Guard after Thanos is resurrected from death. So, Drax, along with other heroes, fights against Thanos to avoid getting the Infinity Gauntlet.
The energy vampire Rune stole the Gems, causing the Infinity Watch members to go their separate ways, Drax returning with Moon Dragon to Titan. She asks Kronos to restore Drax's mental capacity at the cost of certain powers and physical energy, returning him to his original state.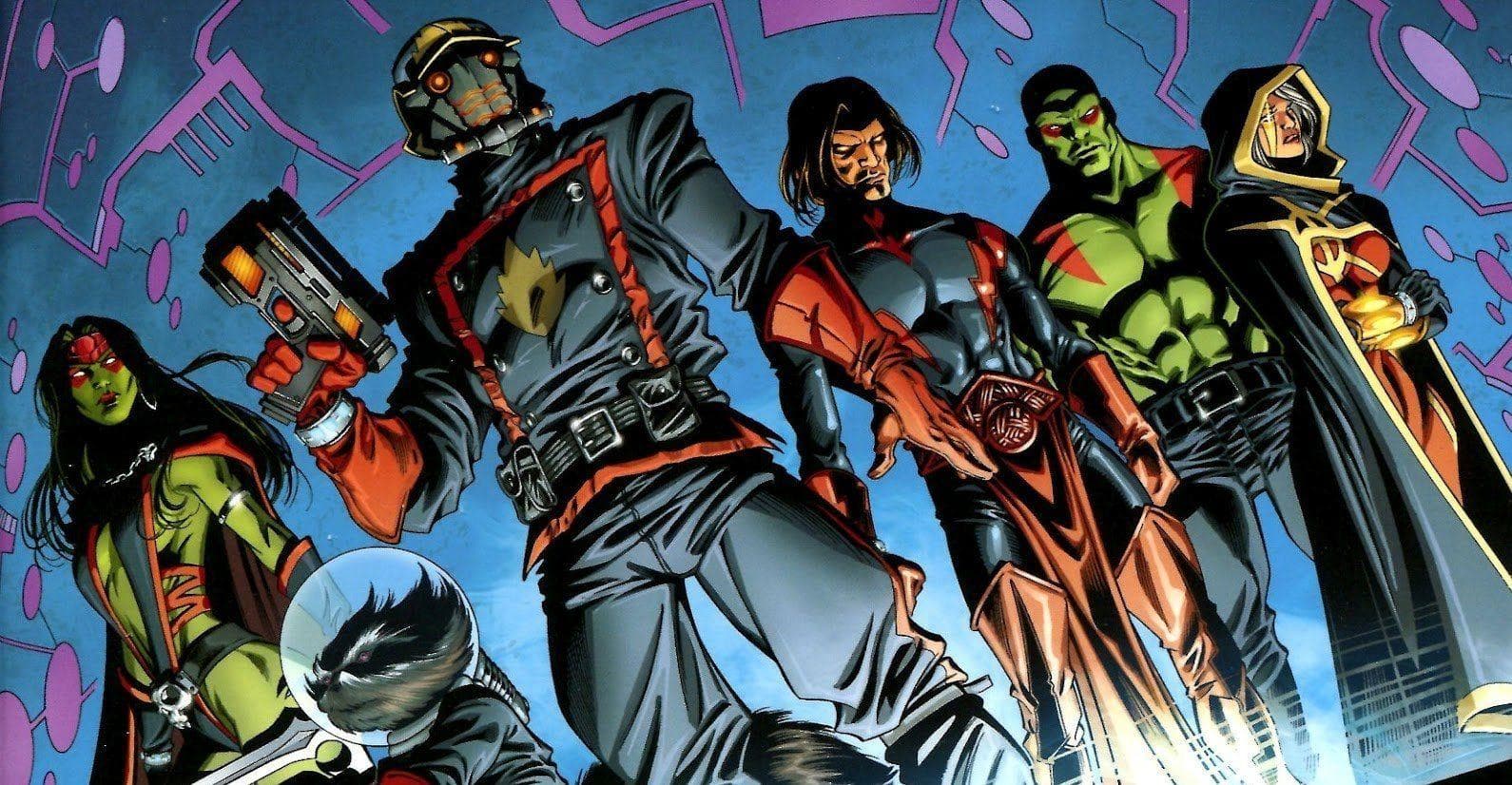 Image via Marvel Comics
Drax, while searching for Moon Dragon, got into a fight with Genis – Vell. He was transferred to a microverse with Genis, where he found acceptance and peace, at least for a while. Then he was seen on a ship as a prisoner, next to the Blood Brothers, Lunatik and Paibok.
In a fight, Drax dies, resurfacing later. After a whole adventure, Star-Lord finds and recruits him to join the new Guardians of the Galaxy team. That is a difficult period where the Guardians of the Galaxy are forced to ally with a resurrected Thanos.
Drax and Thanos travel to an alternate reality called "Cancerverse," where madness attacks Drax. He kills Thanos, later appearing on Earth with the Guardians without mentioning this fact.
Powers and Abilities
Since his beginnings, Drax has had powers and abilities based on superhuman strength and resistance, such as handling cosmic energy and projecting lightning with his hands. Likewise, he can travel through space at high speeds without food, water, or air.
Because of the mission he was given since his renaming, Drax can sense Thanos at a great distance. When he was resurrected, his physical abilities improved notably increased beyond the original levels, but he was not the same mentally, suffering a disability at that level.
Image via Marvel Comics
Because of this, his ability to sense Thanos changed, and now he could detect any being that had been in contact with Thanos or in a premonitory way if they would be short.
For a prolonged time, Drax had the Power Gem, which gave him superhuman physical powers. Still, because of his mental disability and imagination, he could not use the Gem to augment his physical abilities. When in contact with the Gem, his strength was comparable to different incarnations of Hulk, without the need to fuel his rage.
By 2006, in Annihilation, Drax underwent a remarkable physical change. He had less superhuman physical strength and lost the ability to fly and energy, but he regained his original intellect, acquiring the ability to handle knives in battle. And temporarily, he was able to pass through Thanos' force field.
Appearances of Drax
Drax's appearances have varied in television, video games, and movies.
On Television
On the small screen, we can find him in:
Silver Surfer animated series

 where Norm Spencer voices him.

Ultimate Spider-Man

, second season, in the episode of "Guardians of the Galaxy" in David Sobolov's voice.

Avengers Assemble

 in the episode of "Guardians and Space Knights" voiced by David Sobolov.

Hulk and the Agents of SMASH

 in several episodes in the voice of David Sobolov.

Marvel Disk Wars: The Avengers

, in episodes 24 and 25, voiced by Yoshinori Sonobe.

Guardians of the Galaxy

, series where David Sobolov repeats playing the voice of Drax.

Lego Marvel Super Heroes – Guardians of the Galaxy: The Thanos Threat

 with David Sobolov again.
Image via Disney
In Video Games
In video games, Drax appears in:
Marvel Super Heroes.

Lego Marvel Super Heroes

, playable character.

Marvel: Avengers Alliance

, unlockable character.

Marvel Heroes

, non-playable character.

Disney Infinity: Marvel Super Heroes

, playable character.

Marvel Contest of Champions

, playable and unlockable character.

Lego Marvel Super Heroes 2

, playable character.

Marvel Strike Force

, a playable character with Dave Bautista.

Marvel's Guardians of the Galaxy 2021

, where he is a non-playable character.
Movies
On the big screen, Dave Bautista has always played Drax in all of Marvel's live-action movies, such as:
2014, 

Guardians of the Galaxy

.

2017, 

Guardians of the Galaxy Vol. 2.

2018, 

Avengers: Infinity War

.

2019, 

Avengers: Endgame

.
Drax is one of the Marvel characters that have had different appearances in different media, primarily in movies, TV series, and video games. Not to mention that he has been present in several of the merchandise associated with Marvel. 
We will see him again this 2023 with the movie Guardians of the Galaxy 3, where actor Dave Bautista will play him again.
Leave a comment