What Is The Secret Invasion? The Alien Threat To Nick Fury And The Avengers
Nothing could be further from the truth for those who believe that the Golden Age of comic books is over. All Marvel superhero fans are looking forward to what's next. And one of their upcoming premieres will be Secret Invasion.
This series will premiere on Disney+, is based on a Marvel comic book series and will bear the same name. The show will be set in the Marvel Cinematic Universe (MCU) and share continuity with the franchise's movies.
So, to all comic book fans, follow Nick Fury and his allies, who are coming with everything. In their adventures, they will continue trying to thwart a Skrull invasion of Earth.
What is Secret Invasion About?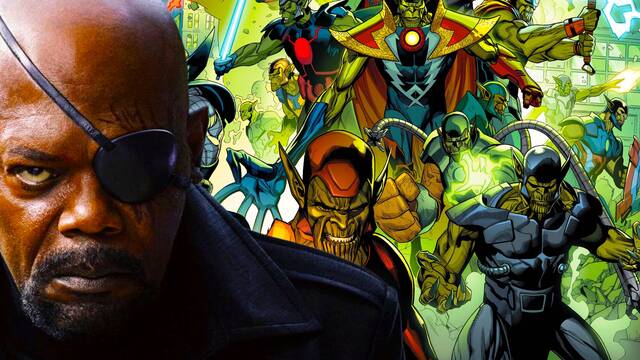 As it usually happens in these cases, the series' plot is not yet fully revealed. But, we can now give some glimpses of light if we look at the origins of the comics.
Thus, the current series points to that story in the eight-issue Secret Invasion miniseries published in 2008. This story was created by Brian Michael Bendis and Lenil Francis Yu, where a large-scale invasion of the Earth by the Skrulls is narrated.
The Skrulls, for those unfamiliar, are an alien race. Their primary ability is modifying their appearance. So, throughout the stories, they have made their own, replacing many of the superheroes of the Marvel Universe for years.
The trigger for the series was lifted at the end of Captain Marvel. In addition, if you watched the post-credits scenes of Spider-Man: Far From Home, you must have also noticed that Marvel left a puzzling open plot.
In the scene, we saw how the Skrulls, represented by Talos, were long hidden on Earth. But the shocking point was learning that Nick Fury was somehow directing them.
This kind of intergalactic refugee had their origin story with Kly'bn, who was the last of an ancestral race of Eternal Skrulls. Kly'bn was a king, and they wrote a sacred book next to his queen, Sl'gur't. In it, they prophesied the destruction of their planet and refuge on Earth. All this, undeniably, would produce a Secret Invasion.
What needs to be discovered is whether Kly'bn will be present in this Disney+ series, Secret Invasion. But, what Marvel Studios' Kevin Feige did promise, is that it will be a political paranoia thriller. The Skrulls will be seen as never before, making more than one wonder who can be trusted.
Who is Who in Secret Invasion?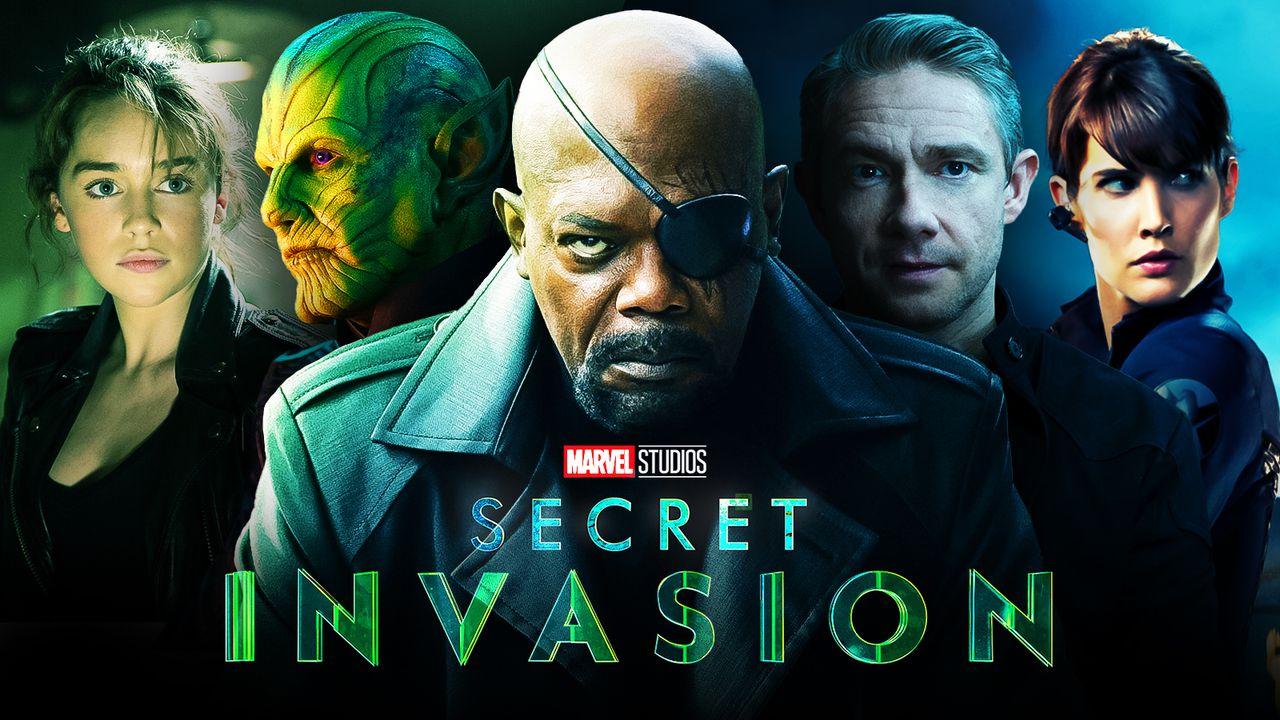 Image: Marvel Studios
Now let's explain five cast members and their characters.
Nick Fury
Nick Fury is one of the most popular and beloved characters in the different decades of comics. He is a spy, founder of the Avengers and former Director of S.H.I.E.L.D. In Secret Invasion, he worked with the Skrulls in deep space before returning to Earth.
Fury has long remained in this deep space, after the outcome of his colleagues in Avengers: Endgame, who ended up dead. Fury is still trying to find his place in the world.
This character discovers a rebel group of that race conspiring to invade Earth. So, he makes it his mission to stop them. In fact, he is the perfect man to fulfil this mission.
In Secret Invasion, we will continue to see actor Samuel J. Jackson playing Nick Fury. Who has previously been present in other Marvel movies, such as:
Iron Man (2008)

Iron Man 2 (2010)

Thor (2011)

Captain America: The First Avenger (2011)

The Avengers (2012)

Captain America: The Winter Soldier (2014)

Avengers: Age of Ultron (2015)

Avengers Infinity War (2018)

Captain Marvel (2019)

Avengers Endgame (2019)

Avengers: Endgame (2019), and

Spider-Man: Far From Home (2019).
So, according to the expectations of the actor Jackson, in Secret Invasion, will seek to delve into the past and future of this character. Among other things, being able to explore some more of Fury's rudeness. Delving into the past and delving deeper into his life.
Sonya Falsworth
Image: Marvel Studios
Sonya Falsworth is a high-ranking M16 agent and a former ally of Fury. This character seeks to protect England's national security interests during the infiltration.
The Secret Invasion series is one character with an antagonistic presence. It is still unknown if she will work with or against Fury. It is believed that the version of Falsworth to be presented in this will be the daughter of James Montgomery Falsworth.
This role would put her in the position of being the heir to the Union Jack title. It may also, failing that, be the viaticum for the introduction of the English superhero into the franchise.
The actress who will play Sonya Falsworth will be Olivia Colman, who will make her MCU debut with Secret Invasion. Who on television has given very good performances as Queen Elizabeth II in the last seasons of The Crown on Netflix.
Mariah Hill
Image: Marvel Studios
Mariah Hill is a former high-ranking S.H.I.E.L.D. agent who works closely with Nick Fury. But she has been out of touch with him for some time now. The Secret Invasion series has allowed Smulders to show a greater degree of depth about who Hill is and her previous appearances.
Actress Cobie Smulders will play Mariah Hill. Who has appeared in other Marvel films such as:
Jack Reacher: No Return (2016)

Jack Reacher: Under the Crosshairs (2012)

The Avengers (2012)

Avengers: Age of Ultron (2015)

A Secret Place (2013)

Spider-Man: Far From Home (2019)

Avengers: Endgame (2019)

Captain America and The Winter Soldier (2014)

Avengers: Infinity War (2018)

Spider-Man: No Road (2021)

Captain America (2011)

The Marvels (2023)
Talos
Image: Marvel Comics
Talos is the leader of a cult called the Skrull and is an ally of Nick Fury. This character arrived on Earth more or less around the 90s, where he met Captain Marvel. From that moment on, he showed himself as a faithful ally of the humans.
With the consent of the person involved, one of his functions was to replace Nick Fury on Earth. Thus, Fury took the opportunity to rest in a spaceship in outer space next to another group of Skrulls.
The actor who will play this character is Ben Mendelsohn. Who has done other Marvel movies like:
Batman The Dark Knight (2008).

Captain Marvel (2019)

Batman The Dark Knight (2012)

Spider-Man: Far From Home (2019)

Marvel Studio (2023)
G'ian
Image: Marvel Comics
G'ian is the daughter of Talos. Her personality is quite curious; she has a mix of punk and refugee girl. She has a strong resentment against Nick Fury for not keeping his promise "A new home for the Skrulls".
The interpretation of G'ian as a child was played by Auden L. Ophuls and Harriet L. Ophuls in Captain Marvel (2019), an MCU movie. Currently, it will be Emilia Clarke who will play this role.
Clarke has appeared in other Marvel movies like Captain Marvel (2019), but her real debut will be with Secret Invasion. So, it is attentive to the development of her role that could catapult her to other interpretations in the MCU.
More About the Secret Invasion Series
Image: Marvel Studios
As part of Phase Five of the MCU comes Secret Invasion, which is scheduled to premiere on June 21, 2023, after having begun filming on September 1, 2021 in London. 
The series will have six episodes and complete Phase Five of the MCU. It comes from none other than Kyle Bradstreet. Accompanied in the direction of Ali Selim and Thomas Bezucha.
The script of the long-awaited series is in charge of writers Tucker and Brant Englestein, who will not seek to match the scope of the original comic. They were also inspired by John le Carré's Cold War espionage novels.
As is often the case with productions set in shared universes, the cast comprises old MCU acquaintances, joining them with new faces to make a real feast. 
The casting of this new MCU production is wonderful. We have remarkable names like Emilia Clarke, Olivia Colman, Kingsley Ben-Adir, and Christopher McDonald. They could not miss Samuel L. Jackson, Ben Mendelson, Cobie Smulders and Martin Freeman. What makes, and not in vain, fans are eagerly awaiting this release.
Featured Image Via Marvel Comics / Marvel Studios
I am a circus aerialist influenced by Dick Grayson and Spider-Man. Fortunate to write about the characters that inspired me. I also have a Bachelor's degree in Political Science and a Master's degree in International Trade.
Leave a comment