New Carnage Comic Features Twist in Host
Spoiler warnings for any fans of Marvel's new Carnage comic! The latest preview for issue #2 appears to feature the alien parasite finding a new victim to use as a host. Marvel is releasing the second issue on April 27th.
Who is the 'Artist?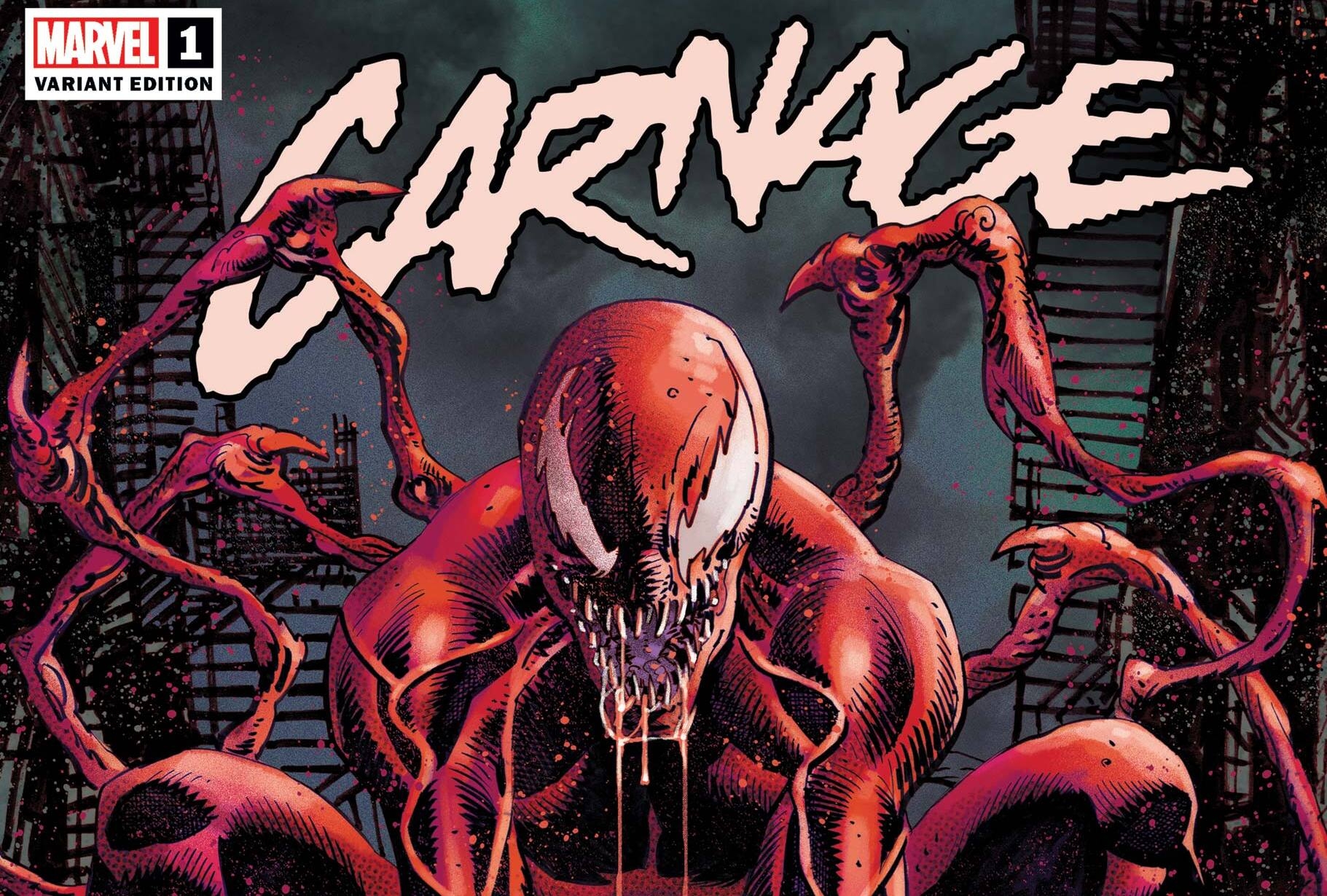 Image: Marvel
The writer for the series, Ram V, seems to be taking the series in a slightly different direction. The original host Cletus Kasady split from the parasite in the last issue. The newest preview for issue #2 shows the virus, named Carnage, trying to take control of 'the Artist.'
We don't know a lot about 'the Artist' at the moment, so we're sure more details will come in the next issue. However, what we do know is pretty dark – 'the Artist' is a serial killer! Naturally, then, the Artist is hopeful that he can join with Carnage. You can expect that he's hoping for something similar to the relationship Carnage had with Cletus Kasady.
Hydro-Man Returns in New Carnage Comic
Image: Marvel
Furthermore, if that wasn't enough, Carnage captured another famous face from the Marvel series – Hydro-Man. If you don't recognize him, then where have you been?! Hydro-Man has been Spider-Man's enemy for a long time now. From the preview, we can guess that Carnage is attempting to create a connection with Hydro-Man, too.
As part of this connection, Carnage hopes to take Hydro-Man's ability to manipulate water and use it for himself. In this preview of the newest Carnage comic, the titular character says, "In taking a trophy, I too am transformed."
Feeling Sorry for Shayde
Image: Marvel
The conversation is quickly cut short by Jon Shayde's arrival. Shayde has been investigating the Artist and his recent spate of murders. He tries to take control of the situation, but Carnage has other ideas. Unfortunately for Shayde, none of these ideas are good. Hydro-Man bonds with Shayde, who appears to be the actual new host in a surprising twist for the new Carnage comics.
The last shot of the preview of the new Carnage comic features Carnage joining closely around the detective. Carnage cruelly tells Shayde that the detective will "survive." Sadly, we have a feeling that this survival isn't going to be the greatest time for Shayde.
However, it seems that things are going to get even worse for Shayde. The synopsis for issue 2 mentions how the bond between Cletus and Carnage was "unique even among symbiotes." Then, it goes on to describe how "Cletus' codex has found a new home, leaving the Carnage symbiote adrift, alone… and deadlier than ever before!"
New Carnage Comic Flashback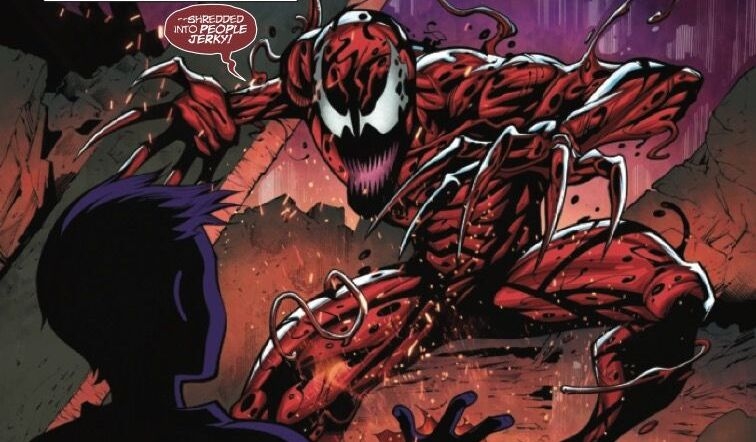 Image: Marvel
In the very first issue of the new Carnage comics, readers saw a flashback of Cletus' time as a youngster. Even at such a young age, Carnage had bonded with Cletus and had dark intentions. The two of them work together to try and help another child. This individual wanted to murder some bullies living inside a juvenile detention center.
Everything appeared to be going as planned and both Cletus and Carnage were prepared to do the deed. However, the child decided to change his mind at the last minute and backed out of committing the murder. The flashback scene ends with Cletus and Carnage being confused about this sudden change of mind. We even saw a split-second of this deadly duo hesitating to kill the bullies before leaving.
Perhaps this moment of hesitation could be what ends up helping Shayde in the future. It might be that Shayde could use his sense of justice as a detective to put Carnage on the right path. If so, it would be interesting to see where things continue for this duo.
Kendrick Lim worked on the cover art, alongside variants from Iban Coello, Jesus Aburtov, Gabriel Dell'Otto, Kyle Hotz, and Alex Gomes. You can get your hands on the new Carnage comic on April 27th.
Hi! I'm Arvyn, and I'm an English teacher from the UK. I've been teaching English online for over 4 years to students from all across the world and all ages. Outside of work, I'm a huge fan of reading, video games, and playing with my adorable kitties. See ya!
Leave a comment