Loki Episode 4 Review: A New Nexus Event Changes Everything For Our Trickster Gods
Welcome to the end of the worlds in episode 4 of Loki in "The Nexus Event." With only a few episodes left to go, the latest MCU show demonstrates again how these shows manage to encapsulate stories that are both epic and intimate in scale. As we return to Loki week after week, we find ourselves asking the question that Thor always asked his younger brother. "What is it that you want, Loki?" And we ask the question that Loki has been asking himself, and the rest of us have been asking weekly. "Who are you really, Loki?"
These questions of identity, agendas, and motivations have always endured in the heart of this character. With each episode, Loki peels back the layers of everyone's favorite trickster god to find out what lies beneath. And at the same time, we may be peeling back the veils of the multiverse to learn how many variants of Loki there truly are. Let's dive into this new Nexus Event with Loki, Sylvie and the TVA in our episode 3 review.
Finding Love At The End of the World
Image via Marvel/Disney+
Spoilers ahead for episode 4 of Loki: "Nexus Event"
We return to our intrepid anti-heroes of Loki and Sylvie in having a tender moment "The Nexus Event" as the world falls down around them. Loki and Sylvie sit holding hands, prepared to face yet another ending. Only this time, they are no longer alone. It is a terribly romantic moment, one that feels slightly alien to the MCU. As they lock eyes, the timeline splits off into the strongest branch yet in a brand new Nexus Event caused by Loki and Sylvie. This moment of emotional connection between two characters has the power to literally change the universe.
This thread of emotional connection runs throughout the episode. There is interpersonal tension between every pair of characters in this episode. Each of the moments between these characters build with underlying emotional conflict. Essential truths are revealed, that will change these characters for all time.
What Does It Mean To Be A Loki?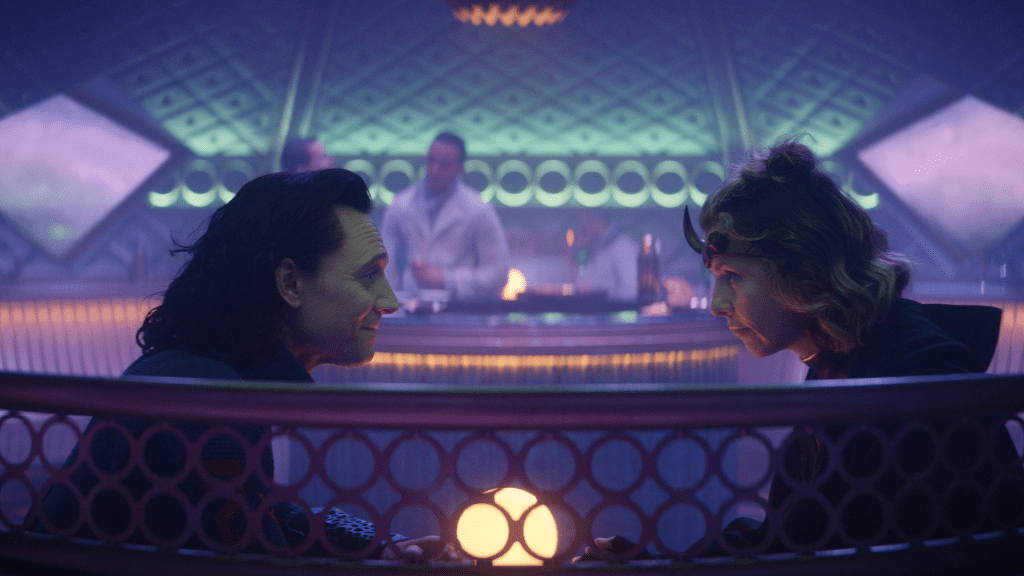 Image via Disney+, Marvel.
At one point in "The Nexus Event" Sylvie asks what it means to be a Loki. This is a question that we will absolutely see explored further as we approach the end of the series. Loki tells her that the answer is they never die (a statement he later contradicts by reminding us of how many times he has died). But it is true that Loki always endures, and this entire series is proof of that concept.
However, one personality trait inherent within Loki's character is that he has historically loved himself more than anyone else. This is reflected in his growing emotional attachment to Sylvie. She is after all, the female version of himself. But she is also so much more than that, she is an entirely independent character who exhibits so many of the traits that he wishes to have. As he tells her, she is the best version of a Loki.
What Does It Mean To Love Another Version Of Yourself?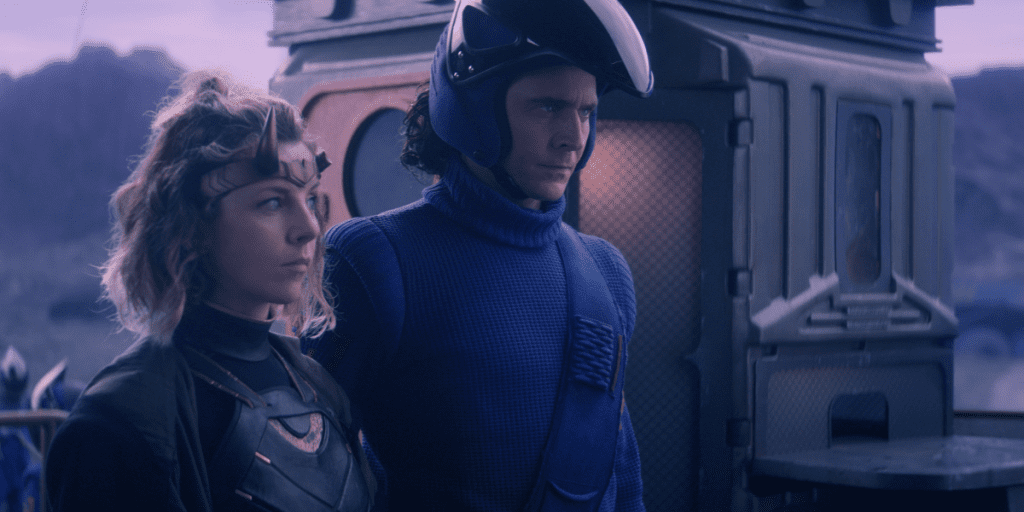 Image via Disney+, Marvel
Last week it was revealed that both Loki and Sylvie are bisexual. However, showrunners have confirmed that the series will not be exploring this angle beyond this brief inclusion. While this is disappointing from a queer representation angle, it makes a certain amount of sense given the direction the show is heading. It is clear that the Nexus Event that occured on Lamentis was the moment these two began to have real feelings for one another.
Mobius himself picks up on this later, after the two are recaptured/saved from impending doom by the TVA. While interrogating Loki, Mobius can clearly see that his variant has feelings for the other. Subtext is made literally text, as Mobius spells out the insanity of the the very idea of two Lokis falling in love. And Loki himself cannot deny this truth. He is an excellent liar, but he doesn't lie to himself nearly as much as Mobius does.
From The God of Deception To The Goddess That Reveals The Truth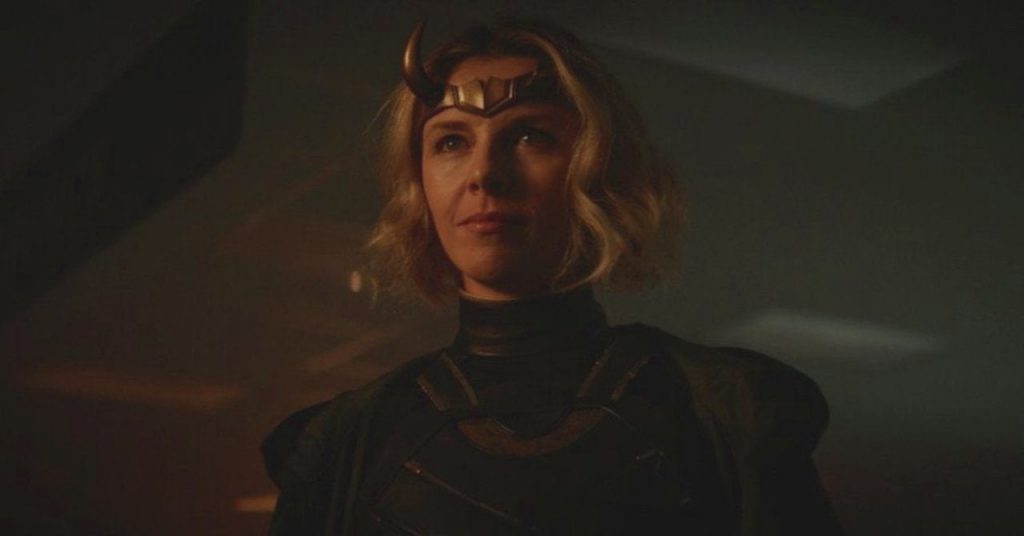 Image via Disney+, Marvel.
Hunter B-15 is also waking up, after being enchanted by Sylvie in the second episode. She is beginning to remember elements of her previous life, and it is clearly haunting her. She addresses the issue directly with Sylvie in a powerful scene between the two characters. This is the moment where we can clearly see that Sylvie is not the villain she has been set up to be. As she gives Hunter B-15 back her memories, Sylvie is giving this woman her freedom, the knowledge that she needs, and all of the conflict that comes with it.
In this moment, we see a version of Loki in Sylvie who is not the Goddess of Mischief. Instead she is the one one that reveals the truth behind the lies. The fact that this makes Hunter B-15 into her secret weapon for the inevitable battle to come is certainly also calculated. Much like Loki, Sylvie is always thinking three steps ahead.
Perhaps this all ties back to what makes Sylvie so different from Loki. We see that brief flashback in this episode, where a young Sylvie is playing with toys home on Asgard. She dreams of Valkyries fighting dragons to save her home, and is clearly inspired by the female warriors. When Sylvie asks Ravonna what her Nexus Event was – the moment that caused the TVA to come for her – Renslayer does not give an answer. She claims that she does not remember, but that feels like another lie built on top of the rest.
There is nothing earth-shattering about that moment, except perhaps the fact that it reveals Sylvie always had dreams of being the heroine of the story. Not the villain. This ties into my larger theory that Sylvie is secretly the greatest hero in this entire show. And through his relationship with her, Loki can learn more about who he could be, and the redemption that he could see.
What Is The Greatest Deception?
Image via Disney Plus.
The truth of the lies at the heart of the TVA alter the trajectory of nearly every character in this episode. Both Mobius and Hunter B-15 learn the same truth revealed at the end of the last episode. They are variants whose memories have been erased. They were not in fact created by the Time-Keepers as a weird race of bureaucratic office drones. Loki tries to convince Mobius of this fact, but the truth is dismissed as another lie. But it is enough to make Mobius doubt the truth of what Ravonna has been telling him.
Ravonna and Mobius have an intimate moment upon closing the case on the two Lokis where she declares her undying… friendship for him. (Seriously, were these two lovers or bitter enemies in their previous lives?) But Mobius is clearly still thinking about what Loki said, about the lies the TVA has been feeding him. He swaps his phone for Ravonna's and uncovers the truth about Hunter C-20, and how Sylvie's enchantment woke her up.
Loki Is Not Alone Anymore'
Image via Disney Plus.
Mobius is ready to turn on the TVA, after he learns the truth. He busts into Loki's time-cell where the god is amusingly being berated and punched by a memory of Sif over and over again. This was a nice bit of fan service, to see this character again after she was absent from the more recent MCU films. But more importantly, Sif keeps reiterating that Loki is alone and always be. Except, he is not alone anymore. He still has Sylvie, and he hasn't quite lost Mobius yet.
In the end, Mobius realizes that Loki was telling the truth and reaches out to him for an alliance. He frees Loki from his cell only to be confronted by Ravonna, who prunes his branch from the the timeline with barely a second thought. It was in this moment that I knew "pruning" does not mean death, and I wondered where Owen Wilson had gone and how quickly we would see him return.
A Confrontation With The Time-Keepers
Image via Marvel/Disney+
At last Ravonna reunites Loki and Sylvie, who get to share another longing glance that absolutely confirms their romantic tension. The two variants are dragged in front of the Time-Keepers, something we have been waiting for since episode one. The immortal space lizard (?) gods are not quite as imposing as we expected. But there is good reason for that. After an intense battle, Sylvie strikes the head from one of the Time-Keepers to reveal that they are nothing more than "mindless androids." Loki throws his hands up in the air and asks another question that we have all been asking: who is really in charge here? Who founded the TVA?
It is a question that is not yet to be answered however, as Loki and Sylvie turn to one another. It seems like they are about to have another romantic moment, with Loki struggling to express his feelings. But before he can, we see him vanish right before our eyes. But this is no illusion of the trickster god, it is Ravonna pruning him from the timeline.
So Many Lokis, So Little Time Left
Image via Marvel/Disney+
So we ask ourselves, is Loki dead? Again? But no, the answer lies within the all-important post-credits scene. We see him waking up once again in an unknown land asking "Am I dead? Is this Hel?" A mysterious voice answers him. The camera pans up to reveal multiple Loki variants standing over him against an apocalyptic cityscape. They spread across the screen in a super-heroesque tableau before the credits resume.
It is clear that these characters are other Loki variants that have been pruned from the sacred timeline. And what an array we have. There is a black Loki, holding a hammer that doesn't quite resemble Mjolnir. We've got classic Loki, played by Richard E. Grant. And we've got Child Loki. My personal favorite is what appears to be Loki as an alligator (?) So excited to explore Loki's shapeshifting abilities further. Where exactly all of these Loki variants are is still undetermined. Is Mobius there too? Something tells me we haven't seen the last of Owen Wilson.
Setting Up A Multiverse of Madness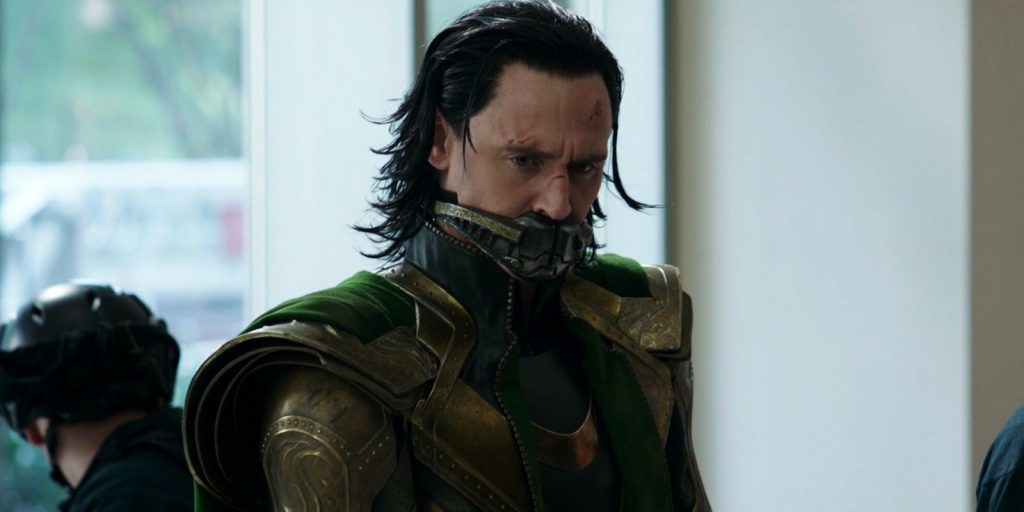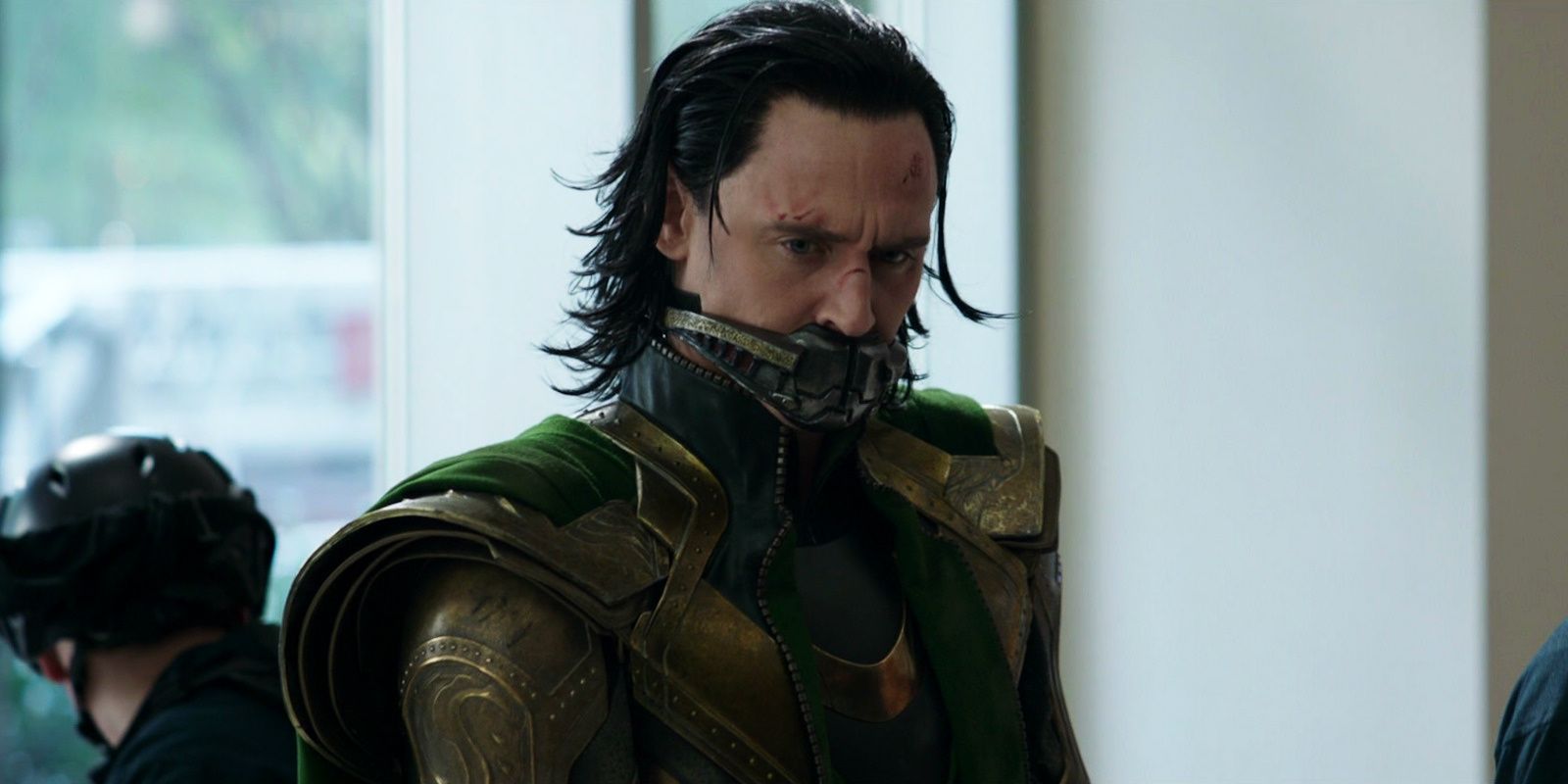 Image via Marvel Studios.
Fans of the Comic Years podcast might know that every week we dive into each episode of Loki and try to predict where the show is going. And in an earlier episode of the podcast, we discussed the possibility of more Lokis beyond the primary variant of Sylvie. And it looks like this is one wild theory that we got right.
It it is clear that both Loki and WandaVision are setting up the next big MCU Phase 4 movie: Doctor Strange in the Multiverse of Madness. These new Loki variants definitely open up a whole new multiverse to explore. Where we go from here is anyone's guess. Although we are doing a pretty good job with our guessing game so far over on the Comic Years podcast weekly recap of Loki. For an even deeper dive into this week's episode, and all of the episodes of Loki thus far be sure to tune in to hear our new wild theories.
Let us know what you thought about the most recent episode of Loki and what Nexus Event we'll see next by joining the conversation with Comic Years on Facebook and Twitter today.
Emily O'Donnell is a writer and photographer with roots in some of the earliest online fandoms. She cut her genre teeth on the Wizard of Oz books at the tender age of 6 years old, and was reading epic adult fantasy novels by the age of 10. Decades later, she still consumes genre fiction like there is no tomorrow. She is delighted to be living through the golden age of sci-fi and fantasy popularity. She is unashamed of the amount of fanfiction that still lingers online under her name.
Leave a comment