Bella Thorne As Lady Deadpool Could Be Happening For Deadpool 3
It looks like Zendaya isn't the only star to come to the MCU from the Mouse House. Her co-star on the hit Disney Channel show Shake It Up, Bella Thorne, has expressed interest in joining Deadpool 3. While there's not a lot of news on who will comprise the cast (besides Ryan Reynolds as the potty-mouthed anti-hero, of course!), there have been rumors that Lady Deadpool could make an appearance in the third film. Nothing has been confirmed yet, but fans are already throwing Thorne's name out and the actress herself confirmed that she'd love to play the character. Bella Thorne as Lady Deadpool: will it happen? 
Bella Thorne As Lady Deadpool: What Did She Say? 
Image via RAI Cinema
In an interview with Comic Book Movie, Thorne talked about how much she enjoys the superhero genre. She said:
"Yes, superheroes are definitely fun. I love action stuff, naturally, and I do a lot of action stuff with stunts and whatnot. It's just always really fun on set and it breaks up the work day when you get to concentrate on the body and feel and how to perform not just using your voice. That's always fun for me. Deadpool is my favorite. It's so raunchy and, hello, who doesn't love Ryan Reynolds? He just f-cking nails that role to the floor. What I love about Deadpool is that realism mixed with the you know, superhero world. It's something where we feel we can talk to this superhero now in today's day while still having them be a superhero. I love that sh-t. Like, The Boys? Love that TV show."
When the moderator told her that Deadpool 3 was starting to film, she exclaimed, "Guys! I'm here! Where you at?" 
Who Is Lady Deadpool BTW?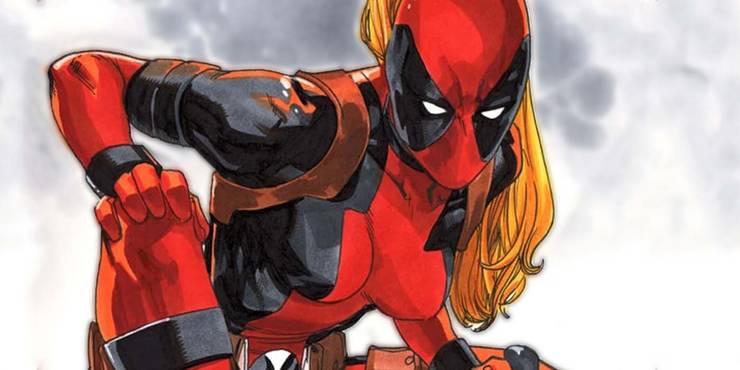 Image via Marvel Comics
Marvel is great at bringing more obscure characters front and center and Deadpool was no exception; however, who is Lady Deadpool? Wanda Wilson lives on alternate reality Earth-3010 and out of a need to belong and feel wanted, she joined a group of rebels fighting against fascists (called loyalists) in the United State's federal government. She later became a member of the Deadpool Corps. She has regenerative healing abilities (similar to Wolverine) and superhuman stamina, agility, and reflexes. She has the strength of an Olympic-level weightlifter and her weakness is listed as "annoying" meaning that many find her hard to be around and it makes working together difficult. 
Deadpool 3 will be directed by Shawn Levy (Free Guy). The movie will be written by Bob's Burgers' Wendy Molyneaux and Lizzie Molyneaux-Loeglin, with Deadpool and Deadpool 2 writers Rhett Reese and Paul Wernick reportedly also returning to contribute to the script. Deadpool 3 will be Marvel's first R-rated movie thanks to the acquisition of 21st Century Fox, which is exciting for comic fans everywhere because we'll get even more cohesion within the MCU. Fans already got a glimpse of the potential with the reaction video featuring Deadpool and Korg, and we can only hope that they'll be more on the way! 
 Watch Thorne talk about wanting to play Lady Deadpool (around the 8:30 mark) below:
There is currently no release date for Deadpool 3, but you can watch Deadpool and Deadpool 2 on Hulu. 
What do you think of Bella Thorne as Lady Deadpool? Do you feel like you have a better sense of who Lady Deadpool is now? Let us know in the comments below! 
Leave a comment