April 6th Marvel Graphic Novels – Moon Knight, Skrulls, Venom and more!
If you are one of those who love big volumes more than short series, April 6th Marvel Graphic Novels comes loaded with exciting content for you. That's because Marvel's hardcover and trade paperback releases this week relate to recent MCU and Sony productions, as we will have Moon Knight, Skrulls, and Venom graphic novels on the same day. A total of 9 volumes with enough diversity to satisfy any fan of this universe. So, join us to take a look at some of them!
Secret Invasion: Meet the Skrulls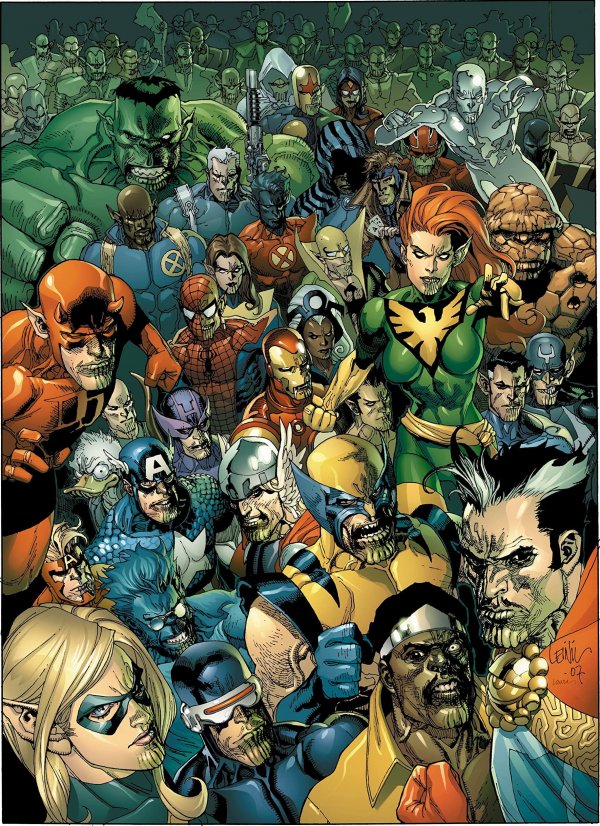 (Image: Marvel Comics)
Fans cannot deny that the Skrulls are a box of surprises. They always give a lot of play to stories with unexpected twists. With this new hardcover volume, Secret Invasion: Meet the Skrulls, coming out this April 6th, we will have an entertaining invasion of our green friends. The cover by Leinil Francis Yu is very promising; we can see some of our favorite characters, such as Doctor Strange, Wolverine, or Daredevil, halfway to becoming Skrulls, among many others. From April 6th, we will see if the story written by Robbie Thompson and drawn by Niko Henrichon lives up to the cover.
The Warners are your typical American family. Dad works at Stark Enterprises. Mom works in a senator's office. The girls are students at Stamford High. The only thing that makes them different is… they're shape-shifting alien Skrulls who have infiltrated our society to pave the way for invasion! But what could leave them as a house divided? And will the mysterious Man in the Hat be their exterminator – or their salvation? Plus: Meet the Skrulls all over again in the aliens classic first encounter with the Fantastic Four, as well as more momentous events in Skrull history – including the Super Skrull's debut, the Kree/Skrull War and the final fate of their Throneworld!
Moon Knight: Legacy – A collection to immerse yourself in the character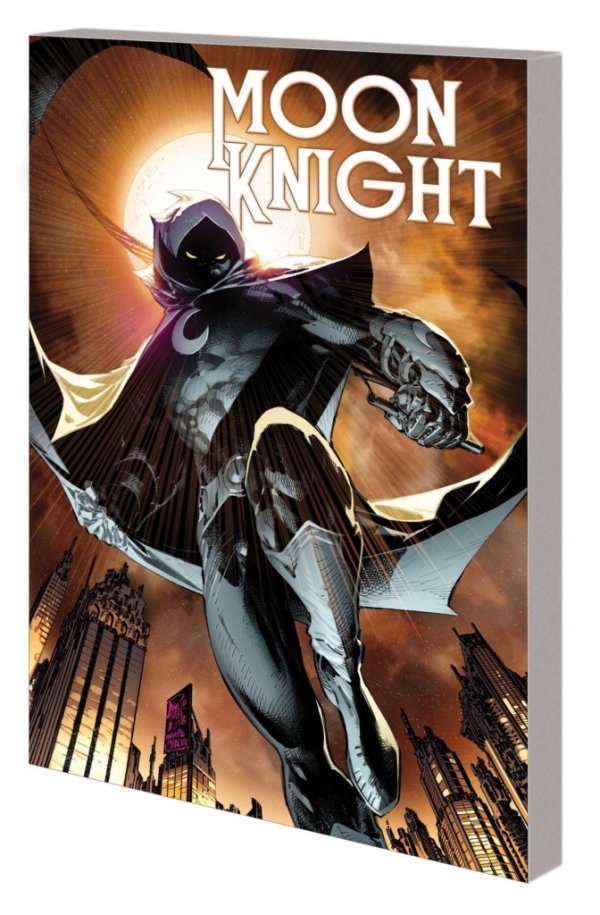 (Image: Marvel Comics)
This 312-page volume will show Marc Spector and his alter-ego Moon Knight fighting against his worst enemy, his inner ghosts. But maybe it's better to say his inner personalities. Of course, there will also be other exciting enemies, real threats, and Marc Spector's true origin. There will also be characters like Bushman, Doctor Emmet, and Ernst (Nazi). However, this collection is even better because the Max Bemis story features 14 first-class artists. This April 6th, we will enjoy this intense story.
A new day is dawning — and with it comes an enemy unlike any Marc Spector has ever faced! Moon Knight has always been a protector from the shadows, but the Sun King is out to extinguish those shadows with blinding light and fire. Meanwhile, a man called The Truth is driving people to suicide. Thank goodness Marc has his personalities under control! (He does have them under control, right?) The Sun King and Bushman hit Marc where it hurts the most, Jake Lockley's dark secret is revealed and Marc Spector's true origin is uncovered! But what traumatic event from his past will shape Moon Knight's future? As psychotic killers, the horrific Collective and Moon Knight's oldest nemesis all threaten to eclipse him, Marc must face his demons if his legacy is to survive!
The Venom recursion returns on April 6th from Marvel Graphic Novels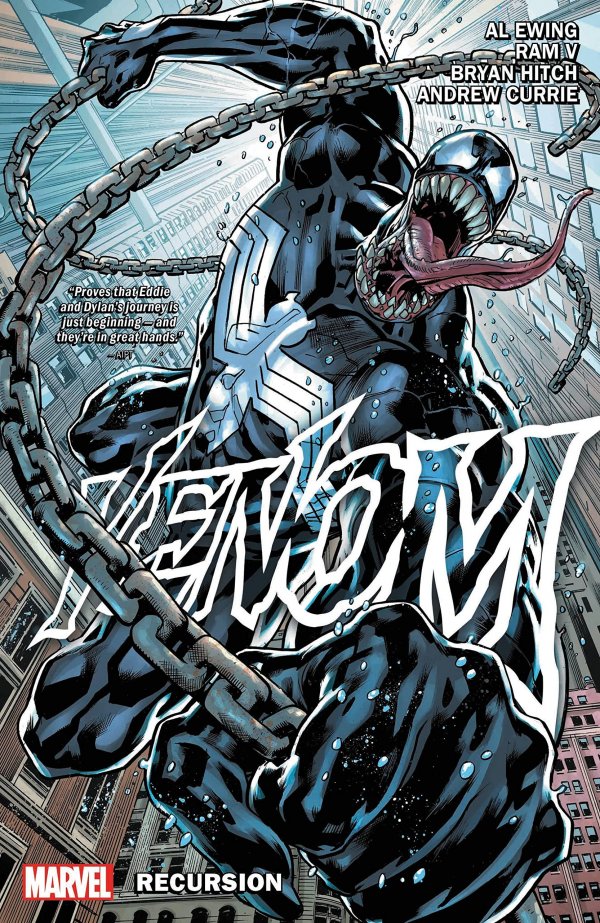 (Image: Marvel Comics)
Our favorite symbiote returns with this special 144-page volume this April 6th in Venom by Al Ewing & Ram V. Vol. 1: Recursion. The two authors, Al Ewing & Ram V, bring us a story that is sure not to be missed. Because they are coming off of Donny Cates' epic run, fans might hesitate for their even more significant changes. But they shouldn't, because Al and Ram are great. Also, if you thought the end credit scenes of Let There Be Carnage and No Way Home were crazy, the idea of Venom traveling the multiverse is explained much better here.
One blockbuster era gives way to another! Symbiotic writing team Al Ewing and Ram V join superstar artist Bryan Hitch to unleash their vision
of Venom! Together, they will push Eddie and Dylan Brock to their limits — and as everything Dylan has come to know and love unravels around him, he begins to realize the terrible truth about his new "other." The Venom symbiote is not a harmless pet, no matter how much it pretends to be one. It's an alien. A dangerous, violent, often bloodthirsty alien. Whatever bond it had with Dylan's father, Eddie — as special as it may have been — is now gone. And Dylan might be gone soon too. Because the villainous Life Foundation is back, led by the insidious Carlton Drake — and they have the new Venom square in their sights!
The full Marvel Graphic Novels April 6th list
Secret Invasion: Meet the Skrulls TP
Mighty Marvel Masterworks: The Mighty Thor Vol. 2 – The Invasion of Asgard GN TP
Ka-Zar: Lord of the Savage Land TP
The Mighty Thor Epic Collection: The God of Thunder TP
Mighty Marvel Masterworks: The Mighty Thor Vol. 2 – The Invasion of Asgard GN TP
Avengers: Tech-On TP
The Mighty Thor Epic Collection: War of the Gods TP
Moon Knight: Legacy – The Complete Collection TP
Venom by Al Ewing & Ram V. Vol. 1: Recursion TP
You will have to take a spring break and enjoy one of these titles. Which one is your favorite?
I am a circus aerialist influenced by Dick Grayson and Spider-Man. Fortunate to write about the characters that inspired me. I also have a Bachelor's degree in Political Science and a Master's degree in International Trade.
Leave a comment