Alien Series Coming in Summer 2022
Since Disney acquired a bunch of new companies, there's been no word of a new Alien series. However, it appears that the wait is finally over! In 2020, Disney bought 20th Century Fox, which gave them ownership of a huge number of famous franchises. One of the most famous of these is the Alien series. Finally, it appears Disney is getting to work with a new Alien series.
What's Coming Up New Alien Series?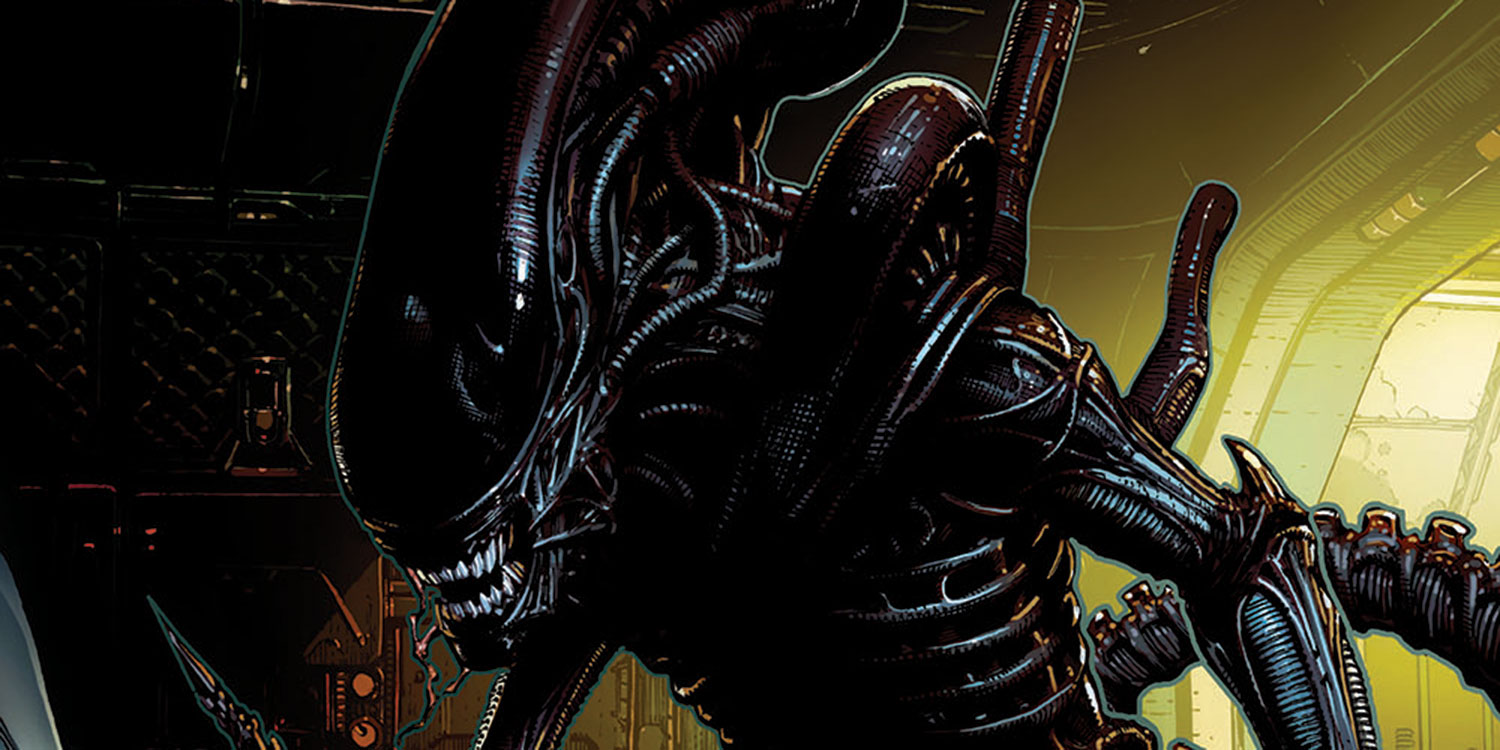 Image: Marvel
As Disney also owns Marvel, it should come as no surprise they are creating the new Alien series. This series will come in the form of a comic book, and Marvel is due to release it in the summer. Writer Philip Kennedy Johnson penned the story, while Julie Ohta worked on the art.
The official description for the new Alien series is: "A small colony of synths has settled in secret on a backwater moon. When a company of United System soldiers comes to them for help retrieving biotechnology on a hostile planet that could be the key to saving humanity, the synths must decide whether the prospect of peace between man and machine is worth the risk of betrayal."
So, it seems that, just like before, xenomorphs will threaten humanity on a new planet. However, they seem to have a complicated relationship and might be able to save humanity from doom. How on earth these vicious creatures could help humans is a complete mystery to us! As such, we can expect plenty of blood, guts – and screams!
Writing the New Alien Series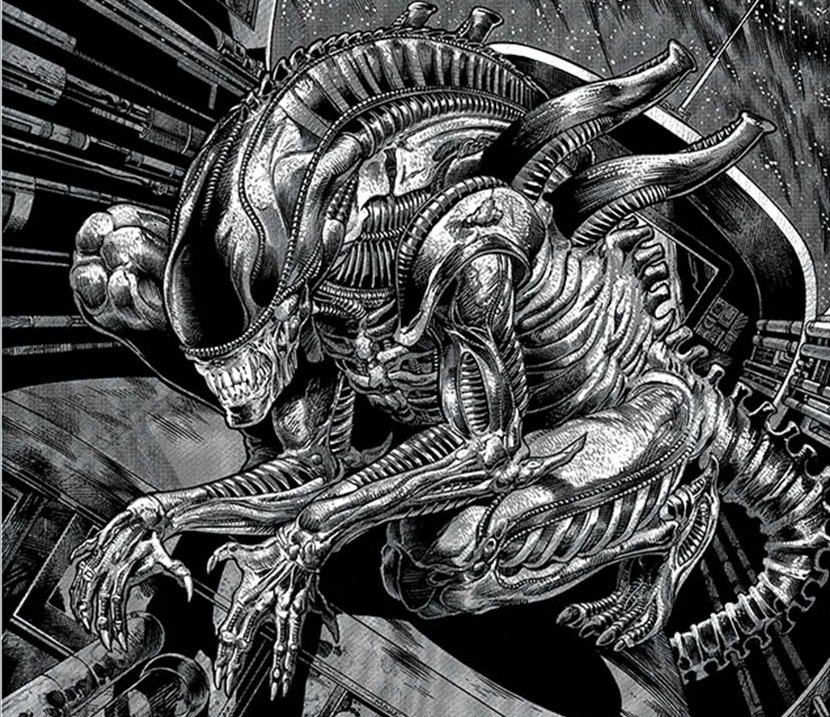 Image: Marvel
As you might expect, Philip Johnson said that working on the new Alien series "was a horror fanboy's dream come true." He then went on to say that Marvel could tell the story they wanted to. This mix between xenomorphs being their classically horrific self and salvation for humanity is certainly something new for the franchise.
Furthermore, Johnson stated that the new Alien series explores "the themes of family and corporate distrust that are such a crucial part of the films." Clearly, Marvel understands the core values of the film series. We have high hopes that the new comic series will continue the work of the films in a unique yet faithful way.
Also, Johnson praised Julius Ohta's artistry by saying that he "is at the absolute top of his game right now." Additionally, he mentioned the "environmental creepiness and full-on body horror" of the new comic series. This will tie in with what fans know the franchise for. Then, Johnson went on to promise that "fans are going to be truly spoiled."
Drawing the New Alien Series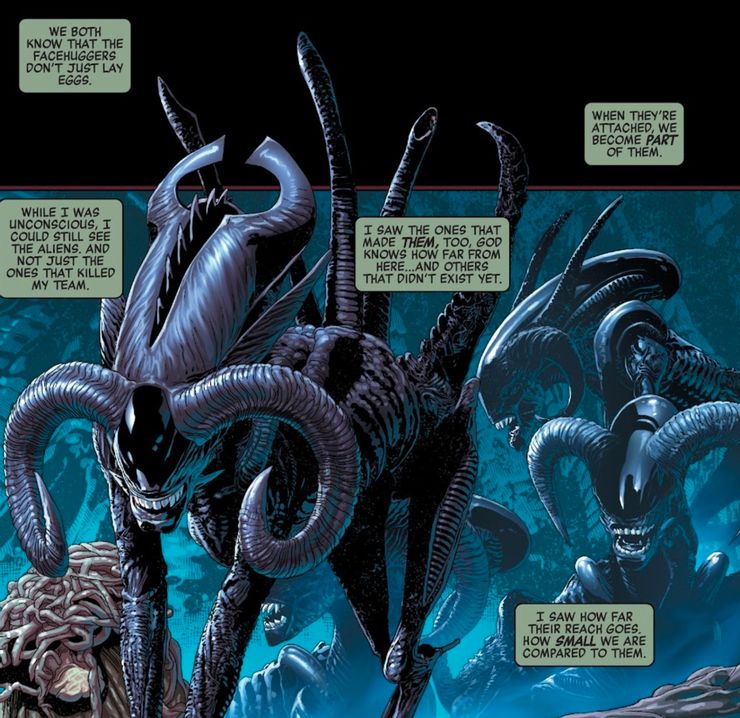 Image: Marvel
Similarly, Ohta gave a lot of praise for the new Alien series. He acknowledged the "tremendous responsibility that is to be in this franchise."
After this, Ohta stated that he couldn't expect a better welcome from the creative team. It's been fantastic to work with Phillip, Sarah , and everyone involved. Phillip is a genius and also a gentleman and is always looking for something to make the story better. When I started reading the script, I couldn't stop until I reached the last page. I could talk about it forever… Sarah is such a kind editor, and it's been a dream to work with these guys!"
As such, seeing that the team has such a fundamental understanding of the franchise gives us high hopes for the new Alien series. We can't imagine this comic series being in any better hands, and we are truly thrilled about the new excitement coming in the future. Perhaps we'll see some more crazy xenomorph hybrids, like in Alien: Resurrection. Or, maybe we'll see something even more extreme than this. Whatever happens, you can be sure that the new Alien series is going to be exciting!
You can catch Marvel's new Alien series on August 10th.
Hi! I'm Arvyn, and I'm an English teacher from the UK. I've been teaching English online for over 4 years to students from all across the world and all ages. Outside of work, I'm a huge fan of reading, video games, and playing with my adorable kitties. See ya!
Leave a comment