Marvel Tentpole Titles Revealed For December Through February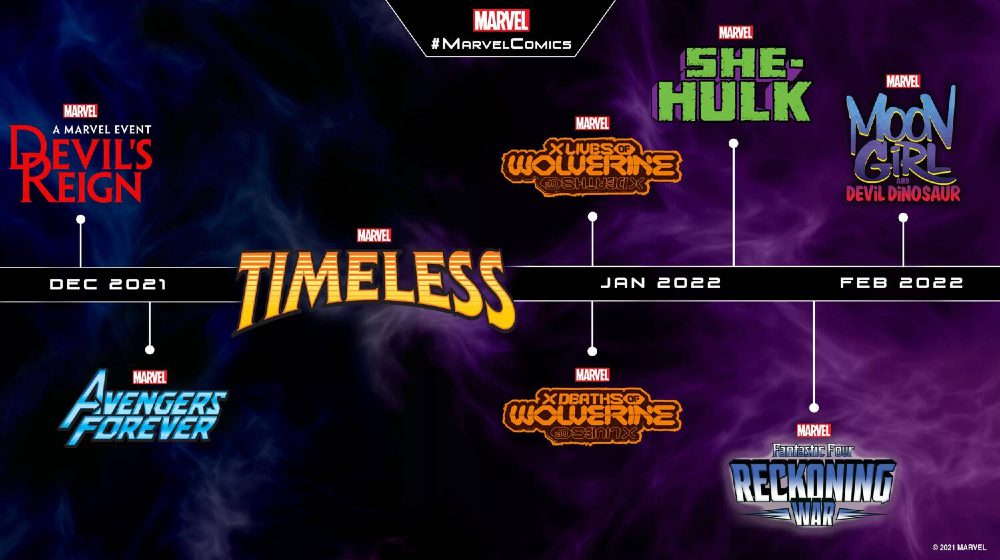 Throughout 2020 and 2021, Marvel had a long string of events, from major ones like Empyre, King in Black, X of Sword, and Hellfire Gala to smaller ones such as Extreme Carnage, The Last Annihilation, and Sinister War. It felt like they were announcing a new event every other week. But, of course, Marvel Comics isn't slowing down at all. However, this time they had the courtesy of announcing several events, or tentpole titles, debuting this winter. Some of them we've seen coming for a while, and some are truly surprising. But the next wave of Marvel tentpole titles starts with the king. The Kingpin that is.
All Hail the Devil in the First of Marvel Comics' Tentpole Titles: Devil's Reign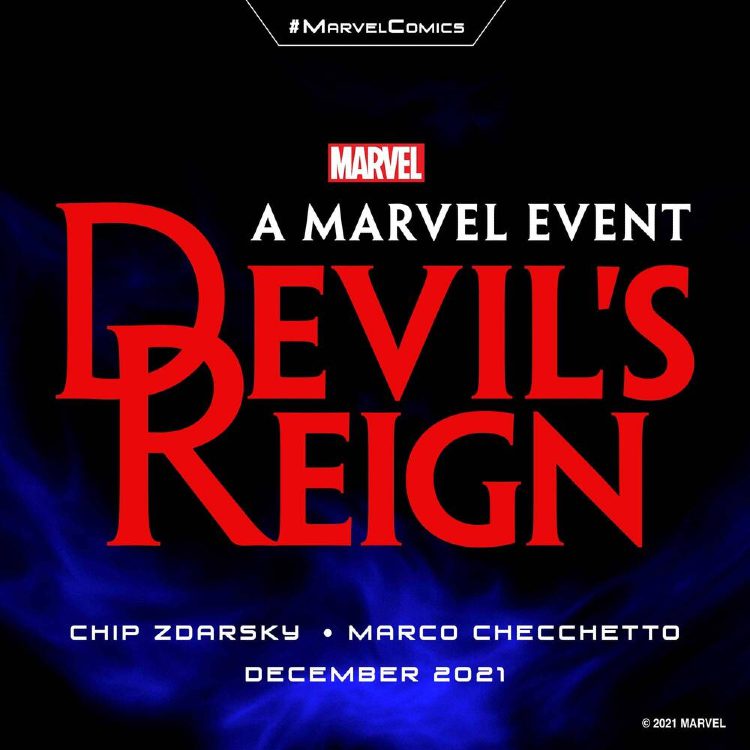 (Image: Marvel Comics)
Chip Zdarsky's Eisner-nominated Daredevil series ends with issue #36, but Zdarksy's far from finished with Matt Murdock and Elektra. Way back, during Charles Soule's run, Wilson Fisk became the Mayor of New York City and started to go after superheroes and supervillains. Following the events of Daredevil #36 (assume something bad will happen), Fisk is upping the ante. As Marvel describes:
All hell breaks loose in the Marvel Universe as the Kingpin finally declares all-out war on the heroes in Devil's Reign! Having set the stage in their Eisner-nominated Daredevil epic, Chip Zdarsky and Marco Checchetto's far-reaching crossover event finds Mayor Fisk outlawing all Super Heroes in New York and unleashing intel on all their dark secrets, while pitting Daredevil, Elektra, Captain America, Iron Man, Spider-Man, the Fantastic Four, and many more against his Thunderbolt agents. But in the end…Who Will Reign?
The First of the New Ongoing Tentpole Titles From Marvel Features Their Cinematic Tentpole Team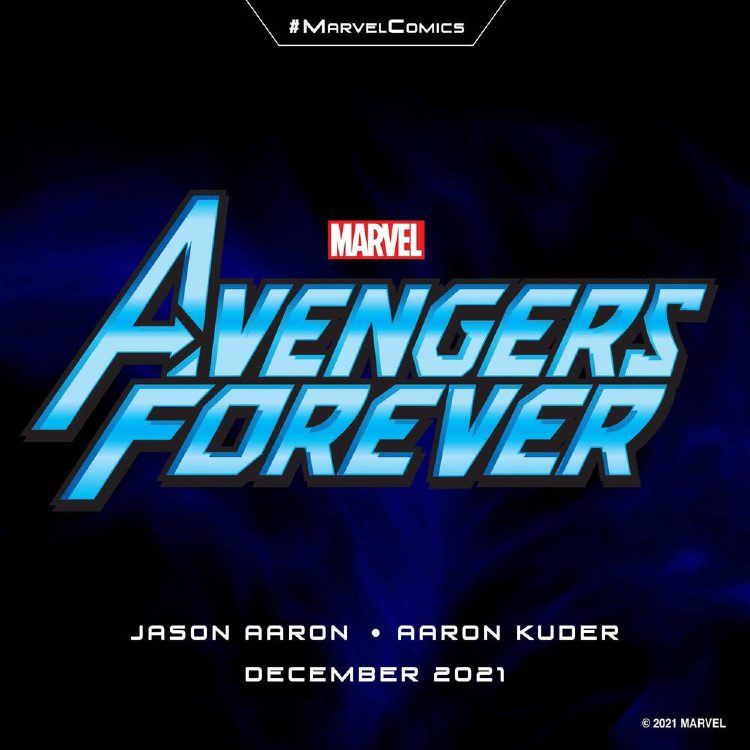 (Image: Marvel Comics)
With the movies careening towards the multiverse, it's no shocker that we're a few titles following suit. In fact, several of the tentpole titles Marvel announced coincide with the MCU. The first is a new ongoing series from current Avengers writer Jason Aaron, called Avengers Forever. A bit familiar, right? Kind of like a certain Black Panther movie coming out? This series brings in Avengers from all over the multiverse, Exiles-style, to fight a major threat. As per the announcement:
Marvel Comics' Avengers Forever pulls together archeologist Tony Stark, AKA the Invincible Ant-Man, and Avengers from across the multiverse to bring order to timelines where 'hope' is a four letter word. Jason Aaron and Aaron Kuder present an all-new series that will redefine the Avengers as…the Multiverse's Mightiest Heroes.
Of Course, Kang Is Getting A Marvel Tentpole Title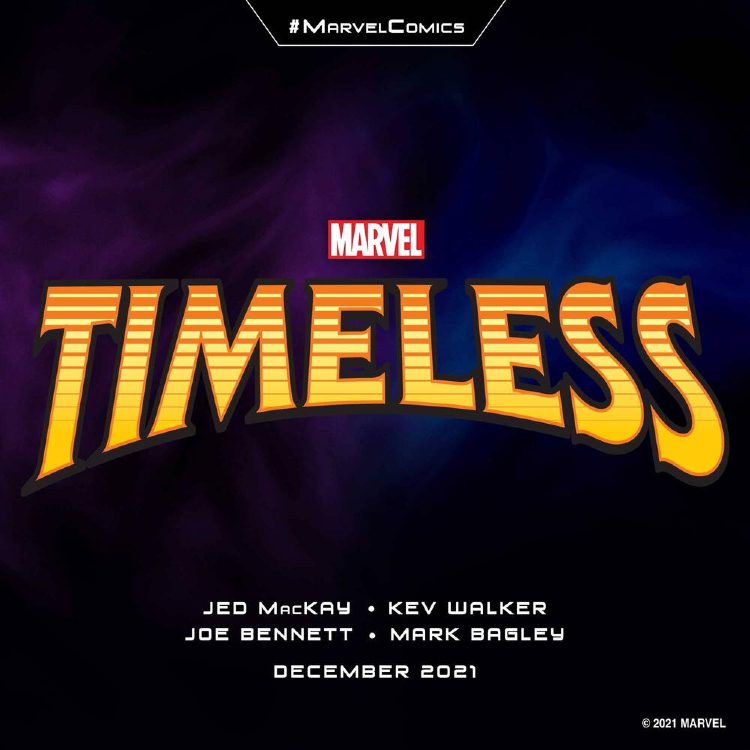 (Image: Marvel Comics)
Though he went by a different name, Kang the Conqueror officially joined the Marvel Cinematic Universe in the Loki finale. Or at least a version of him. Currently, Kang is starring in a mini-series, but he has a new series…or one-shot starting in December. It's not quite clear. But what is fascinating about the villain-centric Marvel series, compared to the other tentpole titles, is that Kang, instead of trying to conquer the 616, is trying to save it:
The future of the Marvel Universe is here, and Timeless is where it all begins. When a threatening new timeline emerges, Kang the Conqueror must fight his way through the coming year to protect the main 616 timeline he's worked centuries to solidify as his own. Jed MacKay, Kev Walker, Joe Bennett, Mark Bagley, and more provide a first look at what's coming to the Marvel Universe in 2022 in a story that will prove…the Future is Timeless.
The First Wolverine-Centered Event of the Krakoan Age Lives and Dies and Lives Again in January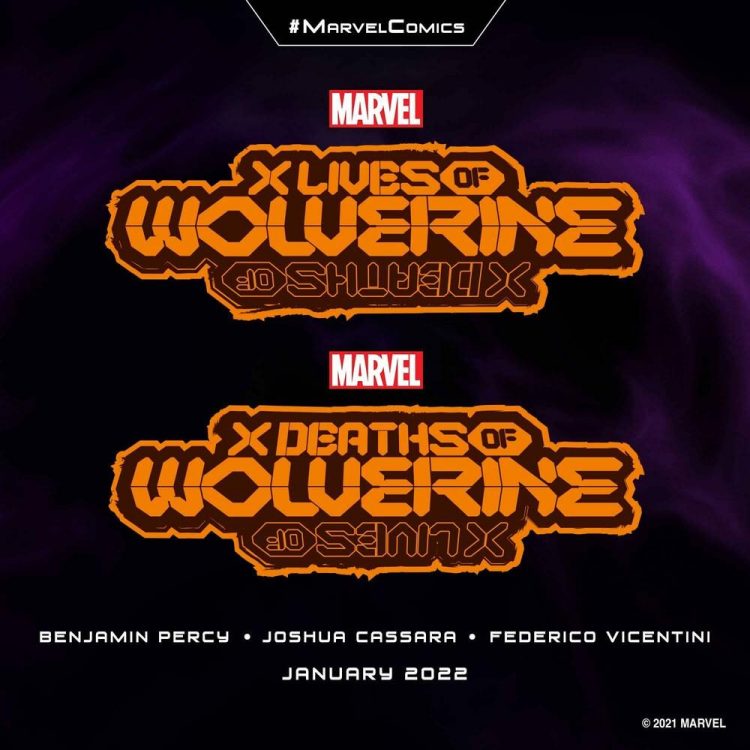 (Image: Marvel Comics)
While Jonathan Hickman leaving the X-Men, fans were worried that his departure marked the end of the Krakoan Age. However, we can all breathe easy now with the announcement of X Lives of Wolverine/X Deaths of Wolverine. The similarity to the title that started it all, House of X/Powers of X is intentional too. Wolverine played a major role in future events of HoX/PoX, and with Inferno supposedly revealing many of Moira MacTaggart's secrets, the mutant community might turn to him for leadership once again. Even more telling is that the announcement itself confirms that we're entering the second age of Krakoa:
House of X and Powers of X ushered in the First Krakoan Age of the X-Men. Now, Marvel Comics' X Lives of Wolverine and X Deaths of Wolverine will test 'the best there is at what he does' before any mutant can survive to the Second Krakoan Age. Benjamin Percy, Joshua Cassara, and Federico Vicentini tell two interlocked tales about what happens to Wolverine when…His Pasts Meet His Future.
A Future Disney+ Tentpole Gets a Marvel Title: She-Hulk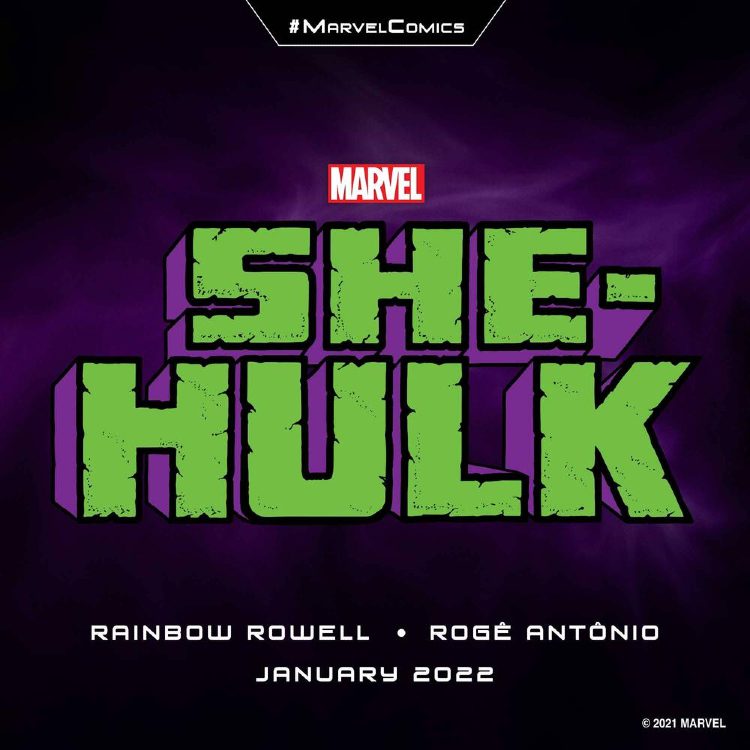 (Image: Marvel Comics)
Jennifer Walters has had a rough few years. During Civil War II, she suffered a defeat from Thanos that left her barely able to control her rage. And by the time Empyre started, she had lost her intelligence too, reverting to a "dumb" Hulk, like Banner generally does. But right now, she's really going through it. The Red Room is using her as a weapon of mass destruction, and the Avengers are struggling to stop her. After that storyline wraps up, she'll presumably be in control of herself once again. But, of course, sometimes you just need a big, green, angry woman:
Marvel Comics' She-Hulk, from Rainbow Rowell and Rogê Antônio, throws the book at Jennifer Walters as she tries to put her rage-filled days behind her and return to practicing law in defense of the innocent. But when a friend from her past comes knocking with a mystery she can't resist, She-Hulk gets…Back To Bashing.
A Tentpole Title One Marvel Writer Started Teasing Fifteen Years Ago
(Image: Marvel Comics)
Speaking of She-Hulk, When Dan Slott started writing her title in 2005, he began dropping little hints and clues about something called The Reckoning War. However, at the end of Empyre, that event started to pick up steam, and even more with King in Black. The event revolves around the watchers and might break the universe, especially as it ties into the original Secret Wars event:
Dan Slott is joined by Carlos Pacheco and Rachael Stott for Marvel Comics' Fantastic Four: Reckoning War, an epic saga over 15 years in the making. The original secret war of the Marvel Universe has been reignited and every living being in reality is in danger, for we are finally at…Our Day Of Reckoning.
The Last Marvel Tentpole Title Announcement Features a Character Who Can't Fit In Most Tents.
(Image: Marvel Comics)
Two big surprise hits came out of Infinity and Inhumanity: Ma Marvel and Moon Girl and Devil Dinosaur. In fact, both titles proved to be so popular that they both ended up getting a Disney series. Ms Marvel is coming out (hopefully) on Disney+ later this year, while Moon Girl and Devil Dinosaur will be an animated Disney Channel series. We can assume that the show will finally debut in 2022, after being announced in 2019 for 2020. But fans of the character should also be delighted when they see her back in her own series:
Lunella Lafayette and her lovable 20-foot dinosaur are BACK in Marvel Comics' Moon Girl and Devil Dinosaur. But what shape will their partnership take in this exciting new era? Keep your eyes peeled in the coming months for more news about the next adventure of the biggest brain in the world that will send dino-sized shockwaves throughout the Marvel Universe. In 2022, Moon Girl and Devil Dinosaur will bring new meaning to the term "Marvel Team-Up" in a tale that promises to…Shake Your World.
This is Probably Just the Beginning of Several More Announcements
Seven (well, technically eight with the Wolverine event) titles over three months? Obviously, that's a bit on the light side. Hickman already teased a few more X-Men titles he set up before his departure. As well, in all likelihood, The Last Annihilation, Trial of Magneto, and Sinister War could spin off into new ongoing series or mini-events. But that's part of the genre. Editors need to play some cards close to the vest while announcing others six months in advance. It's how to get people excited for these characters year after year. And yes, we fully intend to review at least the debut issue of each book.
Which new Marvel tentpole title are you looking forward to the most?
(Featured Image: Marvel Comics)
Roman Colombo finished his MFA in 2010 and now teaches writing and graphic novel literature at various Philadelphia colleges. His first novel, Trading Saints for Sinners, was published in 2014. He's currently working on his next novel and hoping to find an agent soon.
Leave a comment