Marvel Comics Plan to Ship Again At the End of May. And Their Plan Is the Most Logical
It's been over a month since we've seen new Marvel comics, but the wait might be ending soon. Marvel announced a plan to ship comics again starting May 27th. However, their plan isn't to release too much at once, nor will they release comics every week, such as DC will. When they do come back, Marvel Comics is making sure that their plans can readjust smoothly. You know, in case we have to lockdown all over again because certain states count WWE as an essential service (Florida. It's always Florida). Currently, these are their plans:
When Marvel Comics Ship Again, they Plan to Alternate Weeks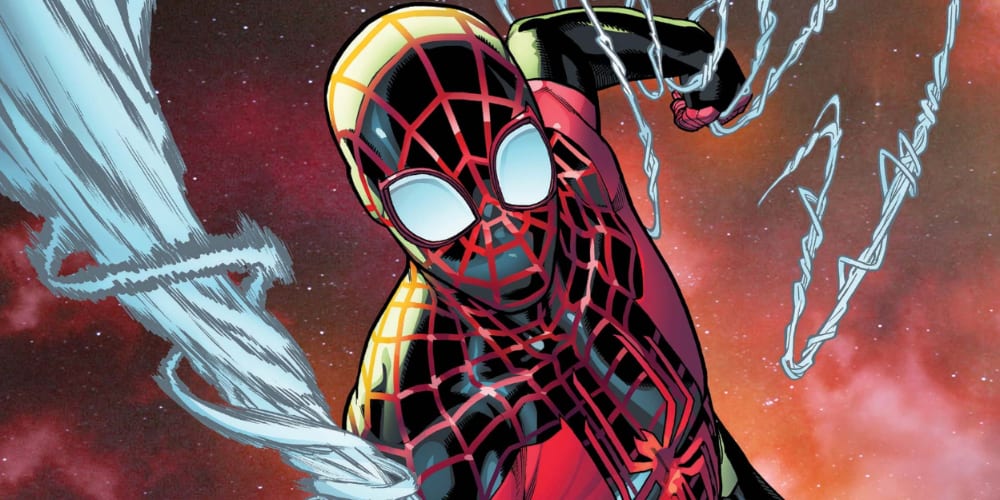 (Image: Miles Morales: Spider-Man #10, Marvel Comics)
Alternate what, exactly? Comics and graphic novels. One week we'll see several comics released that they had postponed, and then we'll get graphic novels and trade paperbacks the following week (You can find a schedule below). This is brilliant. If for some reason they can't ship one week of single issues, they can add it to the next week of graphic novels. As Marvel said in a letter to retailers:
"Over the next few weeks, Marvel will keep a balanced release schedule for its comics and trade collections as the industry continues to restart distribution and comic shops begin to reopen and adapt to current social distancing policies."
So, what will we see over the next month?
Marvel Comics Ship Release Schedule for May and June
(Image: Thor #5, Marvel Comics)
When Marvel Comics ship again, they'll start small and increase only slightly each week, leaving room for them to adjust and respond to the ever-changing pandemic situation. This is especially important since not all states or even counties will reopen at the same time (Here in the Philly region, we might get to go to a comic shop…in 2021). This is their current plan:
Wednesday, May 27:
AMAZING SPIDER-MAN #43 (FEB200924)
AVENGERS #33 (FEB200982)
MARAUDERS #10 (FEB200894)
STAR WARS: DOCTOR APHRA #1 (FEB201023)
VENOM #25 (FEB200939)
Wednesday, June 3:
ASTONISHING X-MEN BY JOSS WHEDON & JOHN CASSADAY OMNIBUS HC (OCT191092)
GHOST RIDER VOL. 1 TPB (JAN201057)
MEPHISTO: TPB (JAN201070)
SENSATIONAL SHE-HULK BY JOHN BYRNE OMNIBUS HC (OCT191099)
SPIDER-MAN & VENOM: DOUBLE TROUBLE GN-TPB (JAN201078)
SW DARTH VADER POSTER BOOK (NOV190977)
THE AMAZING MARY JANE VOL. 1: DOWN IN FLAMES, UP IN SMOKE TPB (JAN201059)
X-MEN VOL. 1 TPB (JAN201051)
Wednesday, June 10:
BLACK CAT #11 (FEB200950)
DAREDEVIL #20 (FEB201010)
DEADPOOL #5 (JAN200984)
EXCALIBUR #10 (FEB200891)
MILES MORALES: SPIDER-MAN #17 (FEB200810)
NEW MUTANTS #10 (FEB200892)
Wednesday, June 17:
CONAN: THE BOOK OF THOTH TPB (JAN201065)
DAREDEVIL BY CHIP ZDARSKY VOL. 3 TPB (JAN201061)
DAWN OF X VOL. 5 TPB (JAN201049)
IRON MAN EPIC COLLECTION VOL. 17 TPB (JAN201069)
MARVEL MASTERWORKS: THE AVENGERS VOL. 20 HC (OCT191105)
SILVER SURFER OMNIBUS VOL. 1 HC (NEW PRINTING) (OCT191090)
STAR WARS: AGE OF REBELLION HC (OCT191126)
THE UNBEATABLE SQUIRREL GIRL: BIG SQUIRRELS DON'TCRY GN-TPB (JAN201080)
Wednesday, June 24:
2020 RESCUE #2 (FEB200910)
CAPTAIN AMERICA: MARVELS SNAPSHOTS #1 (FEB200899)
EMPYRE #0 AVENGERS (FEB200772)
IMMORTAL HULK #34 (FEB200979)
IRON MAN 2020 #4 FLUORESCENT (FEB200905)
SPIDER-HAM #5 (FEB200998)
STAR WARS: BOUNTY HUNTERS #3 (FEB201029)
THOR #5 (FEB200961)
AMAZING FANTASY OMNIBUS HC (NEW PRINTING) (NOV190945)
FANTASTIC FOUR EPIC COLLECTION: NAME IS DOOM TPB (FEB201069)
IRON MAN: THE ULTRON AGENDA TPB (JAN201062)
MARVEL-VERSE: BLACK WIDOW GN-TPB (JAN201075)
MORBIUS THE LIVING VAMPIRE OMNIBUS HC (NOV190952)
YONDU TPB (JAN201055)
Wednesday, July 1:
DAWN OF X VOL. 6 TPB (JAN201050)
EXCALIBUR TPB (JAN201053)
INFINITY GAUNTLET MARVEL SELECT HC (DEC190973)
MARVEL MASTERWORKS: THE SPECTACULAR SPIDER-MAN VOL. 3 HC (NOV190949)
MARVEL'S BLACK WIDOW PRELUDE TPB (JAN201074)
TIMELY'S GREATEST: THE GOLDEN AGE SUB-MARINER BY BILL EVERETT – THE POST-WAR YEARS OMNIBUS HC (OCT191094)
WHAT IF? CLASSIC: THE COMPLETE COLLECTION VOL. 4 TPB (FEB201068)
X-MEN MILESTONES: MESSIAH WAR TPB (FEB201064)
YOUNG AVENGERS BY GILLEN & MCKELVIE: THE COMPLETE COLLECTION TPB (FEB201067)
Wednesday, July 8:
BLACK PANTHER AND THE AGENTS OF WAKANDA #8 (FEB200985)
Dr. STRANGE #5 (FEB200965)
EMPYRE #0 FANTASTIC FOUR (FEB200776)
GHOST RIDER #7 (FEB200994)
MARVELS X #4 (FEB200895)
STRANGE ACADEMY #2 (FEB200849)
X-FORCE #10 (FEB200893)
X-MEN: GOD LOVES, MAN KILLS EXTENDED CUT #1 (FEB200885)
AMAZING SPIDER-MAN BY NICK SPENCER VOL. 7 TPB (JAN201056)
IMMORTAL HULK VOL 2 HC (NOV190959)
MARAUDERS VOL. 1 TPB (JAN201052)
MARVEL MONOGRAPH: THE ART OF FRANK CHO TPB (JAN201071)
MARVEL'S SPIDER-MAN POSTER BOOK TPB (JAN201064)
MILES MORALES SPIDER-MAN (NEW PRINTING) (DEC190974)
SAVAGE SWORD OF CONAN: THE ORIGINAL MARVEL YEARS OMNIBUS VOL. 3 HC (NOV190954)
STAR WARS LEGENDS EPIC COLLECTION: LEGACY VOL. 3 (JAN201076)
There's a Lot Missing from the Plan Marvel Comics has to Ship Again
(Image: Fantastic Four #21, Marvel Comics)
Of course, even under the best circumstances right now, there's no way to go back to normal. And when retailers have to make sure they can keep people six feet apart in their stores, releasing really big titles too close together could end badly. So, absent from the list above? For starters, any title that ties into the upcoming event Empyre, such as X-Men and Fantastic Four. The previously April-starting Event has two "zero" issues planned for release. However, the series itself isn't part of the plans Marvel Comics has to ship again.
Then there are titles that obviously tied into a certain movie release we have to wait for. Black Widow, a new ongoing series, and Taskmaster, a limited series. Other missing series are a little surprising. After a strong debut in March, Spider-Woman isn't there. And though Outlawed was only a one-shot, we're not getting any of the titles coming from the event, Champions, New Warriors, and Power Pack. Possibly the oddest omission is Star Wars and the new (and brilliant) Darth Vader series. It's not like Vader and Luke will pop up in Empyre.
Or will they?
We still have months before things go back to normal, but it's a little uplifting knowing that there are some plans. So, what are you looking forward to reading again?
(Featured Image: Excalibur #10, Marvel Comics)
Roman Colombo finished his MFA in 2010 and now teaches writing and graphic novel literature at various Philadelphia colleges. His first novel, Trading Saints for Sinners, was published in 2014. He's currently working on his next novel and hoping to find an agent soon.
Leave a comment